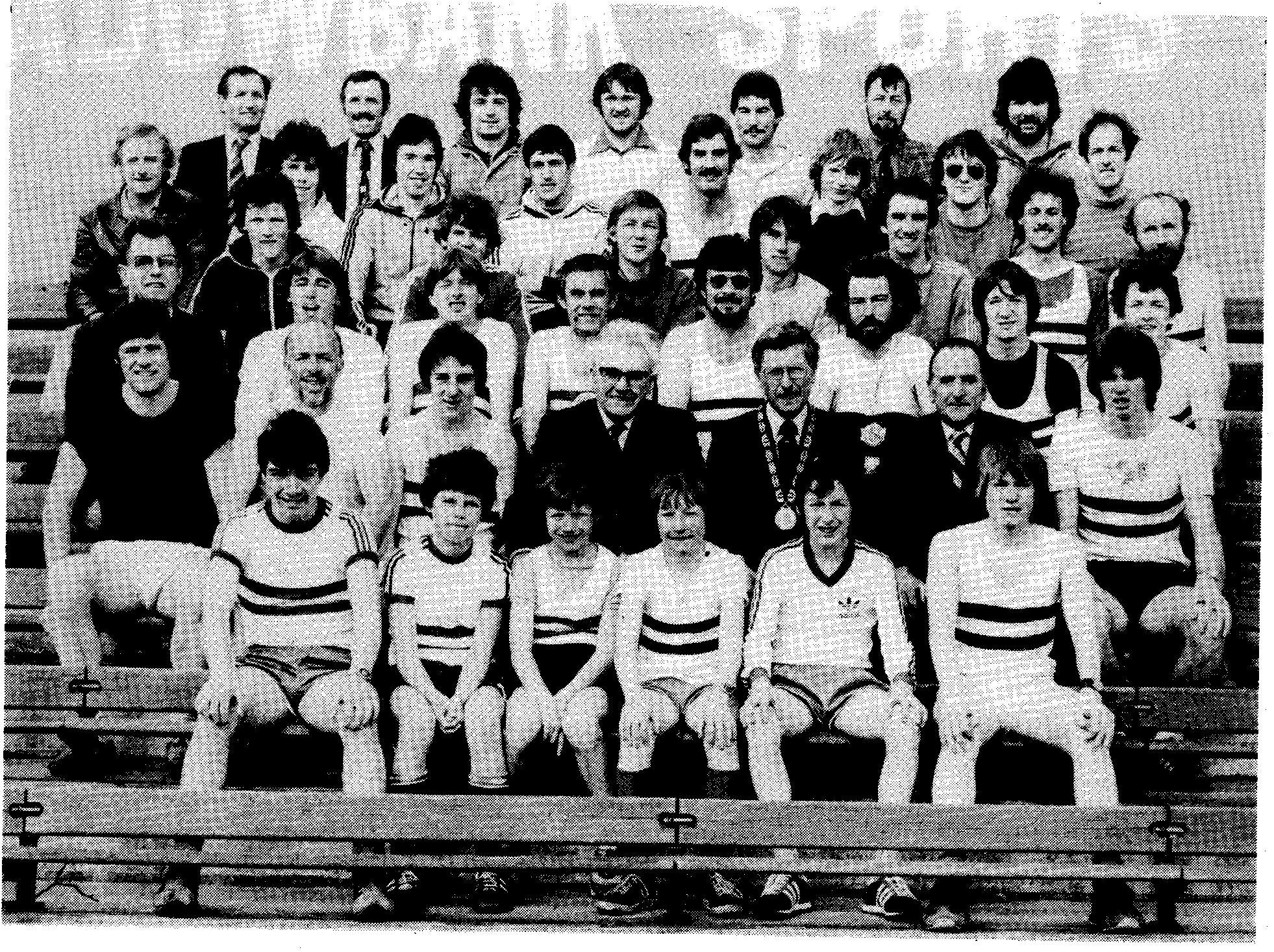 Ian with the glasses and the beard with some club track and field athletes including sprinter Allan Wells, distance runner Martin Craven, hammer thrower Chris Black as well as stalwarts like Bob Steele and Chic Third
Ian had a good career as a runner but, unlike many, he stayed on to be an excellent organiser, both as a committee man and as an outstanding team manager. There is no real doubt in the minds of any of us who were involved in the sport in Scotland that Edinburgh Southern Harriers was the top club in the country on the roads, over the country and, perhaps specially, in track and field athletics. Taking the road and cross-country team first, Ian was the team manager throughout the 1970's and 80's. The two big events in Scotland over the winter at that time were the Edinburgh to Glasgow Relay and the National Cross-Country Championships. The table below tells us that there were 33 medal winning teams out of a possible 40 races, and 16 of them were gold.
| | | | | | | |
| --- | --- | --- | --- | --- | --- | --- |
| Year | E-G | National | | Year | E-G | National |
| 1970 | 2nd | 1st | | 1980 | 4th | 1st |
| 1971 | 3rd | 2nd | | 1981 | 1st | 2nd |
| 1972 | 3rd | 4th | | 1982 | 1st | 1st |
| 1973 | 1st | 3rd | | 1983 | 6th | 1st |
| 1974 | 1st | 2nd | | 1984 | 6th | 1st |
| 1975 | 1st | 2nd | | 1985 | 2nd | 1st |
| 1976 | 8th* | 2nd | | 1986 | 3rd | 1st |
| 1977 | 1st | 2nd | | 1987 | 6th | 1st |
| 1978 | 1st | 2nd | | 1988 | 2nd | 2nd |
| 1979 | 3rd | 1st | | 1989 | 6th | 6th |
* 1976 was the year when John Robson went from 3rd to 19th on the third stage.
The most outstanding of these performances was in 1978/79 when the club won all eight championships noted in the same season. The certificate below belongs to Colin Youngson who has signed it along with many of the runners. You will note Ian McKenzie's signature below many illustrious names who had represented the club.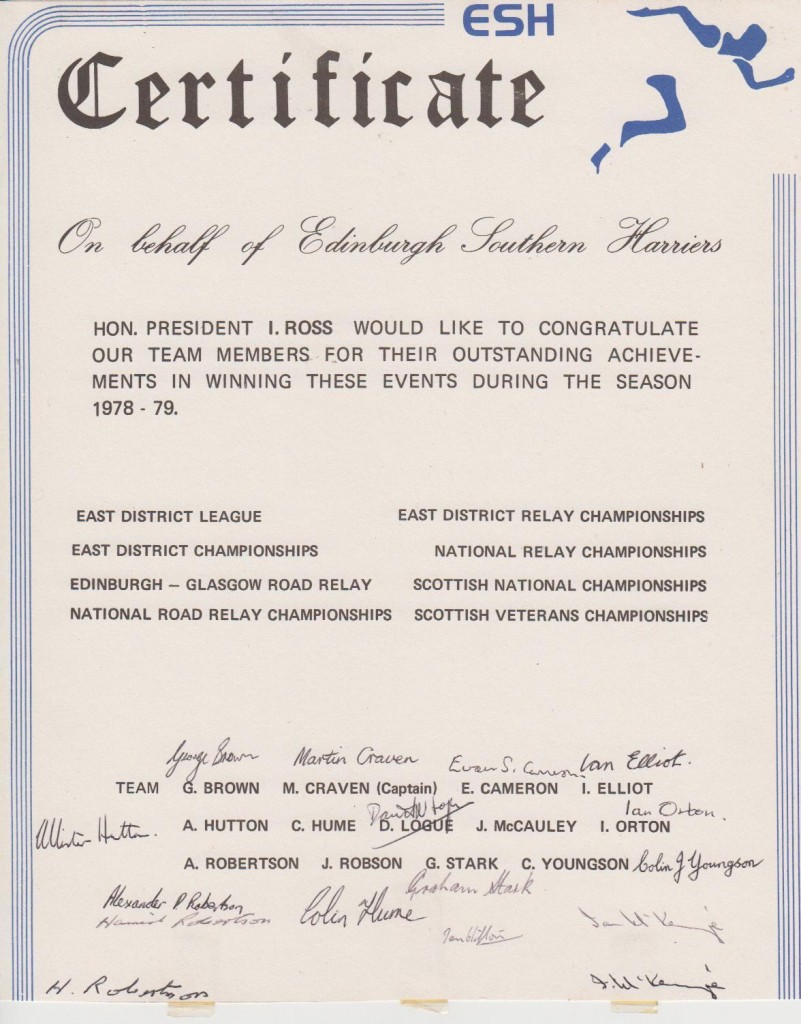 Teams managed by Ian in the same 20 year period also
* won the National Six Stage Relays (first one held in 1979) 7 times and were second twice in 11 years,
* won the National 4 x 2.5 miles Cross-Country Relay Championships in 1978, 81, 82, 84 and 1986.
* won the East District Championship 9 times in 12 years and
* the East District Relay 12 times between 1970 and 1989.
* t
he major road relay in England, in Britain, every winter is the AAA 12 stage road relay in Sutton Park, near Birmingham. Edinburgh Southern Harriers was second team in two consecutive years, 1974 and '75: a feat of which Ian is justifiably proud.
An interesting extra: Having won the Senior National Cross-Country Championships only four times in their first 75 years (in 1964, 65, 69 and 70) in the club's final years they recorded no less than eight wins, including a record-equalling six wins in a row from 1982-87, following wins in 1979 and 1980.
It is in all a quite amazing record of consistency at a time when the standard of endurance running in Scotland was very high – apart from all the old foes such as Shettleston Harriers and Victoria Park, the 'new kids on the block' of Edinburgh AC were formidable rivals, especially in cross-country but also on the roads, and in the late 80's the Cambuslang Harriers team was starting to make its mark in no small way.
Ian was also part of the superb track and field team of the time. In his own words:
During my period as ESH cross country team manager, the track & field team was very ably managed by Jim Smart and Ken Ballantyne. Although I was not manager I attended virtually every BAL match to assist with the management, but had no involvement in the selection, this was not my responsibility. I simply supported. When we amalgamated with EAC to form City of Edinburgh I took on the role of T&F manager for a period of two years and was successful in helping to achieve promotion to Div 1. During that period I worked in conjunction with the SAL and Forth Valley league managers to ensure that any athlete performing well was considered for selection to the BAL team.
He tells us – My proudest moment was when ESH won both the Ladies' and Men's Pye Gold Cups at Crystal Palace, the first time this had been achieved by any UK club. The trophies are organised by the British Athletics League and there are four or five rounds at various venues across the British Isles with matches held in all four countries and the hard fought final was held at Crystal Palace in London. The format is one competitor per event with all events on the programme. Logistically, organising the team, the transport and the accommodation is very difficult. Doug Gillon in the December 1988 issue of the "Scotland's Runner" tells how difficult and how expensive these meetings can be. "The UK League is an expensive arena to compete in. Fifty athletes have to be transported, fed and chaperoned for, unlike the men's league, the women compete in three age groups (four in Scotland). The trip to a London fixture costs more than £2500." On one occasion a London Sunday newspaper was offering a two-for-one on flights to the Capital to those who collected enough tokens. ESH encouraged all their members to collect enough tokens for their trip to London. In this situation, the English clubs have a definite advantage, with those from London most advantaged.
Apart from the financial aspect, no matter how many international or top class athletes a club has, they all have their own programmes leading to their season's targets, they often cannot afford two or even three days for a match at the other end of the country, or at times even to take part in an event in which they excel because it doesn't fit in. This is one area in which a team manager has to be, at the very least, proficient – finding out as early as possible when the various athletes will be available, when they might be available and when they will definitely not be available. He needs to be on good terms with them all to have these kinds of discussion, because there are times when an athlete will just do an event 'for the team'.
Ian says that his proudest moment was in 1975 when the Edinburgh Southern Men's and Women's teams both won the Pye Gold Cup – something no club had ever done before. It was on 6th September 1975 at Crystal Palace in London with the Scots club having to travel to London with all the inconvenience and expense that that entailed while the opposition largely stayed at home, slept in their own beds and had their usual breakfast. The opposition for the men included Thames Valley Harriers, Wolverhampton and Bilston, Hillingdon AC, Bristol AC and their rivals from Edinburgh, EAC who had also done well to make the final. For the women, there were Mitcham AC, Stretford, Sale Harriers, Wolverhampton & Bilston, Bristol AC and, from Glasgow, Maryhill LAC. The "Glasgow Herald" on the Monday began its report with
"If they never achieve a major British honour again – and who would offer odds against that – Edinburgh Southern Harriers came home yesterday from Crystal Palace in the certain knowledge that the club's name would be acclaimed in athletics columns up and down the British Isles. Overcoming the considerable difficulties of cost and travel fatigue, Southern mustered teams of intrepid spirit who lifted both the Pye Gold Cup and the Women's Cup on Friday and Saturday against the best of Britain's clubs."
The "Herald" agreed with Ian's thoughts on the magnitude of the performance completely. The report from the "Athletics Weekly" is below.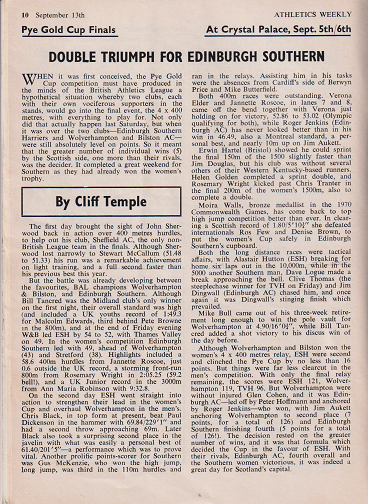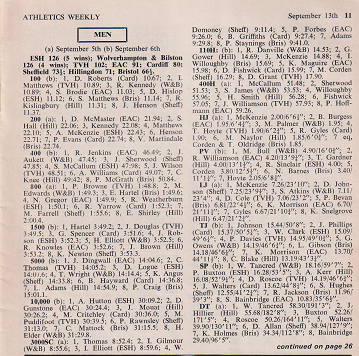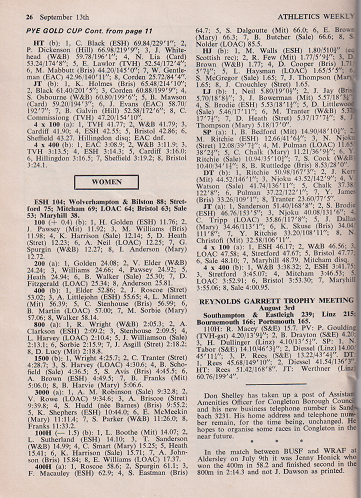 That is it, in all its detail, as described by Cliff Temple who was one of the most knowledgeable, as well as one of the fairest, of columnists. Edinburgh certainly had several of its stars on display – Hutton, Black, McKenzie, Robson – but the opposition was of the very best with such as Bill Tancred, Mike Bull, John Sherwood, Paul Dickenson as well as Scots Drew McMaster and Jim Dingwall. The women had to face down Tessa Sanderson, Andrea Lynch, Lorna Boothe but Moira Walls, Meg Ritchie and their team mates were more than able. As the "Herald" said, "Edinburgh Southern's women were rarely in trouble in their match."
There were unfortunately, no interviews with the back room crew. To prove that it was not a one-off fluke they came seriously close to repeating the performance the following year when they came home with two second places. Track honours over this period –
Domestic Track and Field Team Honours
Scottish Athletics League (established 1960):
Winners in 1960, 62, 63, 64, 65, 67, 68, 70, 71, 72, 73, 744, 82, 83, 84.
Dispatch Trophy East District Team Championship (established 1929)
Winners in 1948, 52, 60, 61, 63, 66, 67, 68, 69, 70, 71, 72, 73, 76, 84, 86, 87, 94.
The National League / British Athletics League had been launched in 1969, with the top-ranked 18 clubs in Britain invited to participate in a three-division league. ESH embarked on a very distinguished unbroken 27 season, 107 match career in the League. Southern spent 11 seasons in Division One, 12 seasons in Division Two, three in Division Three and one in Division Four – winning four divisional championships in 1970, 1982, 1983 and 1991.
Like many club men all through the country, Ian has served his time on the committee having been Edinburgh Southern secretary/treasurer for 12 years before the formation of City of Edinburgh and had also been club President in 1975. After the amalgamation with Edinburgh AC in 1996 his experience was put to good use when he was the track & field team manager in the British Athletics League – a spell which took the club from Division Three to Division One in consecutive years. When they amalgamated with EAC to form City of Edinburgh Ian took on the role of Track & Field manager for a period of two years and was successful in helping to achieve promotion to Division 1. During that period I worked in conjunction with the Scottish Athletics League and Forth Valley league managers to ensure that any athlete performing well was considered for selection to the BAL team.
What were the qualities that Ian brought to the role that made him so successful? We have comments from some of the team members and other friends at this link.