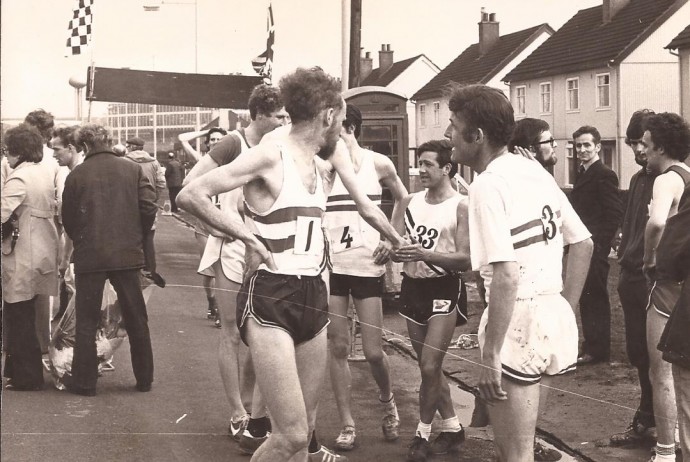 Ian McKenzie with glasses and beard: Number 1 is Donald Ritchie of Aberdeen AAC and his team-mate Steve Taylor (Number 3). Number 33 is Eric Fisher of Edinburgh AC.
As we have seen, Ian came into the sport as a 12 year old but because of the rules at the time, there was no national championship for Under 13's, they didn't come until 1969. His first national was at the then traditional venue of Hamilton Race Course as a Senior – he had been in a motor cycle accident and did not run as a Junior Man and he was only getting back into the sport in 1962.
On the road:
He ran all over Scotland, mainly in road races, many linked to Highland Games road races – among them were the Airdrie Highland Games 13 miles, the Shotts Highland Games 14, the Dunblane Highland Games 14, Aberfeldy 14, Duns and the Strathallan Gathering 20. The Strathallan entry forms listed the race as 20 miles and on one occasion it was noted locally as 21 but it always felt like 22 when you ran in it. Naturally at that time he was a member of the Scottish Marathon Club. His first race with the Club was the Morpeth to Newcastle to which he travelled in Jimmy Scott's minibus. Jimmy was the secretary of the SMC and took his minibus to all the road races and transported many runners to them. As a member of the club he also took part in the championship which meant racing in the Clydebank to Helensburgh 16, the Strathallan 20 and the SAAA Marathon championship. He tells us that "In training for the marathon I would race the Tom Scott 10, the Clydebank – Helensburgh and Edinburgh-North Berwick 22 then the Scottish Marathon in June. At that time my wife's family lived in the Lake District and I often ran down in the North West : Brampton to Carlisle, Windermere to Kendal, Blackpool and Manchester, where I ran my marathon pb".
Colin Youngson trawled through some old Scottish Marathon Club results and found the following honourable mentions of Ian.
In early 1965, Ian B. McKenzie joined the Scottish Marathon Club. Other new members accepted then included prominent international athletes Alastair Wood (Aberdeen AAC) and Fergus Murray (Dundee Hawkhill Harriers). From then on, Ian must have taken part in several club races, but the following results are from 1967-1968.
At the end of April 1967, he finished a decent twelfth (1.34.36) in the 16 miles Clydebank to Helensburgh Road Race, just behind Bobby Calderwood of Victoria Park but in front of Willie Marshall (Motherwell), Ronnie Kane and Andy Forbes (both VP). Ian was third in the Handicap section.
In early June, Ian was 8th (1.11.23) in a Dundee ASA Road Race (probably 12 miles). Amongst others, he beat Henry Morrison of Dundee Hawkhill. A week later, he finished tenth (54.50) in the Edinburgh University 10, in front of Ian Hathorn, who held the Edinburgh to Glasgow Stage Three record. There were three ESH athletes in front of Ian McKenzie – Donald Macgregor, Alastair Matson and W. Lyall.
Two weeks after that (June 24th), Ian had a go at the Scottish Marathon Championship on and out and back course from Grangemouth Stadium. It was a very hot day so, although he was tenth at half way (1.16.30), he was one of 6 who did not finish.
On 12th August, Ian ran the Atholl and Breadalbane Agricultural Show 13-mile road race and completed the course in 15th place (1.26.11) in front of Ron Pickard (Perth Railway AC). At the end of the season, Ian B. McKenzie was listed as 24th equal in the 1967 Scottish Marathon Club Championship.
On the 30th of November, 1968, Ian ran the famous Brampton to Carlisle Road Race and recorded a time of 57.02.
At club level, he ran in all the shorter annual road races such as the Nigel Barge Road Race in Maryhill on the first Saturday of the year, the Glasgow University 5+ in early November but only ran in the Edinburgh to Glasgow Relay once, simply because the club standard was so high. Ian's running was of a good club standard – eg he ran a first class standard time in 1967, ran 1:11:25 for 13+ very hilly miles at Airdrie, 26 minutes for the 5 miles of the Nigel Barge race.
On the track:
As for track running, he has this to say: "After my bike accident I mainly stuck to road running as I enjoyed it the most, although I did many 3 and 6 miles races in the Scottish Athletics League for ESH, mainly because very few wanted to do them (usually the 6). Before the accident I competed on the track at a number of meetings: PressCharities at Powderhall, at Musselburgh, and Falkirk , Shawfield and Motherwell I enjoyed them but never really enthused over them.
I ran two steeplechase races in my time, one at Westerlands the other at the East District championships. I didn't ever do any more. I did many club championships at various distances from 440 yards up to 6 miles, where I set my pb behind Ken Ballantyne. In the early 1960's ESH was looking to improve as a club and competed at many competitions at Blackpool Illuminations trophy meeting, at Billingham and Blackburn. All those had two mile team races on the programme, which I did enjoy. They also provided an opportunity to bond with others in the team."
He was always very much one of the team, Alistair Blamire says that Ian is "a great club man, really friendly guy, used to train with Ian occasionally when we both worked in Livingston." The same is said by many other ESH runners in different ways."
Over the country:
His first national was at the then traditional venue of Hamilton Race Course as a Senior – he had been in a motor cycle accident and did not run as a Junior Man and he was only getting back into the sport in 1962. Of course like all good endurance men, he ran for the club in club championships, District Championships, East District League Matches as well as the National Championships.
If you want to know why he was a good team manager in whatever discipline – road & cross-country or track & field, it was because he had 'been there and done that. All athletes know whether the man they are talking to has any practical knowledge of what he is asking of them. They know from the kind of replies they get to their questions, they know from how he states his priorities and they can tell when he is interested in them or only in the points they can deliver.