Scottish Athletics Statistician, Arnold Black, wrote the following:
"ATHLETE OF THE DAY – IAIN MURDOCH
Iain Murdoch was Scottish 1500m champion three times but never won a title at the event he topped the Scottish rankings in for 3 consecutive years between 1999-2001 – the 3000m steeplechase, winning silver in 2005 and 2007. In 2003, he was ranked number one in the 1500m. Career bests of 1:53.2 (800), 3:44.90 (1500), 4:03.19 (1M), 8:20.06 (3000), 14:50.4 (5000), 5:46.85 (2000S) and 8:42.79 (3000S). He appeared in the Scottish senior rankings between 1996 and 2012."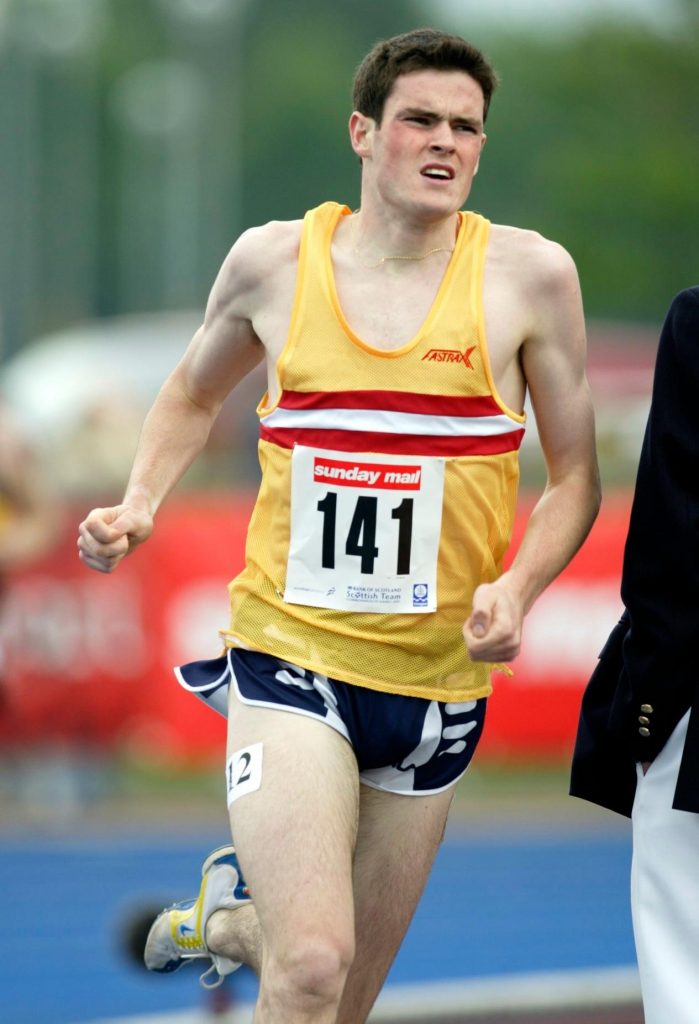 Iain MURDOCH (born 10.07.80) AvClub: Avonside Track Club.onside, Law & District, Birchfield, Hylas (Netherlands)
Iain was born in Rotherham in 1980 and coming into athletics in 1994 was being spoken of as a major talent by 1998 and was the subject of a Q&A in the Scottish Athletics Yearbook of 1999. If we look at the questionnaire and his replies before we go on to his achievements, it would provide a useful background.
Club: Avonside Track Club. Started in athgletics: Around 1994 because I was really bad at football.
Favourite event: 3000m steeplechase.
Progression: 1994 – 2:11.5 (800), 4:34.5 (1500); 1995: – 4:10.5 (1500), 9:35.1 (3K), 4:42.94 (1500 steeplechase)
1996 – 1:57.6 (800), £:59.9 (1500), 9o:06.4 (3K), 4:22.81 (1500 SC), 10:40.3 (3K SC)
1997 – 1:58.4 (800), 3:59.0 (1500), 8:46.61 (3K), 6:07.34 (2K SC), 9:27.56 3K Sc)
1998 – 1:56.1 (800), 3:55.5 (1500), 8:31.22 (3K), 5:46.85 (2K SC), 8:58.15 (3K SC)
Achievements Scottish Junior S/C Champ: 1997, 1`998; Scottish Age 16 and Age 17 record holder, ranked 1st UK u20 2k and 3K S/C in 1998, AAA's 300m indoor champ, in GB Team at World Junior Champs, 1998.
Greatest Satisfaction: Competing at World Junior Champs in Annwcy.
Hero: None. Greatest Performance seen: Hitcham el-Guerrouj breaking the world 1500m record.
Ultimate Aim? To beat a Kenyan at the steeplechase. Greatest Rival: The Kenyans,
Coach: Roy Overend. How many days a week do you train? 4 – 5 days a week.
How often do you compete in a season? 10 – 12 races.
Typical week's Training? Monday – Speed Endurance; Tuesday: Run; Wednesday Track Reps; Thursday: Run; Friday: Track Reps; Saturday: Run; Sunday: Hill work and weights.
Suggestions for improvement in your event: More quality races,
Suggestions for improvement in athletics as a sport? Make the sport more athlete-friendly/oriented.
Any family interest? My sister used to do the Long and Triple Jumps.
*
That was the questionnaire answered, now we should look at his achievements in more detail.
1998 – Championship Record:
Scottish: 1st 1500m 2003, 2nd 1500 2000
2nd 3000m Steeplechase 2005 and 2007
1st Indoor 1500m 2000 and 2001
3rd Indoor 3000m 2005.
In 2000 Iain Murdoch finished 5th in an under-23 International steeplechase at Glasgow.
SENIOR INTERNATIONAL APPEARANCES
1999 Loughborough 3000S 3rd 9:06.00 v England and two other teams
2000 Loughborough 3000S 1st 8:47.64 v England and three other teams
2001 Loughborough 3000S 2nd 8.49.91 (He ran for Loughborough v England, Scotland, Wales and two other teams)
2002 Loughborough 3000S 5th 9:13.22 v England, Wales and two other teams
2003 1500m 6th 3:52.94 v Italy, Slovenia, Hungary and Croatia – at Ljubljana (Slovenia).
Scottish under 17 Championships: Iain Murdoch (Avonside) won the Indoor and Outdoor 1500m titles in 1996.
Scottish under 20 Championships:
Iain Murdoch (Avonside) won the 2000 metres Steeplechase title in 1997, 1998 and 1999.
He won the Indoor 1500m in 1998 and 1999.
West District Championship: Iain Murdoch (Law and District AC) won the 1500m in 2003
Other significant races:
On 30/7/1998, at Annecy (France) Iain ran in the IAAF World under 20 / Junior Championships. He finished 7th in his heat (9.07.09) 3000m Steeplechase
On 15/8/1998, he finished third (8.31.32) in the AAA Junior Championships 3000m.
In May 1999, he was third in the British Universities Steeplechase. On 6/8/1999, at Riga (Latvia) he was 7th (9.03.01) in his heat at the European Junior Championships 3000m Steeplechase.
Iain Murdoch won: the AAA under 23 Steeplechase title in 2000; in 2001 was first in a 1500m at Heusden, Belgium; In 2002 first in a 1500m at Namur, Belgium; In 2003 he won 1500m and Steeplechase in Scottish League Division One, set his PB mile time in Dublin and won a 1500m in Meilen, Switzerland.
From 2008-2013, he competed mainly in The Netherlands, winning at 1500m, One Mile, 3000m, 5000m and Steeplechase. He was second in the 2008 Dutch National Championship Steeplechase. Iain finally experimented with distances up to Half Marathon.