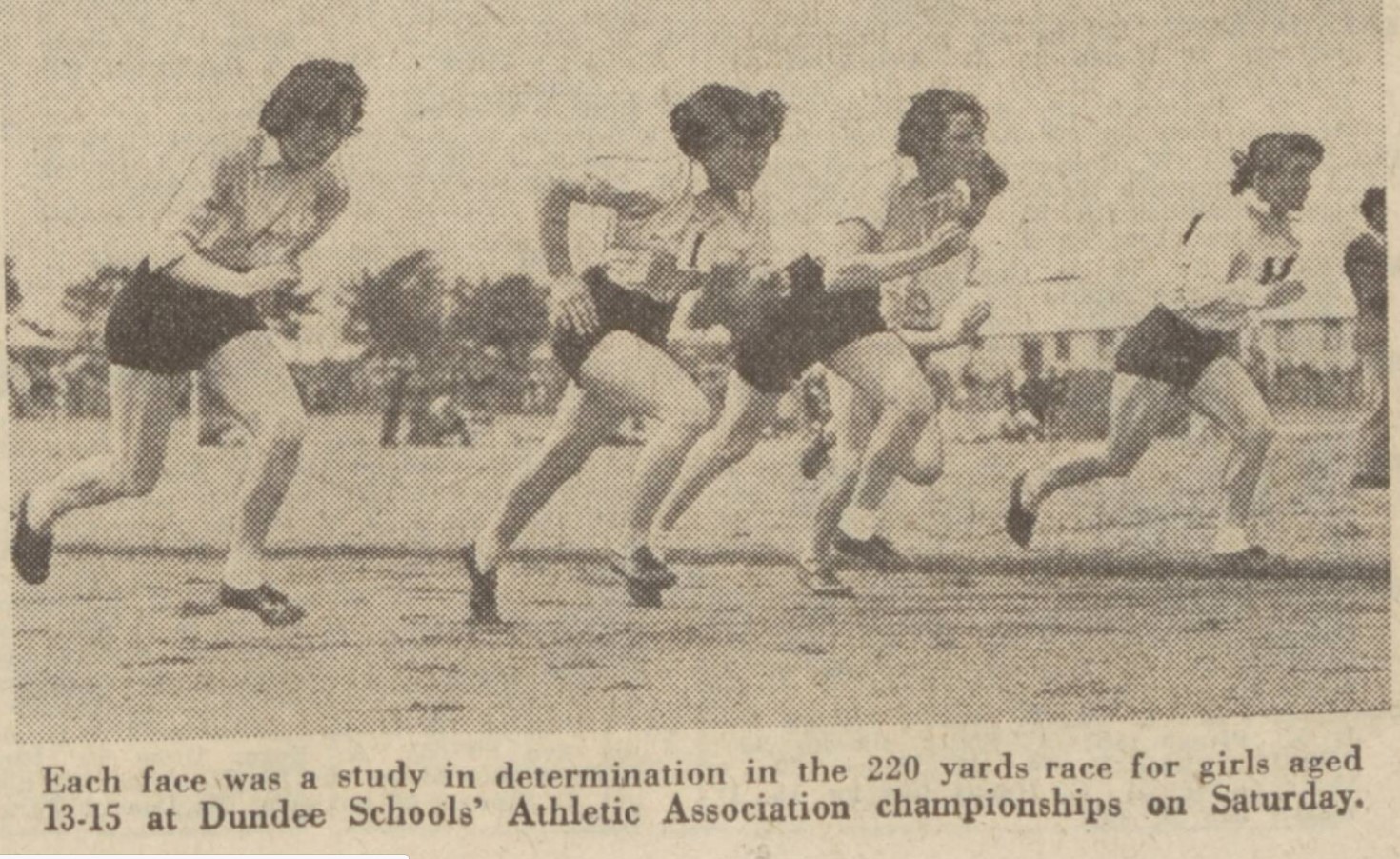 The cinder track was officially opened in June 1954 and the first full year for training and competition was 1955. It had been looked forward to for so long and so much had been promised for it by the politicians that it was no surprise that it was well used by all sorts of youth and sports groups as well as the local, well established athletics clubs. Of course, the schools were seriously involved and there were championships for the Dundee Schools, for Junior Secondary Schools Sports, for individual schools such as St Johns School and Logie Junior Secondary, as well as for other groups like the Youth Panel Sports and the Boys Brigade. As is generally the case, no matter what arguments are made pro and anti any new running track, once in place the track generates its own use.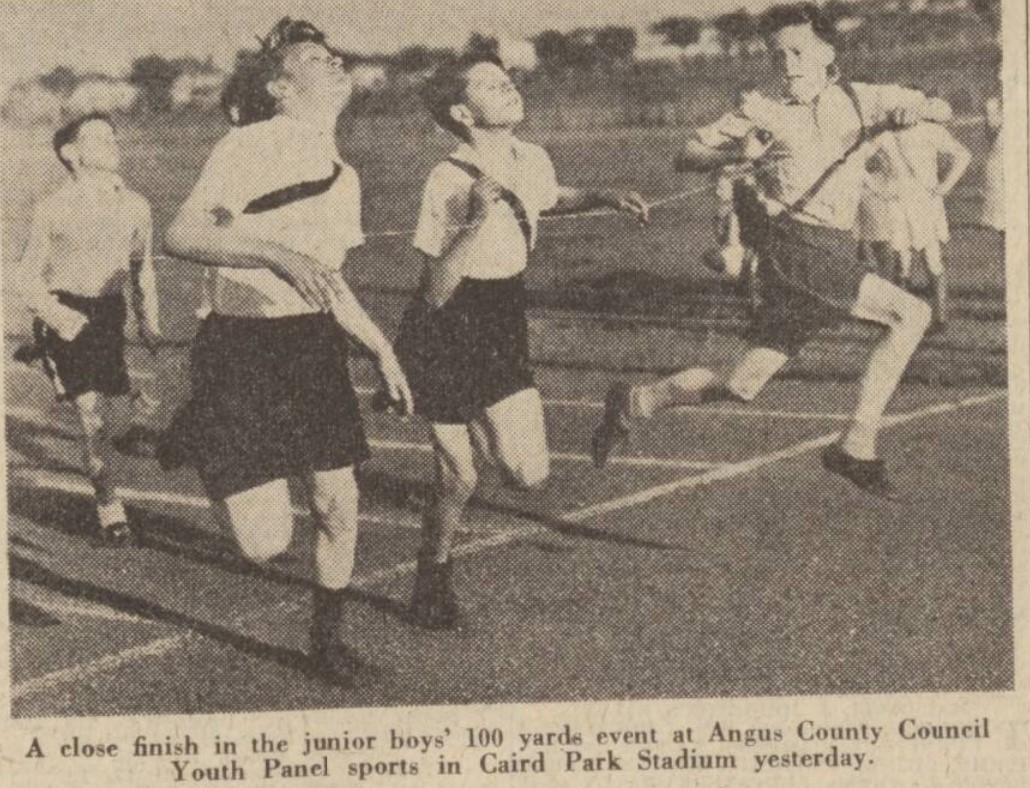 There had been a joint cyclists and harriers meeting held early on 4th May with gratifying local interest but the big meeting organised by the council was on 18th June and the complete programme of athletics contained –
100 yards handicap, 100 yards invitation, 100 yards handicap Ladies; 220 yards handicap, 220 yards handicap Ladies; 440 yards handicap handicap, 44o short limit handicap invitation, 440 yards Youths; 880 yards handicap, 880 yards Junior, Mile handicap, and medley relay. Field events were long jump, high jump, shot and discus. 12 track events and 4 field events. Athletes from all over the country had been attracted and turned up in big numbers – in addition to the local Hawkhill, Thistle and Q Clubs there were athletes from Glasgow (Victoria Park, Shettleston, Bellahouston), Edinburgh (Northern Harriers, Southern Harriers), from Aberdeen, from Perth, from Falkirk and from around Dundee – eg Taymouth. It seems strange though that the city which had in the 1950's produced some very good women athletes that there was no long jump for women on the programme. The star of the meeting however was local Doris Tyndall of who the 'Courier had this to say.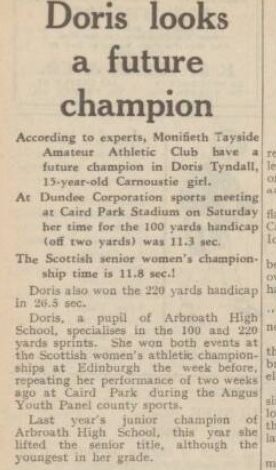 Although there were some members of the Q Club which had caused such a stir in Scottish athletics when it appeared in 1948, there were only two of them among the prize winners. As an aside, it was equally strange that they could not accept a challenge to a match from another local club in May because they had too few members. Their two big stars Pat Devine and Elspeth Hay had moved to London and joined the Spartans LAC, their top male athlete had just joined or was about to join the Field Events club and some of the oomph seemed to have gone from the club.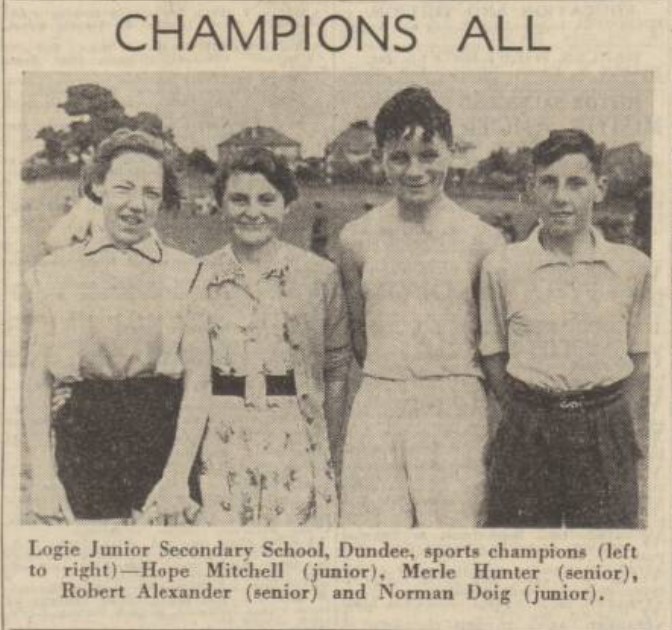 That was pretty well the pattern – a training venue for the large numbers of dedicated local athletes from Dundee and its environs, a venue for competitions and club, school and youth organisation championships and some league matches. eg in 1956 the following league match involving eight clubs took place. (Report from the Broughty Ferry Guide and Advertiser)

The two best reported meetings at the new stadium were regularly the May inter-club with up to 8 clubs taking part and the June Corporation-backed open handicap meeting. However after the first two years fewer athletes came from the central belt or even from Aberdeen to take part. Those who did travel performed well. On June 8th, 1957, John Kerr from Airdrie won the 13 mile road race in one hour eight minutes and 26 seconds from Alex McDougall (Vale of Leven) and Jackie Foster (Edinburgh Southern). The meeting that year also had a three miles paarlauf which was won by the Monkland duo of Willie McBrinn and Willie Drysdale of Monkland in 13 minutes 5 seconds. Doris Tyndall from Tayside AAC won the Ladies Sprints.
Judging by reports in all of the local newspapers, the cycle track seemed to be a big draw which regularly brought quality cyclists from all over Scotland and from England too. It was believed to be the only banked track in Scotland so that may have been one of the reasons. There were also several other tracks which seemed to have very good meetings – eg the annual Dundee v Aberdeen was held every second year in Dundee at Links Park. There was also a track outside the ground which had all that was necessary for a good meeting, plus the fairly successful Tayside AAC, in Monifieth and in June 1957 the Provost was asking "Where are all the athletes?" because it was not being used.
The inter club in 1958 was won by Tayside with six firsts to win from St Andrews and the much improved Hawkhill Harriers with Q Club last. June saw a new meeting being held at Caird Park when the Scottish Schools Girls Championships were held there on 21st of the month. Among the winners were EJ Watt (Leith Academy in the 16-17 100 yards, M Smyth (Clydebank High) 15-17 long jump, S McBeth (Clydebank High) , Under 13 long jump, and K Ross of Paisley Grammar won the Frances Barker Trophy for her winning high jump of 4'10 in the 13-15 high jump. Dunfermline High School won the Paisley Shield with 16 points.
PART TWO
We have so far been talking about the track and the fact that it had finally been laid with accounts of some of the races held there, but what was the actual track like? The best descriptions that we have all said that it was a non-standard track, inside the banked cycling track. It was also reported that the major hazard was crossing the cycle track to get to the running track and infield. Hazard? The runner might be called to report to the start when a cycle race was in progress! The first Scottish League Match to be held on a Sunday was at Caird Park on 6th May 1962 – it was the first League Match in Scotland to be held on a Sunday and the competing clubs were Dundee Hawkhill Harriers, Pitreavie AAC and Teviotdale Harriers. A feature of the scoring that is not familiar to the present generation is that each team was scored against each other team and the final results were Hawkhill 75 v Pitreavie 63 and Pitreavie 71 v Teviotdale 67.
Inter-Club Cross-Country Leagues were a feature between the late 1950s and early 1970s. One was the North-East Cross-Country League. There were three fixtures, starting in October, then December, then January – one at Dundee, one at Aberdeen and one at St Andrews. Aberdeen AAC usually won but these events were contested very seriously by many good runners.
In October 1967, when Colin Youngson was starting his second year at Aberdeen University. His club (AU Hare & Hounds) travelled down to Caird Park and raced about four and a half miles. This featured a lap of the track; three laps of the park; and a finishing lap of the track. In 1968 he contested the same fixture – against Aberdeen AAC, Dundee Hawkhill Harriers, St Andrews University and Tayside AC. AU finished second to AAAC. This year, the two Caird Park Track laps were omitted from the route although, in Colin's opinion, the rough cinder surface certainly qualified as cross-country!
In the 1960s, there was a corresponding North-East Track and Field League, with the first fixture often being held at Caird Park. Again, there were three fixtures: an early season outing in April, then May, then June, not long before the Scottish Championships. Perhaps this Track League attracted fewer top athletes than the Winter races. In 1967, for example, only the the Aberdeen University Second Team travelled to Caird Park, Linksfield Stadium in Aberdeen or the St Andrews track, which was probably grass rather than cinders. The programme continued developing year or year and performances on the track appeared in the annual Scottish ranking lists produced by SATS. For instance in 1967 possibly the best women's performance was when Barbara Lyall was ranked sixth in Scotland for a performance over 100 yards of 11.2 on 22nd August, although her times set at 220 and 440 were set elsewhere. For the men that year, Ian Graves's run over the mile of 4:27.2 at the same meeting placed him tenth in the country. The nationally ranked performances at the track in 1968 were
Maureen McLeish: 11.2 on 2nd June (4th in Scotland); Ina Coull: 11.6, also on 2nd June (15th); Margo Wilkie 11.8 on 29th June (24th=); Ina Coull: long jump 16′ 5 1/2″ on 12th June; Avril Forbes: discus 56′ 0″ (19th) on 12th June for the women while the only male performance at the track which appeared was Alex Robertson's long jump of 21′ 9″ on 21st April which placed him 20th.
The 1969 figures were not as impressive – not because the track was less good but because with the Empire & Commonwealth Games taking place in Edinburgh that year, all the top guns were competing on the all weather tracks at Grangemouth and Edinburgh and, more often than not, heading abroad for the best competition against which to measure themselves and impress the selectors. The was in fact only one and that was by Marjorie Stewart of Perth Strathtay Harriers who had a long jump of 16'3″ on 27th April to be placed 25th,
What was the routine for a runner heading to Caird Park for an afternoon training session on their own in the late 1960's? One chap told us that "At Caird Park, you first had to find the groundsman; if you managed that, then you paid him 6d for access to the "pavilion" / shed, where the "showers" enabled you to wash (well sort of) under a half-hearted cold dribble". It was one man's perception based on casual usage at the time, no doubt the picture was a bit different for those who trained and raced there regularly. But in the age of Commonwealth Games coming to Scotland and top class athletes being produced from all clubs, it wasn't accommodation for the late 20th century.
Caird Park suffered from its lack of a tartan or any other all-weather track in the 1970's. The Empire & Commonwealth Games had come and gone but the athletes who had been inspired by the Games – and that applied to the already died in the wool amateurs as well as the newer recruits – all wanted to run on the faster tracks. Grangemouth was written up by a former National Coach as the fastest track in Britain and the rankings and championships all went to Meadowbank, Grangemouth and slightly later Coatbridge and Pitreavie. They were venues of choice rather than the six lane cinder version at Caird Park. It was still a good track and still held local championships and league meetings but it was not until the 1980's that it came back into its own. The national rankings for 1981 had a number of performances from Caird Park although the actual tartan would not actually be there for another year.
PART THREE
The athletes listed in the SATS yearbook for 1981 were as follows:
100m: Neil Fraser 11.1 on 12th September; 800m: Paul Forbes 1:49.6 on 21st June; Colin O'Brien (J) 1:54.4 on 26th August; 3000m steeplechase: Charles Haskett 9:44.3 on 26th August; 400mH: Doug Hendry 55.6 on 26th August; Steven Ledingham (V) 59.8 on 26th August; Shot: Peter Venters 12.84m on 21st June were the Senior men and there were lots of Juniors and Youths also ranked. On the women's side, Kathryn Mearns in the 3000m ran 8:53.6 on 12th September and Intermediate Alison Johnston ran 10:08.6 on the same date; then came Amanda Reilly: 10:51.5, also on 12th September; 100mH: Carol Candlish 16.1 on 12th September; the Hawkhill sprint relay team ran 52.4 on 21st June and Jennifer Gilchrist cleared 1.75m in the high jump on 21st June. Nationally ranked performances in the sprints, middle and long distance races as well as in field events at a time when Scottish athletics was on a bit of a high. But when did tartan arrive in Dundee?
If we visit the Hawkhill Harriers website and go to the history page, it tells us that ""The Hawks had primarily been a road-running and cross-country club, with the occasional foray into track racing. Perhaps this was due to a lack of track facilities at post-war Caird Park. However, the establishment of another rival club, Dundee Amateur Athletic Club, and the building of the track, encouraged the Hawks into more track running. The track wouldn't be replaced with anything more modern until 1982." The cinder track laid in 1954 had lasted for 28 years and at last there was an all-weather track. Possibly because of that several big events came to Caird Park in the 1980's.
One of the biggest was the British Airways Games which took place on 15th July 1984. Local athlete Charles Haskett set a personal best of 8:24 in the 3000m race which was very good – but not good enough to win. The quality of the meeting can be seen from this report in the 'Glasgow Herald'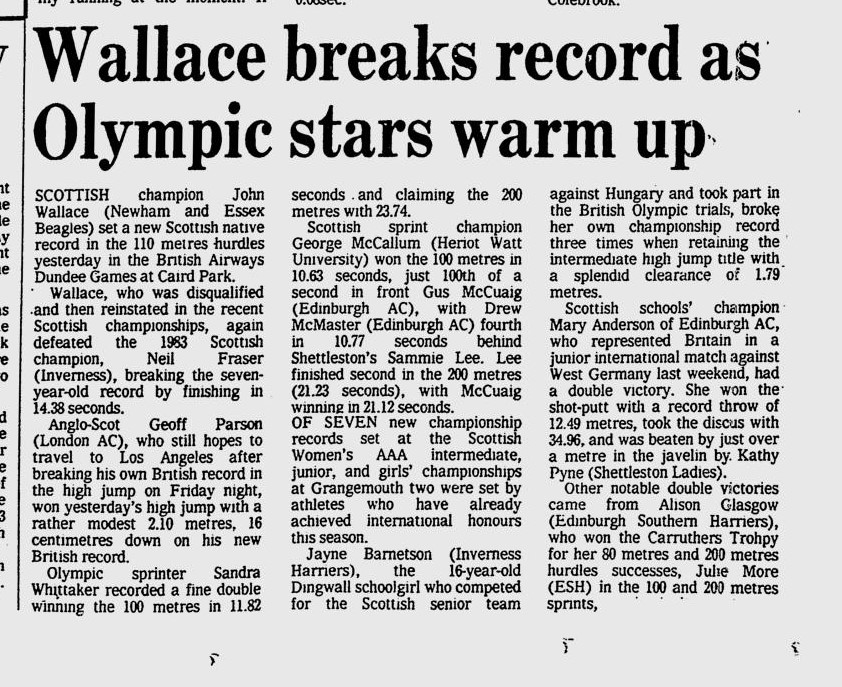 There are some really big names there – Geoff Parsons, Sandra Whittaker, George McCallum and Drew McMaster were all major stars in Scottish athletics. At the end of 1982, the following athletes were ranked in the SATS yearbook. Men first, Senior placings only.
1500m ; P Fox 3:57.4 12th May; G Russell 3:58.5, 16th May; D Ellis 3:58.7 12th May; R Barrie 3:58.9, 12th May;
110mH: N Fraser 14.8 16th May; T Leighton 17.2 16th May. 400mH: M Cannon 59.3 12th May; P Locke 59.6 12th May
4 x 400m relay: Aberdeen AAC3:30.3 16th May. Pole Vault: Stan Bowen 3.20 12th May Hammer: Mike Gall 32.96 12th May
Javelin: Peter Sutherland 46.54 12th May; Malcolm Cannon 48:54 12th May
1500m: J Cameron 3:47.0 25th April; 3000m B Brown 10:39.5 25th April. 400mH: J McCluskey 68.9 5th September
4 x 400 relay: Inverness 4:06.6 16th May; Victoria Park 4:11.5 25th April. high jump:T Reid 1.60m 25th April
M Mc Gillivray 1.58 16th May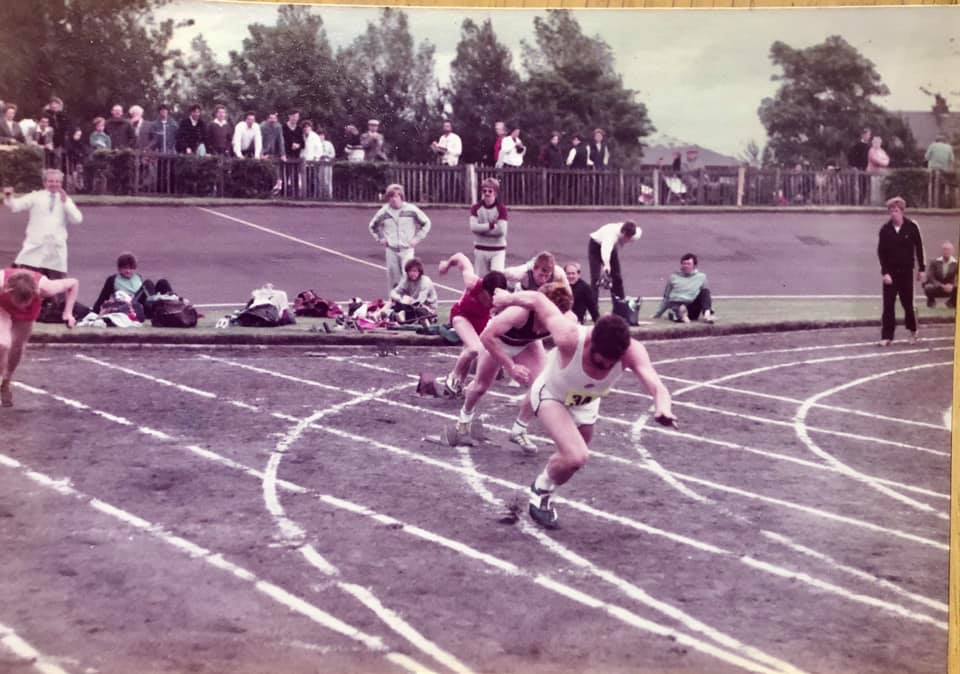 Dundee Highland Games early 1980s (Picture from Memiours of Pro Athletics on Facebook)
By 1986, the track at Caird Park was a tartan track and a good one at that. Right back at the start of the year – the Courier of 7th January, 1986, issued an appeal for Tayside's veteran athletes.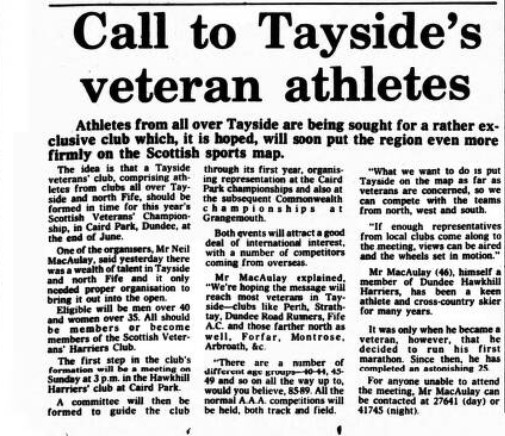 Veterans athletics had come to Dundee and the championships were to be held at the end of June at Caird Park. One week later the paper reported that 40 athletes had turned up the Sunday meeting at Caird Park and a committee had been formed. The Committee consisted of Charles Haskett, President, Jack Ewing, secretary, Leslie Banks, treasurer, George Johnston, liaison officer, Neil McAuley, Public Relations, Officer, Kenny Grant, Medical cover and communications,
That the council was really interested in athletics was indicated in an advert placed in local papers in February: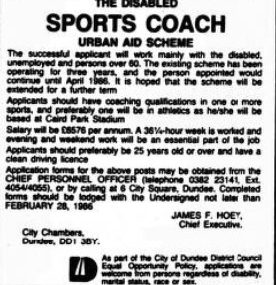 On 26th April, 1986, there was the Universities Cup Final at Caird Park where several Dundee University athletes qualified for the Inter Universities Cup Final which was also to be held at Caird Park. Quality athletes like Steve Marshall, who won the 1500m and Richard Archer from St Andrews won the 5000m. The big news was that St Andrews University won the championship for the first time ever and there were good wins for Linsey McDonald and Fiona Hargreaves in the women's sprints,
On May 26th there was an event which was a bit different but a great success in its own right. It was a Sports Aid Run to raise money for charity as part of the Band Aid appeal, organised by Ron Oliver with 4000 people taking part in the event at Caird Park.. All sorts and conditions took part – club runners, joggers, pensioners, choir members who had to rush away for their next church service, a range of sports people – the entire population was represented on the afternoon. There were Band Aid T Shirts for the six top fund raisers and certificates signed by Bob Geldof for other collectors. Later in the year, November, the Hawkhill Harriers held a Junble Sale in the club rooms at Caird Park to raise funds for the club. The facility was being used for a range of events which went wider than the simple training and racing on the track. It was a genuine part of the community and a focus for events other than the grind of training. For example, In mid-June, the Tayside local authority held their sports centres championship and Dudhope won the Championship Shield; in July the RSSPCC had a Fun Day at the track.
At the start of June, Dundee Road Runners, formed only four years earlier, formed a Junior Section for children aged between 10 and 16 with its headquarters in Caird Park.
The Scottish Veteran Harriers Club was by now a thriving concern and their championships were usually big well attended affairs and when they came to town they generated a lot of publicity in and furth of Dundee. The city had a Veterans club of their own with local distance runner Charles Haskett as President, there had been continuing press coverage of the event leading up to the event and the Courier reported on Andy Coogan's remarks on June that entries for the championship were up by 50 on the previous year, saying that this was because Dundee was the venue. There would be five year age groups up to Over 70 starting at 35 for women and 40 for men, Entry for spectators was free .
The event was a great success. The local repost in Dundee at the end of June 1986 read: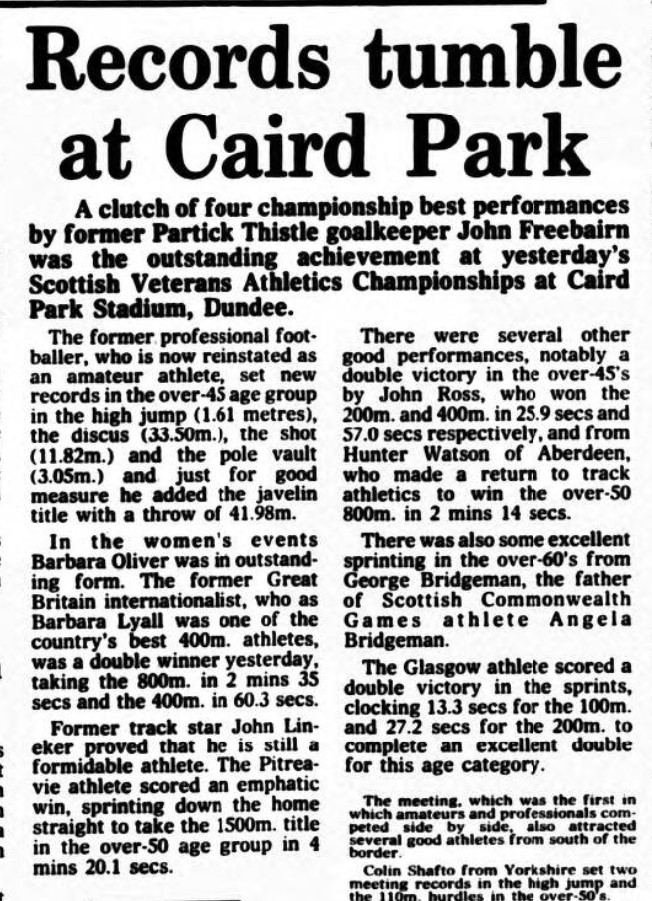 Look at the names there – John Freebairn who was an outstanding young athlete, a pro footballer with Partick Thistle, an amateur athlete and an international throws coach; John Linaker Scottish champion and internationalist, Barbara Oliver, Hunter Watson from Aberdeen and the outstanding veteran sprinter George Bridgeman. These were all class athletes and the fact that they participated speaks highly of the quality of the facility.
Also in the 1980's track users included council backed 'Come and Try' days at the Caird Park facility. Local heroine Liz McColgan was the big name on several of these although Tom McKean came all the way up from Lanarkshire to encourage the young Dundee talent. Tom also came up in 1987 for a McVitie's Gold Challenge. It was one of a series and the only one to be held in Scotland for which the local papers and councillors alike gave credit to Liz. Tom wasn't the original choice – Steve Cram and Fatima Whitbread had been touted as being part of the scheme but by the middle of 1987, it was Linford Christie who was coming to Dundee. Unfortunately he had to call off because of his own club's function and Tom was invited to Dundee.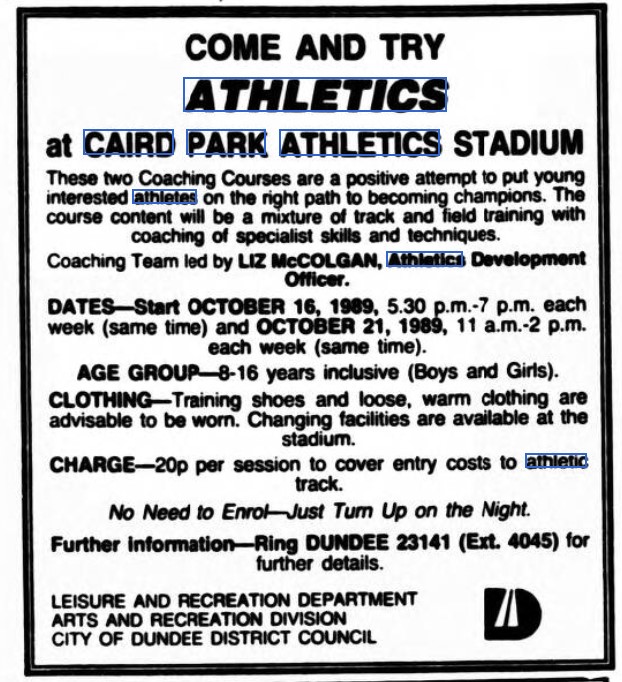 The 1987 season was fairly typical of the time – there were league matches held there for the National Men's and women's and North East Leagues as well as the June open meeting. Some of the other dates in 1987:
18th May: Dundee University Open meeting where Terry Mitchell set a record for the 5000m.
31st May: A Fun Run for which 5000 entry forms were distributed
20th June: First N-E League Match. The discus events were the ones that caught the eye – George Patience of Inverness set a new League record of 49.04m and Helen Cowe of Aberdeen won the women's event with 36.23m for a women's League record. The final result was a win for Inverness, from Aberdeen and Perth Strathtay in the men's contest and Inverness from Aberdeen and Dundee Hawkhill in the women's League.
25th June: Dundee Secondary Schools Championships
15th July: Dundee Highland Games
11th July: Cerebral Palsy Games
25th July: An unusual one. The Aberdeen 'Shire Open Meeting was held at Caird Park. It had a very good cast of athletes – eg the 3000m was won by Peter McColgan from Ross Arbuckle and Adrian Callan had set the early pace. Report: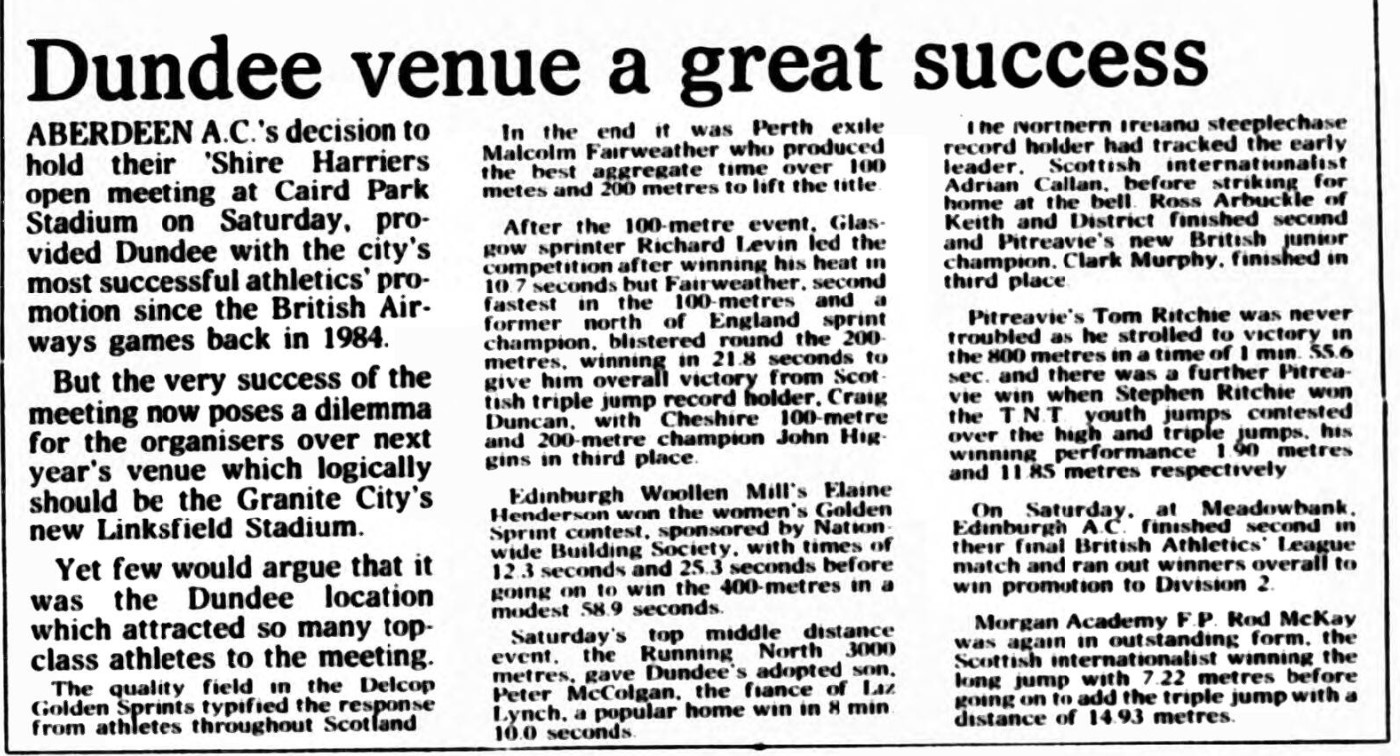 17th August: The Children in Need Appeal Run was held in Caird Park
31st October: The McVitie's Gold Challenge referred to above. The range of events was wide and the venue was really part of the community with events for old and young, for able bodied and disabled. There were charity events as well as club and open athletic meetings.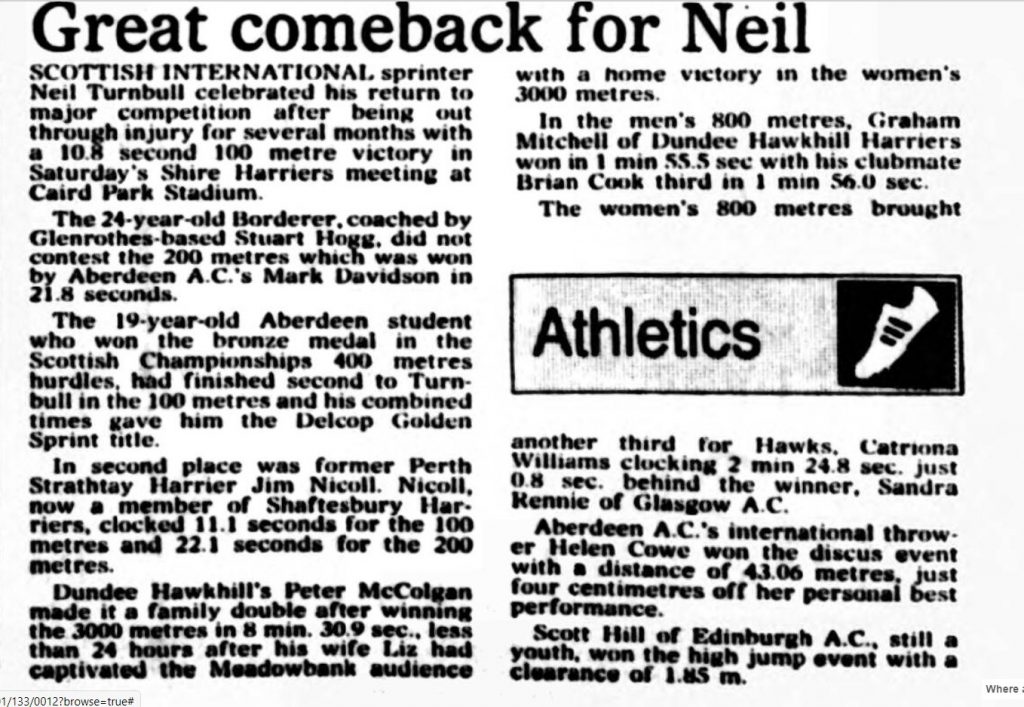 The 1988 season went from the ATC Championships at the start of April and went via the Cerebral Palsy Championships again with Tom McKean presenting the prizes right through to a Family Fun Run in September. Two years previously Aberdeen's Shire Open Meeting was held in Dundee and it was back at Caird Park again in 1988 on 30th August – it was another very good meeting as yiu can see from the report above.
1989 :
Sunday 19th March was the starting date for the summer season, 1989, when the first of three North East Young Athletes League matches took place at Caird Park. Aberdeen, Arbroath, Banchory, Inverness, Dundee Hawkhill, and Tayside all took part. The final result was a win for Inverness (546) , from Aberdeen (523) and Arbroath (516) with Hawkhill fourth (399). There was also a N-E Girls league match which was won by Aberdeen (192) from Hawkhill (163) and Banchory (155) and a Colts League for Under 11's which was won by Arbroath (114) , from Aberdeen (113) and Banchory (102 with Hawkhill fourth. .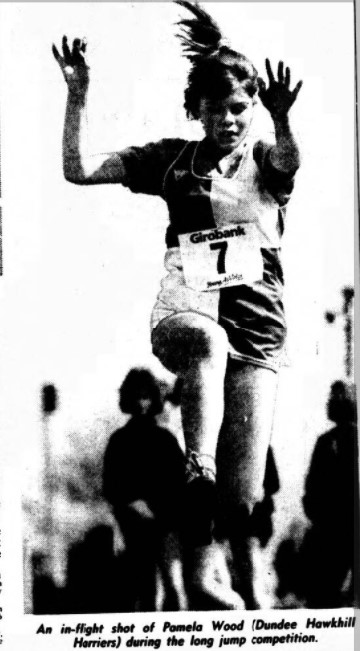 The season had started, the athletes had completed their winter training and then this: The 'Courier' reported on 20th May as follows:

It is a problem that should probably not arise today with the improved artificial surfaces that prevail but tracks of cinder, ash and blaes used to suffer from lots of runners using only the inside lanes to train on. They could cut up easily after a lot of use and, especially, if they were used in rain or over the winter period. Some tracks had almost permanent notices asking/telling runners to keep off the inside two lanes for training purposes. I remember listening to Andy Brown on a wet day telling a Motherwell team mate on a wet day that there was always a 'wee shelf' of firm track right close to the curb and it was better footing than the remainder of the lane. Nevertheless it was a bad time to lose the use of the track given the importance of the rest of the season. There were times though when other tartan tracks felt obliged to ask athletes to keep out of the inside lanes, just as they had done in the old days. The range of events and groups catered for did not diminish and the (council organised and run) sports for the handicapped took place with over 100 participating in mid June.
Possibly the biggest meeting of the year was on Sunday 18th June when the Scottish Veteran Harriers Club came back to Caird Park for their annual championships. With athletes such as Esther Linaker, Andy Coogan, George Bridgeman, Willie McBrinn, Eamon Fitzgerald, Jack Gelder and others taking part it was another good day but the star of the day, by universal reckoning was Barbara Oliver who won the W45 40m in a championship best of 60 seconds.
At the very beginning of July, Saturday 1st, was the day when Geoff Capes won the Heavyweight Championship at the Dundee Highland Games before a crowd of 7000. Lots of very good athletes took part – eg Scotland's Grant Anderson made sure Capes had no easy victories – there were many side attractions and vans selling ice cream, sweets, coffees and other delicacies helped make it another very successful day at the track.
The year continued with events as in past years and finished in October when there were two more Come and Try Days organised by Liz McColgan on 16th and 21st of the month.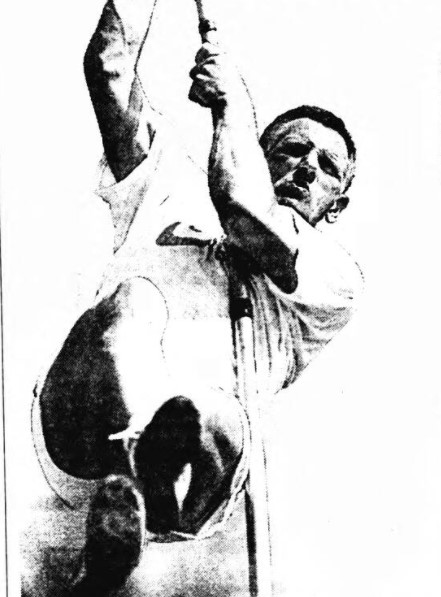 John Freebairn in the Pole Vault at the SVHC Championships in June 1989
By 1990, it was desirable if not essential that the track and associated facilities be further upgraded. The campaign started up and the council was found to be in favour but there were complicating factors – for instance the two football clubs in the city were rumoured to be wanting new grounds, there was talk of there being one stadium to be shared with between them with a running track incorporated into the design. It was suggested that to develop the chosen site in Caird Park would mean building over the existing track. That will be the next part of the story of Caird Park and athletics.