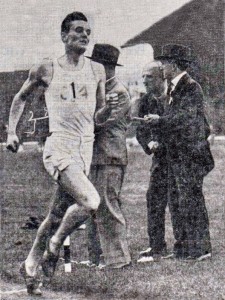 The 1935 International University Games were held in the Hungarian capital of Budapest from 10-18 August with a total of 774 athletes from 62 nations competing in a programme featuring ten events.   Stothard ran in the Medley Relay on the 16th August for the British students team which won the race by one second from the Germans with his own contribution being a fast last stage.   This served as a useful pipe-opener for the 800m first round the next day and he won the first heat in a comfortable 1:59.1, and a day later won the final in 1:56.0, half a second ahead of Georg Pochat of Germany.   The 'Glasgow Herald' reported as follows:
"UNIVERSITIES GAMES AT BUDAPEST.   JC STOTHARD WINS THE 800 METRES.   JC Stothard, the Cambridge University runner,won the 800m final in 1:56.0.   Stothard covered the first 400m in 56 8-10th, when he was lying a comfortable second.   On the back straight he went away with his customary dash and had a five yard lead on entering the home straight, which he maintained to the finish.   Georg Pochat (Germany) was second and P Faure (France) was third"
His season ended with a victory over 800m in a fixture between the British Universities team and a Yugoslavian team at Zagreb on 22nd August in a reported 1:50.8.   It had been a remarkable year in which he had not lost a single 800m race and with the Berlin Olympics looming in 1936 he seemed a certainty for the team, and even for a medal once there.
*
The 1935 season had started with College and University fixtures in February and continued from there but 1936 did not start until June – he won the Mile at the Sports Dispatch Meeting held at Hawkhill in 4:35.0, defeating Ian H McDonald of Edinburgh University (who was off 9 yards) by 1.5 seconds on the ninth of the month.   That was the Tuesday, on the following Saturday, 13th June) where he was second in the first heat of the half mile in the Kinnaird Trophy meeting in 2:03.   In the final the following day he could do not better than third in an estimated 1:56.3 seconds behind John Powell (1:55.4) and Brian McCabe (1:55.8).   This was a second and a half quicker than the previous year's winning time but these were runners who did not normally figure above him in the results.   The "Glasgow Herald" merely said that there was a surprise in the half mile when Sothard was forced into third place.   On 18th June Stothard was back  to the Mile at Goldenacre and he won in 4:25.2 from GA Smith who had run from 20 yards in the handicap.   Came the Scottish Championships the following week and Stothard was again out in the Mile – but he was against good experienced milers all starting level.   The race was won by Bobby Graham in 4:12.5 with Stothard 50 yards back and Ian McDonald a further 20 yards away.
"Strange to relate, one of the most thrilling and yet of the most easily won of the afternoon's  sport, was the Mile which fell to Robert Graham of Maryhill Harriers – a title vacated by the indomitable Tom Riddell.   Interest in this race was intensified by reason of two outstanding contenders, one of whom was JC Stothard , who had relinquished his half-mile title in order to have a crack at Graham over the Mile.   Over the first quarter- mile of this race, a clubmate of Graham, R Osborne, set a merry pace, clocking 60 sec., with Graham about eight yards behind and Stothard lying handy behind Graham.   At the close of the half-mile stage Graham took the lead, timed at 2 min 6 5-10th sec, and here the impression was gained that Stothard felt none too happy.   Stothard was still nursing Graham at the three-quarter mile mark in  min 11 2-10th sec.   Graham increased his pace, compelling Stothard to extend himself much more than he could stand to retain his natural poise and balance.   Piling on the pace Graham built a perceptible lead at the 300 yards mark, and from that point Stothard was hopelessly beaten in a race which was a great tactical victory for Scotland's greatest miler, and now by common consent one of Britain's representatives at the Olympic Games.   The time of 4 min 12 1-10th sec has only been beaten once in Scotland, and that by himself, and his 4 min 12 sec of last season stood as a British record until the other day, when SC Wooderson broke it in the Southern Championships.  
Note the quarter mile times of this race – 61 sec, 65 5-10th, 64 7-10th and 61 3-10th.   Graham can easily improve his second lap without impairing his final lap because Graham took time to glance round as he entered the home straight, reserve which may be more suitably distributed in a more even schedule of running."
 The next Tuesday, before a crowd of 15,000 spectators at Helenvale Park in Glasgow, Stothard and Graham stepped on to the track together for the invitation 1000 yards handicap.   Now read on: "JC Stothard (Atalanta) avenged his defeat by R Graham (Maryhill) in the Mile Championship on Saturday when setting up new Scottish all-comers and native records in the invitation 1000 yards handicap.  
Stothard allowed Graham to make the pace behind the long mark men for almost half a mile, but just before the penultimate bend, the AAA Half-Mile Champion made his effort, passed Graham in a terrific burst and drew away confidently to beat him by six yards in 2 min 13 3-10th sec.   This time lowers the all-comers record, made by the famous American Ray Dodge,  at the Rangers Sports in 1925 by 3-10th sec.   It also reduced Tom Riddell's native record by 1 3-10th sec.   Graham who also finished very strongly was 6-10th inside Riddell's figures.
This augurs well for Stothard's half-mile and Graham's mile prospects at the AAA Championships at the AAA Championships on July 10th and 11th."  
It maybe augured well, but auguries can be wrong – or at least wrongly interpreted for Stothard failed to qualify for the final of the 880 yards where his time of 1:57.5 was not good enough and failed to finish the Mile.   Graham was third in the Mile behind Wooderson and Lovelock and selected for the Olympics. The year for which so much was hoped by Stothard's supporters, was in tatters.
His season ended there.   What had happened to make it such a disappointment?   Keddie in his centenary history of the SAAA puts it down to 'untimely injuries which led to a loss of form over the half-mile.'   He also mentions the experiment with the Mile.   It may be that his build-up for the Mile as well as the half, was more strenuous than he could cope with and led to some of the injuries.   We don't know though and we will probably never know.   His annus mirabilis had come 12 months too early.
He returned to the 880 in 1937, running in excess of 20 races and winning nine of them including the 800m at the World Student Games.   He started the year earlier than 1936 on 29th May at the Kinnaird Trophy meeting in London where he was third in the Mile behind Wooderson and Frank Close in an estimated 4:19.3.    This was the fastest he had run the distance since June 1935 and promised a better season.   A month later at the SAAA Championships he was first in the second heat of the 880 yards in 2:03.2, following it up with first in the Final a day later in 1:57.5 beating John Lees by 10 yards.
"Memories of JC Stothard's brilliant 1935 season returned when the Old Merchistonian regained the half-mile in most facile fashion.   A fast quarter-mile pave was set by Olaf Hoel but the Norwegian was passed in the back straight and Stothard ran on strongly to win by fully ten yards in 1 min 57.5 sec.   This time, although short of his best, reveals Stothard to be right back in form and fully capable of breaking 1 min 55 sec when the occasion arises.  JAH Lees also finished strongly to secure second place and RTH Littlejohns who used to be a championship sprinter, pipped Hoals for third place."
The following Tuesday, he again won the 1000 yards at Helenvale in the Transport Sports, this time in 2:14.8 which was a second slower than in 1936 – albeit without the spur of Robert Graham this time.
On 2nd July in an international at Wuppertal in Germany, Stothard won the 800m in 1:53.4 from Mostart of Belgium and Powell of Britain.   The AA's championships, his next outings over 880 yards, were held that year on 16th and 17th July at White City and this time he was entered in one event only – the half-mile.    He began well enough, winning the second heat in 1:57.3 before the final one day later.   The final turned out to be a hard battle for supremacy.
"JC Stothard, from whom much was expected in the half-mile, appeared very agitated when he lined up with seven other runners, including another Anglo-Scot, ADG White.   AJ Collyer and three others mastered him in one of the most arresting races of the day.  
Collyer led at the bell with McCabe and Stothard at his heels.   In the back straight Stothard  got into swing and appeared to have the race within his grasp.   A ding-dong struggle ensued with the tenacious McCabe compelling Stothard  to race hard into the straight to maintain his lead, and then Collyer came with a rush and so did FR Handley, and by this time the Scottish champion began to falter under the persistent challenge.   He was pegged back by Collyer, and then by Handley, and just on the tape he was beaten by the Welsh champion, Alford.   As fourth man, Stothard's time would be about 1 min 54 sec."
Better than 1936 but not what he might have wanted.   On 8th August, Stothard was racing in an international meeting in Amsterdam where he won the 800m in 1:58.8 from Schmidt.   He must have liked the track at Helenvale because he was back there for the second time that season on 17th August for an invitation 1320 yards (ie three laps of the track) handicap where he finished fourth in the race won by RUC man Alex Haire off 22 yards in 2:59.
Only one week after racing in the East End of Glasgow, Stothard was out in the World Student Games in Paris.   On 26th August he was second in the first heat in 1:57.8.   On 27th he turned his attention to two events other than the 800m.  Running on the first stage of the medley relay for the British team which won from Germany in a time of 3:28.3, he followed that with the heat of the 1500m where he was second to  Wales's Jim Alford, also running in the GB colours of course.   He had qualified for the finals of both 800m and 1500m which were held on the 28th August and he ran well enough in the former to finish second to Alford in 1:554.3 to the winner's 1:54.1 with the third man (Arady  of Hungary) also recording 1:54.3, while fourth, fifth and sixth times were  1:54.4, 1:55.5 and 1:55.5.   Six men within four tenths of a second.   A marvellous race.. which was probably the reason why he did not turn out in the 1500m final.   The short turnaround did not seem to affect Alford however who won the race n 3:56.0.
Stothart raced five more times that year, every one an international contest.   On4th and 5th September he competed for a GB team in Helsinki against Finland.   On the first day he was part of a 4 x 800m relay team which set a British record of 7:39.9, with the other team members being Collyer, Powell and Handley.   On the second day he ran in and won the 800m in 1:53.8 from Teiliri of Finland who was only one tenth behind.   Two days later in Stockholm Britain took on Sweden in a one-day international and Stothard competed in the Mile.   Beaten by Archie San Romani of America who won in 4:08.4, and Henry Johnsson of Sweden (4:08.8) his time of 4:16.4 was good enough to beat Reg Walker and Robert Graham.   Four days later, GB competed against Norway in Oslo over two days and Stothard ran on both days.  Second to Arthur Collyer in the 800m on Day One in 1:54.2 to Collyer's 1:53.5, he ran in the 1500m the next day and was again second – this time to H Lehne of Norway (3:53.2) in 3:54.5 with Graham third in 3:56.7.
And that was pretty well the end of Stothard's athletics career.   He was a remarkable athlete and when the SAAA History was written in the 1980's he was still the only man to have won a medal in the Commonwealth/Empire Games 800m – Tom McKean ended the reign when he won silver at Meadowbank in 1986.   Scottish records, multiple championship wins and international vests (for Britain as well as Scotland) all came his way.   The "What if … " question comes up again with Stothard – what if he had stuck to 880y/800m in 1936?   It would be very interesting to hear any informed comment on the question.   Regardless, Scotland, and Britain has a lot to thank Hamish Stothard for.