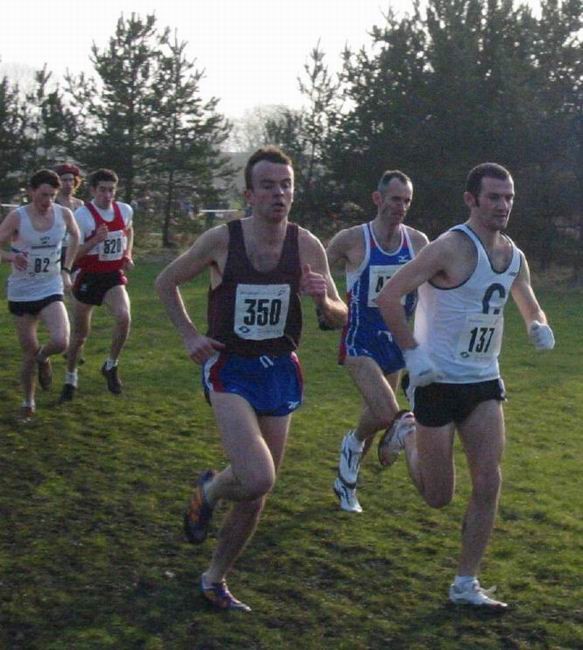 Graeme leads Phil Mowbrey (Hunter's Bog Trotters) – 350) and Glen Stewart (Mizuno AC) en
route to National victory in 2003
Graeme started running in 1994 when he and his twin brother Alistair made up the Balfron High School team with Clydesdale Harrier David Moore. They soon joined the club but while Alistair found other outlets for his energies, Graeme worked at his athletics and developed his talent more than most others I have ever coached. By that I mean he came nearer to realising his potential. In 1995 in his first season in the sport and with virtually no training he won the Scottish Schools 3000 metres event in 9:12.8 which placed him fourth on the Scottish rankings where he was also ranked at sixteenth in the 1500 metres with 4:15.1 and he also placed third in the West District Cross Country Championships. Working in a squad which had seven Scottish internationalists including three British representatives, he had role models as well as company for the high level training that he was able to handle. You can see from the pictures that he was physically very mature for his age. He progressed rapidly with every year that passed.
In 1996 as an Under 17, he won the Scottish Schools 5000 metres in 15:46 which placed him third on the rankings. He was ranked seventh in the 1500 in 3:58.3 and third in the 3000 in 8:42.87.
In 1997, as an Under 20, he won the West District 1500 metres in 3:38.3 which had him third in the Scottish rankings where he was also second in the 3000 with 8:44.04 and seventh in the 5000 metres in 16:06.27. Over the country he was third in the Scottish Championships, second in the Celtic International in Ireland and thirteenth after a poor run in the BAF Cross Country Championships.
In 1998 he won the Scottish Under 20 Cross Country Championship by 20 seconds as well as the Scottish Senior Indoor 3000 metres in 8:25.52. On the track he was ranked seventh in the 800 with 1:56.6, third in the 1500 with 3:57.3, first in the 3000 with 8:25.52 and first in the 5000 with 14:40.40.
At this point he left Scotland to take up a scholarship at Iona College in New Rochelle, New York. He had gone to visit a training partner, Des Roache, who had been invited over to have a look at the college. Des didn't stay but Graeme did. When training with Des and the college team he so impressed the coach that he was offered a scholarship that he grabbed with both hands. The 14:40 for 5000 metres that he recorded at Scotstoun was his last race in Scotland before moving to the United States.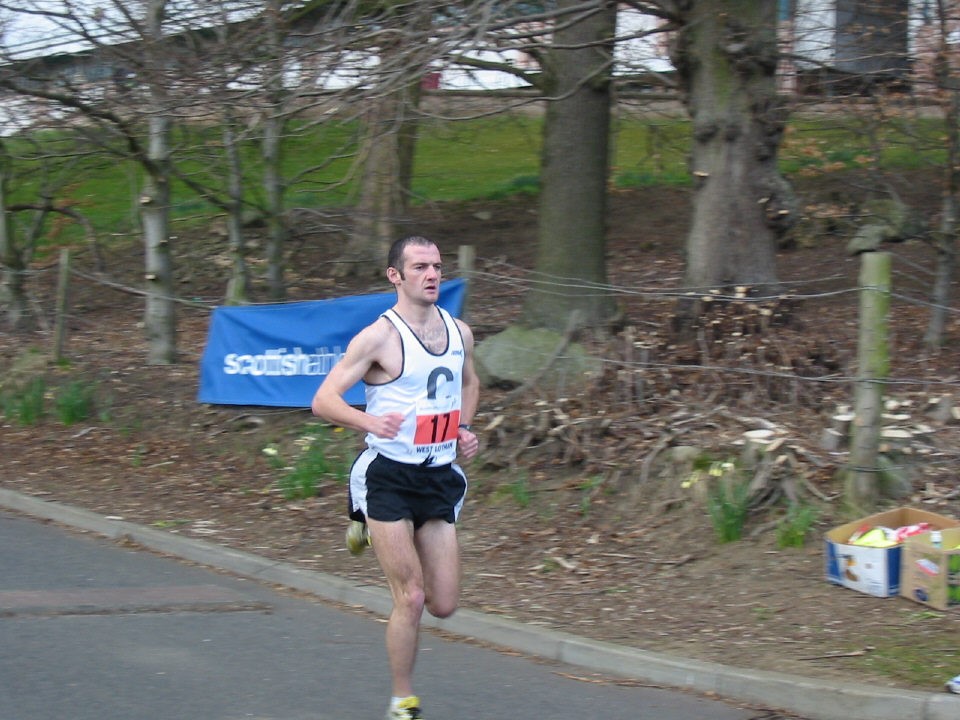 This is a short profile that I enjoyed writing. Graeme was a good athlete to coach – a hard worker but not an unintelligent worker. He often asked questions like "what is the point of this?" "Why am I doing this session?" He also asked about or commented on the opposition.
His home was in Buchlyvie and I stayed in Killearn so I used to drive him back and forth. We had many a good conversation about athletics and his questions were often very perspicacious He was a man of strong opinions. He knew he was good and had very high standards. For example he never ran for Great Britain when many less able athletes did. This was entirely down to Graeme himself though. At Bedford in July 1998 I was told that there was a British Junior team going to a match in Spain and there would be a 3000 metres race and also a 5000 metres on the programme. Graeme was guaranteed a place and the question was which event would we like him to run. I stated a preference for the 5000 but said we'd be happy with the 3000 if it made selection easier. He would run well in either. When he was phoned, he turned down the selection because he thought he was not running well enough to represent Britain. I had coached my first GB athlete in 1986 and it was agreed by all (selectors, officials, coaches, etc) that no one turns down their first selection. Graeme did. He had his own standards.
The opportunity did not come again – a few months later he went to New Rochelle and almost all his running was done in the States. It was very good running too. Training with a squad including a group of Irishmen such as Vinnie Mulvey and later with English Internationalist Peter Riley of England he recorded a superb series of race results and times.
In his first year abroad (1999) he was mainly settling in but nevertheless recorded 3:48.95 for 1500 to take over 8 seconds from his best and be ranked eighth; there was also a 3000 best of 8:20.37 (7th) and 14:59.73 for 5000 (19th).
In 2000, 3:48.41 placed him seventh in the rankings, a slow mile in 4:14.6 saw him second only because only one other Scot raced the distance and his best 3000 metres in 8:19.08 was the fifth best by a Scot.
2001 had times of 3:55.6 for 1500 (17th), 8:19.43 for 3000 (7th), 14:04.79 (4th) and 32:34.20 for his first 10,000 metres (13th).
2002 had bests of 4:06.6 for the Mile (1st), 13:52.6 for 5000 (2nd) and 30:22.82 (6th).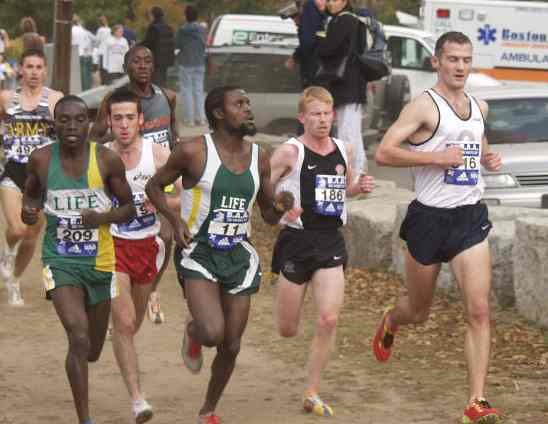 Graeme Reid running in van Cortlandt Park, 2002 (Note the club vest)
He graduated in 2002 and came home in October and at the start of 2003 he won the Scottish Indoor 3000 metres Championships in 8:23.44 from the talented AC Muir by two seconds. So with the National Cross Country at Linwood two weeks away, he was a past Junior Cross Country Champion, the second fastest 5000 metres runner in the country and 3000 metres winner. Going in to the race we all thought he had a chance of a medal – although Doug Gillon of the Glasgow Herald who didn't mention him in the race preview printed in the paper on the morning of the race. With a good field forward including Glen Stewart, Phil Mowbray, Steven Wylie, Don Naylor and many others it was a good race for the first of three laps then Graeme went to the front and just kept moving away to win by nine seconds from Steven Wylie. It had been exactly 80 years since Dunky Wright had won the event for the club. Typical of Graeme, when he was interviewed by Doug after the race he mentioned the fact that he had been omitted from the preview and unjustly at that! This was a hugely significant win from the club's point of view – we had last had an individual winner of the Senior National since 1923 when Dunky Wright brought the vest home in first place. We had produced individual Scottish champions in three consecutive centuries: something no other club could do until after 2100!
After winning the National he moved to live with Peter Riley in Manchester. They trained hard and when he was down there he ran for Peter's team and then Peter came up to Scotland to run for Clydesdale in the McAndrew Relays in October 2003 helping the club to second place with Allan Adams and Mark Rudzinski making up the team. Came the 6 stage relays the following year and Graeme showed his determination again and asked to run the 5000 metres short stage when the club really needed him on a long stage – with Graeme, Allan Adams and Ian Murphy on the long 10000 metres stages the club might have won medals of some sort and after the race, typically Graeme, he admitted that he had probably been wrong and it might have been better for him to do the long stage.
On the 18th of April 2004, Graeme ran for a Scottish International team in Brussels, Belgium. The road race was an Ekiden Relay – over the marathon distance (42km 195 metres). Jon McCallum, Christian Nicolson and Graeme ran 5km stages, Martin Graham and Glen Stewart each covered 10km and Andrew Lemoncello finished with a race over 7.195 metres. Team time was 2 hours 9 minutes 53 seconds.
However, jobs were as hard to get in Manchester and when an old college friend invited him over to the States where there were two jobs going using his accountancy degree he went. He settled in America. He is now living in San Diego and is a partner in Ernst Young.
He had done a lot and a lot with his win in the National being the tops but there was enough in his athletics career to indicate that had he had longer in the sport he could have been a really formidable runner on the world stage. He ran well on track road and country, over distances from 800 metres to 10,000 metres and despite the victories, trophies and times his potential was still huge.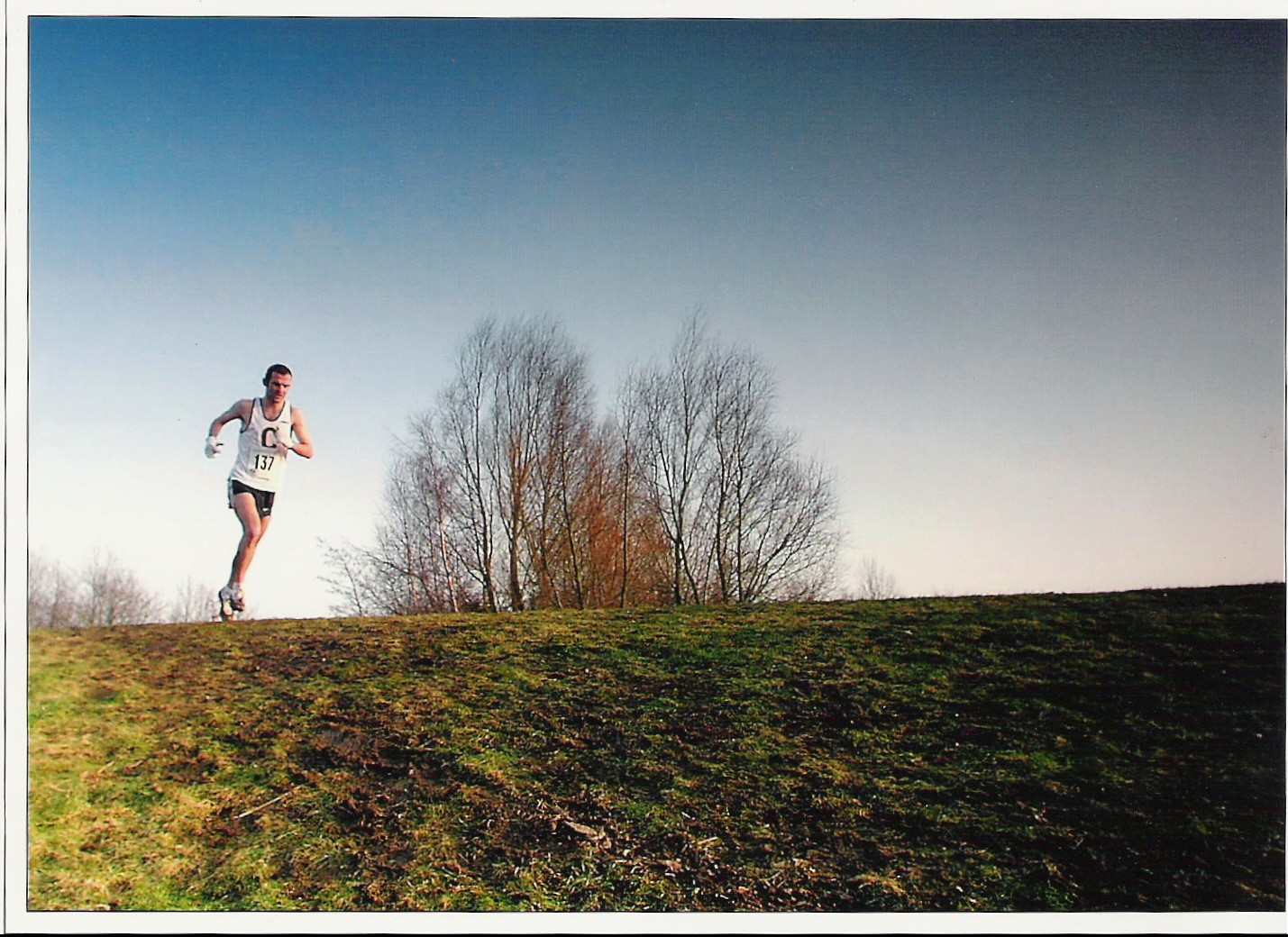 Above : Graeme winning the National Cross Country on 22nd February 2003