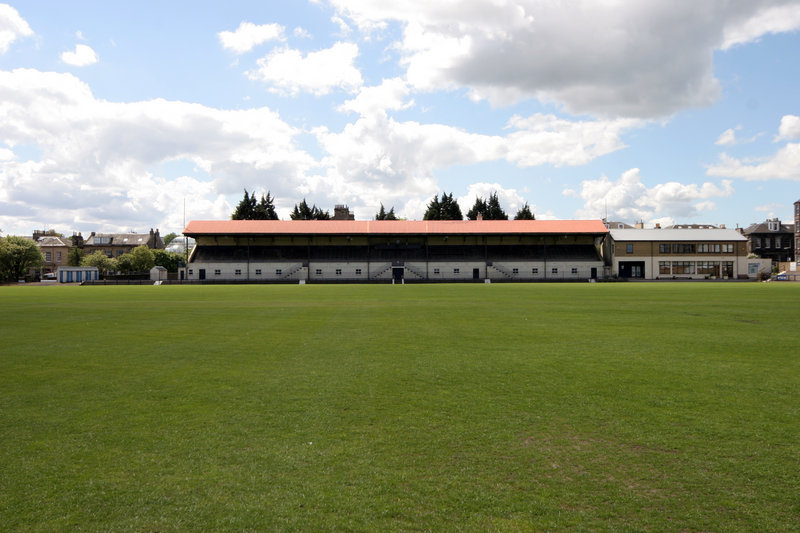 Goldenacre: Pavilion
The playing fields at Goldenacre belong to George Heriot's School and Wikipedia has this to say: George Heriot's School has its own sports ground at Goldenacre in the north of Edinburgh, on a site enjoying a wonderful view of the Edinburgh skyline. Here 24 acres of playing fields, together with well equipped pavilion and grandstand facilities, provide for the School's activities in Rugby, Hockey, Football, Cricket, Tennis, Cross-Country Running, Athletics, and multi-sports. Goldenacre is also the home ground for the School's associated adult Rugby, Hockey and Cricket Clubs. Although formally constituted as Former Pupil clubs, and affiliated to the Heriot Club, the official association of Heriot's Former Pupils, these sports clubs all function as open clubs. From Wiki then we know that the grounds are large: 24 acres is large. If you reckon that a football pitch is about two acres, then we have 12 football pitches. We also learn that it has been used for at least eight sports. In general terms it is probably best known for its rugby and many of its rugby players have been outstanding sportsmen. It has a very impressive history indeed and it has been a significant player in the development of athletics in Scotland.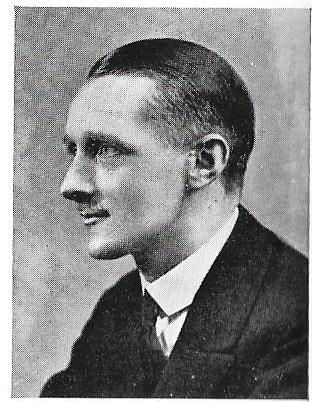 J Wardlaw, Heriot AA, President SAAA 1930-31.
The Scottish Amateur Athletic Association was established on 28th February 1883 and, while not a founding member, the Heriot Club was one of the first clubs to join. Heriot's members took part in all the championships and many of the open meetings. By 1933, the time of the 50th anniversary of the Association, the Heriot Club, Heriot's School (FP) AC and Heriot's School were all listed separately as members. J Quigley of Heriot AA (1914-15) and J Wardlaw,Heriot Club , (1930-31) had been Presidents of the Association. Wardlaw was still a committee member of the SAAA in 1933. In 1921-22 AF Dickson of Heriots CCC was President of the SCCU and in 1926-27 JW Dickson of the same club was also President. Athletically JF Wood represented Scotland in the world cross-country championships four times between 1928 and 1932 and won the Scottish track 10 miles championship twice. The school was always involved in athletics and enjoyed a fair degree of success.
After the 1939-45 War, Goldenacre however was best known however as the venue for the Scottish Schools AA Boys Championships. The championships at that time were held turn about in Edinburgh and Glasgow. In Glasgow they were held at Westerlands for several years before moving to Scotstoun Showground. In the East however they were held at Goldenacre every second year.
The post war SSAA Championship in Edinburgh were held June 14th 1947 at Inverleith and at the same venue again on 18th June, 1949, when the top boys age group (ie over 17) was known as the 'open events'. In that year the top athletes were D Leith of Robt Gordon's who added 12′ to the javelin record with 185′ 3 1/2″ and A Hanlon's Pole Vault of 10′ 3 1/4″. Schools represented on the prize list included McLaren High, Greenock High, Elgin Academy, Kirkcudbright Academy, Irvine Royal Academy, Ardrossan Academy and Buckhaven High School as well as all the private schools. In 1948 and 50, they moved to the West and were held at Westerlands so maintaining the habit of alternating between the two major cities.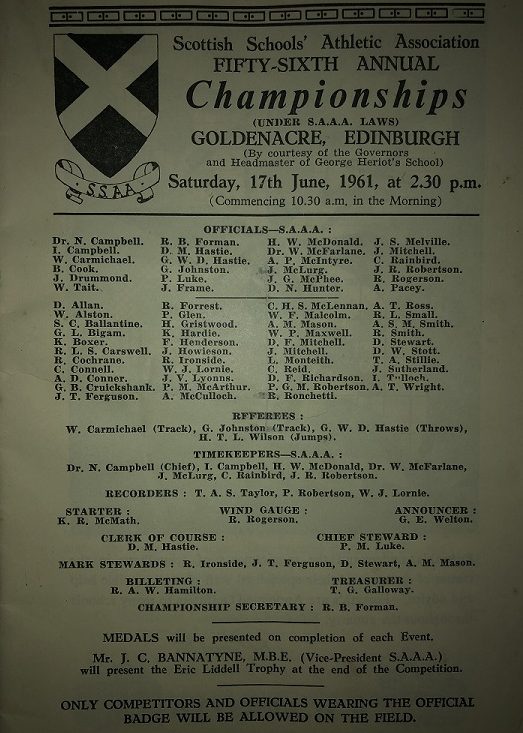 The first at Goldenacre was on 16th June, 1951. In that meeting one of the winners who would go on to represent Scotland for a number of years was RM Stephen in the hop, step and jump, with J Hendry winning the Eric Liddell Trophy after his superb run in the Mile. Two years later, on 20th June, 1953, there were no fewer than 10 best championship performances spread over all age groups.
In 1955, on 18th June the Scottish Schools Boys Championships were held there again and Crawford Fairbrother who would go on to set Scottish records and win Scottish and Great Britain honours, won the High Jump with 5'10" which was anew meeting record; and E McKeating, the Heriot's School rugby, cricket and athletics captain, won 100//LJ in 10 sec/20′ 2″ but the Eric Liddell Trophy went to PB Hall (Fettes) for his winning height in the pole vault of 11′ 3 1/4″.
SSAA Boys championships were back at Goldenacre on 15th June 1957. Golspie HS was producing a whoile series of throwing champions and in 1957 there was a double by I McPherson of Golspie in Discus and Shot. Among the other outstanding results was the long jump by D Whyte of Bell-Baxter of 21'11" . Whyte would go on to study at St Andrews University where he would set University records for both jumps for distance, win Scottish and GB University titles and compete as a senior internationalist.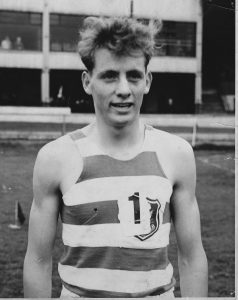 The meeting of 20th June 1959 was special for several reasons.
(1) The running of Mike Hildrey of Balfron when he did the sprint double M Hildrey (above) 100/220 in 9.88/22.3. Hildrey would become one of Scotland's all time top sprinters. In this meeting he equalled the national 100y record and took no less than 0.5 sec from the 220y record. He was awarded the Eric Liddell trophy. Among the other names that stand out in the results column is that of R McFarquhar of Inverness Royal Academy who won the Mile in 4:29.6.
(2) was the other being the running of the SAAA relays in conjunction with the championships. The winning time in each race was inside the Scottish record but neither was recognised as such. The results: 4 x 110 Relay: 1. VP 42.6; 2. GU; 3. Ayr Seaforth; 4 x 440 1. Glasgow University in 3:21,8; 2. EU; 3. ESH
On 17/6/61 the championships were a success and there were at least four names who would distinguish any meeting for years to come who were in action.
The Eric Liddell Trophy went to the latest product of the Golspie HS throws group when he won the shot putt with a best of 55′ 0 1/2″. This gave him the record for the event in three different age groups. He would become a champion and record setter for several years in Scttish athletics before becoming an award winning sports journalist.
The 15-17 Mile was won by Hugh Barrow in 4:24.1. Barrow was to go to a wonderful career which would include Scottish Championships and records, Scottish and British international honours and world age group records. On this date he took 10 seconds from the existing record.
the pole vault won by Norman Foster with 14′ 2″, who would become one of Scotland's best ever decathletes and pole vaulters
the Discus by Douglas Edmunds with 161′ 2″. Edmunds would become one of the best known 'heavy' athletes in the country.
The senior relays were again held – the 4 x 110 yards relay was won by the all conquering Victoria Park AAC in 43.3 and the 4 x 440 relay Edinburgh U 3:31.3
On then to 15th June 1963 when the Eric Liddell Trophy was awarded to D Hendry (Galashiels Academy) for his win in the 15-17 880 yards in 1:58.3. The school also provided the winner of the 17+ 880 yards, K Oliver, in 1:58.7. Lenzie Academy was known at that time for the fine middle distance runners it produced and in the 17+ mile Ian Young won in 4:27.0. He would go on to be part of the finest University distance runing group at Edinburgh competing in the same team as Fergus Murray, Alistair Blamire,and a whole host of top men. Graeme Grant of The Hermitage School won the 15-17 Mile in 4:27.4 and he too would become a Scottish and British internationalist and record holder. In the field events, Norman Foster again won the Pole Vault.
incl SAAA Senior 4 x 440 (record) GUAC 3:19.3 SNR; 4 x 110 relay: 42.6 ESH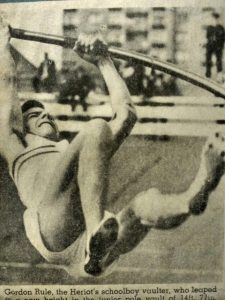 The prodigiously talented Gordon Rule
19th June, 1965 was the last year that the SSAA Boys championships would be held at Goldenacre – in 1967 they would move to Pitreavie which had hosted many of the Girls Championships over the years. The top athlete this time was HC Robertson (Hutchesons Grammar School) who won three events: 200y hurdles in 23.6 seconds, , long jump with 21′ 9 1/2″ and triple jump with 47′ 4 1/2″ with the award of the Eric Liddell Trophy for the latter event. The Souter family of Lenzie produced several SSAA champions and this year it was Robin who won the high jump withe a clearance of 5′ 8 1/2″. Heriot's School had provided many medallists at these championships and it is appropriate to indicate the strength of their athletics by listing their medallists at this, their final hosting of the event.
17-19 : 440 yards 1st JL Galloway 51.6; 4 x 110 yards relay: 1st 44.6; PV: 1st I Dobson 10′ 9″; Javelin 1st N Burnett 122′ 2 1/2″; Discus: 2nd AR Dunn
15-17 : 440 yards 1st DF Macritchie 52.2; 110y H: DS Bruce 1st 14.7; 4 x 110 relay: 1st 45.5; HJ: D Gartshore 1st 5′ 7″; LJ: DS Bruce 1st 19′ 8 1/4″; PV HM Burnett 2nd.
13-15: 80yH: 1st WT Bell 11.3; PV: GW Rule 10′; Shot Putt: GW Rule 40'1 1/2″
The school was clearly an athletics supporting school (12 gold medals) although the main sports were rugby and cricket. The reporter in the 'Glasgow Herald mentioned "performances by the George Heriot's School generally, whose pupils names were never far from the announcer's lips as he gave winners and place winners.
The SAAA relays were held with much debate about the result of the 4 x 440 where it was a close finish between WM Campbell and Ross Billson. : 4 x 110: Glasgow University from Edinburgh Southern Harriers 4 x 440 GUAC from Ayr Seaforth
In 1967 the championships were held at Pitreavie and they would soon move to Grangemouth with Boys and Girls competing at the same venue. In 1967, Heriot's only won two gold medals – one by the prodigious pole vaulter Gordon Rule. In 1962 eight of the Edinburgh public schools got together to set up the Octavians Athletic Club partly because the numbers attending the Former Pupils athletic clubs had dwindled so much. George Heriot's was one of the eight schools. The very successful Octavians however had to disband in 1971 after only ten years of existence and by 1983, centenary of the SAAA not one of the three Heriots clubs that had been members in 1933 was still affiliated to either that body or the SCCU.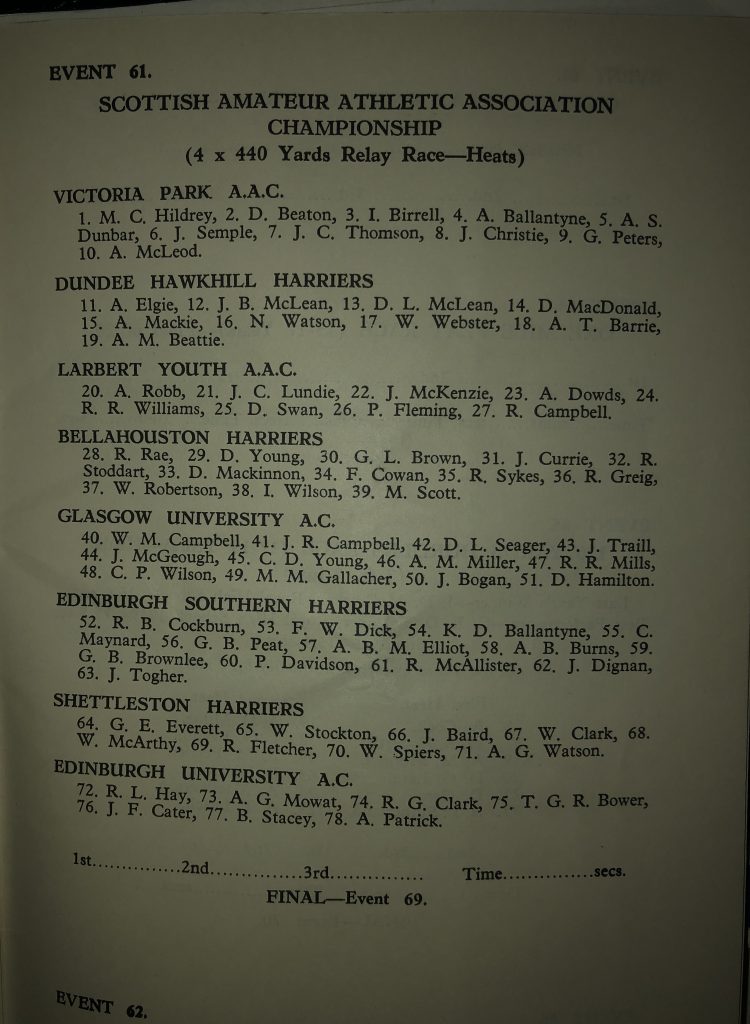 .
Goldenacre is, however, known to many millions of cinema goers around the world for it appearance in the Oscar winning film 'Chariots of Fire. Many locations were used for the film including the Sma' Glen, Inverleith in Edinburgh, the Church of Scotland Assembly Hall and others. Goldenacre, pictured below, was the scene of the Scotland v Ireland International contest.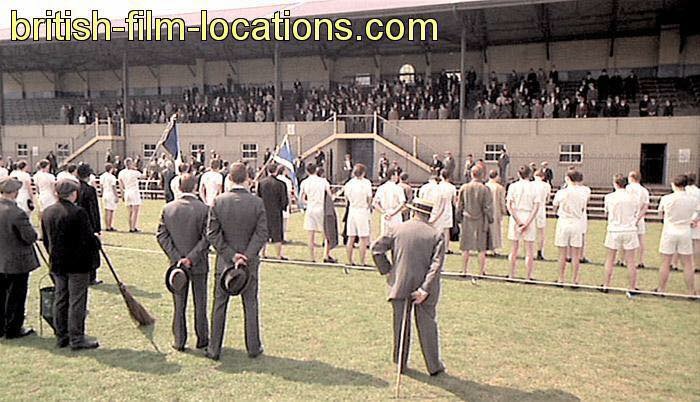 If you go to the website of the present Heriot's Club, you will see that it has six sections listed – Angling, Cricket, Curling, Golf, Hockey and Rugby. The main sport right now is rugby with exciting games bei g played every winter and athletics seems to be relegated to school sports days. Whatever the current situation, past members of the governing bodies such as Quigley, Wardlaw, Dickson and their contemporaries contributed to the development of athletics in Scotland. Goldenacre witnessed so many excellent perofrmances across all disciplines and meant so much to so many pupils and athletes in the country who nurse fond memories of the ground, should be remembered as a cherished venue.
.