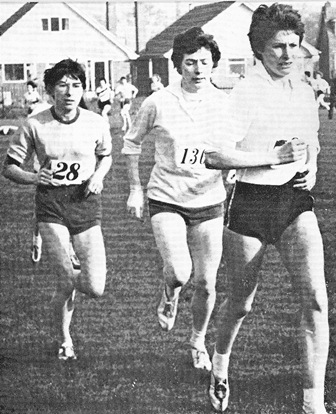 Georgena Craig (130) in the 1964 National Women's Cross-Country Championships at Bury,
  behind Madeleine Ibbotson (Longwood), eventual winner, and ahead of Pam Davies (Selsonia) the silver medallist.
Picture from Arnold Black, taken by Eric North
Georgena Craig (nee Buchanan) was a very talented athlete who ran mainly in the 880 yards but was ranked at various distances from 220 yards to 3000 metres, raced in relay teams over the 4 x 110 distance as well as the 4 x 880 yards and she was ranked in and won medals in the pentathlon.    Competitively she ran in two Empire/Commonwealth Games and was part of a world record setting GB 4 x 880 team.    Although it is as a track athlete that we will look at her career here, it should be noted that her talents extended to cross-country running.   In the National Championships, she was second in 1961-'62 to Dale Greig, won in 1962-'63 with Dale second, was second in 1963-'64 to Dale and won in 1964-'65 from Leslie Watson with Dale third.   These results are intriguing in that Dale was known to be a very strong endurance runner who held the women's world best time for the marathon while Georgena was a very fast runner over 220 and 440.  Georgena then missed the National for the next three seasons (or at least was not highly placed in them) but was ninth in season 1968-'69 and eleventh in 1969-'70.   She also represented Scotland in the international championship.   Her best times are in the table below.
| | | |
| --- | --- | --- |
| Event | Time | Date |
| 220 y | 26.0 | 1963 |
| 440 y | 57.1 | 1965 |
| 880 y | 2:07.9 | 1968 |
| 800 m | 2:05.8 | 1970 |
| Mile | 5:08.4 | 1966 |
| 1500 m | 4:48.6 | 1972 |
| 3000 m | 10:35.7 | 1969 |
Born on 17th July 1942, she became a senior athlete in the summer season in 1962.   On 5th May 1962 in the Western District Championships at Scotstoun, Georgina won the Mile in 5:46.6 and the 'Glasgow Herald' said Miss D Greig (Tannahill) led for most of the way but she was caught by Miss G Buchanan (Maryhill) and beaten by a yard."  A week later at the SWAAA Pentathlon Championships the report read: "Miss G Buchanan (Maryhill) excelled in the half mille with a time of 2:18.2 which is more than eight seconds quicker than the time returned by the winner of the Western District title and will now be submitted as a new Scottish native record."   Seven days later in the West v East fixture at Scotstoun, Georgena won the 880 yards from I Inwood in 2:20.3, a new meeting record.   On to 29th July at Gourock where she was second to C Kelly in the 220 yards and second again to A Gorman in the 880 yards.   Each time she was giving away yards in the handicap.   In the Land O'Burns Trophy Meeting at Ayr on 11th August she won the 880 yards in 2:21.8, in the Edinburgh Highland Games at Murrayfield on the 18th she was second lodged between J Beretta (AAA) and Maeve Kyle (N Ireland) in a race won in 2:16.3 and a week later in Cowal she was again second behind Madeleine Ibbotson (2:16) and Maeve Kyle (2:20.4) in 2:19.     It was a summer with lots of competition and one in which she gained a lot of valuable experience.   By the end of 1962 she was ranked third in the 880y with a season's best of 2:16.2, and second in the Mile with 5:19.0; competitively she was second in the SWAAA  1 Mile Championhsip.   In 1963 her range widened considerably as can be seen from her times and ranking positions:   220y   26.0   10th;    440y   58.8   3rd;   880y   2:13.9   1st;   Mile   5:24.4   2nd;   Pentathlon   3288 pts   5th.   Competitively she was first in the SWAAA  880 yards and second in the Mile.
The summer 1964 season started for her on 20th May in the Glasgow Championships in which she won the 800m in 2:21.   Despite missing the West District Championships, Georgena ran in the West v East event and finished second to I Inwood in the 880 yards and the winner was given 2:23.9.   In the SWAAA Championship on 13th June she won both 880 yards and Mile.   The 'Glasgow Herald' said "Miss Buchanan came back to form in the 880 yards championship which she retained in the good time of 2:15.9, two seconds slower than her record in the event last year.   The Western runner later resisted the challenge of Miss I Inwood (Maryhill) in the Mile, winning by 10 yards in 5:24.4."     Two weeks later at the Gourock Highland Games Georgena had two seconds in the handicap 220 yards (running from a mark of 3 metres and then in the 880 yards from the scratch mark after giving I Inwood 12 yards start.   On 8th August in the Scotland v Ireland match at Dam Park in Ayr Georgena won the 880 yards and was reported as follows: "Miss Buchanan never gave her rivals any chance by setting a fast pace through her first quarter in 63.7 and won in a new national best time of 2:13.1 which improved her own unratified record of 2:13.7."   She could have done with that same time the following week when on the tight little grass track at Murrayfield in the Edinburgh Highland Games she finished third behind Mrs GD Ibbotson who won in 2:13.1 with Pat Lowe second.   Her season then ended with a win at Bute Highland Games at Rothesay when she was timed at 2:22.2.   The second finisher had a handicap of 60 yards – this was ferocious handicapping on the cinder track which was seriously downhill on the back straight and just as seriously uphill in the finishing straight!   Georgina;' best times for summer 1964 ranged from 26.3 for 220 all the way through to 5:24.4 for the Mile.   They were 220y:   26.3    ranked 12th;   440y:   59.0   6th;   880y:   2:13.1   1st;   Mile:   5:24.4   4th.
Georgena's best times for summer 1965 were  220y   26.2   7th;   440y   57.1  1st;   880y   2:10.1   1st;   Mile   5:23.6   3rd;   Pentathlon   3221 pts   9th     SWAAA   1st 880y     2nd Mile    and her progress throughout the summer can be traced in the reports from the 'Glasgow Herald' which were pretty detailed and quite comprehensive.   The report on Monday, 3rd May after the West District Championships on Saturday, 1st, was headed Three West Titles for Miss Buchanan and said:   "Miss G Buchanan was the top performer at the West District Women's Championships on Saturday at Scotstoun when she won the 440 yards, 880 yards and One Mile events in times she has beaten on more than one occasion .   The opposition was not up to the usual standard thus enabling her to nurse her energies in judicious fashion to tackle all three races."     Her winning times were 61.5, 2:20.5 and 5:29.2.
 10th May (reporting on the previous Saturday's events said this.   "Miss G Buchanan who had competed in the forenoon and afternoon in the pentathlon championship, two hours later took part in the 880 yards at Hampden Park and after having beaten a wind of gale force won in a time of 2:24.5.   She set a fast pace with the wind at her back down the enclosure side followed by Miss I Inwood but when she turned into the wind the pace was clearly affected.  Three hundred yards from the finish Miss Inwood took up the challenge but Miss Buchanan displayed reserve power even against the wind and strode away from her rivals and won by 15 yards."
On 17th May the report on the East v West competition at Nethercraigs, Glasgow:   "Among those who distinguished themselves, was Miss G Buchanan who wisely decided to concentrate on the 440 yards and 880 yards, a decision that paid off handsomely with a fine win in the 440 in 58.4 sec, 0.5 sec faster than the meeting record, and then took 1.6 sec off the previous best for the half mile with 2:18.7.   It was felt that Miss Buchanan might be beaten by either of the East competitors in the 440 yds but she set her sights properly by going out fast from the start leaving Miss B Lyall behind her all the way and won by eight yards.   Miss Buchanan's tactics were equally successful in the longer race and despite valiant efforts by Miss I Inwood to hold her, she won by 10 yds."  
On 24th May it was on the Glasgow Athletics Championships at Scotstoun.  "Miss G Buchanan was successful in retaining the 880 yards title.   After having passed the bell in a fast 64.5 sec she won in 2:15.6" 
The SWAAA Championships were held at Pitreavie on 12th June and there was a large contingent from the Anglo-Scots club in England present.   "The mile was no race at all.   Mis V Tomlinson (Aldershot) having run 54:55.8 earlier this month went out from the start as if on a training run and in so doing built up such a lead as to focus attention on the race for second place.   That query was soon answered when Miss L Watson (Maryhill) left Miss G Buchanan in pursuit of the leader but at the tape Miss Tomlinson was 70 yards ahead in 5:06.7, an all-comers record.   An hour previously Miss Buchanan had been an equally convincing winner of the 880 yards finishing 60 yards ahead in 2:15.2, 2.1 sec slower than the national record.   One wonders why she is persisting these days with fast first laps and much slower second laps.   Her time at the bell was 64.5 which gave her a second lap time of 70.7.   How much easier she would find two laps of 66 sec is arbitrary but one feels that until she looks into her pace judgment she will continue only as a 2:15 runner."  
Her next competition was in an match between Dunfermline College of Physical Education, Edinburgh Southern Harriers and Western AAC in which Western were third but Georgena won the 880 yards in 2:21.8 and ran the last stage for the winning 4 x 110 yards relay team.   Two weeks later she won the 440 yards in the Octavians meeting in Edinburgh in 59.3 and then it was the Gourock Highland Games where she won the 220 yards handicap off a mark of 3 yards in 26.7 and the 880 yards from scratch in 2:19.2 as well as being part of the winning 4 x half lap relay team.   The track at Gourock is a heavy grass track which is downhill on the first bend and uphill on the second bend so fast times are not expected there!   She had a good report on the Strathallan Games on 7th August when she was said to be in her best form over the 'sodden grass circuit' and won in 2:16.1 – she was off scratch of course and the limit runner was E Stewart of Maryhill who had a start of 58 yards.   On the 30th of the month in the Edinburgh Highland Games at Murrayfield she finished third to M Hodson (Bury and Radcliff) and Pat Lowe (Birchfield) with the race being won in 2:12.9.   The 1965 season finished there and the big challenge in summer 1966 was to get in to the Scottish team for the Empire Games team for Jamaica.
Georgena's best time for summer 1966 were:   220y   26.5   17th;   440y   59.5   5th;   880y   2:09.2   2nd;   Mile   5:08.4   1st.   Competitively she was second in the SWAAA  880y, and third in the Pentathlon.  She had also got married and was henceforth known as Mrs G Craig.   On 2nd May 1966 Maryhill Harriers LAC held a six club open meeting at Scotstoun and the report said "Miss G Craig showed her mastery of half miling when she outpaced her opponents in 2:13.3, her fastest this year.   Miss M Hodson (Bury) proved to be no threat having won a 440 yards shortly before and it was only from Miss P Brown (Middlesex) that only a fleeting challenge came."      It was a good time to start the competition season with and the following week in the SWAAA Championship at Scotstoun she won the 440 yards and 880 yards and was runner-up in the 200m.   Her times were 60.4 and 2:22.3.   In the West v East at Ayr on the 16th May, Georgena won the 880 yards in 2:20.3.  On 11th June she ran in the SWAAA 880 at Pitreavie and finished second to M Hodson who was timed at 2:09.2.  On 13th June came the announcement in the papers of the team for Jamaica.   The 'Herald' read: "Representatives from the nine sports at the Empire Games in Jamaica from August 4 to August 13 spent six hours yesterday in Edinburgh in deliberations over the 60 competitors they would send.   At the end of their talks, they issued the following team …"   From the athletics point of view, there were 12 men and 6 ladies being sent to represent the country and the ladies contingent included Georgena Craig for the 880 yards.    IT seems a very small team in total – 60 athletes – and there were the usual complaints about athletes omitted and the reporter mentioned particularly Dick Hodelet of Greenock left out of the men's 880 yards.   But Georgena was in the squad.
On 2nd July she travelled with a small group of Scottish athletes to the White City to run in the WAAA Championships.   The report read  as follows.   "Mrs G Craig led the field at the bell in 61.7 in the final of the half-mile but thereafter tired and finished sixth.   Her time of 2:07.9 however was a furth of Scotland record."   One week later she took part in an invitation meeting at Grangemouth Stadium, the first meeting to be held there, and competed in the Mile where Anne Smith of Mitcham set two new Scottish all-comers records of 4:48'5 for the mile (the first time 5 minutes had been beaten by a woman in Scotland) and 4:30.7 in the 1500m.   Georgena set a Scottish record for the 1500m of 4:49.4 and equalled the Scottish record for the mile with 5:08.4.   Two weeks later the headline in the 'Herald' read "Mrs Craig's Easy Win at Gourock."   and followed with "On the track the most eye catching win was by Mrs Craig, not so much by her time but by the number of yards she had between herself and the second girl home.   Here is a case for more severe handicapping: as at Kirkintilloch earlier in the week, she caught the front runners with almost a lap to go and from that point she was left to decide whether to try hard or to win by the minimum.  She tried hard and finished 50 yards clear."     That was the final race before heading for the Empire Games in Jamaica.   Obviously fit – Scottish records of one sort or another at 880 yards, 1500m and One Mile plus a win by 50 yards in a handicap where she was off scratch, all indicated that.
There were two Heats of the women's 880 yards in the Games.   Rosemary Stirling was in the first and Georgena was in the second.   Results in the table below.
| | | | | | | | | |
| --- | --- | --- | --- | --- | --- | --- | --- | --- |
| Position | Name | Country | Time | | Position | Name | Country | Time |
| 1. | M Stephen | NZ | 2:06.6 | | 1. | P Piercy | England | 2:10.0 |
| 2. | A Smith | England | 2:07.2 | | 2. | P Lowe | England | 2:10.0 |
| 3. | R Stirling | Scotland | 2:07.6* | | 3. | J Pollock | Australia | 2:10.0 |
| 4. | A Hoffman | Canada | 2:08.8 | | 4. | C Carter | Canada | 2:10.7 |
| 5. | D Watkinson | England | 2:09.3 | | 5. | G Craig | Scotland | 2:10.8 |
* Rosemary's time was a new Scottish National Record.   Just looking at the time, Georgena's race seems to have been an almighty scramble up the back straight and with only four to qualify, she was unlucky but in such a melee anything can happen.   It was unfortunate but her Games were over.
The first race on her return was at the Edinburgh Highland Games on 20th August where there was an invitation 880 yards won by Rosemary Stirling in 2:08.7 which was a new Games Record: Pam Piercy was second and Georgena third but no times were reported for the race other than the winner.   She 'triumphed convincingly' in the 880 yards handicap at Shotts running from scratch in 2:17.4.   As at Gourock, times at Shotts mean nothing, it's the victory you went there for: the track is downhill in the back straight, uphill in the home straight and in September was generally of the consistency of grey porridge.   The season was over.
1967:   Georgena did not compete at all in 1967, was not ranked in any event.    In 1968 however she appeared in three lists – 440y:   60.1, ranked 14th; 880y:   2:19.8   6th;   Mile:  5:21.8   5th.   Georgena certainly started the season well.   On May 11th in the West District Championships, she won the 800m in 2:30.2 from McGregor of Maryhill on 2:34.8 and then won the Mile in 5:39.3 from D Stewart in 5:43.4.   A week later at the Glasgow Championships at Scotstoun she won the 800m in 2:20.4 from Lesley Watson in 2:25.0.  And a week after that, in the East v West match, she was third behind Barbara Lyall in 2:24.5.   Her 5:21.8 for the Mile was run at Grangemouth on 6th July when finishing 4th in the SWAAA Championship..   The 60.1 for 440y was run at Grangemouth on 26th May when she was third, the 880 time was at Grangemouth on 23rd June
1969 was the year when distances changed from imperial to metric and races were over 400, 800 and 1500 – after all the Commonwealth Games were coming to Meadowbank in 1970 and the new track had to be marked out in metric distance.   The buzz in that season was incredible as athletes tried to stake their claim to places.  As far as Georgena was concerned, the two big rivals were Rosemany Stirling who had been her team mate in Jamaica and who had done wonderful things in the years since then, and Mary Speedman, daughter of International coach Jimmy Campbell, who had moved to 800m and 1500m   The season started with the West District Championship in Glasgow and Ron Marshall wrote: "Mrs Georgena Craig, for so long Scotland's No 1 half-miler,  was given as hefty a defeat from another Scotswoman as she could ever have endured.   All the same it was sad to see someone with her past record come under the chopping block.   Mrs Mary Speedman allowed Mrs Craig to lead in both the 800m and 1500m and then put herself in the lead 300m and 200m from home.   In both instances, There was no vestige of a challenge from a tired Mrs Craig and Mrs Speedman was an easy winner each time."    I'm not sure what 'coming under the chopping block means – probably a mixed metaphor such as the BBC reporter who spoke of drawing a red line in the sand – but the tone of the article implies that Georgena's days as a challenger for international selection were over.  He couldn't be more wrong – don't know though, he was the man who opined in the Herald that the 1500m distance would never take off in Britain and we would probably settle on a 1600m race!   Anyhow, Georgena had her sights on Edinburgh 1970 and her best marks were:   800m   2:14.6   7th;   1500m   4:49.5   7th;   3000m   10:35.7   1st    SWAAA  3rd 1500.   She followed the District Championships on 15th May with a victory at Peffermill in Edinburgh in 2:14.6 which was her fastest for the season.   Speedman had eight times faster than that though, and Stirling had four.   Her best time in the 1500m was set at the SWAAA Championships at Grangemouth on 5th July.   Only one 3000 metres race was held in Scotland – and it was won by Georgena.  Run at Scotstoun on 30th August, it was a brand new event for the country and there were no championships or events of the distance at sports meetings.   She won it in 10:35.7 from Ann-Marie Orpiszwenska (11:32.6 and Dale Greig (11:46.3.   The only other Scotswoman to run it was Susan Foster of Aldershot who ran 11:21.6 at Crystal Palace on 6th October.  Then it was on to the Commonwealth Games in 1970.
Her  form in 1970 could not have been more different from the 1969 season.   On 9th May in an International against Ireland, Ron Marshall's report on the event included this.  "On the track, most praise from Scottish officials went to Georgena Craig for her crisp, spirited running in the Senior 800m.   This was the runner of two or three seasons ago we were watching.   She came off the last bend hotly pursued by Andrea Lynch (Ballymena), the Scottish 400m champion, but as soon as Mrs Craig became aware of the danger, she surged forward to the finishing line and left Miss Lynch to wonder why her effort had been in vain.   Mrs Craig's winning time was 2:16..3, much faster than she has gone for some time."   The excellent running continued through to the Scottish Championships at Meadowbank on 6th June.  This time the report read: "Rosemary Stirling's 800m  was surely a superb display of running in which she left no one in any doubt about her chances of a medal on the same track in just over a month from now.   In second place came another veteran, Georgena Craig, taking a similarly new lease of life in clocking a native record of 2:08.7.   Third place went to Mary Speedman in 2:08.9 and I expect all three to be in the team."    The SWAAA were expecting 22 places to be made for the women's athletics team, and in any case, all three were indeed selected.   In a meeting at Meadowbank on 13th June, the British women's 4 x 800m team 0f Lillian Board, Pat Lowe, Sheila Carey and Rosemary Stirling set a new world record of 8:27 but were unanimous in their opinion that it had been a soft record and it could be broken again fairly easily.   As in 1966, there were two heats of the women's 800m and the results are below.
Commonwealth Games: Two Heats and a Final:  First Four to Qualify
| | | | | | | | | | | | | | |
| --- | --- | --- | --- | --- | --- | --- | --- | --- | --- | --- | --- | --- | --- |
| Position | Name | Country | Time | | Position | Name | Country | Time | | Position | Name | Country | Final |
| 1. | S Carey | England | 2:04.7 | | 1. | P Lowe | England | 2:07.0 | | 1. | R Stirling | Scotland | 2:06.2 |
| 2. | R Stirling | Scotland | 2:04.9 | | 2. | V Potts | NZ | 2:07.4 | | 2. | P Lowe | England | 2:06.2 |
| 3. | C Peasley | Australia | 2:05.0 | | 3. | P Werthner | Canada | 2:07.5 | | 3. | C Peasley | Australia | 2:06.3 |
| 4. | G Craig | Scotland | 2:05.8 | | 4. | G Dourass | Wales | 2:07.6 | | 4. | G Dourass | Wales | 2:08.6 |
| 5. | A Lynch | N. Ireland | 2:06.0 | | 5. | T Fynn | Canada | 2:07.6 | | 5. | V Potts | NZ | 2:09.7 |
| 6. | AR Smith | NZ | 2:07.3 | | 6. | M Speedman | Scotland | 2:08.3 | | 6. | P Werthner | Canada | 2:10.0 |
| 7. | T Bateman | Wales | DNF | | 7. | N Braithwaite | England | 2:08.5 | | 7. | G Craig | Scotland | 2:16.1 |
| 8. | | | | | 8. | B Franklyn | Jamaica | 2:14.7 | | 8. | S Carey | England | 2:18.5 |
Georgena had made the final this time and without a proper report on the race it is impossible to make any comment but I'll do so anyway!  When experienced athletes such as Georgena and Sheila Carey run last and second last in 2:16.1 and 2:18.5, you have to suspect some sort of 'incident' during the race.   (And you have to sympathise with T Fynn of Canada who missed out on a place in the final despite having the same electronic time as the fourth placed Gloria Dourass!)
Lillian Board had been diagnosed with cancer and in the course of 1970 it became worse and she ended her track season early.   When the new attempt on the 4 x 800m record was announced, Georgena Craig was drafted into the team.    At the Coca-Cola International Invitation Meeting at Crystal Palace on 5th September, 1970, they obliged but the race did not go as expected.  Let Ron tell the tale: "Two Scots, Rosemary Stirling and Georgena Craig, shared in another world record, though only through the disqualification of the West Germans.   The West German Women's 4 x 800m relay squad broke the tape in 8:22.6, a world record, but were disqualified for passing the baton on the first leg take-over out of the legal area.   So the world record went to Britain (Miss Stirling, Mrs Craig, Pat Lowe and Sheila Carey) who finished second in 8:25, two seconds inside the record set by Britain earlier this year."
On September 12th at Dunblane Highland Gathering she won the 220 yards in 27.3 off 10 yards on a rough grass track and a week later won the re-dated Glasgow Championship 800m on the cinders at Scotstoun in 2:16.8.   But the icing on the cake was the award of the Sports Journalists Association Team of the Year Award.   Although the SJA Awards had been going since the 1950's, this was the first year that a team award had been presented.   It went to the GB Women's 4 x 800m squad which included Lillian Board, Sheila Carey, Georgena Craig, Pat Lowe and Rosemary Stirling.    The following year it went to the British Lions rugby team, and the year after to Rodney Pattison and Chris Davies (sailing).   A very prestigious award indeed.
For the record her best times for 1970 were 800m  2:05.8 (ranked second),  1500m  4:45.1  (ranked 5th)  and in the SWAAA she was second to Rosemary Stirling in the 800m in 2:16.1    A season to remember
In 1971, she was not ranked in any event and did not seem to race at all.    This is similar to the year after the 1966  Empire Games when she disappeared from view. That was put right in 1972 when she not only ran well but set a personal best for the 1500m.   Unfortunately there is little coverage of her next two years in the sport in the Scottish daily newspapers but we do have her best performances each year.   In 1972:   800m   2:18.2   12th;   1500m   4:48.6   10th   and in 1973:   800m   2:20.9   18th;   1500m   5:04.2   25th.
Georgena's best year would probably have to be 1970 when she raced in the Commonwealth Games and had a share of the world record as well as setting a personal best time for the 800m   Her most unlucky must have been 1966 when she was run out of a place in the final of the Empire Games 880 yards by one tenth of a second in a scramble for the finishing line.   However that may be, she was a very good middle distance runner indeed.