I reckon that (aged 27) winning the 1975 Scottish Marathon Championship, in a new event record of 2.16.50, which remained a personal best time, was my finest race. It led on to racing for Scotland on track, country and (eleven times) in the marathon. Rated second is smashing the Stage One record in the 1975 Edinburgh to Glasgow Road Relay (which my team, Edinburgh Southern Harriers, went on to win in a course record time). Third, however, took place when I was 45.
I turned 40 in October 1987, and my M40 career was successful: umpteen Scottish Veteran wins (on outdoor and indoor track, cross country and road; at distances from 1500m to marathon). Frustratingly, I could not win a British Vets title. Five silver medals: two on the country, plus one each for 10,000m, half marathon and marathon. Maybe I could win a British Vets title when I was 45?
Aged 44, I finished second M40 in the Scottish Vets CC; ran decent times indoor – 1500m (4.17.4) and 3000m (8.59.4); broke the stage 7 record in the Scottish Vets 8-stage road relay (which my team, Aberdeen AAC, won); ran 51.21 into a headwind for first vet in the Tom Scott 10 miles; managed 71.46 for a half marathon; and won the Lochaber Marathon in a steady 2.36.23. My 5000m time in summer 1992 was 15.36.
So, I was quite fit; but how should I peak for the British and Irish Veterans Cross Country International, which was to take place near Belfast on Saturday 31st October 1992, four days after my 45th birthday?
From 12th July to 10th October, I ran ten weeks of 60 miles or more per week, plus two at 36 and one at 52. The 60+ weeks featured: a longish Sunday run (10-17 miles); 5k or 10k time trials; hill reps; and recovery running. Races included: two half marathons, a 5k, a 7 miles road race and a 6 miles road race.
Then a taper: 52, 34 and, before the big race, days of 6, 5, 3, 3, 3, 3 (including some cautious fartlek).
It was a time of joy and sadness. One the one hand, I was feeling really fit; my 'Running Shorts' book had been published and was selling quite well; and I was pleased to receive the Aberdeen Sports Council 'Veteran Sports Personality Award'. However, my heroic old Dad, who had been such an active, sporting influence, was fading away in an Aberdeen hospital. Since he could no longer walk (fast) outside, and was utterly worn out, it was his time to go, alas. I asked Mum if I should cancel the Belfast trip, but she said no, Dad would have wanted me to compete. He lost consciousness on the day I travelled.
I lined up at the start, determined to do Dad and myself proud – but I would have to be careful.
My race diary read as follows.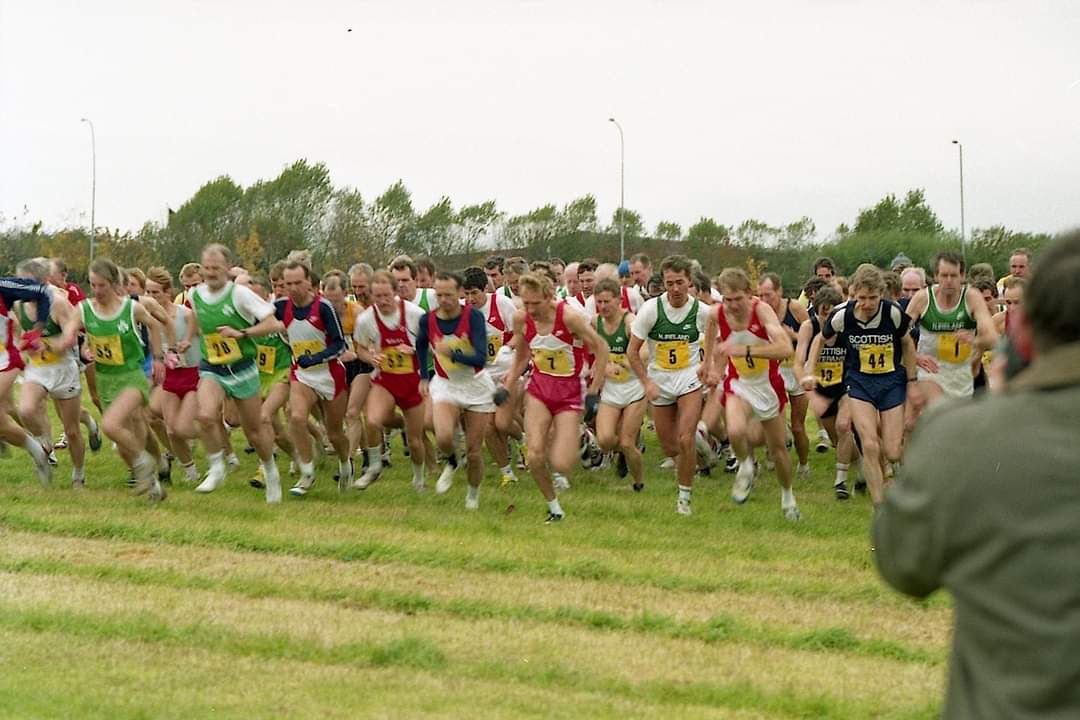 Belfast 1992 start: Colin Youngson number 44 on right
"Cold, breezy, a bit damp. Fairly calm but concerned in case I 'choked' (catarrh had caused breathing problems during some races). Start very fast – down – left at tree – some clashing – up long hill into wind – passed several. No M45 ahead. 10th – Bob, Mike and Dave moving away, chased by Ken, Roy and Phil Pape (Cambridge Harriers) and Terry Osbourne (England).
End of short lap, four long laps to go. Dropped an N.I. runner after a lap, moved past Terry and, with an effort, caught Roy and Phil. Mainly sheltered behind, especially uphill – not too hard to stay there but let Ken go. A controlled, tactical race!
Caught by Scot Cammie Spence (and by Archie Jenkins, though I did not see him). Concentrating hard. Aware there was no sign of M45 rivals. Saving a little energy in case one came through.
Two laps to go. Tony Simmons flew past. Phil was surging and then dropping. One lap to go – touch of catarrh but only lost ten yards – up with Roy again (his piston elbows almost breaking my nose!) Phil and Cammie dropped a little.
Half a lap to go – wee panic – a bald head behind! Pushed harder, then realised that he was lapped! Tried to get Roy up the hill but this was too hard, so 'sat' there and then 'jumped' him on the downhill. Flat out past the tree and 'outkicked' him in the final 150 metres straight. Punched the air (for the first time ever)! A great race. Very satisfying. The long training build-up came to fruition.
Bob Treadwell (England) 32.47; 2. Tony Simmons (Wales) 33.45; 3. Mike Hager (E) 33.55; 4. Dave Hill (E) 34.03; 5. Ken Moss (E) 34.13; 6. Colin Youngson (Scotland – 1st M45) 34.29; 7 Roy Bailey (E) 34.30; 8. Phil; 9. Cammie; 10. Peter Murphy (Eire); 11. Archie.
The nearest M45 was almost a minute behind me! 70 secs down, in 19th, was John Buckley (Eire), the reigning M45 World CC Champ; last year's M45 winner, Dic Evans (W) finished 21st; Harry Matthews (M45 British Champ) was 27th.
I had become the first Scot to win an age-group in this important event, which had taken place for the fifth time today. Roy Bailey had won the race last year in Aberdeen.
If Eire (guest team) was included, the Scottish M45 team won gold. We would also win on combined times or totalled race positions – but finished one point behind England if Eire were excluded. A moral victory for Scotland: me, Terry Dolan, Colin Martin, Bill Adams (plus Bobby Young and Davie Fairweather). I was pleased to beat M44 Scottish rival George Meredith by 40 seconds.
During the trip, I sold 80 books! Was given a lot of respect after the race. Enjoyed a good night in the Parlour Bar and the Crown Liquor Saloon with Archie Jenkins – and also at a singing Italian restaurant.
On a single day in 1992, I could kid myself that I was the best cross country runner of my age – arguably in the world!
Can't last, of course."
Well, the Northern Irish organisers (fellow Celts) happily presented the Scottish M45 team with winning medals – and we still have them. However, a crazy English team manager protested endlessly and it seems likely that similar medals might have been posted to their team eventually. Who cares!
My Dad died on November 5th. Family and many friends attended the funeral. He was a real character, a good father, unforgettable.
Did the success last? Well, for a while. Two weeks later, despite developing a dodgy hamstring during the last two (downhill) miles, I was 6th in the Barnsley Veterans 10k (billed as including the AAA and BVAF Championships). I finished in 32.15, first M45, and beat Ken Moss, Ron Smith (Scottish M45), Alan Catley, Jimmy Bell (Elswick Harriers M45) and Jim Dingwall. I consider this to be a gold medal in the British Vets!
On 1st January 1993, after a very close contest with Jimmy Bell, I finished 16th (first M45 and indeed first M40) in the classic Morpeth to Newcastle 14.1 miles road race. My time was a first-class standard of 1.15.25; Jimmy was three seconds behind. Dave Hill (M40 World Vets 25k Champ) was hungover, started fast but then sagged well behind us. A real ale pubcrawl with Archie and other reprobates ensued.
At the end of January, I won the M45 Scottish Vets cross country title. That was the end of my 'streak' although, in July (with a grumbling Achilles) I was third M45 in the European Vets 25k at Bruges (and GB – me and Jimmy Bell – secured silver team medals). In October 1993, I was lucky to win the M45 title at the British Vets Marathon (in the Flying Fox race at Stone, Staffs). In 1995 I won the M45 British Vets CC title at Irvine Beach Park.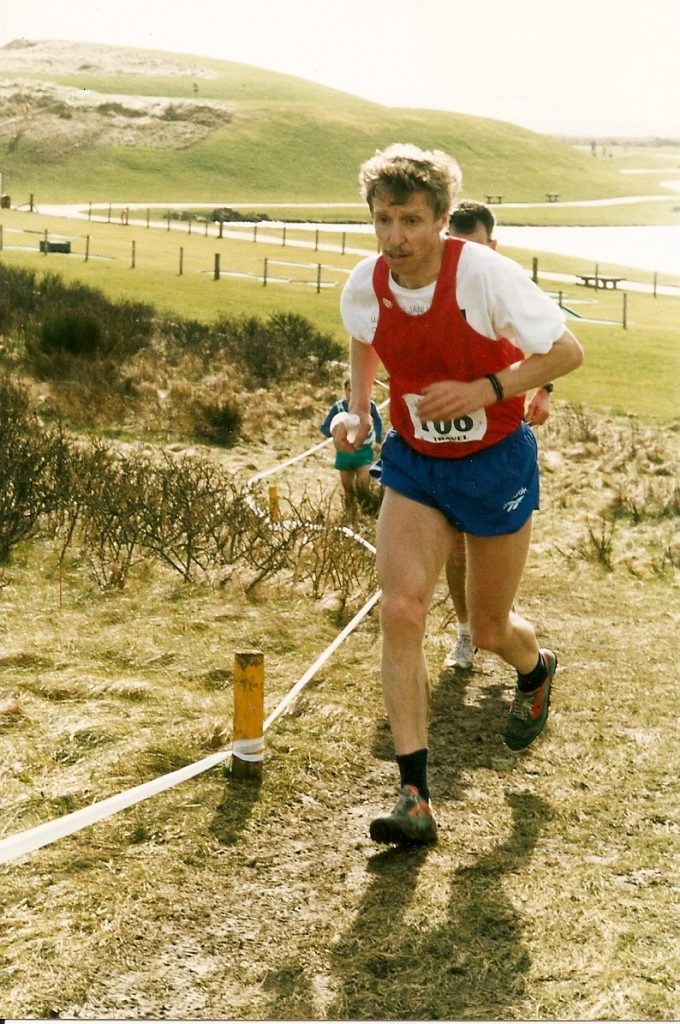 Irvine 1995
As an M50, I won three Scottish Vets CC championships; was third in the B & I at Ballymena; and won British gold in the indoor 3000m and the outdoor 10,000m. In 1999, in 7th position, I finished third and last counter for the GB M50 CC team which won World Masters gold in Chester-le-Street, near Newcastle.
M55? A final Scottish Vets CC gold; Third in the B & I, at Ballymena again; British gold for indoor 3000m.
Aged 60, 65 and 70, I ran seven more B & I races (to make my total 15) and Scotland won team silver in each age group; but my best individual performance was only 7th M65.
Yet, while my memory continues to work (fairly) well, I will recall fondly my third-best-ever race in 1992 at Newtonabbey near Belfast.
Link to Colin's Running Shorts