WINNING THE EDINBURGH TO GLASGOW ROAD RELAY
EDINBURGH UNIVERSITY HARE AND HOUNDS 1959-1984
Alistair Blamire's marvellous book "The Green Machine", which tells the story of many successes by EUH&H runners between 1960 and 1970, is meticulously researched and must be read and enjoyed to appreciate fully the club's many achievements during those years and to learn about the athletes who contributed to such excellence.
This article will concentrate mainly on a single annual event: the much-loved and sadly-missed Edinburgh to Glasgow Road Relay. This took place on 64 occasions, nearly always in November, between 1930 and 2002. Usually the route was 44 miles in length, divided into 8 stages. The top 20 clubs in Scotland were invited; and the race was considered to be the 'blue riband' of the Winter season and, for many participants, may have been more popular than the Scottish Cross-Country Championships.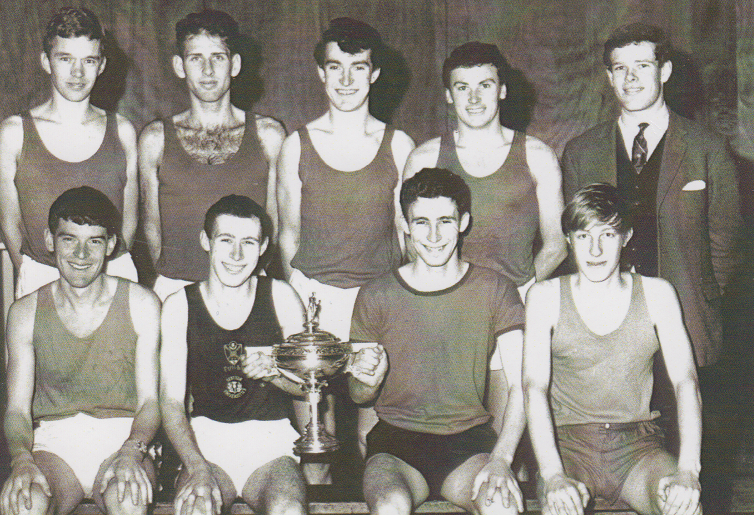 Edinburgh University Hare and Hounds after winning the 1965 E to G.
Back row, left to right: Roger Young, Chris Elson, Willie Allan, Frank Gamwell, Iain Hathorn (Secretary);
Front row: Fergus Murray, Jim Wight, Alex Wight, Alistair Blamire.
On the 20th of November 1965, Edinburgh University demolished the E to G course record, and set new individual marks on Stages 1, 6 and 7. This victory, as well as others in 1966 and 1967; and further gold medals won by EU graduates, with brief individual profiles, will complete the piece.
Here is the race report, published a week later in 'Athletics Weekly'.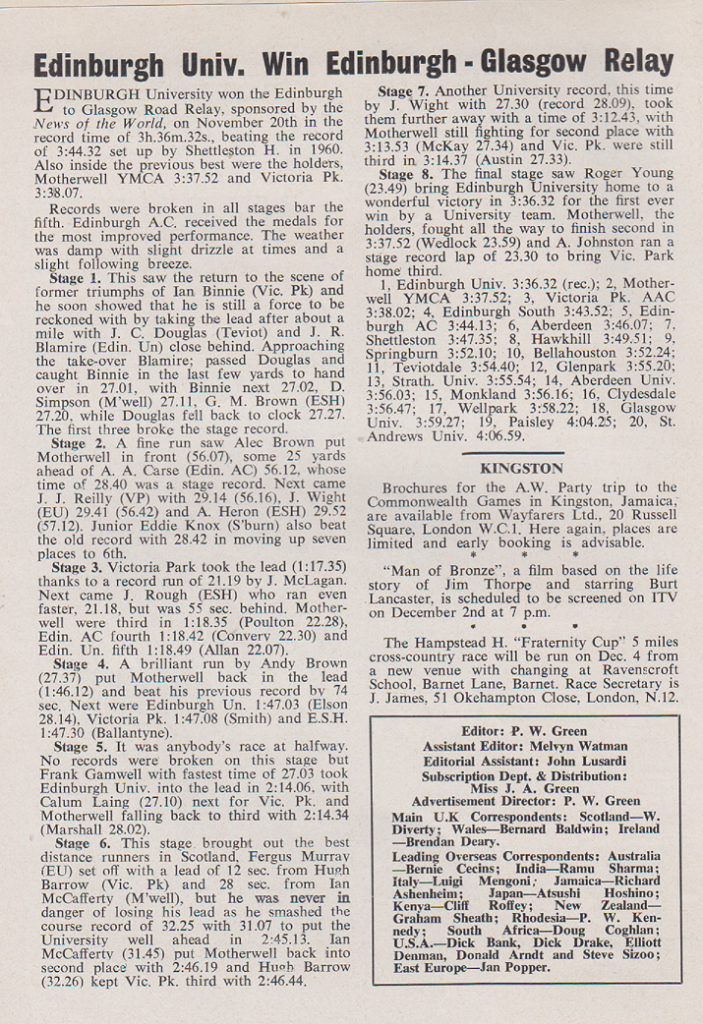 The winning team, in running order, was: Alistair Blamire (record on 1); Alex Wight; Willie Allan; Chris Elson (2nd fastest on 4); Frank Gamwell (fastest on 4); Fergus Murray (record on 6); Jim Wight (record on 7); and Roger Young (second-fastest on 8). Supplying only initials for first names can be irritating. For other clubs, especially fine performances were produced by Bert Carse on Stage 2, Pat Maclagan and John Rough on 3, Bert McKay and Des Austin on 7, and Alastair Johnston and Dick Wedlock on 8.
"The weather was damp with slight drizzle at times and a slight following breeze." Well, records in this event were always aided by a tailwind (for example in 1975, when Edinburgh Southern Harriers broke EU's 1965 record; and 1983, when Aberdeen AAC won in the second-fastest time ever up to that year.)
Edinburgh University's entire team ran very well, with Fergus Murray (as usual) the major star; but Jim Wight took no less than 39 seconds off the Stage 7 record, 'running scared' from Bert Mackay, who was only 4 seconds slower.
Chris Elson kindly looked out a (beer-stained?) race report from The Edinburgh Southern Times.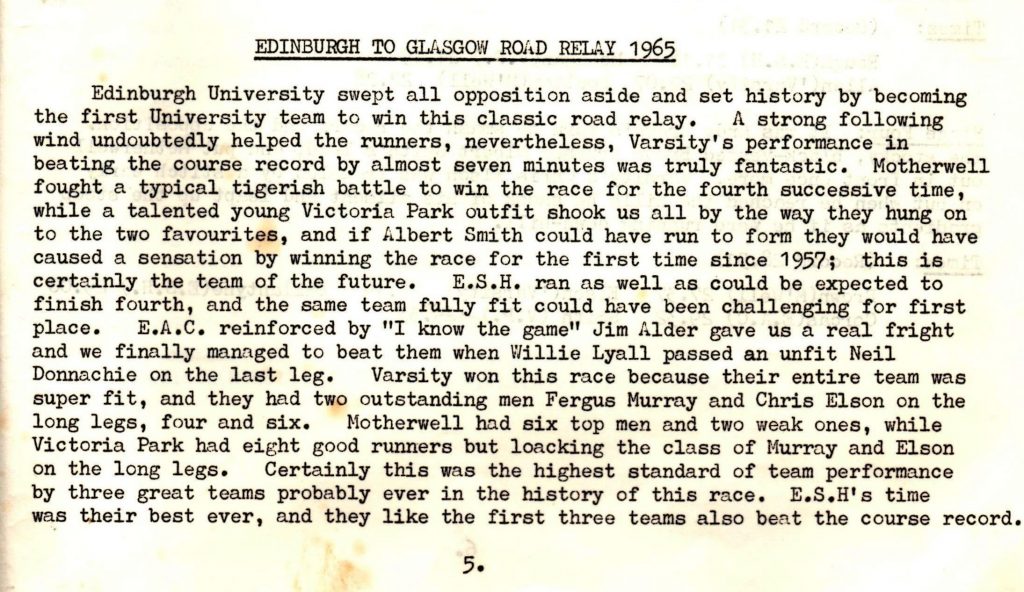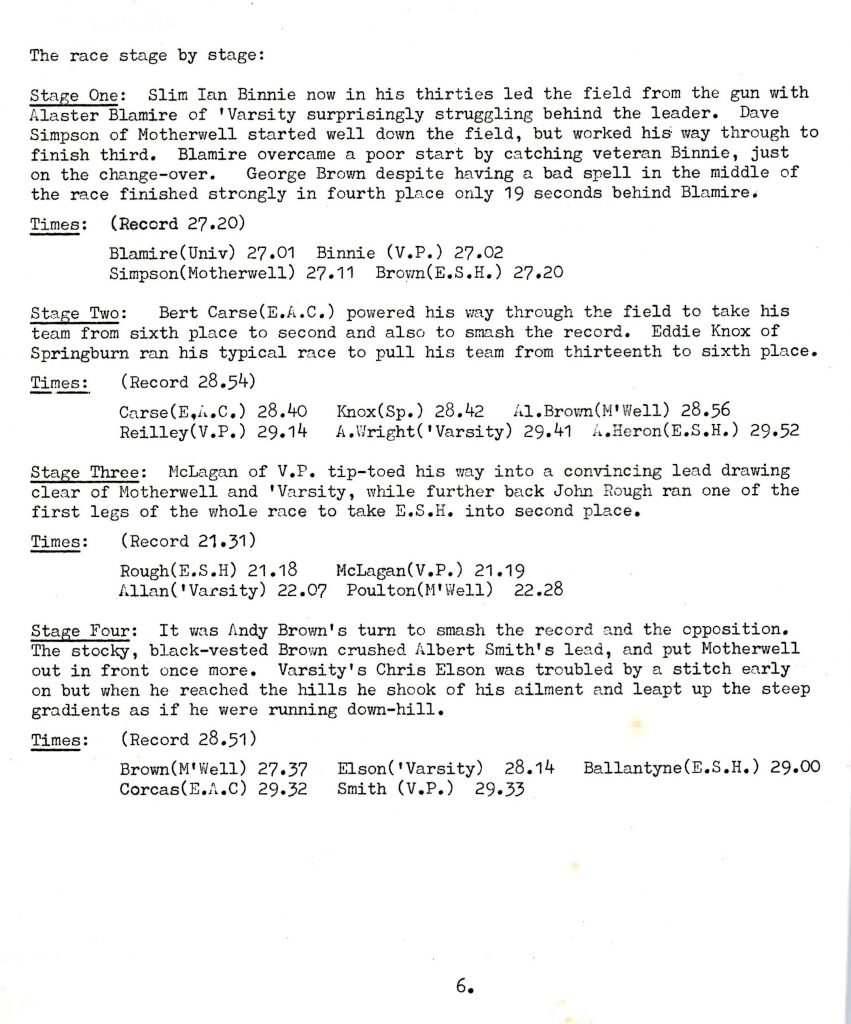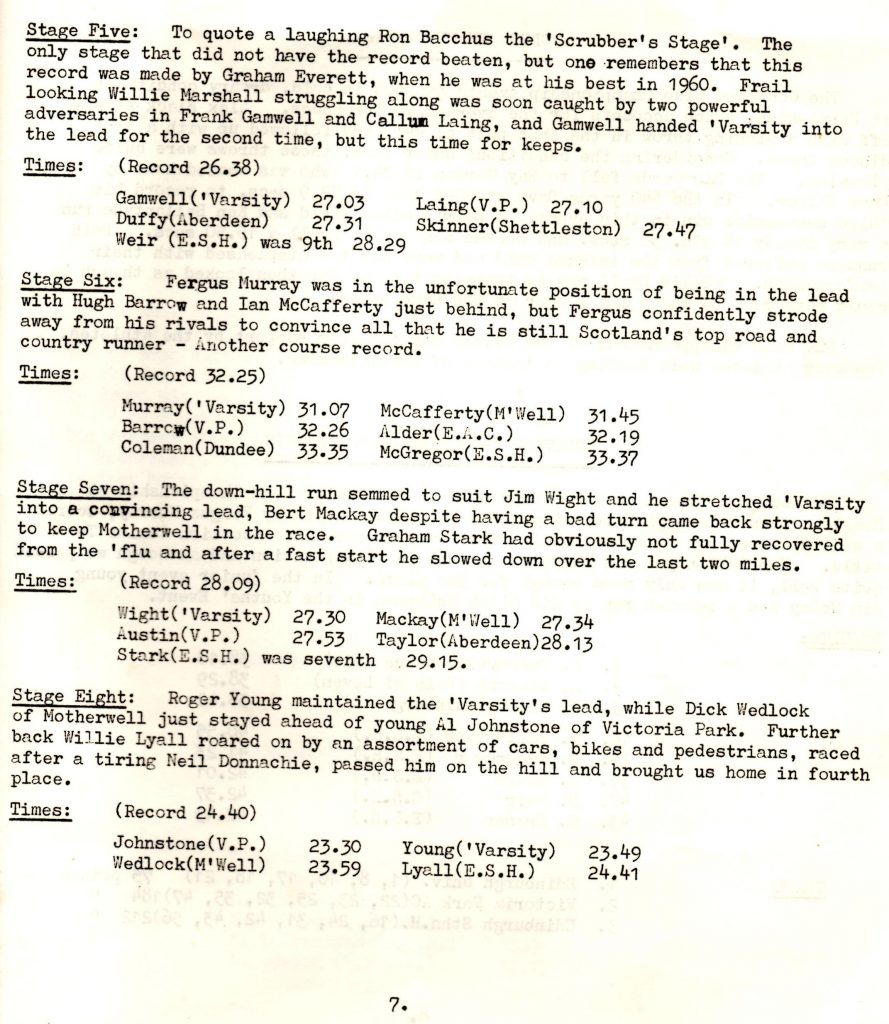 But what had led up to this break-through triumph? "The Green Machine" suggests the following: training ideas (like hill-repetitions, fartlek and many miles of steady running) from Percy Cerutty and Arthur Lydiard; Chris Elson learning a lot (from Olympic 1500m runner Alan Simpson) and, through his own "enthusiasm and innovative training methods", encouraging athletic improvement in others; Fergus Murray's influence as a role model; and the three-year lease (1965-68) that Alistair Matson secured at 78 Morningside Drive – 'The Zoo' – where so many athletes resided and ran hard with other 'Serious Amateurs' who joined in zealously.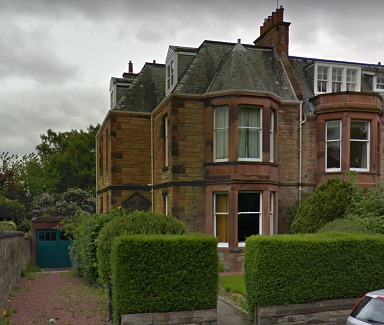 Which Edinburgh University runners (and/or graduates) featured in winning E to G teams? The 1965 super-team obviously; and participants in the 1966 and 1967 EU victories. Certain graduates won gold in 1969, 1973, 1974, 1975, 1977, 1978, 1982 and 1984. Please read on.
For Edinburgh University, Martin Craven ("nicknamed 'The Crab' because of his slightly eccentric running style" ran the E to G in 1959 (17th) and 1960 (10th). For ESH, he was an important contributor to winning teams in 1973 (fastest on 5), 1974, 1975 when he broke Iain Hathorn's 1966 Stage 3 record with 20.42, 1977 (fastest on 8) and 1978. Martin also won team gold medals for ESH in the 1976 Scottish XC Relay; the 1979 and 1980 Six-Stage Road Relay; and the 1979 and 1980 Senior National. He represented Scotland in the 1963 International XC Championships; and Britain in the 1967 Kosice Marathon in Czechoslovakia.
The 1961 E to G included the EU debuts for Chris Elson and Fergus Murray; 1962 added Alex Wight and Frank Gamwell; 1963 was strengthened by Roger Young along with Chris, Frank and Fergus (who was fastest on the prestigious Stage 2); in 1964, when the team improved to second, the record-breaking outfit was almost complete, since Alistair Blamire and Jim Wight featured, along with Chris, Roger and Frank, as well as Fergus (fastest once more on 2) and Ian Young (fastest on 8).
Chris Elson ('The Bear') was part of E to G victories in 1966 (when he set a new record of 23.21 on 8) and 1967. In addition, he helped EU to: 1963 Scottish Junior National XC gold; and 1967 cross-country successes in the Scottish Senior National and the British Universities Championship. His personal best times as a 'Veteran', from M40 to M60, were very impressive. Chris continues to coach young athletes at Bristol and West Athletics club.
He remembers this about the 1965 E to G: "I got some sort of a stitch earlier on, due to the slush freezing my lower half. Happily, I got over it and could run hard for the last section. A good job in the circumstances!"
Fergus Murray. What can one say? "The Green Machine" includes a long, detailed chapter on his stellar running career: very hard-training, inspirational and encouraging. An Olympic 10,000m runner in 1964, frequently a British International at that event and the marathon. Scottish XC Champion three times in succession. Scottish International (Track and Country). A great team man; and modest in spite of all that individual success. Fergus also featured in four winning E to G teams for ESH (1969, 1973 – fastest on Stage 4 – 1975 and 1977). He was in two victorious ESH Senior National teams (1969 and 1970).
Fergus recalls this about his EU days: "I don't think any of us remember much about being competitors and certainly, on a personal level, it is the Relay/Team wins that endure – Edinburgh-Glasgow, Hyde Park and the SCCU (I'd left by the time they won BUSF).
I would like to comment on how prominent 'The News of the World' was in sponsoring Athletics in that era, and earlier. The 8 Stage buses for the E-G, the meal afterwards and one of the most attractive medals ………including one for the Club with the most meritorious unplaced peformance. The News of the World also sponsored the English equivalent of the London- Brighton. Apart from these, all GB v other Nations International athletics meetings in the summer at the White City Stadium were also sponsored by 'The News of the World' with a dinner in a top hotel afterwards.
The "column inches" of newspaper athletics reporting in those days far exceed the coverage of present times apart from the few at World elite level………….how times have changed.
Another memory too, was that SNOW was not an unusual encounter in November!"
Alex Wight tried to run 100 miles per week, while living in 'The Zoo'. For EU and subsequently EAC in the E to G, Alex won two gold and five silver medals. In 1972, he was fastest on Stage 4. In the Scottish Senior National XC, between 1965 and 1979, Alex won an amazing seven gold, three silver and three bronze team medals. Both brothers featured in the greatest team performance in National history, in 1975, when EAC's six counters could only total a measly 37 points! Alex, whose best individual place was 8th, was unlucky not to run for Scotland in the International Cross-Country Union Championships. On the road, Alex was twice victorious in the 36 miles Two Bridges ultra, once in record time; won the 44 miles Edinburgh to Glasgow Individual Race (and for EAC, inevitably, the team award!) and had a very impressive marathon best of 2.15.27.
Alex wrote: "Nowadays, we think that the mind plays a much bigger part in performance, so I wonder if, in those far-off days of innocence, I put far more pressure on myself in road races than I did in more happy-go-lucky appearances in the mud when, as I recall, my aim was first just to try and make the counting six."
Frank Gamwell was a valuable member of the illustrious mid-1960s Edinburgh University team. In the 1964 E to G, EU secured silver medals. One real highlight was in the 1965 event, when EU broke the race record and won gold. Frank took them into the lead when he was fastest on Stage Five. Another great day was in the 1966 Senior National XC, when the students finished first in the team contest.
Roger Young started at Edinburgh University in 1962/63, having been a noted athlete at school level. Second to Ian McCafferty in the 1965 National Junior cross-country championships, he was selected to represent the Scotland Senior team in the International but, sadly, due to excessive strictness from an EU tutor, had to withdraw. Captain of EUH&H in 1964/65 he was virtually ever-present in teams at District and National championships. In the E to G, he contributed to silver medals in 1964 and gold (running the final 'Glory Leg') in the record-breaking 1965 team. In the 1966 Senior National XC he finished 8th and EU won the team title. He retired from competitive running in 1966.
'The Green Machine' includes the fact that one of Roger's favourite anecdotes relates to the 1965 E to G triumph. "Roger ran the last leg and, as the lead runner, was expecting to be handed the ceremonial baton a couple of hundred yards from the finish." This special baton contained "a message from the Edinburgh Lord Provost to his Glasgow counterpart. But there was no baton and no Lord Provost and the only official at the finish was the timekeeper – everyone else, including the baton and its intended recipient, was in a nearby watering hole. So, after completing the race, Roger was told to run back up the course and do the finish again once the Lord Provost had emerged from the pub."
Alistair Blamire enjoyed a marvellous athletics career. He won the 1964 Scottish Schools steeplechase in record time and then represented Scottish Schools and Scottish Juniors on the track. In 1966 he ran for Scotland in the International Junior XC, finishing a good 15th. Alistair went on wear the Scottish vest five times in the International Senior. He was silver medallist in the 1968 Scottish Senior National, just one second behind Lachie Stewart; and second again, to Jim Alder, in 1971; when he was 11th in the English National XC, running for the winning Shettleston Harriers team. On the track, Alistair ran the steeplechase several times for Scotland and also Great Britain, setting Scottish National (8.41.4) and Native (8.46.2) records in 1969. He won the British Universities title; and, in 1972, the Scottish Senior championship. He was an important part of many Scottish team triumphs: in the E to G, three gold medals with EUH&H, one with Shettleston, two and with ESH. In the Scottish Junior National, two with EU. In the Senior National, one with EU, one with Shettleston, plus five silver medals with ESH. In 1976, for ESH, Alistair added gold in the Scottish Cross-Country Relay championship.
Alistair added memories of (thoroughly justifiable) post-race celebrations: "After the E to G we would head back to Edinburgh and maybe have a pint in the Men's Student Union, then walk down to Rose Street, to The Abbotsford (probably our favourite) or Milne's Bar (howff of the famous poets – Hugh MacDiarmid, Norman MacCaig et al) or The Café Royal or Paddy's Bar, looking for pints and parties. The 10pm closing time put pressure on us to drink more quickly than would have been advisable. Three pints an hour…still competing…? For those lucky enough to be on an early leg in the E to G, there was a pub somewhere in the wilderness near Airdrie which we could drink in while watching the start of Stage Six, before hopping back on to the bus…" (That was at the end of Stage 5: the Forestfield Inn, now gone, alas.)
Jim Wight had a weekly training target of 60 miles per week, which went up to 75 by the end of the 1960s. For EU and subsequently EAC in the E to G, Jim won three golds and a silver. His finest cross-country result was probably 17th in the 1972 English National at Sutton Coldfield, coming through very strongly despite the notorious blizzard. He was in the winning EU Scottish Junior teams in 1964 and 1965. Between 1967 and 1975, Jim won four Senior National XC gold, two silver and two bronze team medals, plus an extra silver in the National Cross-Country Relay. Jim ran for the Junior International Scottish team in Dublin 1964; and the senior Scottish team in Cambridge 1972. On the road, he had a most impressive best marathon time of 2.15.43. Jim ran for Scotland in the 1974 Commonwealth Games marathon; and later that year won the prestigious Harlow Marathon in 2.16.28; plus the Two Bridges 36.
He wrote: "As well as living near The Zoo – about a couple of miles away in Newington – I actually lived there as well for a while (at least a year) after I finished my first degree in 1966. I shared a room with John Bryant, which ties in with the text saying he lived there in 1966/67. I can't remember when I moved out, or the details of what I did – I suspect with little competitive running – stuttering towards the world of work until returning to Edinburgh in April 1969, where I remained until I came to Newcastle in 1986.
In the 1965 E to G, I was "running scared" on Stage 7 in 1965 because I imagined that, being holders, Motherwell were favourites. Having taken over in the lead I was fearful of losing it. I thought I had Bert McKay breathing down my neck but looking at the times now. I had a bigger lead than I've always thought I had. It came as quite a surprise when told I had broken the record.
I would agree that the 1972 English National probably was my finest XC run but I might even say it was because of the blizzard. The cold, not just that day, didn't seem to affect me as much as it did others but the heat could do for me."
Willie Allan was Scottish Schools Triple Jump champion in 1962 for Dumfries Academy (the same school Alistair Blamire attended) but became a very successful long-distance runner while at Edinburgh University. He won several honours in cross-country and road team competition while at Edinburgh University. These included team victory in the Edinburgh to Glasgow Road Relay in 1965 (where he was third fastest individual on the third leg), third team in the Scottish Junior Championships in 1966, first team in the Scottish Universities Championships in 1967 and first team in the Scottish Senior Championships in the same year. In 1969, running for ESH, Willie won another Senior National team gold. Willie's main event on the track was the steeplechase in which he was Surrey champion in 1970 and had a best time of 9:13.0 set at the Scottish championships in 1968. After graduating, Willie moved to England and went on to have a very successful career as a veteran, running for England and winning British Masters titles. At his peak Willie ran 80-90 miles per week in training. This included a long run of 16 miles on a Sunday, two fartlek sessions a week and twice daily training on five days.
He wrote: "In 1965 I thought myself very lucky to be named as first reserve for the E-G team, never dreaming that I would have to run. However, someone (Ian Young) was ill the week before the race and I was in. Knowing that the team had a great chance of winning I have never before or since been so petrified on the day of a race as then, in fact quite sick. It was daunting to know that, if I had a bad run, I might end the team's chances. As it turned out I ran half decently but I'll never forget the feeling and can still break out in a sweat at the thought.
I won two British Masters titles. An M60 ten miles road title (1965) and an M70 half marathon title (2015). I didn't win an XC title but was runner-up twice. Once at M60 (2006) and once at M65 (2011). I was also runner-up in that M65 year in the 5k, 10k and Ten Miles.
I was 2nd in the British and Irish Masters International XC in Dublin to fellow Glaswegian Bobby Young in 2005 when, if I had been able to run for Scotland, as I wanted to, rather than England, the Scottish team would have gained a notable and rare team victory. As it was, I led the England team to victory. Now I have only a year to go until entering the M75 age group and hopefully winning again!"
Edinburgh University's second successive E to G win was in 1966. In running order, the team was: Alistair Blamire (new record of 27.01 on Stage 1); Alex Wight; Iain Hathorn (new record of 21.05 on Stage 3; Dave Logue (3rd fastest on 4); Ian Young (second fastest, only one second slower than Alastair Johnston's new record, on 5); Gareth Bryan-Jones (3rd fastest on 6); Jim Wight (fastest on 7); and Chris Elson (new record of 23.21 on 8).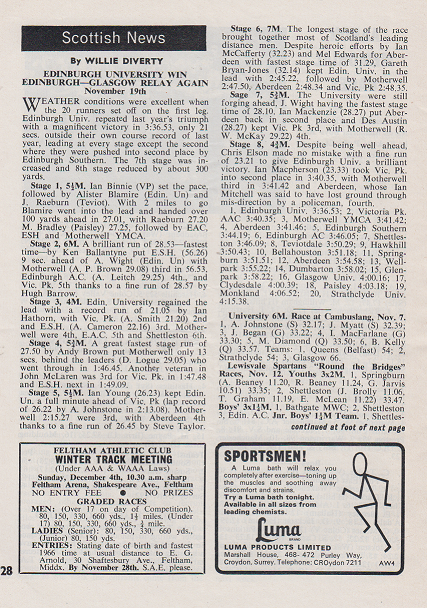 Ian Young came up through the age groups as one of Eddie Sinclair's battalion of young athletes in Springburn Harriers who conquered almost everything that was put in front of them. Ian was second to Ian McCafferty in the Youths National in 1963, was first winner of the SSAA Cross-Country championships and won the SSAA Mile the same year. He ran for Scottish Schools and also for the Scottish Junior team in the cross country international in Dublin in 1964. He went on to study at Edinburgh and started running for them in season '64/'65. He gained a second Junior International vest that year for the race in Ostend. As a student at Edinburgh he had a sparkling athletic career In the E to G, for EU, he was fastest on Stage 5 in 1968. Ian was second in the S.A.A.A 3 miles in 1967; and secured a Scottish International Track vest that year, racing 2 Miles against Denmark. His personal bests were: 2 miles: 9.20.0 in 1967; 3 miles: 14.01.6 in 1967.
Ian wrote: "My first experience of the E-G was in 1963 wearing the blue of Springburn rather than the green of EUH&H. I was a reasonable 6th fastest on Stage 4 which broke me in nicely for 1964 when I had the fastest time on stage 8 as you pointed out, bringing EU home in 2nd place. As I crossed the line, the wonderful 'Old' Jack Crawford, doyen of Springburn officials, came up to me and said, "I thought I recognised the face, but I couldn't recognise the vest you were wearing…."
You were good enough to mention my 2nd place in the SAAA 3 miles in 1967, behind Lachie Stewart (Vale of Leven) and ahead of Eddie Knox (Springburn). That result followed wins in the Scottish Universities Cross Country over our own Braid Hills course and the Scottish Universities 3 miles, during a good year leading up to the 1967 E-G win."
Dave Logue. After representing Northern Ireland in the mile in the Schools International in 1965, he studied veterinary science at EU. He was a member of winning teams in the Scottish Junior National in 1967 and the Senior National in 1968; as well as contributing to more titles with ESH in 1979, 1982 and 1983. He was Scottish Universities and Midland District Cross-Country Champion. In the E to G, he won twice with EU; and four times with ESH, being fastest on Stage 6 twice, in 1975 and 1976. For Northern Ireland, while still at EU, he set a NI steeplechase record in 1970 and took part bravely, despite painful injury, in the 1970 Commonwealth Games at Edinburgh. Dave's 5000m personal best is 13.53; and for 10,000m 29.03.8. In 1974 he won the Northern Ireland XC title; and represented NI six times in the International, between 1968 and 1976. Dave was famed partly for extremely hard training and racing; and equally enthusiastic post-race festivity. His strength, popularity and sociable nature seems undiminished by the passing years.
Dave wrote: "I always thought that the EUH&H team that made third in the 1969 E to G, one year after the big boys had moved on was a brilliant achievement. given the opposition. Everyone ran out of their skins. (The team, in running order, was: Jim Dingwall, Andy McKean, Dave Taylor, Dave Logue, Doug Glover, Alistair Blamire, Jack MacFie, Rab Hendry.) On Stage 8, Rab's finish was unforgettable – he gasped afterwards that he had suffered, "A bit e bile!"
From my first E to G in 1966, I remember the care the big boys took in deciding who would run which leg and who we were likely to up against. In 1967 on Stage 4, I moved into the lead, but had 'Big D' (Northern Irish star Derek Graham) tearing almost a minute off me!
I always felt my best run was on the 6th leg for Glasgow University H&H in 1973 – just 16 seconds slower than Andy McKean's new record. That day, I ran faster than Ian Stewart, though he was not at his best but he still ran 28.20 odds in the Commonwealth Games 10K a few months later!"
Another good day for Dave was being a member of the winning North Belfast Harriers team in the Lagan Valley 61-mile Road Relay in Northern Ireland. His team beat 9th Old Boys (including one D. Graham). The route was: "run through towns which make up the geographical boundaries of the River Lagan. It was the ultimate test of club strength in depth as it required not only a twelve-man team but also a considerable back up entourage. The race progressed via Dunmurry, Lisburn, Dromore Banbridge, Gilford, Portadown, Lurgan, Moira, Lisburn and back to finish on the track at Ormeau Park."
Gareth Bryan-Jones. As befits an Olympian, Gareth's detailed profile in "The Green Machine" is shorter only compared to Fergus Murray's. Before coming to EU to study for a PhD in Microbiology, Gareth had run very well at Leeds University, being part of a winning team in the Hyde Park Relay and finishing second in the Universities Athletic Union Championships steeplechase. Gareth was a formidable component of the EU success story. In the E to G, he won gold in 1966 and 1967; and later added four more victories with ESH. In the Senior National XC, EU won the title in 1968, and ESH in 1969 and 1970. Gareth represented Scotland in the International XC championships three times. In the Steeplechase, he won the British Universities Steeplechase three times; the Scottish Championship five times; and in 1968, the AAA title. This led to selection for the high-altitude-affected Olympic Games in Mexico City. Gareth was a regular track international for GB; and represented Scotland seven times, including an excellent fourth place in the 1970 Commonwealth Games Steeplechase. In 1976, he switched from athletics to Orienteering (representing Scotland and GB) and Fell Running. Gareth's continued fitness and competitiveness is amazing. In 2013, he became the first person aged 70 to complete the arduous 96-mile West Highland Way Race from Milngavie to Fort William.
Iain Hathorn, a half-miler with a best time of 1.54.3, was part of the all-conquering EU squad of the mid-sixties. In 1966, they won the E to G (and Iain broke the record on Stage Three); and they retained their title in 1967. In the 1968 Senior National XC, EU won the team contest by one point from Aberdeen AAC. Iain's 19th place was critical in ensuring victory.
Iain wrote: "Preparing for the Ben was my wake up to a more serious running effort. I stayed in the Zoo over the summer and ran with the greats then, in September, the Ben – I was 21st on my 21st birthday in just under 2hrs. As a dental student at the time, moving around the dental hospital was very painful on the following Monday, mainly the effects of the downhill.
The only other thing of note was my fastest time in the East of Scotland Relays in the Borders, which got me picked for the SCCU vs the Army in Carlisle. I beat John Linaker's time, after he had just returned from the 1966 Commonwealth Games. Cause for celebration at the time.
Having qualified as a dentist in 68, I found the grind of the 9 to 5 incompatible with serious running and took to rugby until my mid-30s."
In 1967, EUH&H completed a hat-trick of E to G victories. The team was: Iain Hathorn; Alistair Blamire (second-equal fastest on 2); Andy McKean (second-equal fastest on 3); Dave Logue (third fastest on 4); Ian Young (second-fastest on 5), Gareth Bryan-Jones (second-fastest to Fergus Murray, now of ESH, on 6); Jim Wight (fastest on 7); and Chris Elson.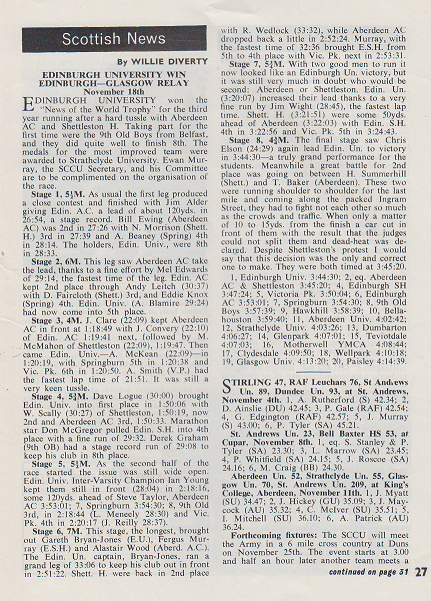 Andy McKean became a great cross-country runner, admired for all-out effort and toughness. In the E to G, he and his friend and early mentor Dave Logue (another man with high pain tolerance) often battled to run faster on the longest stage 6, where McKean broke the record in 1973. With EU he contributed to gold in 1967 and bronze in 1969. With EAC, five successive team silvers from 1973-1977. He was fastest on Stage 6 four times; and twice on Stage 2. Andy was victorious in the Scottish Senior National Cross-Country championship four times, and also won the East Districts (four as well) and the 1973 British Universities title. In 1974 Andy finished an excellent third in the English National. With EAC, he led the way to four team triumphs in the Senior National. Over the country, he represented Scottish Universities, British Universities, Scotland (in the International XC twice and the World Championships six times); and, on the road, Great Britain (a 1975 Barcelona International Race, where he finished second behind the future 1980 Olympic Steeplechase champion, Poland's Bronislaw Malinowski – whose mother was Scottish). On the track he became British Universities 5000m champion in 1970; and won the Scottish Ten Miles in 1972.
From 1969-1982, several former EUH&H runners helped Edinburgh Southern Harriers to Edinburgh to Glasgow Road Relay triumphs. The 1969 win featured Gareth Bryan-Jones, Fergus Murray and also 'honorary Zoo training mate' John Bryant.
John Bryant had been an Oxford blue in the steeplechase and was working in Edinburgh for the Edinburgh Evening News when he lived in 'The Zoo' with the Edinburgh students in 1966/67. He joined Edinburgh Southern Harriers and ran in the E-G in 1967 and 1969 when he won a gold team medal; he also ran in the National in 1968 where he won team bronze. Later, John, a distinguished journalist, wrote several excellent books featuring key moments in athletics history, such as the first sub-four-minute mile and the early history of the marathon.
1973 included Fergus Murray (second fastest on 4); Martin Craven (fastest on 5); and GBJ (new record on 8).
1974 had Alistair Blamire (fastest-equal on 4); Martin Craven; Dave Logue (3rd fastest on 6); and GBJ (second-fastest on 8, chased hard for EAC by former EU athlete Jim Dingwall, who had to wait until 1984 for his team, from 1977 the successful Falkirk Victoria Harriers, to secure gold).
Jim Dingwall was popular, influential and an incredibly versatile athlete. He started his running career as a sprinter, being part of the George Heriot's School 4×110 yards relay team that won the Scottish Schools title in 1964. Although he never lost a devastating finishing kick, Jim went on to become a successful track and (eventually) cross-country exponent. He won the 1973 British Universities 5000m; set a Scottish Native record over 3000m; and won the Scottish 10,000m title three times, as well as being a Scottish Track International. Jim ran for Scotland in the International or World Cross three times. In the E to G, for EU he was fastest on Stage 1 in 1971; for EAC fastest on Stage 8 in 1974; for Falkirk Victoria Harriers fastest on Stage 2 in 1976; and equalled Andy McKean's Stage 6 record when fastest in 1977. He developed into an excellent marathon runner, with a personal best time of 2.11.44. Jim won the 1977 Scottish Marathon title in a championship record; and subsequently raced for GB in many International marathons; and for Scotland in the 1978 Commonwealth Games. "The Green Machine" includes the following tribute: "Jim was a very sociable character, highly respected from his time at EUH&H and beyond, being dubbed 'The Guv'nor', which reflected his status among running contemporaries". He trained intelligently and hard; enjoyed post-race real ale and singing; and successfully encouraged many others to improve their own running.
1975 was the year when Edinburgh University's 1965 record was finally broken. Another tailwind and another super-team: all Internationals, including two 1965 men – Alistair Blamire and Fergus Murray. Martin Craven broke Iain Hathorn's 1966 record with 20.42 on 3; Dave Logue was fastest on the longest one, Stage 6; and Gareth Bryan-Jones, making his last appearance before concentrating on International Orienteering, signed off stylishly with a new record on 8.
1975 was also the first year that a Scottish Universities Cross-Country Championship was organised for Women. Violet Hope (Violet Blair after her marriage in 1979) was Edinburgh University captain and her team won the inaugural title. Later she represented Scotland frequently at cross-country and track athletics; and won the SAAA 1500m title in 1980 and 1983. With Edinburgh Woollen Mill, Violet contributed towards team gold in the 1987 Scottish Senior National Cross-Country Championship.
In 1977, ESH won again, with former-EU assistance from: Fergus Murray, Ian Orton, Dave Logue, and Martin Craven, who was a hero and fastest on 8, overtaking EAC. Jim Dingwall (Falkirk Victoria H) equalled the record on Stage 6.
Ian Orton. Ian ('The Big O') was a sociable young man who enjoyed his athletics. In 1975 he won a bronze team medal with EU in the Scottish Junior National XC, finishing tenth. In the 1979 Scottish Cross-Country Relay, with ESH, he secured team gold. In the Senior National, he won team silver in 1978; and gold in 1979, when he finished 15th. In the E to G, he contributed to victories in 1977 and 1978; and bronze in 1979. His personal bests were: 1978 800 1.52.2; 1978 1500 3.47.0; 1980 1M 4.14.0; 1977 3000 8.24.1; 1977 5000 14.25.7.
1978 had Martin Craven and Ian Orton as EU graduate competitors in the winning ESH outfit.
In 1981, a former EU runner, Colin McIntyre, ran for the ESH gold medallists.
Colin McIntyre. In 1981, Colin won a bronze medal in the Scottish Junior National XC (leading Edinburgh University to team silver medals) and consequently ran for Scotland in the World Cross, finishing as a team counter. In the Senior National, with ESH, he won the 1982 team title. In the E to G, after running twice for EU, he featured in two victorious ESH teams (1981 and 1982). All this from an Orienteer, who represented GB in many World championship events between 1981 and 1989.
In 1982, Colin McIntyre took part again, as did the redoubtable Dave Logue, when ESH won this great race for the final time. Dave was the last of the EUH&H men from his old club's peak years to secure another E to G victory. A good place to put a stop to this article – apart from some final comments.
In 1954, Adrian Jackson's EU outfit (including Adrian Horne and Hunter Watson) finished a valiant fourth in the E to G, only 15 seconds from a medal. This placing was not improved until second place in 1964, by which time the dynamic Elson/Murray effect had nurtured the athletic potential of a team bound for greatness. As this article makes clear, the tradition (of hard training, fast racing and post-race partying) continued well after 1967. Let us consider Robin Thomas's Hunter's Bog Trotters, the most sociable of clubs but also one achieving notable successes, including the Men's Senior National team title three times; and the Women's award twice. Phil Mowbray (ex-EU) was HBT's biggest star and took part eight times in the last nine E to Gs (1994-2002). He won team bronze in 1996 and 1999, silver in 2001, and always ran brilliantly, being fastest on Stage 2 (twice), Stage 6 (four times) and Stage 7 (once).
And EUH&H in recent years? The Scottish Junior National XC team gold was won by the men five times in the 1990s, the 2000s added three bronze and a win in 2009, and the current decade has resulted in 2014 bronze, 2018 silver and 2019 gold. In the National XC, EU women have excelled, with umpteen team medals, including three victories, in the Under-20 age group; and gold for the Senior Women in 2018. Furthermore, how many EU graduates have played a part in the success of Central AC, a club that has just won its ninth successive Men's Senior National team title?
Edinburgh University Hare & Hounds developed so many talented, tough, determined, consistent, 'Serious Amateur' runners. Several achieved a standard beyond all but a few professional Scottish athletes nowadays. This article has been written to celebrate a special group of people, who, so many years ago, I strove to emulate and respected as rivals, including many I liked later on as ESH clubmates or old friends, who share a love of running as well as possible, when 'the legs say yes'.
N.B. Profiles (short or long) of the runners mentioned above can be found under 'Who's Who' on scottishdistancerunninghistory.scot