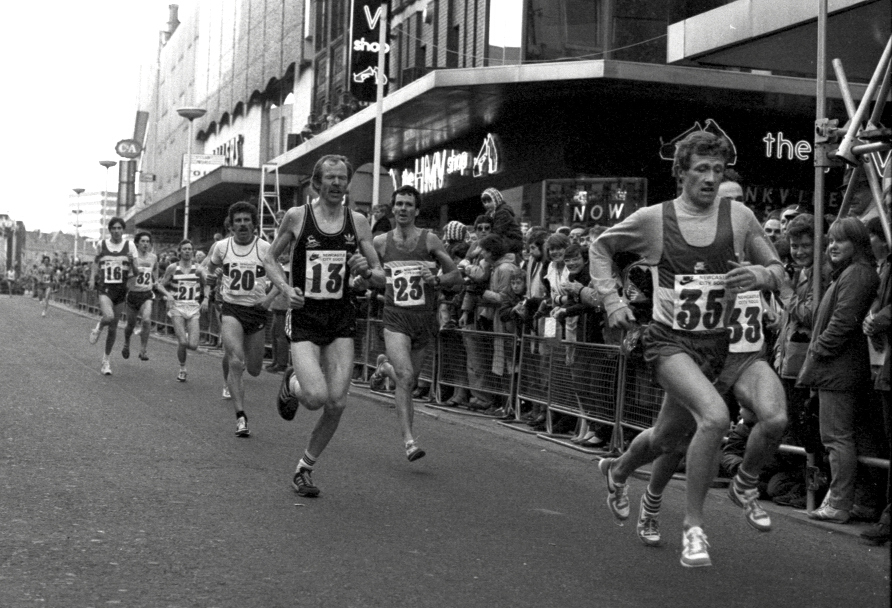 Allister Hutton in the Newcastle 5K
When 'Scotlands Runner' updated the club story in 1988, a lot had changed – ESH had come from being an east of Scotland club with growing potential to be possibly  the strongest club in the country and one of the top clubs in Britain.   Thiswas not only on the road and over the country, but the numbers that the club was con tributng to international track and field teams were immense.
Doug Gillon continues the story of Edinburgh Southern Harriers in the July 1988 issue of "Scotland's Runner" .
"For Southern's 90th anniversary last year, Duncan McKechnie literally filled a small book with their avhievements   For example: cross-country relay champions seven times since the event was launched in 1974; road relay champions since that title was put up for grabs in 1979; winners of the Edinburgh-Glasgow road relay race eight times since 1973.   And since 1960 they have won the national cross-country team crown twelve times, filling the silver medal spot eight times   Had Cambusland not beaten the capital club this year at Irvine, Southern would have extended their national run to a unique seven consecutive years   Currently they share the record honours with Maryhill (1927-32)   
On the track they have been Scotland's most consistent performers, taking the Scottish League title sixteen times sice it was established in 1960, and featuring more prominently in the UK League and Pye GRE Cup than any of their rivals from north of the border   They won the cup in 1975, the only Scottish club to do so   Individually they have the nation's onlyliving Olympic champion in Allan Wells, who also boasts four Commonwealth gold and a mintful of minor medals.   Elliot Bunney and Jamie Henderson clocked up successive European junior sprint  victories in 1985 and 1987, the latter sharing in a World junior relay gold in which Britain beat the USA.   
Hammer thrower Chris Black, seventh at Montreal, defied the Scottish tradition that  perceives Olympic success in the throws as an unattainable dream.   The club'sthirtieth SAAA title arrived courtesy of pole vaulter David Stevenson (with a record breaking 437 metres in 1964), who that year went to the Olympics in Tokyo, and is now chairman of ewomen's sponsors, Edinburgh Woollen Mill  BY 1969 the total n umber of national titles won had risen to 56, but the dramatic impact on the fortunes of the club that the 1970 Commonwealth Games triggered , by bringin g all-weather tartan to Meaowbank is revealed by the fact that at the start 0f this year's track season the Southern vest had been carried to victory in the SAAA senior men's championship a total of 165 times including relays.   
Ken Ballantyne won the very first of the club's 65 national junior track titles back in 1957.   And 21 athletes have won 34 Scottish youth championship golds   The UK colours have been worn by 26 different male athletes, and when Southern finally produce a discus thrower worthy of a British vest they will have completed the set.   For that is the only track or field event in which they have not so far been represented."
Doug's article continues with many more facts and general information about the club but the bare facts contained in the extract above are impressive enough.    The club had won their last national championship however, and indeed their last major race.   It had left the Scottish stage less than ten years later.   Second in the national in 1989, the club's positions were seventh, sixth, thirteenth, twenty second and twenty second; in the Edinburgh to Glasgow, with only twenty clubs invited to take part they were placed in consecutive years sixth, third, twelfth, sixteenth, sixteenth, eleventh and twentieth.   It was a great comedown but, given that success tends to come in cycles, the position might have been retrievable but without all the facts, those outside the club don't know what the situation was.
Why the sudden decline in fortunes in the distance events, cross-country team races and relays?   Edinburgh AC's top flight endurance teams also suffered a decline in their fortunes at the same time.     How did that come about?
A major factor here was the established of Edinburgh Racing Club.   Set up by a group of established top athletes such as the Robson brothers, Tom Hanlon and several others from Southern, plus some athletes from EAC such as Brian Kirkwood and Scott Cohen, this outfit had a double effect on the other Edinburgh clubs endurance sections – first of all any 'club of champions' whatever its motives will obviously have a big effect on existing clubs, and second many of its runners came from the club.   For instance, Racing Club of Edinburgh arrived on the scene in winter 1991/2.  In the Edinburgh to Glasgow Racing won in their first attempt with a team that started with Cohen and Kirkwood and included David Ross, Alan Robson, Tom Hanlon and John  Robson.   Racing Club was very good indeed at what it did – but ESH and EAC suffered.
But why did ESH merged with rivals Edinburgh AC only 8 years after the real high written of by Doug in 1988?   In 1996 it ceased to exist as a club in itsown right.    It might be of course that the club just became a victim of its own success.  To sustain its activities on a UK level. the commitments and overheads were huge and not getting any smaller.  ESH had the continuing commitments of a British Track and Field club – eg in the British League, they had to pay almost £2500  to get a full team to BAL matches in London.   It was reported that at one time a member discovered that if you collected ten tokens from a Sunday newspaper, you could get a buy-one-get-one-free on air fares to London.   The reslt was club members frantically collecting tokens for week after week while the offer lasted to help get the team to the fixture!  There were also age group teams to organise, and normal club activities also cost money, time and dedicated people.
The manpower required to sustain membership of the various leagues and run meetings was also considerable.   When the committee looked across the city and saw Edinburgh AC also putting a team out in the Scottish and British Leagues, duplicating the commitments and expense, it maybe just made sense to link both clubs.   After all, EAC was no less ambitious than ESH and they could bring a lot to the party.  The view from their point of view must have coincided with that of Southern. However it may be, 1995/96 saw the last of Edinburgh Southern Harriers as a club in its own right.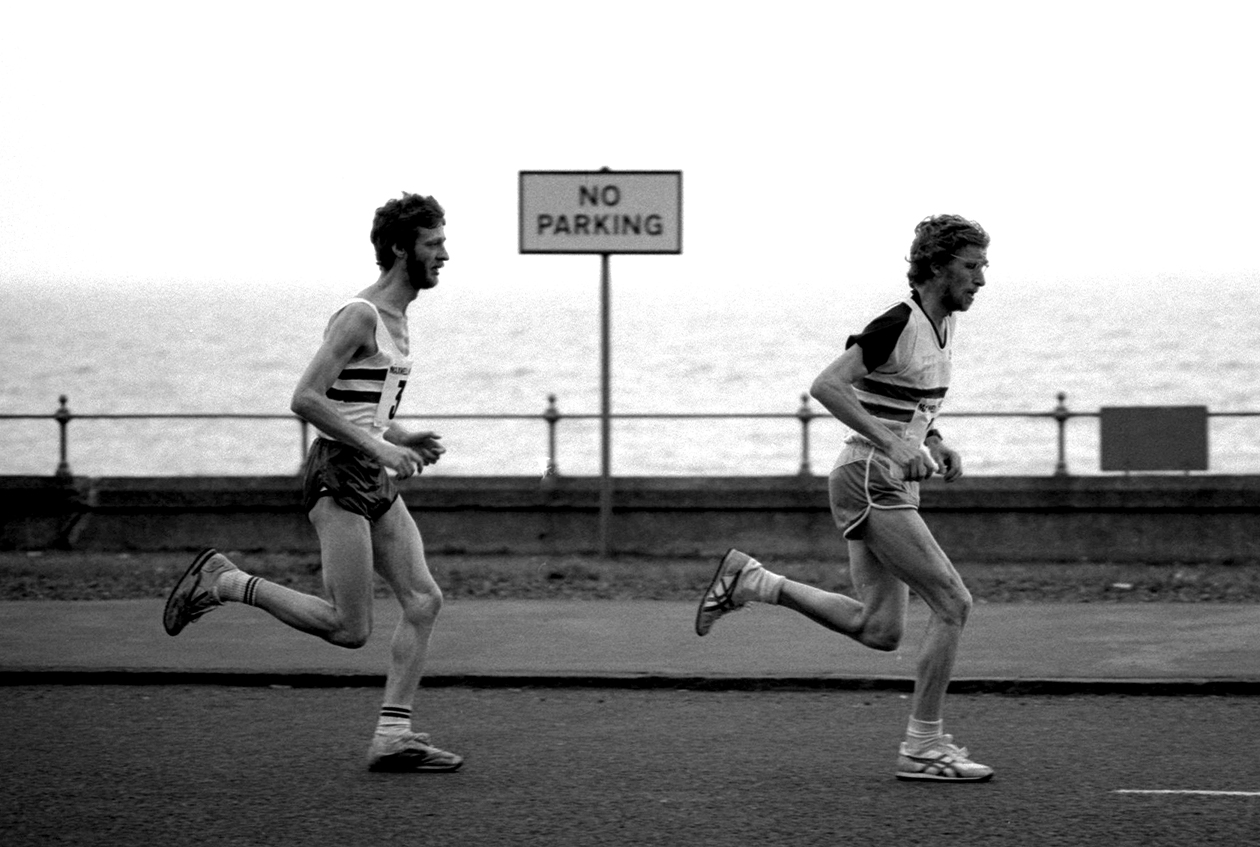 Colin Youngson leading Evan Cameron
Colin Youngson, who ran for the club in the 1970's, has written a piece for 'The Fast Pack' section of the website and yo u can see it here.       He added the following.
In late Autumn 1997, well after the April 1996 club merger to create the City of Edinburgh Athletic club, the 'Edinburgh Southern Harriers 1897-1996 History Dinner' was held. I was there along with a host of ESH athletes and officials – plus quite a lot of former EAC members. Since there had been a great rivalry between the two clubs, this felt rather unnatural! ESH representatives included Alistair Blamire, Fergus Murray, Donald Macgregor, Gareth Bryan-Jones, Martin Craven, Craig Douglas, Ken Ballantyne, Graham Stark, George Brown, Bert McFall, Allister Hutton, Sandy Robertson, Chris Black, Lawrie Nisbet, Jamie Henderson, Elliot Bunney, Cameron Sharp and David Stevenson; and EAC athletes included Adrian Weatherhead and Ray Weatherburn plus Coach Bill Walker. There were many officials and ex-athletes, and the age range represented was extensive. The top table featured Jim Smart, Craigie Veitch, Michael McGregor, Donald Gorrie, Ian Clifton, Councillor Margaret McGregor, Ron Morrison and Astrid Gorrie.
Before this dinner, which was very successful, a paperback had been published: 'ESH – The History of Edinburgh Southern Harriers – Founded 1897'. This Centenary book had been compiled by Edinburgh journalist Ken Smart, assisted by contributions from Ken Ballantyne, Ian Clifton, Hamish Robertson, Ian McKenzie and Jim Smart.
This glossy production featured many black and white photos. There was considerable historical detail, with particular attention on recent stars like Allan Wells, Chris Black, John Robson, Allister Hutton and Elliot Bunney.
The merger was explained in these words. "As the Southern headed for its centenary, the club had to go through a double change of name. First, to attract sponsorship, it became Caledon Park Harriers in 1991, when considerable assistance was given to the club by Edinburgh businessman and property developer Hamish Henderson, whose son Jamie won the European Junior 100 metres championship in 1987. The club was renamed after this property company.
After reverting to the original club name two years later, negotiations opened with Edinburgh Athletic Club for a merger. Both clubs had done well in the British League competitions but over the years it had become apparent, with growing financial pressures from travelling and other expenses, that to maintain standards and to aspire to success in the leagues, a merger of the clubs was inevitable.
The City of Edinburgh Athletic Club is already featuring in the record books. Next season City of Edinburgh AC will be promoted to Division Two of the British Athletics League, having won this year's Division Three championship."
Duncan McKechnie had compiled a fantastic list of ESH record, championship winners, International representatives etc. This great club had achieved impressive successes for so long. Although awed by the names of vastly superior athletes at the dinner and in the book, I was proud to have contributed to several team wins in cross-country and road events, and to be bracketed with Olympian Donald Macgregor as a Scottish marathon 'war-horse'!
Two photographs from the book are posted below. The first is one taken at the Fernieside club track in the early 1970s. Many important athletes and club servants are present (including youngsters like Allan Wells, Chris Black, John Robson and Ian Elliot; experienced men like Martin Craven, George Brown and Graham Stark; plus stalwart officials like Ken Ballantyne, Jim Logan. Ian McKenzie, Hamish Robertson, Ian Clifton, Ian Ross and Bob Steel).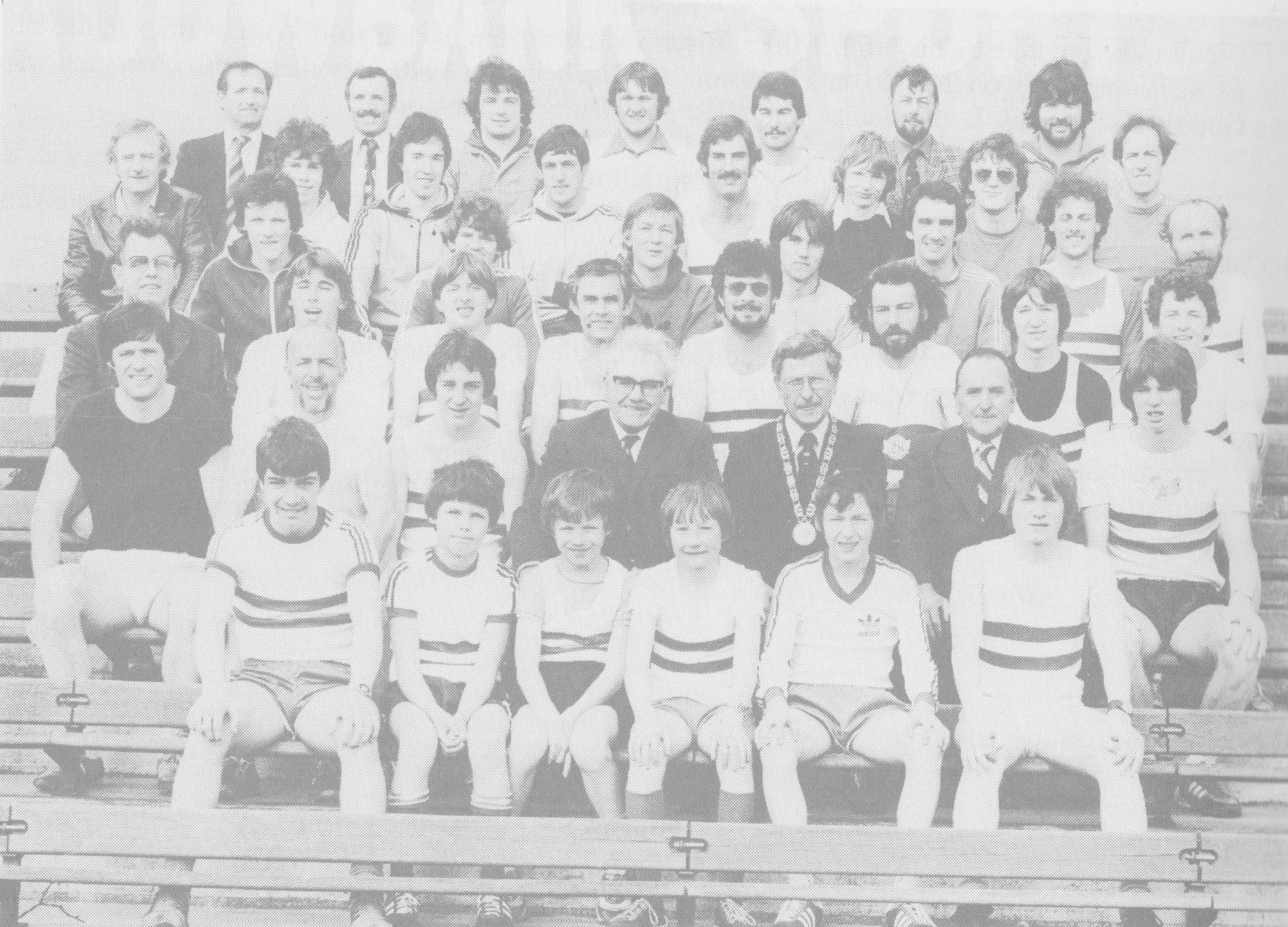 Then there is a photo of ESH Track and Field records. I would bet that no current Scottish club can better those!