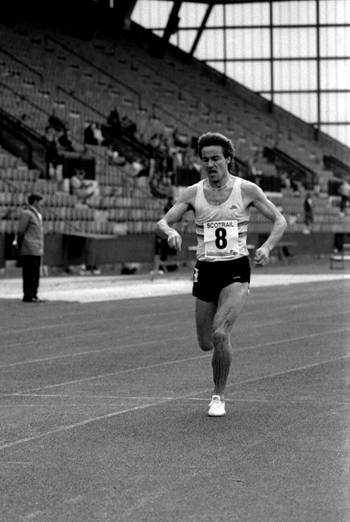 Colin Hume winning the SAAA Steeplechase in 1985
Colin Youngson has written this section about his old club of which he has fond memories and lasting affection.   It is suggested that this selection of good athletes is read in conjunction with those of Edinburgh University and Edinburgh Athletics Club.   Colin writes:
For Edinburgh Southern Harriers the Fast Pack includes: George Brown, Kenny Ballantyne, Craig Douglas, Ian Elliott and Colin Hume (although other good team men were Alex Robertson, Craig Hunter, Colin McIntyre, Ian Steel, George Mathieson, Alan Robson, Calum Henderson, John Gladwin, Neil Thin and Gary Grindlay).
George Brown was a real ESH stalwart.   In the Senior National he first won a team medal (bronze) in 1961.   Over the next decade, a succession of consistent performances brought him a total of nine medals:   two gold (1964 when he was twelfth finisher, and 1970), five silver and two bronze.   In the E-G he featured in ESH teams that won gold (1973), silver (1962, 1963) and bronze (1964, 1971).   On the track, George ran a mile in 4:12.7, and three miles in 14:24.   Much later, in 1979, 1980 and 1983, ESH obtained team gold in the Scottish Veterans Cross-Country championships and George Brown, predictably, was one of their counters.
Kenny Ballantyne   enjoyed an illustrious career and inspired many club mates.   It is good to have an opportunity to profile him, if only briefly.   In the Scottish Junior National cross-country, he won team silver in 1961 and followed that in the Senior National with team gold (1964, 1965 and 1969), silver (1967 when he finished ninth, and 1971) and bronze (1966 and 1968).   Kenny was also very effective in the E-G.   His first team medal in the event was in 1961 when ESH finished second with Kenny recording the fastest time for Stage Eight in which he broke the record.   His team was again second in 1963 and third in 1964.   In 1966, Kenny was fastest on the prestigious Stage Two, in front of Hugh Barrow, Andy Brown and Alastair Wood.   There was another bronze in 1968 and finally the longed for gold medal in 1969.   In 1970 ESH were squeezed into second but Kenny was fastest on Stage Eight.   A final bronze followed in 1971.
Kenny was even more successful on the track, representing Scotland every year from 1961 to 1966.   His best distance was One Mile/1500m and at Motspur Park in 1965 he raced a mile in 4:01.1 which at that time made him the fastest home Scot.   In 1964 he won the SAAA title at that distance, and in addition gained one silver and three bronze medals in the event.   Other pb's included 1:53.2 (880 yards), 8:51.0 (Two Miles) and 14:05.3 (Three Miles).
Craig Douglas   was a very fine athlete – a real battler – who originally ran for Teviotdale Harriers, but ESH always had a close link with Borders athletes.   On the country, Craig ran for Scotland in the ICCU Junior Championship in 1969 (twenty first after second place in the Scottish Junior, with Teviotdale third team) and 1963 (an excellent tenth).   In both these years he won the East District Junior Cross-Country title.   Actually in 1963 he won the East Senior title as well!   He seems to have concentrated on the track for a few years after that but was part of the ESH teams that won gold (1969 and 1970) and silver (1971 and 1975).   In the E-G, Craig ran for Teviotdale from 1961 to 1966, often going very fast but without gaining any team medals.   However he struck gold in 1969 as soon as he switched clubs to ESH, recording the fastest time on Stage Seven.   In 1970, Craig 'won' the first stage although ESH eventually finished second after a thrilling battle with Shettleston.   They were third in 1971 despite Craig's fastest time on Stage Five, and third once more in 1972.   However it was gold for Craig's team in both 1973 and 1974 (when he was fastest on Stage Three)
Craig Douglas won the SAAA 880 yards title in 1963 and the 1500m in both 1969 and 1971.   He represented Scotland on the track in six separate years between 1963 and 1971.   Personal best times included: 1:49.9 (880 yards), 4:01.8 (Mile), 3:46.3 (1500m) and 14:36.2 (5000m)
Ian Elliot   was another Teviotdale Harrier, an elegant athlete who later switched allegiance to ESH.    In 1966 he showed early promise by winning the East District Senior Boys title.   He was running for ESH by 1973 when he led them to team bronze in the Senior National.   This was followed by silver in 1974, 1977 and 1978, and gold in 1979, 1980, 1982, 1983 and 1984.   Ian was ninth in 1979 and very disappointed not to make his debut in the World Cross.   He proved the selectors wrong by winning the East District CC later that year.   The Scottish Cross-Country Relay was a successful event for Ian Elliot, who won gold in 1975, 1978, 1981, 1982 and bronze in 1984.   In addition he won two more team golds (1981 and 1982) in the Scottish Six-Stage Road Relay.
On the track, Ian's personal bests were 3:49.5 (1500m), 14:14.4 (5000m), 29:55.0, (10000m) and 8:53,2 (3000m Steeplechase) in 1977 when he was second in the Scottish rankings.   He won the SAAA Indoor 1500m title in 1974 and represented Scotland in the steeplechase in 1979.   Eventually he returned to Teviotdale and enjoyed several years of considerable success in the Over-40 age-group winning two National Veterans' Cross-Country titles in 1991 and 1992, plus other championships on the road and track.   Teviotdale Harriers won three National Veterans Cross-Country team awards during this period.
Colin Hume   was yet another very talented Borders athlete who ran for ESH, spent three years representing Memphis State University and then returned to ESH.   He showed great promise from the start, winning the East District Youths cross-country title  in 1978.   That year he was sixth in the Scottish Youths Cross-Country Championship with ESH third team.   In the Junior National Colin won team gold in both 1980 (individual sixth) and 1981 (second).   After his time in the USA he ran in the National Senior in 1985 (team gold, eighth) and 1986 (team gold).   In both 1985 and 1986 he was selected to compete for Scotland in the World Cross.   He won the 1985 East District Cross-Country Championship.   Colin also won team gold in the Scottish Cross-Country Relay in 1982 and silver in 1986.   In the Scottish Six Stage Relay he won gold in 1979, 1980 and 1981 as well as silver in 1986.   The E-G brought further team gold medals in 1978, 1981 (fastest on Stage Seven) and 1985.
His track career was very impressive with personal bests of 1:50.1 (800m), 3:42.72 (1500m), 7:53.06 (3000m), and 8:47.02 (steeplechase).   He was third in the SAAA 1500m in 1982 and won the Scottish steeplechase title in 1985.   A rare achievement was his time in 1983 of 3:59.58 for a mile – indoor!   Colin Hume ran for Scotland on the track in 1981, 1982, 1985 and 1986 over a variety of distances – 1500m, one mile, 5000m and the steeplechase.