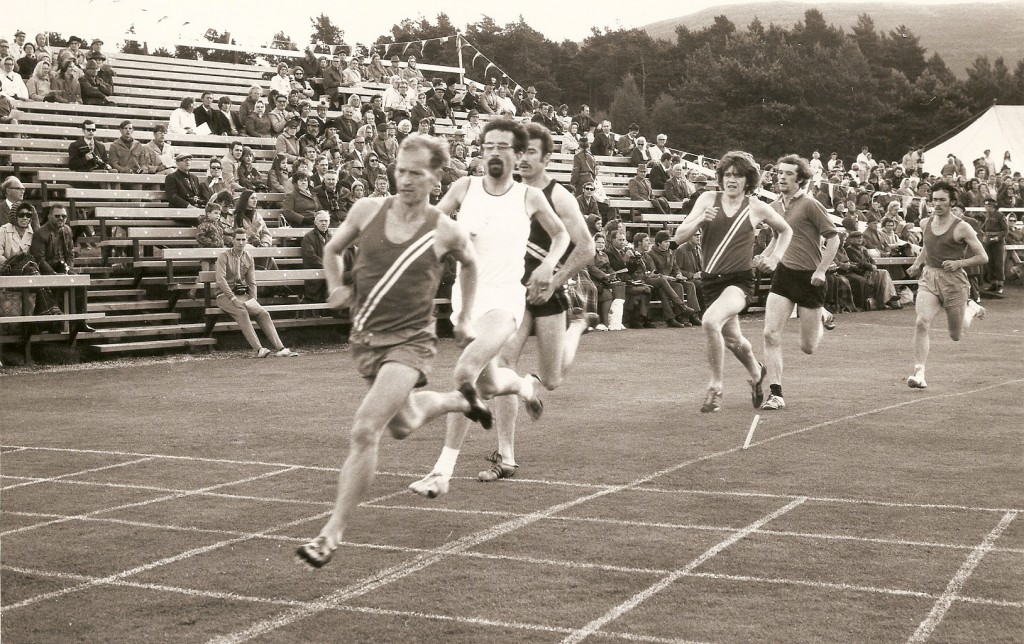 EARLY DAYS IN ATHLETICS
By Alastair Macfarlane
Alastair, in white, running at Braemar
Anyone familiar with Scottish athletics, marathon running and this site will immediately recognise Alistair Macfarlane as a top class runner whether on the track, over the country or on the roads.  A former Scottish champion, he has never run a national marathon championship and failed to finish in the first three.   As a professional athlete in his earlier days he paced Alan Simpson to a British record as well as winning much more than his share of races all over Britain.   He wrote the following article for the Scottish Veteran Harrier Club's magazine in early 2015 and it is well worth reprinting here.   Read and enjoy!
The editor, obviously pretty desperate for some words to fill an empty page, has looked in my direction to ask me to reflect on the early days of my running career, especially during a period that couldn't happen today.
I started running at school in Stirling and was soon invited to join the local club, St Modans AAC, a club no longer in existence but nevertheless a club of some standing in the sixties and early seventies. Club colleagues during my period in membership included Mike Ryan who was to go on and win Olympic and Commonwealth medals in the marathon while representing New Zealand, George McLachlan, a GB decathlon international and Scottish Steeplechase champion Charlie Meldrum.
The adventure began at Hamilton Racecourse, the venue for the National Cross Country Championships in 1963. In dreadful, frozen underfoot conditions I picked up a National silver medal in my very first race. Okay it was a team medal and I was fourth counter in a race won by future Commonwealth silver medallist Ian McCafferty, but I wonder how many people can say they won a National medal in their first race. Over the next couple of years as I moved into my late teens, being the weakest in my age group, and not making much progress I became a bit disillusioned. Sensing this, a chap called Willie Scott who trained with the club but was a professional runner took me under his wing and advised me to become a professional. Many people in the sport today won't understand what this meant in the sixties. Unlike today there was a clear distinction between the amateur and professional codes. There was a huge and thriving circuit of Games, mostly in Fife, the Borders and the Lake District where money prizes were on offer. Anyone who took part in any these of these meetings was deemed by the Scottish Amateur Athletic Association, the then governing body of the sport in Scotland, and the IAAF, to be a professional and not allowed to be a member of a club in SAAA membership. And this exclusion even extended to those who had earned money from other sporting pursuits; many people will have heard of John Tarrant, 'the Ghost Runner' who had earned a few pounds in a boxing booth. Rangers' players Willie Johnston and Sandy Jardine were decent sprinters on the pro circuit while Hibs and Stirling Albion winger George McNeill was possibly the fastest man ever produced by Scotland. All of these athletes were denied the opportunity to compete in amateur athletics and in McNeill's case to represent his country.
However having decided to start competing on the professional circuit I was in for a bit of a culture shock. Highland and Border Games were mostly track and field competitions and perhaps 90% were held on a handicap basis. Handicap running produces a mind-set in some people where they will try less than their best in the smaller events in an attempt to build a good handicap then having built a good handicap will pounce to win a big money race. So deceiving the handicapper in order to build a better handicap almost becomes a sport in itself. In addition betting was not only allowed but was a major part of meetings.  Although many meetings offered big money prizes, especially in the sprints, the real money was to be made from the bookies.
As a naive 19 year old newcomer to all this, I certainly found it a new world. My amateur club background along with my natural competitive spirit meant that I went into every race trying to do my best regardless of any future loss of handicap. There wasn't a lot of money at stake in my early days; in my first race at Blackford Highland Games I finished third in the mile to win £2 and a couple of weeks later at Pitlessie, I took home 12/6 (62.5p) for third in the half mile. (Note the pre metric race distances). After a couple of seasons of doing reasonably well and picking up some prize money, but much more importantly, picking up valuable experience in how to race on the track, I started to make a bigger impact in 1968, going to some of the biggest  meetings at places like Hawick, Jedburgh, Peebles and Selkirk and winning. A new face appearing on the scene that year was GB International Alan Simpson, Britain's top miler who had finished 4th in the 1964 Olympic 1500metres and was silver medallist behind Kenya's Kip Keino in the 1966 Commonwealth Games. We became friends, trained together and stayed at each other's house. Another 'name' to show up was former world mile record holder Derek Ibbotson but by this time he was well past his best and was never a serious threat in races. But the highlight of the pro runner's season is undoubtedly the New Year Gala, nowadays held at Musselburgh Racecourse but in my time still held at the charismatic Powderhall Stadium in Edinburgh. This is the big one; the meeting for which most runners try to preserve a decent handicap, because of the big prizes on offer. Having had a good season during the previous summer I was back marker in the mile at the New Year meeting of 1969. Having only just qualified for the final after finishing a distant 2nd in the heat, I managed to get up in the last few strides to win and take the £80 first prize.
That effectively was the end of my career as a professional runner, the next couple of years taken up with getting married and moving house a couple of times. I had never lost touch with the amateur club scene and started training with Springburn Harriers, whose club Coach was Eddie Sinclair, a former Scottish 3 mile Champion,  against whom I had raced on the pro circuit, and decided to see how far I could go in the sport by attempting to be re-instated as an amateur.   This had been achieved only once previously to my knowledge, by John Robson, later to become a star at 1500 metres on the International stage. However for me that proved to be no easy task. My applications for reinstatement were rejected  on two occasions and it was only after two years  of trying that I was given the green light and I was officially an amateur again. How times have changed over the last 40 years with people now able to make fortunes from the sport!
I was reinstated initially as a 'National' amateur, meaning I was unable to compete in International competition, a condition somehow overlooked when, having reached a decent standard, I was selected to represent Scotland in an International marathon in Tullamore, Ireland. I suppose this indicates that incompetence from our governing body is not a new phenomenon! However after I had pointed out their error the SAAA made application to the IAAF on my behalf and I was reinstated internationally and went on to represent Scotland a few times.
My time as a professional runner brought few regrets and many happy memories; I had the pleasure of competing at the same time as and seeing at close quarters people like George McNeill, Stuart Hogg, later to become a fitness coach to some of the country's top football teams, the multi-talented John Freebairn, for many years for many years a member of  the SVHC committee, and John Steede, still a member of SVHC and in his day an awesome sight as he hit top speed!
After reinstatement a whole new chapter opened up for me as I turned from track racing to the roads and competed against some of the best endurance runners Scotland has produced, people like the late Jim Dingwall, our Newsletter editor Colin Youngson and Olympian Donald Macgregor, but that's maybe a story for another day.