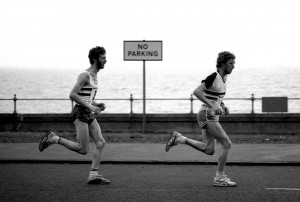 1975 SAAA Marathon 2.16.50. Championship record. Meadowbank, Edinburgh. 1ST after battle with Sandy Keith
1975 E to G First Stage 26.00 record (never broken). ESH 1st in a record time.
1992 Five Nations International Veterans XC Belfast. 1st M45 by a minute. Scotland won team event.
1982 SAAA Marathon 2.18.02. Grangemouth. Won by eight minutes after 'persuading' Jim Brown to drop out.
1981 SAAA Marathon 2.20.42. Meadowbank. 1st after leading all the way and a struggle with Donald Macgregor.
1975 representing BAAB in Berchem Marathon, Antwerp. Second by seventeen seconds to Danny McDaid (Eire) after a good fartlek tussle. Max Coleby nine seconds down. Britain won the team award.
1983 E to G. AAAC 1st. Self second-fastest on glory leg after tremendous struggle to hold off Peter Fleming.
1986 E to G. AAAC 1st. Self fastest on Last Stage. No bother!
1975 East District 10,000m Meadowbank. 2nd to Jim Dingwall after a real fight. 29.33.4.
1975 Two Bridges 36 2nd. 1st Scot 3.29.44. Almost three minutes behind the fast-starting Cavin Woodward but raced away from Mick Orton up the Forth Bridge whaleback.
1983 Glasgow Marathon 4th and second Scot to winner Peter Fleming. Scottish two-man team beat England, Wales, Eire, N.I.
1992 Barnsley Vets 10k Road 6th and 1st M45 in AAA/BVAF event.
1999 World Vets XC Chester-Le-Street 7th M50. G.B. won team gold.
1977 E to G fastest on Stage Three. 20.18 record.
1973 Swedish Winter Marathon Championship 1st. 'Scottish Teacher Causes A Sensation!' Minus five centigrade. Snowing.
1993 Bruges European Vets 25k. First Briton in race. 3rd M45 bronze medal. G.B. team silver.
1975 AAA 12 Stage Relay. Sutton Park, Birmingham. ESH 2nd to Gateshead. Self 14.16 third fastest on short stage, 18 seconds slower than Brendan Foster.
1980 London to Brighton 54 and a quarter. 7th 5.52.04
1975 SAAA Track 10 Carluke. 2nd to Doug Gunstone. 49.00.8.
1983 Westland Marathon, Maasluis, Holland. 2.17.33 6th.
1993 BVAF Marathon at Stone. M45 gold.
1989 SAF Vets XC at Balgownie, Aberdeen. 1st by 24 seconds from Charlie MacDougall – Mum, Dad and Brother spectating. AAAC team gold.
1989 BVAF XC at Sunderland. 2nd, 12 seconds behind Andy Holden.
1989 SVHC Vets Indoors at Kelvin Hall. 3000m gold 8.58.7 British Veterans M40 record.
2003 BMAF Indoors at Kelvin Hall. 3000m M55 gold.9.56.91.
1993 Morpeth to Newcastle 14.1m. 1.15.25 first class standard. 1st M45/M40 by only three seconds from Jimmy Bell.
1981 European Clubs XC 29th, 1st for ESH.
1981 East Districts XC 2nd just behind Fraser Clyne.
1989 Scottish Vets / Lochaber Marathon. Race winner.
1990 Tom Scott 10 mile road, Law to Motherwell. 1st SVHC Championships 49.31.
1974 ESH 1st Team, course record in Allan Scally Relay. 90.45.
1997 SAF Vets XC Relay at Dundee. Metro gold.
1995 BVAF XC at Irvine. M45 gold.
1999 BVAF 10,000m at Meadowbank, Edinburgh. M50 gold.
1979 Edinburgh to North Berwick 21+ 1.52.13 record. 1st hard to hold off Sandy Keith.
1979 Lesmahagow Half 69.21 record. Very hilly. 1st from Evan Cameron.
2000 SAF Vets XC at Cumnock. M50 gold (three-in-a-row) by seven seconds from Charlie MacDougall. Really tough.
1988 Great Scottish Run / Glasgow Half 67.39 1st Vet.
1987 Inverness Half Marathon. 66.29 2nd to Simon Axon. Beat Frank Harper and Graham Laing.
1987 Black Isle 10k 30.02 1st Vet on 40th Birthday.
1986 Dundee Marathon winner.
1973 Stockholm Marathon winner. Absolutely even pace for both halves. The easiest marathon personal best time.
1985 Aberdeen Marathon 2nd. 1st for Scotland team.
1988 Moray Half 69.18. Race winner / 1st Vet.
1971 Scottish Universities v Irish Unis v U.C. Louvain. Belfield, Dublin. 1500m 4.01 , 3rd. Shaven grass track. Wet. Led till straight.
1972 Kingsway Relays, Dundee. 13.32. Fastest individual.
1974 ESH Fernieside Relays. Fastest individual, six seconds in front of young Allister Hutton.
1974 Frykstaloppet, Sweden. 25k 78.30 record. Race winner.
1973 (75,76,77,78) Drymen to Scotstoun 15+ Race winner. Dunky Wright trophy, presented by the man himself.
1991 SAAA Vets Track. Grangemouth. 5000m gold in 15.24.8 after duel with Tom Graham and Phil Dolan.
1973 Scottish Inter-Counties XC, Irvine. 1st from John Ferguson and Ron Macdonald. Golf course with tarmac stretch alternative!
1974 SAAA 10 miles track, Meadowbank. 1st from Martin Craven, despite dodgy hamstring and windy day.
COLIN YOUNGSON: RUNNING SUMMARY
Team golds in: Scottish National XC; Edinburgh to Glasgow Relay; National Six-Stage Relay; National XC Relay; Scottish Veterans XC; SVHC Eight-Stage Relay; SAF Veterans XC Relay.
Member of AAAC's record-breaking John O'Groats to Land's End Relay teams in 1973, 1974 and 1982.
8 British Veterans golds: International and National XC; Road; Indoor Track; Outdoor Track. Distances from 3000m to Marathon.
BAAB Marathon representative in Antwerp 1975.
British 'Masters' Team medals in Euro and World Vets.
Scottish International 10,000m in Reykjavik 1975.
Eleven Scottish International Marathon vests.
Scottish first team for Gateshead International XC 1975.
Scottish Universities representative in XC and Track.
16 Scottish 'Masters' XC International vests in seven age groups (M40-M70). (Individual medals in three age groups.)
1965-66 Full Colours, Aberdeen Grammar, Athletics,XC, Cricket.
1969-71 Double Full Blue, Aberdeen University: XC; Athletics.
1975 Donald McNab Robertson Trophy for Best Scottish Road Runner of the year.
1991 J.F.Walker Award from Scottish Marathon Club.
1991 SCCU presentation for 25th E-G. (Ran 30 by 1999; 13 medals; 7 golds; 7 stage wins.)
1993 Aberdeen City Veteran Sports Personality.
Ran for: Aberdeen Grammar School 1965-66; Aberdeen University 1966-71; Victoria Park AC 1971-3; Fredrikshof Idrottsforeningen (Stockholm) 1973-4; Aberdeen AAC 1974 and 1981-93; Edinburgh Southern Harriers 1974-81; Metro Aberdeen Running Club 1993-2008; Forres Harriers 2009-.
76 'Scottish Titles' to June 2013: Senior; Team; Veteran.
40 marathons sub-2.30; 9 sub-2.20.
10 SAAA Marathon medals: 3G; 3S; 4B.
27 medals in 20 successive Scottish Veterans XC: 11G (7 ind.); 11S (5 ind.); 5 ind. Bronze.
1965-2020: 56 seasons in succession of running at least one Scottish championship per year.
Personal Bests:
800m 1.58; 1500m 4.01; 3000m 8.26 (or 8.28);
5000m 14.26 (or 14.29); 10,000m 29.33.4;
10 miles track 49.00.8; Half Marathon 66.29;
Marathon 2.16.50.
Seldom can an Aberdonian have squeezed more from a teabag of talent. Colin James Youngson (born 27/10/1947).
[Some teabag, some talent!]