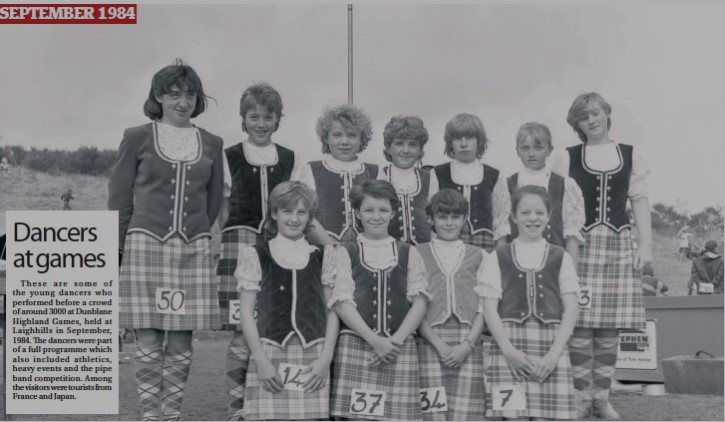 There was more to the Gathering than athletics.
The period from 1971 to 1984 when the last known Games took place is difficult to cover. It was a period when the Glasgow Herald, Scotsman, Courier and other papers tended not to cover what they regarded (maybe correctly) as local events. What follows is what coverage can be gleaned from the various papers – and that is not a lot. The Stirling Observer for 1984 describes it as the 33rd annual meeting. If the first was in 1951 then it must have taken place every year since then. But the lack of coverage suggests otherwise. We can only report what we have though.
The first we have is a rather patronising article on the 1976 Dunblane Gathering which is short on detail but which nevertheless indicated that in at least two events there were GB international standard athletes taking part. Paul Buxton and Don Macgregor were quality athletes in anyone's book but there was no word of second placed athletes in the events.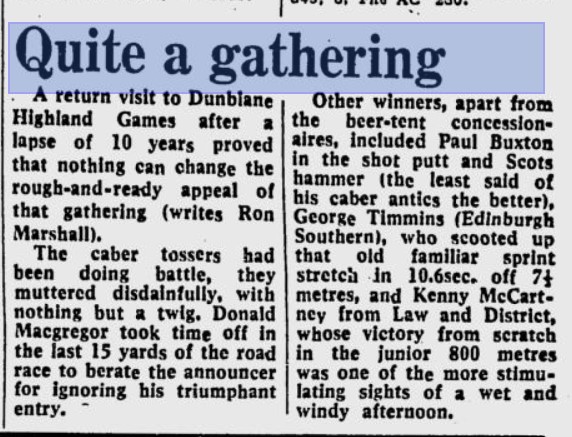 No account of the 1977 or 1978 Gatherings could be found but in September 1979 there was a more detailed report with results of the men's 100, 200 metres, 3000m and road races, plus women's 100 and 200m races. The field events winners are also contained in the report.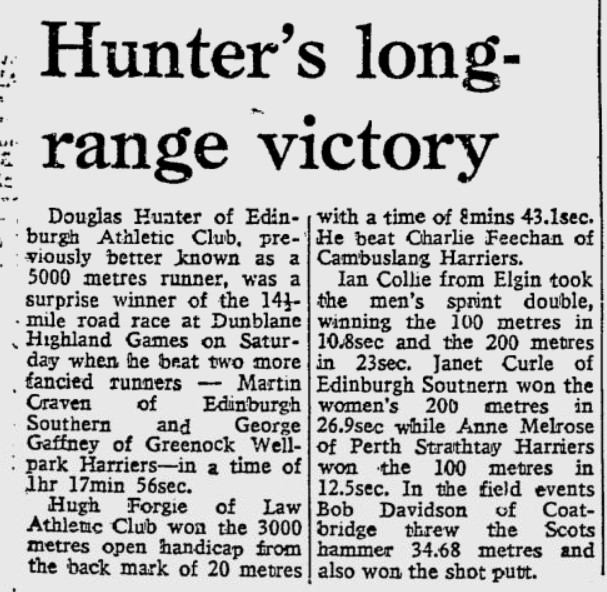 Despite scanning back copies of the Glasgow Herald, Scotsman or a selection of other sports pages, no reports for 1980, 81 or 82 were available, nor was there one for 83. There was however one for 1984.
The Glasgow Herald report for the 1984 Gathering read as follows: "The backmarker Graham Crawford (Springburn Harriers) won the 3000 metres at Dunblane Highland Games on Saturday. From the 30 metres mark he finished well clear of his clubmate Adrian Callan clocking 8 min 32 sec. Jim Hendry (Bellahouston Harriers) won the open 800 metres from the 40 metres mark in 1 min 55.8, and Bob Dickinson (Irvine Athletic Club) too the Junior race with a 26 metre handicap in 2 min 0.9. In a closely contested race, Stuart Easton (Falkirk Victoria Harriers) took the 14 1/2 mile road race in 1 hour 20 min 42 sec, finishing just two seconds ahead of Graham Getty (Bellahouston Harriers) with Northern Ireland Ireland internationalist Rod Stone taking third. Ann Bates, first woman home in last week's Edinburgh marathon, continued her splendid form winning the women's race in 1 hour 43 min 16 sec."