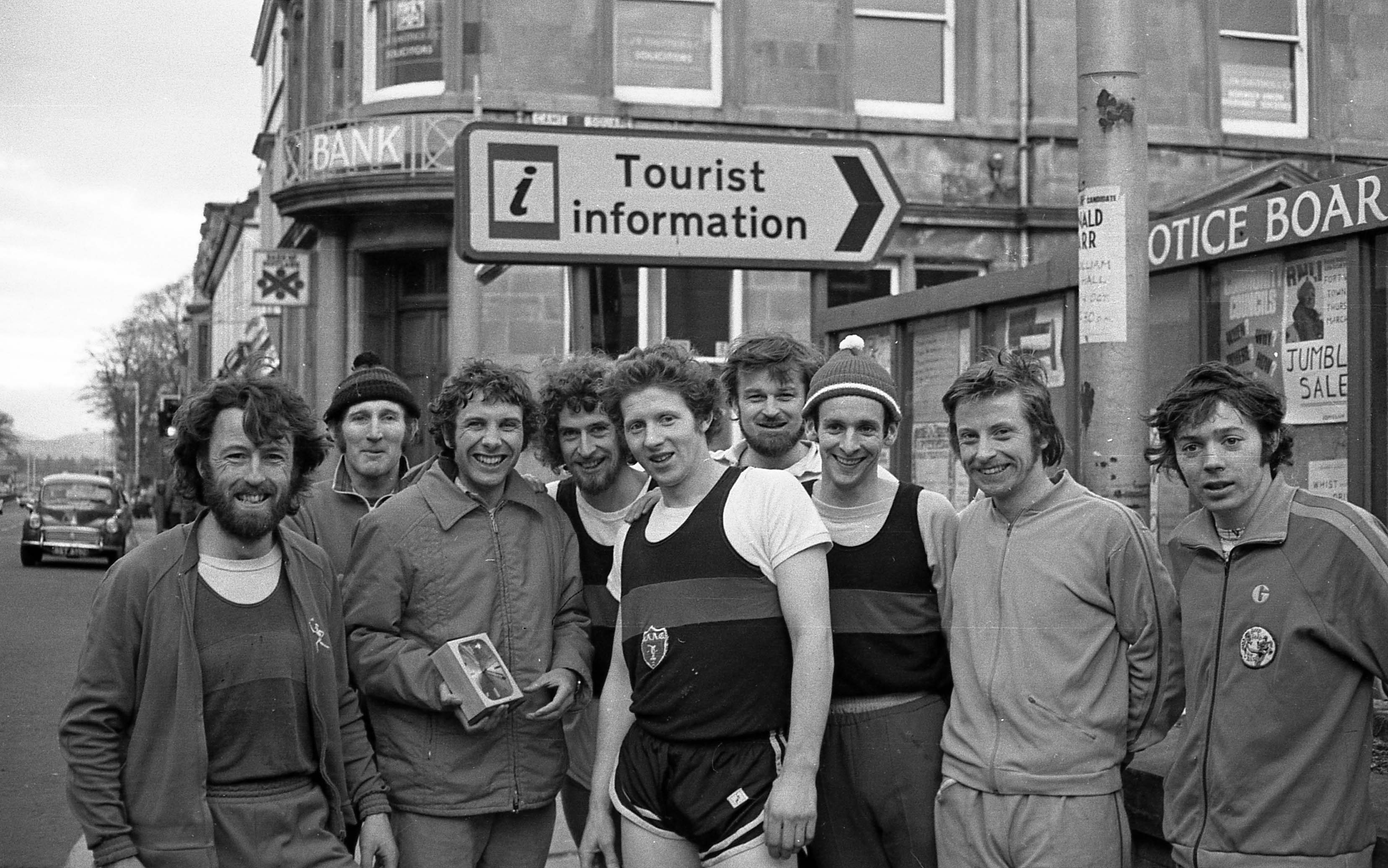 Dumbarton runners at the end of the Glasgow to Fort William Relay
Alistair Lawson, Allan Adams, Ron Paton, Gordon McLaren, Harry Martin, Mike Lidwell, Ian McWatt, Billy Cairns, Colin Martin.
Dumbarton AAC was established in 1919 and has produced many fine runners since then.    We have separate profiles for Colin Martin and Alistair Currie on this website and their period at the top overlaps somewhat.   On this page we will be looking at some of their best athletes from the 1970's – runners such as Hugh Elder, Allan Adams senior, Willie Cairns, Jack Brown and Alan Currie.    But the club is more than just a road running and cross-country club.   As Colin Martin says in his profile, the club was cnsiderably good on the track when he joined them with the top man being Bobby Mills – best known as a hurdler but also a top ranked decathlete – and including well-known official and announcer Jim McInnes, who was a useful sprinter,   They were a club with some initiative too – in the days before the West Highland Way was invented as a long distance footpath, Dumbarton developed a Glasgow to Fort William Relay with idiosyncratic rules codified by Mike Lidwell.   The teams had to be of eight men, two groups of four; the distance was split into 32 sections and each group had to be responsible for 16 sections with each man covering four stretches.   One team ran mainly road parts of the course while the other ran the more mountainous segments.   Such is the nature of the terrain of course, that even the road team had to do Rannoch Moor and the Devil's Staircase among its duties.   .     The route was also slightly different – and tougher – than the WHW.   It started at 6:00 am from George Square in Glasgow and went out via Maryhill Road and over the Bearsden Golf Course to Milngavie Town Centre where it linked up with what is now the WHW; when it reached Dumgoyne, the course went up the hill over the fields to the Black Bull in Killearn, down Drumtian  Road to the main road, under the railway bridge and over the fields to cross the A811 and head for Queen Elizabeth Forest, then via Stronachlachar and Glen Gyle to meet up with the route of the West Highland Way at Crianlarich before heading to the Fort.   They pioneered this route and challenge matches were held between the club and Clydesdale Harriers, Glasgow University, Lochaber AAC and even at one point Dark Peak Fell Runners, typically three clubs at a time.   So Dumbarton was an all-round club with not a little initiative and the distance men took part in the League meetings and the track men competed on the road and over the country.   The individuals concerned were a very competitive unit with everyone working for everyone else.   A final note for now: I am still collaing information from Allan Adams, Colin Martin and Alistair Lawson and that will be added as soon as it is available.
The 'one that got away' was Hugh Elder.    A solid club runner (DoB: 1/10/48) he specialised in the steeplechase on the track and did well in it.   with two SAAA medals and a personal best of 9:06.0 in 1974.    His other personal best times were
3000m – 8:34.6i (1972);     10000m – 31:20 (1970);     10 Miles – 53:41.0 (1973);     Marathon – 2:49:21 (1970);     2000m Steeplechase – 5:58.2i (1972).
He first appears in the Scottish ranking lists with a time of 10:05.2 for the 3000m steeplechase in 1968 at the age of 20 in nineteenth position, one ahead of Jim Sloss of Beith and two ahead of Doug Gillon  (10:11.6) of Edinburgh AC.   A year later he was sixteenth with 9:50.5 and competitively he was starting to get himself noticed.   After winning the West District 'chase in 9:56.0, he was third in the Inter-Counties with his ranking time.    In 1970 he started to spread his talents a little and not only did he record a time of 9:34.2 for the steeplechase, but he was also ranked at twenty eighth in the 10000m with 31:20, twelfth in the 10 Miles with 53:41 and thirty second in the marathon with 2:49:21.   In 1971 he won his first SAAA medal when he was second in a time of 9:25.6 behind Bryan-Jones's 9:08.2 after being second in the West District with 9:39.6 behind Jim Brown's 9:23.6.   He also won the Inter-District 'chase in 9:23.6 from club mate Willie Cairns's 9:53.0.   The statistical yearbook said "Hugh Elder continued his steady progress to proficiency over the obstacles and looks set for better results next season."   His best time of the season was 9:18.0 set at Meadowbank in July which placed him third Scot.   In 1972 he began with an indoor 3000m in 8:34.6 to be twentieth ranked Scot, and he went on to edge down his steeplechase time to 9:17.6 (sixth in the rankings) and his 2000m steeplechase best was also set where he was placed second.   He picked up his second SAAA medal when he was third in the Championships.    He had by now moved to the Midlands for business reasons and had joined Wolverhampton & Bilston AAC in 1972 and this gave him valuable competition opportunities but also introduced him to the British international 400m runner Verona Bernard (European, Commonwealth and Olympic runner) who would soon (in 1974) become Verona Elder.   In 1973, possibly as a result of the competition he was now getting, he hacked a chunk from his steeplechase time to a new pb of 9:10.6 placing him sixth in Scotland.   On to 1974 and it came down even further – this time to 9:06.0 which placed  him fifth best Scot behind Ian Gilmour, Adrian Weatherhead, Gareth Bryan Jones and Alistair Blamire (incidentally tenth ranked over the steeplechase that year was Frank Clement with 9:27.8!)   He was also in the 10000m with a time of 31:21.6.     In 1975 he dropped back in both events with 9:16.6 and 31:29.7.   His last year of being ranked in Scotland was 1976 when his best time for the steeplechase of 9:26.6 placed him thirteenth, nevertheless he had been a very good runner in the demanding event over eight years.
Hugh's first Edinburgh to Glasgow relay was in 1967 when he ran on the second leg at the age of 19 and dropped from the twelfth place that Bobby Mills handed him to eighteenth – hardly surprising when you consider he was racing against Eddie Knox, Don Faircloth, Alistair Blamire, Mel Edwards and company.   The following year he was on Stage Seven where he was sixth fastest and picked up one place from eighteenth to seventeenth.   In '69 he was on the long sixth leg and he picked up from fourteenth to tenth with tenth fastest run of the day.   Keeping the sixth stage in 1970 he stayed in tenth for the team that finished eleventh.   In 1971 he moved from fourteenth to twelfth on the same stage, and there was a wee change n the following year when he was fourth on the first leg.   In '73 he was tenth on Stage One and his next run was in 1976 when he could only hold on to eighteenth place on the final stage of the race.   He ran eight races in total.   Over the country, in the National Championship, Hugh Elder did not appear too often – he is first spotted as a Junior finishing fourteenth in 1968 and then in his next year in the age group he was twelfth.   Moving up to the Senior squad he was forty eighth in 1970 – not bad in that one place in front was Joe Reilly of VPAAC and one place back was Peter Duffy of Motherwell.   Continuing to improve he was twenty second the following year and second Dumbarton counter behind Colin Martin.   The last appearance in the National that I can find was in 1975 when he was twenty second and first counter for his club.
Allan Adams is best known for his wonderful running as a veteran road runner in the 1980's but he had been running since the age of 13 and he first appears in the National Cross-Country Championships in 1959 as a Boy finishing seventy first.   Two years later he was sixty second in  the Youths Championship and we have to jump to 1966 before he appears in the available results finishing seventieth in the Senior Championships – six places behind Ian Binnie (VPAAC) and one ahead of Clark Wallace (Shettleston).   He didn't appear too often in the results of the National which, typically only went as far as fiftieth in most lists and the next appearance is in 1971 when he was 169th    His Edinburgh to Glasgow Relay appearances were not very frequent either: he only ever ran in six races: 1966 on Stage Three where  he moved up from eleventh to eighth; 1972 on Stage Seven he maintained eleventh place; in 1976 on Stage Five he held on to nineteenth place, in 1978 he received in twenty first (four and a half minutes behind twentieth) on Stage Eight and couldn't do anything about it (who could?);  in 1983 on Three he held fourteenth and in 1985 he received in twenty first and finished Stage Six in twenty first.   There was a very good article by Doug Gillon in "Scotland's Runner" of December 1986 in which it says that by his own admission he had been running since the age of 13 and never been more than a good club runner.   He says "I enjoyed cross-country but was never better than the top of the middle of the pack.   If I trained really hard I would sometimes make the first team.   But my real love in my earlier days was hill running.   My biggest claim to fame was that I once won the Cairngorm Hill Race and I was second twice, on Goatfell and second to Phil Dolan at Mamore."   It was then that he took to the roads for a while because he was unable to tackle the hills any more.   But injuries were not the only problem that he had to face.   I quote from Doug's article:
"Running home from work was part of his everyday routine bur suddenly he began to lose weight dramatically.   "I was coughing all the time and vomiting up my food.   I lost two and a half stones … down to nine stones from my normal 11 … and I began to wonder what I had," said Allan.    "The crunch came one day when I got so breathless on the way home that I had t stop and walk."    Like his father before him Allan's hobby was keeping pigeons, and only after intensive tests in Vale of Leven Hospital did the truth emerge.   He had pigeon fanciers lung.   "It's caused by the dust and droppings from the birds," Allan explained, " a type of allergy.   Once I got rid of the birds the problem cleared up."
  Allan also played the bagpipes and he played regularly, first of all for Singers Pipe Band and then for the Red Hackle.   That also took time from his athletics but once his marathon career took off, he didn't have time for the pipes.   Let's go back to his first international though, which Doug Gillon describes as follows:   "When the call inviting Allan Adams to represent his country came, they wanted him to make his international debut at the age of 42 just three days later in Aberdeen.   He had just won the Lochaber Marathon less than a month previously in a course record of 2:26:36.   The race had taken its toll and only four days before the phone call, Adams had laboured his way round a windy Luddon Half Marathon finishing fifth veteran in for him a slow time of just inside 72 minutes.   "I felt tired and heavy legged," said the Dumbarton Athletic Club man.   "I wasn't sure whether I was up to running another marathon so soon."   So by way of a fitness test he set out from his Dumbarton home for a 14 mile run over the Erskine Bridge and back.   The verdict was that he was that he felt OK and he accepted his first Scottish vest.  
Given the intensity – near paranoia in some cases – with which international marathon runners prepare for races Adams' performance was genuinely remarkable.   He finished fifth in 2:19:10, first veteran.   It was not his fastest marathon.   His best was 2:25:36 when finishing second to clubmate John Stephens at Inverclyde.   He had become consistent around that time having recorded 2:26 also at Inverclyde and 2:27:00 and 2:25:48 in successive Glasgow outings.   But in September in Glasgow he surpassed himself , again  as a late call-up into Scotland's colours.   This time however the race had been on his programme.   He placed fifteenth in a time of 2:23:03 winning the Nationwide Trophy as leading veteran.   A third representative honour this time in a Glasgow team took him to Nurnberg in October when he finished fifth in 2:29:07. " 
His very first marathon had been the Glasgow Marathon in 1978 before it became a people's race and when it was described as Scottish athletics' best kept secret, starting and finishing in George Square on a Sunday morning.   Aiming for 2:45 he had run 2:32 – prior to that his furthest race had been the 12 miles of the Balloch to Clydebank.    After his first international marathon, Allan won the Vets hill race at Bathgate in a record time and a weekend later he was fourth in the Bearsden half-marathon (first vet) in 72:12 and a week later again he was second to Brian Carty in the Clydebank Half Marathon in 72:12.   He was not apparently in sympathy with the 'race sparingly' school of thought!
If we summarise his marathon career we get
*Ran 25 in 10 years: 3 wins, 3 seconds and 3 thirds.
*Full Scottish vests in Glasgow, 1986, where he was first vet in a pb of 2:23:03; Aberdeen, same year, first vet, 2:29:10 where he says he chased Colin Youngson the whole way – "a hard man to beat", he says.
*Selected for a Glasgow Marathon team six times: Nurnberg 1985, 14th, 2nd vet; 1986, 5th, 1st vet; 1990, 3rd, 1st vet; Barcelona, 1987, 2:28:42; 1989, 2:26:32, 11th, 2nd vet; Dalian, China, 1987, 12th, 2:35:48, 1st Vet.
*First, Lochaber, 1986, 2:26:36;
*First BVAF Flying Fox Marathon, 1989, 1:29:32.
First Loch Rannoch, 1991, 2:21:37.
* A total of ten first vet awards and seven second vets awards.
Not known as a track runner, Allan nevertheless clocked up the following best times over standard distances:
Vets 10K Track Championships – 1st in 1986, 1990 and 1993;
10K pb on the track of 31:53, DAAA 1986.
On the road, his bests were 10K: Helensburgh, 1991, 31:33;   10 Miles – Tom Scott, 1986, 49:12;     Half Marathon – British Rankings (Vets) M45, 1991, 3rd; 10K, GB Rankings M50, 1991 1st;   Vets Hill Race, Bathgate – 33:30 (course record); Half-Marathon pb, Kirkcudbright, 1991, 1st, 1:08.36.
In solely vets competitions, Allan won five Scottish International vests and was third M45 at Sunderland in 1989.   He has run in twelve Scottish Vets Cross-Country Championships winning six gold, two silver and team gold at Hawick in 1995.
Among his medal haul were the following:   National Veterans Cross-Country Championships:   M40:   silver medals behind Dick Hodelet in 1985 and Brian Scobie in 1986;   M45:   gold medals in 1989, 1990, 1991 and 1992, silver behind Colin Youngson in 1993;   M50:   gold medals in 1994 and 1995.
It is a quite remarkable career and one of which he can be very proud.   He says that if it were not for Colin Martin pushing him hard for all those years, they would not have got the results they did as vets.   They trained hard and git the best out of each other.   He is quite sceptical when asked whether the same philosophy is true of the current generation of road runners.   (If you want to read about Allan's son, also Allan- and his career at Clydesdale Harriers go here
*
There were many good runners in Dumbarton during the 1960's and 70's – and one of the regulars was Willie Cairns.   Younger than the others, he was never a 100 mpw runner but he had a lot of ability.    Willie ran in nine Edinburgh to Glasgow Relays, mainly on difficult stages – he ran on Stage One once, On Stage Two four times, Stage Four three times and on Stage Six once – between 1968 and 1978, and it would probably have been more because his club missed some years as participants.    He first ran in the National Cross-Country in 1968 as a Youth.   One year later he was at Dundee University and ran for them in the event in 1969 and 1971, and then competed in it for Dumbarton AAC from 1972 until  he retired from the sport.   Willie was a good track competitor as well and turned out for his club in the summer track leagues being ranked in the 3000m steeplechase every year from 1971 to 1977 with a best of 9:30.6, he was also ranked in the 10 Miles where he ran 53:02.4 in 1972 and the marathon with a best of 2:38.53 in 1982.   There were others such as Alistair Lawson Ian McWatt, Harry Martin and Mike Lidwell who turned out regularly for Dumbarton AAC as distance runners.
When Jack Baird joined Dumbarton from Shettleston, the club then had four sub-2:00 880 yard runners.   The most unusual of these was Bobby Mills.   Unusual because Bobby was a national medal winning track and field athlete of some note with several top decathlon points totals to his credit.    Bobby was ranked every year from 1959 to 1968 in a total of four events (120 yards Hurdles, 440 yards hurdles, Long Jump and Triple Jump as well as in the Decathlon.)    His best performance in the sprint hurdles was 15.8 seconds, in the one lap hurdles 54.5, in the Long Jump 6.88m, in the Triple Jump 13.08m and in the Decathlon he scored 4784.    In the SAAA Championships he was second in the 440H in 1960 and 1965 and third in 1966 with a bronze also won in the decathlon in 1074.    That would be enough for most men but Bobby went more than the extra mile – he went lots of extra miles in the various cross-country relays and championships and in the Edinburgh to Glasgow.   Bobby ran in 1966 (Stage Four), 19687 (One), 1968 (Six), 1969 (One), 1970 (Three) and 1971 (Eight).        He also ran in County, District and National Cross Country Championships and was a big points scorer in track league matches.    Incidentally the Track League at that time was not done using the format as at present.   There were eight clubs in any Division and the clubs arranged their own fixture as triangular fixture.   eg Clydesdale, Dundee Hawkhill and Garscube met, the CH athletes were scored against the DHH men and the Garscube men separately, Garscube were scored against DHH and CH and DHH were scored against the other two.   Points were allocated for each  head-to-head.   Made for a more exciting league, I think!   But back to DAAC.   The two most easily recognisable men  were Bobby and Jack Brown.   Jack was basically an 880 runner with a best of 1:56 who did other events.   He ran in everything that his club was involved in and was a real inspiration to generations of young Dumbarton runners.   Tall, dark, deep chested he was the very model of a middle distance athlete.    He was club captain from 1961 to 1969, cross-country champion from 1960 to 1963 inclusive, hill race champion 1962, 1964 and 1967, track champion 1952 to 1956 inclusive, 1960 – 1963 inclusive (1962 shared with Bobby Mills).   Jack was the club man par excellence.   After his racing days were over he officiated and many meetings and was easily recognisable at Highland Games with his height, carriage and kilt.    Of course the best known DAAC 880 yards and  800m  man was Scottish and British internationalist Graeme Grant who had personal best times of 1:48.2 and 49.8 for 440 yards in 1966.   Grant (born in Helensburgh on 24th May, 1946)  had won the Scottish Schools Mile in 1964 in 4:21.0.   His best season was 1966: in addition to winning the SAAA title in 1:50.3, he ran 1:48.2 at the White City on 28th May in an invitation 800m, and at the AAA Championships he ran 1:50.0 for 880 yards when finishing fifth behind Irishman Noel Carroll.   It was also the year when he was part of the world record setting team for the 4 x 880 yards at Crystal Palace where his opening leg was 1:49.1.   A superb track runner he also set a Scottish record for 1000 yards and had a second place in the AAA's indoor 880y.   Nevertheless he ran for his club in many domestic races such as the County Relays over the difficult and hilly Clydebank course.   He ran the seventh stage of the Edinburgh to Glasgow in 1966, pulling up from seventeenth to thirteenth, in 1967 he had a bit of a disaster on the first leg when he was nineteenth of the twenty teams invited.   Undeterred he was out for the team again in 1969, back on the seventh stage where he held on to tenth place.   In 1970 he was thirteenth on the first stage in what was to be his last run in the event.   The National Cross-Country Championship fell in February, just when the indoor season was in full swing and even when he wasn't racing indoors, it was essential that a top flight 800m runner should be concentrating on getting organised for the summer season.
Dumbarton was a very good club with many good runners and a club spirit that encouraged men like Bobby Mills and Graeme Grant to turn out for them in all events.
Back to The Fast Pack     Glasgow to Ft William Relay     Eddie Crozier