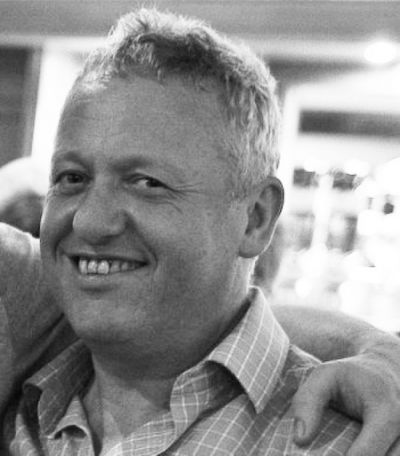 Athletics, particularly running it seems, is basic to every sport in the land: sprinting is sprinting whether it is done on a track, criss-crossing a tennis court or 'pinning your ears back and going for a try';  throwing is throwing whether it is shying a ball into the box at a football match or taking a line-out throw; jumping is also basic to many sports from gymnastics to basket ball.   It is therefore no surprise to see athletics coaches such as Allan Wells, John Anderson, Tom McNab and Stuart Hogg working with professional squads in a whole host of other sports.   Many athletes in their career take part in other sports.  One sport which has benefited greatly from the input of athletics is rugby union.
The new vice-president of the Scottish Rugby Union, Eddie Crozier, used to be a runner himself.     Eddie hails from Dumbarton, son a local lawyer, and ran for the local Dumbarton AAC as a sprinter who specialised in the 400m.   As a rugby man Eddie represented two clubs from Glasgow on the sport's governing body –  West of Scotland and Glasgow Academicals both of whom were in at the birth of the Scottish Amateur Athletic Association in 1883 as founder members along with such as Watsonians, Loretto, Royal High School, Edinburgh University, St Andrews University, Edinburgh Academicals, Fettesian-Lorettonians and Blair Lodge School.   The rugby link with athletics is still there – for instance at Scotstoun, used for athletics since the 19th century, is currently shared by athletics, mainly Victoria Park AAC, and the Glasgow Warriors rugby team.
Eddie himself is part of a long line of sprinters and 400m men who took part  in his sport.  Taking the 400m, it is possible to go back via Menzies Campbell who was the best British sprinter of his generation over 100m, 200m and 400m who captained Scottish and British teams, captained the Olympic team, won many international honours as well as doing the 'double treble'  – ie winning the 100 , 220 and 440 yards at the same championships as well as a couple of doubles!  In total Campbell won the 100m 3 times (62, 63, 64), the 220 3 times (63, 64, 65), and the 440 4 times (61, 62, 53, 64).   Campbell raced all over Britain and was a regular runner for Glasgow University as well as for Garscube Harriers. He was a noted rugby player and although he never won a Scottish cap, he won a Twickenham sevens medal with Edinburgh Wanderers.   Going back a wee bit further we get the great Eric Liddell who won the 100 five times (1921, 22, 23, 24, 25), the 220 five times (1921, 22, 23, 24, 25) and the 440 yards twice (1924, 25), including a 'double treble' in 1924 and 1925.   Liddell was a rugby winger of strength and speed who was a regular all over Scotland at big meetings such as the Rangers Sports as well as at local meetings.
There were others but if we look at Eddie's running career, one of his club mates at Dumbarton was noted official and administrator Jim McInnes, who served his time as President of the SAAA, and who himself (a) started out as a sprinter at the club and (b)who had played as one of the backs for Glasgow High School.   Dumbarton had a very good track team at that point – multi-Scottish medallist at decathlon and over the 440 hurdles Bobby  Mills covered many events, quarter and half miler Jack Brown was also a man capable of competing in other events, the young Currie brothers Alistair and Allan with fellow distance runner Scott Reid held great promise for the future, and at one point the club had four sub-two minute half milers in Mills, Brown, Jack Baird and Colin Martin.   Colin was a top class athlete at any distance from 440 yards to the steeplechase and only just missed out on Commonwealth selection.  Check their times on www.scotstats.net in the Archive section.  They trained at the Postie's Park track in Levengrove Park in Dumbarton.   It was into this team that Eddie Crozier came.
If we look at the result below, taken from the DAAC website and drawn to my attention by Hugh Barrow we note that he defeated sub-4 minute miler Alistair Currie in a handicap club road race in 1980.  Amazing as the running of Campbell and Liddell was, neither has ever defeated a 4 minute miler!   Eddie has that honour:.
Alistair Currie's ability was clear from the start and at local level races were arranged to give him 'a good pull oot'.   The note at the foot of the result is self explanatory.   The link between good 400m men and rugby is clear.
If further proof of the 400m sprinters – rugby link were required, Brian Whittle, another outstanding 400m runner with Scottish and GB representation all the way through his senior career, an Olympian as well as a World, Commonwealth and European runner of note, was also a rugby player and a man who could have gone either way: his friend Derek Stark, who admittedly only ran 100 and 200m was also a rugby player of great ability.   Most recently of all, Guy Learmonth of Lasswade, a 48.0 second 400m runner and international athletes over 800m (1:46.69) only took up running seriously when he was not selected for the Under 17 Six Nations squad!
 The elevation of Eddie Crozier is an addition to the ever growing list of former athletes excelling in another sphere.   We have commented in the past on former athletes who are now better known as operatic tenor, a football referee, radio/TV sports reporter, successful sports agents, millionaire financiers, journalists of every sort and the list just goes on.   Well done Eddie.
I finish with a quote from Hugh Barrow:   When confronted with his past athletics endeavours Ed responded – "I can remember that day one of the Adams brothers wound me up re being a sprinter ! I thought my lungs were going to come through my throat !"    Most runners make a comeback at some point in their career – will we see    "E. Crozier (Dumbarton)" on a 10K results sheet at some point?