The reports on the race were becoming hard to find with the sports editor of the 'Glasgow Herald' preferring to print results of high profile and international races rather than the bread-and-butter domestic scene. Some of the results in 1966 were of interest to this page – eg Mike Ryan of St Modan's was now living in New Zealand and won the Fukuoka Marathon on the last Saturday in November, many of the runners from past Clydesdale Harriers races were performing well with Alistair Johnston having the fastest time ever on the fifth stage of the Edinburgh to Glasgow, the Scottish team to take on the British army included Ian McCafferty, Alex Brown, Jim Brennan, John Linaker and Eddie Knox. However, given the sparse coverage of the race over the decade we will cover what we can and fill in the gaps subsequently. The picture below is of Jim Brennan and Pat Maclagan – both of whom ran well in the race – running in the Midlands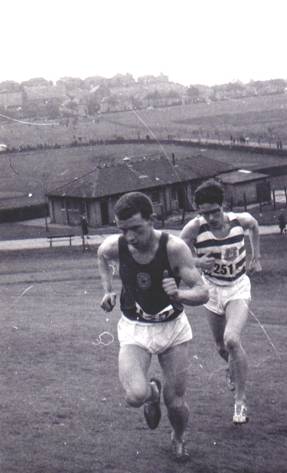 The 1970 race was held on 28th November over the recognised course and the report in the 'Glasgow Herald' read: "Laurie Reilly (Victoria Park) who has already established a reputation as a top-grade performer set a record time of 13 min 28 sec on Saturday at Clydebank in the two and a half mile graded race for youths. This was one second better than the six year old record held by Eddie Knox (Springburn). Reilly was content to remain with the leaders until 800 metres from the finish. Then he decided to step up the pace and ran out the winner from Laurie Spence (Wellpark) and Paul Bannon (Shettleston). Jim Lawson (Springburn) won the race for Senior Boys and winner of the race for Juniors was Nat Muir (Shettleston)."
There were of course three races for different age groups by now and the names in the various age groups bear scrutin with Laurie Spence of Glenpark (NOT Wellpark!) and Paul Bannon, a future Olympian, being runners-up in the Youth Race, Jim Lawson and Ian Murray of the formidable Springburn junior squad master minded by Eddie Sinclair and of course Nat Muir, one of our greatest ever cross-country and 5000m runners ever.
RESULTS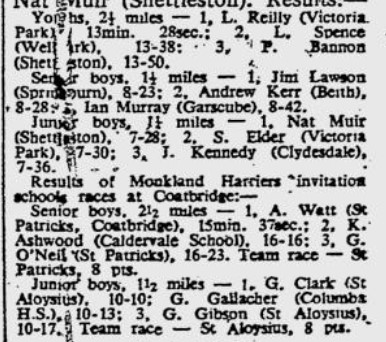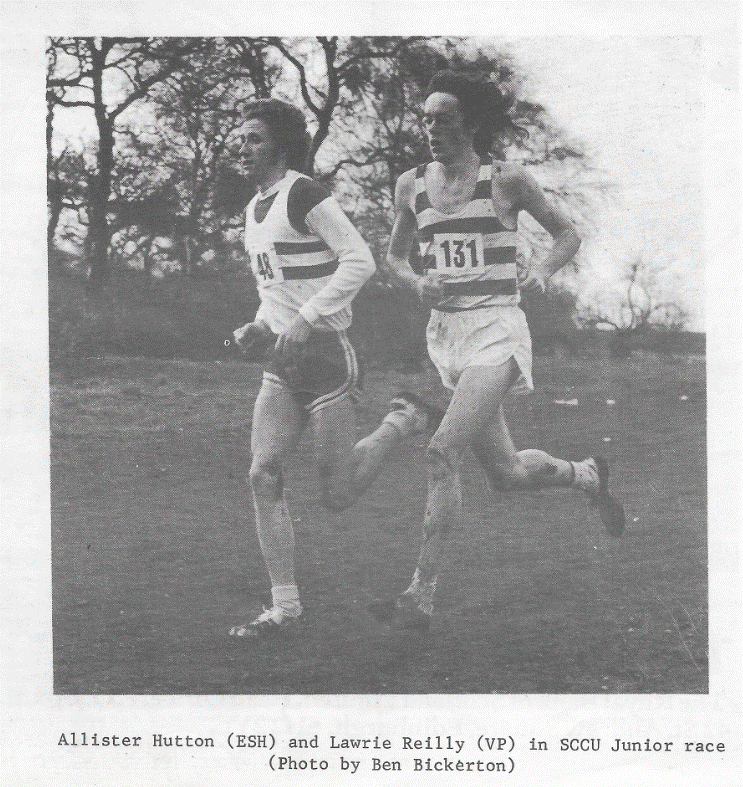 The races in 1971 were won by runners from outside the usual winning clubs of Springburn, Shettleston or Victoria Park. They came from Beith, Kilmarnock and Greenock. The report from above includes the results of another race being held on the same dat – a schools race at Coatbridge which was fishing in the same athletics pool. This unfortunately impacted on the Youth & Ballot Team Race Results as printed in the 'Glasgow Herald':-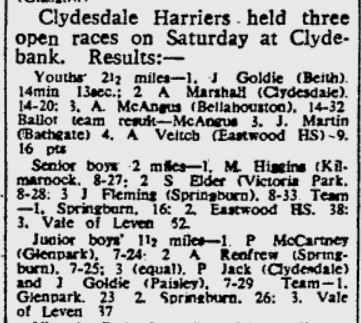 The race had been organised by Clydesdale Harriers and supported by clubs from across the central belt since November 1946 and many, many top class young runners since then. When it had been started it was filling a gap in the fixtures across the country, by 1970 there were many races for the age group targeted in the beginning and many races that had been for senior men only, now included age group events. It carried on well into the 1980's, it changed to a cross-country event. It had varying degrees of success, eg runners came from as far as Inverness – but its 'glory days' were in the first 20 years of its existence. It was a real classic but not one aimed at senior men.