perhaps the most exciting new talent to emerge north of the Border since Bobby Quinn.

Clark Murphy (12th April 1969) of Pitreavie AAC has one major claim to fame: he was the first home born Scot to be chosen for the GB cross-country team after Scotland, along with Wales and Northern Ireland, as a competing country was merged with its larger neighbour. 'Home born' because Chris Robison who also ran that year was born in Derby in England and had actually represented England before coming north of the Border. He was to become Scottish international runner for many years and served on the Sports Council after settling here. Clark who had been born in Dunfermline lived in Manchester from the age of seven until he was sixteen when he returned to Dunfermline, joined Pitreavie AAC where he was trained by John Wands.
Although most of Clark's best performances were over the country he was also a very good track runner indeed and he still holds several club track records
Senior and U20 3000 m 8:17.6
U20 1500 m – 3:52.3
U20 5000 m – 14:39.19
He didn't compete as much as one might have expected but he did have an almost chronic chest complaint which made his achievements at club, Scottish and GB level all the more remarkable.
He first appeared in the East District League Results on 12th October at Hawick where as a Senior Boy he was second to Stuart Rankin of Falkirk Victoria Harriers by four seconds and only one second ahead of third placed P Fettes of Lasswade. He did not compete further in the League that year, nor did he run in the District Championship, but he did run in the National Championships in February where he finished eighth of 78 runners to be first Pitreavie athlete to finish. That summer (1986) he was competing as in the Youths (U17) age group and on 24th May, Clark won the East District Youths 1500m title at West Lothian in 4:05 by two seconds from Terry Reid, who would be one of hiss most ferocious rivals in the years to come. He followed this championship by taking the SAAA national Under 19 Championships on 7th June,1986, at Crown Point in Glasgow in 4:04.9. Later in the month on Wednesday, 25th June, at Meadowbank in an Open Graded meeting, he ran in the second heat of the 800m and recorded the time of 1:58.04 .
Clearly in good form, he went into the winter season in October and was one of the Pitreavie Young Athletes team along with Matthew Kelso and Jason Hemmings which won the event from 35 other teams on 18th October. The Young Athletes Championships requires one Junior Boy, one Senior Boy and one Youth, running in that order. Kelso had been third fastest of the day on the first stage, followed by Hemmings who was fastest in his segment of the race by one second, and Murphy was also fastest on his leg, 17 seconds quicker than the second best. Missing all League matches, as well as the East District Championships in January, he ran in the National Youths Cross-Country Championships at Callendar Park on 21st January when he finished second to the much under-rated Terry Reid of Dundee Hawkhill Harriers, beaten by 10 seconds.
Into Summer 1987 and it would be a quite outstanding one for the youngster from Pitreavie. He won the Scottish Under 20 Championship in 15:09.8 and followed it up in style when on Saturday, 18th July he travelled to England and won the AAA Junior 5000m in 14:39.19, with David Donnet of Springburn Harriers second. He went on competing into August and on 3rd August, 1987: he set a club 1500m record of 3:53.95 when winning the event in the GRE Cup at Gateshead. He came down a distance or two on 15 August, in Birmingham, when he ran 50.2 seconds for 400m when representing the club in the BAL organised Gold Cup. This superb running over 400m, 1500m, 5000m, the winning of both national titles (Scottish and British) gained Clark selection for Great Britain and on 21st August he flew to West Germany to compete for GB over 5000m v West Germany and Switzerland. The race was at Lage in West Germany and the result of the 5000m was
1 Arndt FRG 15:03.58, 2 Kevin Holmes 15:11.44, 3 Richter FRG 15:32.38, 4 Clark Murphy 15:44.30, 5 Weisskopf SUI 15:55.30, 6 Marvell SUI 16:07.80.
Although Pitreavie had four teams out in the Eastern District Cross-Country Relay championships in October 1987, Clark did not run. He did run in the National Relays however at the end of the month and was 13th on the first stage. The next major championships were in January but first, also in January was a representative appearance.
10th January, 1988 was the date of the Celtic Countries International held that year at the Beach Park in Irvine. Clark was running for Scotland in the Junior race where he was first in 25:21 leading a Scots clean sweep in which Ian Tierney (East Kilbride) was second (25:23) and Terry Reid third (25:26). He followed this a week later, 16th, in the East District Championships at Hawick where he was again victorious in 36:00 for the Six Miles course with Terry Reid second in 36:03. The trial for the GB team to run in the World championships was held in Gateshead on 30th January, on a muddy course, on a wet day and Clark ran well enough to finish sixth, one place of Winchester (and Clydebank) runner Malcolm Campbell who had chosen that morning to defect from Scotland to England. This ensured him of selection for the GB team to compete in the World Championships in Auckland at the end of March. Another consequence of the run was that he was selected to run as part of a three man Scottish junior team to run in Lograno, Spain, on Sunday 21st February.
It all looked good for the National, held again at Beach Park. The result was never in doubt with Clark winning by a clear margin from his conqueror of the previous year, Terry Reid. The result:
1988, Juniors: 1. Clark Murphy (Pitreavie) 26:21; 2. Terry Reid (Dundee Hawkhill Harriers) 27:05; 3. Mark Wallace (VPAAC) 27:17
The following report is from "Scotland's Runner" of April, 1988: "Clark Murphy, the only home Scot to feature in Britain's World Cross-Country team (Chris Robison was born in Derby) , is perhaps the most exciting new talent to emerge north of the Border since Bobby Quinn. He scraped into the UK team for New Zealand by finishing sixth in the mud of the McVitie's trial at Gateshead. 'I don't like the mud,' said the 18-year-old athlete from Fife. But perhaps of more significant impact on his final place was the fact that just six weeks before the race he could not jog the three miles from his home to the Pitreavie club where he trains. 'I had to stop and walk,' he said. A chest infection, not for the first time, had struck him down, but the difference a few weeks could make was dramatically demonstrated when he scored a runaway success in the national junior cross-country championships at Irvine, winning by 44 seconds from Terry Reid of Dundee Hawkhill. A year earlier he had finished glazed and almost blacking out, runner-up behind Reid. 'I had collapsed with a lung infection at the East District event, and probably should not have run at all,' he said. But what was a heroic silver medal was of no interest to Clark. 'It's on the mantelpiece at home – my mother dusts it, but I've not even looked at it. I lost after all.'
Coached by John Wands of Rosyth, the teenager had dramatic success when he captured the AAA junior 5000 metres title in only his third attempt at the distance. 'It was a tactical race – the time was 14 min 39 sec – and I certainly can run a lot faster than that,' insisted Clark. That claim is borne out by his 3000m personal best of 8-17, and his shorter distance bests reveal that he has nothing to fear in a sprint finish. He clocked 50-2 for 400m in the GRE Plate, and has run 1:53.3 for 800m, and 3-53-9 for 1500m. His principal target this year is the world junior championships in Sudbury, but before making it to Canada, he hopes to defend that AAA title. He is also eager to pursue some form of sponsorship, He has recently finished a one-year YTS electronics course with Marconi. 'Now I would like to get full-time employment, hopefully something sympathetic to my running,' he says."
The IAAF World Cross-Country Championships were held at Ellerslie Racecourse, Auckland in New Zealand on 26th March, 1988. With 96 running, Clark was 51st and second British runner to finish in a team which was 11th of 14 complete finishing teams. Chris Robison was 109th out of 204 starters in the Senior men's race, and Laura Wight (nee Adam), the London based athlete running for the GB women's team, completed the Scots trio when she was last British counter in the women's race.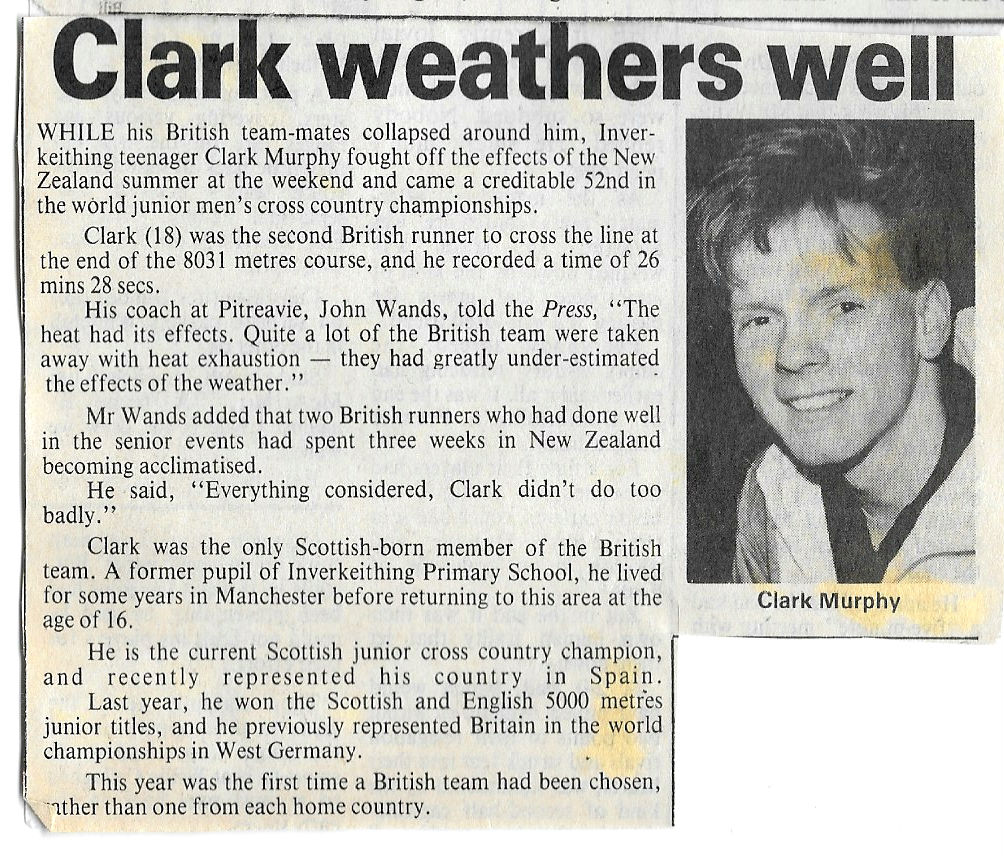 Going into the summer 1988 season, Clark was obviously fit and ready for even better things. On 1st May, in the Scottish Men's League, Clark was third in the 1500m at Crown Point in 3:56.2, and then on 18th May, 1988 he ran in the 1500m for the SAAA against the League Select. The SAAA Junior Championships were held on 23 and 24 June and Clark won the 1500m title, won the previous year by his clubmate David Arnot, in 4:03.12. He had not forgotten about the 5000m however and he won that one too in 15:23.2. He won the 1500m on 3rd July, 1988 at Cupar Highland Games before receiving some good news. On 8 July, the 'Courier' reported that he had been awarded a training grant of £250 from the George Dallas Memorial Trust. After his comments in the Scotland's Runner quoted above, it was a most welcome addition to his funds. A rib injury from work had disastrous consequences caused him to pull up when defending his AAA Junior 5000m title, which must have been serious disappointment.
He again missed the first relay championship of the winter when the East District championship was held on 18th October at Musselburgh, but he also missed the National Relays a week later. In January, 23rd, 1989 he ran in the East District Junior Cross-Country Championships where he was secoind to his long-time rival Terry Reid who won by eleven seconds. The National at Hawick on 25th February was againd won by Clark who defeated Ian Tierney by 18 seconds with Terry back in fifth position. Clark competed the following summer and on 29 April 1989 in the Men's League Match at Aberdeen he won the 800m in 1:56.1 .
Clark had three years as a junior cross-country runner and in 1889-90 he started by missing the relay championships, but in the East District championships he finished second to Ian Falconer at Galashiels Academy on 20th January. We hear very little after that – basically Clark's career as a top class distance runner in Scotland was over. That he had talent is not, never has been, in doubt. He achieved a lot on the track (AAA's and SAAA's titles) and ran for Great Britain on both track and cross-country. Unfortunately his career was blighted by illness and injury and he is said to have emigrated to New Zealand, hence the sudden cessation of his running. That this was a loss for Scottish running is not in doubt. Note his best time and note that the 3000m is also a Senior record.
| | | | |
| --- | --- | --- | --- |
| Event | Time | All-Time club ranking | Date |
| 400 metres | 50.2 seconds | 13th | 15 August 1987 |
| 800 metres | 1:53.3 | 5th | 1987 |
| 1500 metres | 3:53.2 | 1st | 19th June 1988 |
| 3000 metres | 8:17.6 | 1st | 28th July 1987 |
| 5000 metres | 14:39.19 | 1st | 19th July 1987 |