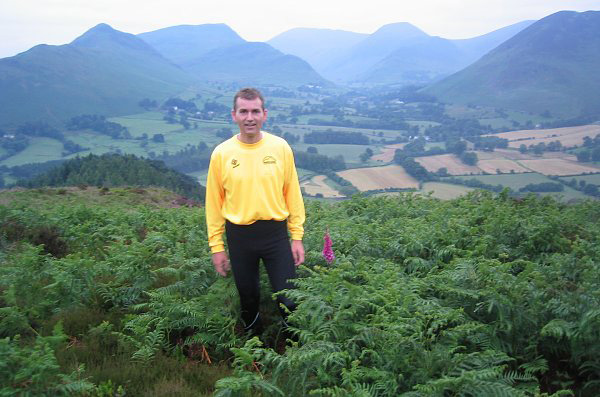 (Chris has of course run for Scotland in the Annual British and Irish Masters Cross Country International; is currently racing better than ever; and has a long, distinguished history as a dedicated hill-runner.)
CLUBs. Ronhill Cambuslang (previously Westerlands 2000-2014).
DATE OF BIRTH. 08/08/1963.
OCCUPATION. Naval Engineering at BAE Systems.
HOW DID YOU GET INVOLVED IN THE SPORT?
Very gradually… From 5 years old I knew I wanted to run on the hills and explore wild places. Teenage years were spent exploring the English Lake District on foot and bike. Mid 1980s I caught the Munro-bagging bug, and have since climbed all the Scottish Munros and Corbetts. In 1989 I had a near fatal climbing accident that broke my ankle and crushed a lumbar vertebra. In 1990 I came back more determined and climbed Mont Blanc, then Elbrus in Russia in 1993. I then spent 10 years rock climbing around Britain, Europe and the United States, before thinking about trying a couple of hill races in 2000 with Glen Rosa and Borrowdale. Since then I've completed more than 800 races, plus visiting Nepal 6 times and hiking across the Pyrenees 2 and half times.
Races have ranged from 800 metres at the Emirates, to the 10-stage Everest Sky Race in Nepal.
HAS ANY INDIVIDUAL OR GROUP HAD A MARKED INFLUENCE ON YOUR ATTITUDE OR INDIVIDUAL PERFORMANCE?
Recently, the stalwart veterans at Ronhill Cambuslang and SVHC Masters have inspired me to keep working hard. Uncompromising runners like Paul Thompson, Colin Feechan and John Thomson show that you can still perform at a high level as a V55. I guess that growing up in the 1970s I'm inspired by keeping things simple, and remembering the importance of physical discomfort.
WHAT EXACTLY DO YOU GET OUT OF THE SPORT?
A sense of belonging. A sense of purpose.
WHAT DO YOU CONSIDER TO BE YOUR BEST EVER PERFORMANCE?
Best performance: 1st M50 at Scottish Masters Cross Country at Kilmarnock in January 2015.
YOUR WORST?
I don't remember any worst performances. I think all performances are part of the learning process.
WHAT UNFULFILLED AMBITIONS DO YOU HAVE?
Sub 2:50 marathon. Possibly a World Masters track medal.
OTHER LEISURE ACTIVITIES?
Playing violin. Playing with my 3-year old son Benjamin.
WHAT DOES RUNNING BRING YOU THAT YOU WOULD NOT HAVE WANTED TO MISS?
That gut-churning sense of excitement before every race.
The sense of relief and peace after the race.
CAN YOU GIVE SOME DETAILS OF YOUR TRAINING?
Quite ad hoc. At present, just lunchtime runs and weekend races.
Occasionally more structure leading up to a marathon.
Career Highlights in hill-running.
Won the FRA Long Distance Award in 2003 for Lakes24, a new route in the Lake District that bagged 24 Marilyns in 24 hours.
Favourite Races.
My favourite race of recent years is Defi de l'Oisans in France. My favourite Scottish races are probably Two Breweries and Pentland Skyline.
Most Memorable Race
Inter Lacs 2003. Restonica Valley, Corsica. 2-Stage event. Very rugged spectacular scenery. Ben Nevis is the most challenging and memorable Scottish race.
Other Interests.
I also occasionally take photos for the Geograph project; and sometimes play my violin with the Glasgow Chamber Orchestra.