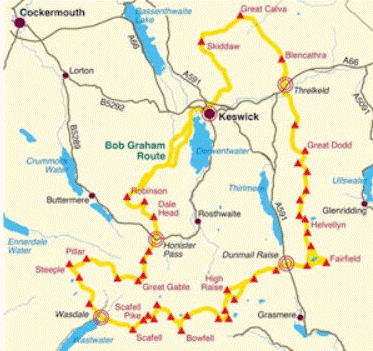 There are several mountain running challenges – eg the Island Peaks Race – but the best known are probably the three challenges known in hill running circles as "Rounds". In Scotland it is the Ramsay Round, in Wales it is the Paddy Buckley Round and in England it is the Bob Graham Round.
Round
Country
Distance
Summits Covered
Total Ascent
Comments
Charlie Ramsay Round
Scotland
58 miles
24 summits
28
500 feet
23 Munros
Paddy Buckley Round
Wales
62+ miles
47 summits
28
000 feet
–
Bob Graham Round
England
66 miles
42 summits
26
900 feet
–
Scotland has the highest mountains (23 x 3000 feet), Wales has most summits and England has the longest running course. Wikipedia tells us –
"The Bob Graham Round is a fell running challenge in the English Lake District. It is named after Bob Graham (1889–1966), a Keswick guest-house owner, who in June 1932 broke the Lakeland Fell record by traversing 42 fells within a 24-hour period. Traversing the 42 fells, starting and finishing at Keswick Moot Hall, involves 66 miles (106 km) with 26,900 feet (8,200 m) of ascent.
The Round was first repeated, in a better time, in 1960 by Alan Heaton. Since then over 2500 individuals have completed the Round with the fastest time being 12hr 23m set by Jack Kuenzle in 2022, surpassing Kílian Jornet's record by almost 30 minutes. The women's record is 14hr 34m set by Beth Pascall in 2020. The Lakeland 24 Hour record has also been improved with the current holder, Kim Collison, successfully reaching 78 summits in the allotted time.
Along with the Paddy Buckley Round and the Ramsay Round, the Bob Graham Round is one of the classic big three mountain challenges in the UK. Some fifty six individuals have completed all three."
Unlike the other two, changes have been made to the Graham Round. For instance it is permitted to run the round in either direction, clockwise or anti-clockwise so long as the runner starts and finishes at the Moot Hall in Keswick. Another change was made when it was decided that Graham's route was "not optimal for attempts on the absolute fell record." I'm not sure exactly what that means but there are now two Bob Graham Rounds. The 24 hour round now has 78 tops, while the original has been left as a challenge in its own right.
The distance of the round has increased as follows (again from Wikipedia):
Building on the basic Bob Graham Round, later runners raised the number of peaks traversed within 24 hours still further:
1962: Alan Heaton – 54 peaks in 23:48
1963: Eric Beard – 56 peaks, involving 88 miles (142 km) with 34,000 feet (10,000 m) of ascent in 23:35
1964: Alan Heaton – 60 peaks in 23:34
1971: Joss Naylor – 61 peaks in 23:37
1972: Joss Naylor – 63 peaks in 23:35
1975: Joss Naylor – 72 peaks involving over 100 miles (160 km) and 37,000 feet (11,000 m) of ascent in 23:20
1988: Mark McDermott – 76 peaks in 23:26
1997: Mark Hartell – 77 peaks in 23:47
2020: Kim Collison – 78 peaks in 23:45
While women's advance was –
The sequence of ladies 24-hour records (for the number of peaks traversed within 24 hours or for the same number of peaks in a faster time) is:
1977: Jean Dawes – 42 peaks in 23:37
1978: Anne-Marie Grindley – 42 peaks in 21:05
1979: Ros Coats – 42 peaks in 20:31
1979: Anne-Marie Grindley – 58 peaks in 23:20
1994: Ann Stentiford – 62 peaks in 23:17
2011: Nicky Spinks – 64 peaks in 23:15
2020: Carol Morgan – 65 peaks in 23:57
2021: Nicky Spinks – 65 peaks in 23:45
2022: Fiona Pascall – 68 peaks in 23:26