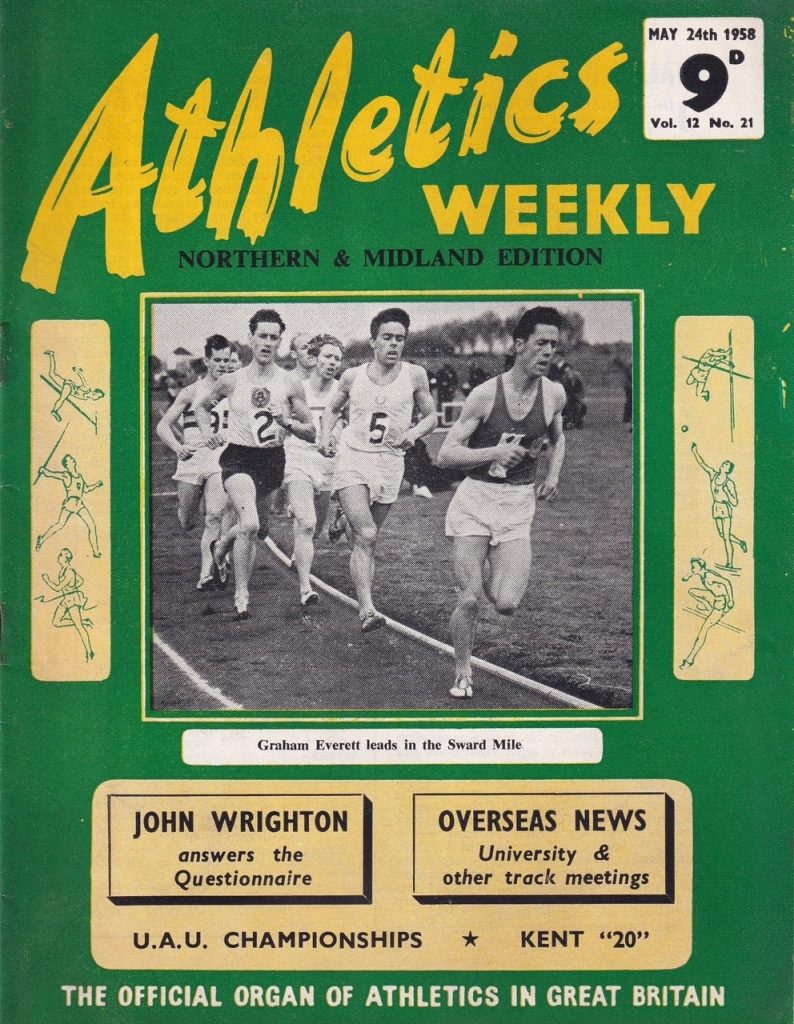 "Athletics Weekly" is an English athletics magazine which covers athletics all over Britain and, they might claim, the world. From the Scottish perspective, it should be looked at for three main reasons.
First, It covers all the main races in depth – this is especially true of cross-country and major marathon races. Linked with the Scottish penchant for going where the races are to be found it is an invaluable source of results in depth which are meat and drink to athletes and statisticians alike;
second are the British ranking lists which athletes love to pore over for their own and their rivals performances;
and third, the content often has profiles of Scots athletes, stories of Scottish interest and a page of reports on Scottish races (this last has been at times scanty but more of that later).
To appear on the cover of the "Athletics Weekly" is an honour – I remember turning up for a race at Irvine and being greeted by a friend from Greenock with the words, "Puckers is on the cover of AW!" His team mate Alan Puckrin had appeared on it for the first time! The cover above, courtesy of Hugh Barrow, shows a Scot leading the field in the mile at the Sward Trophy Meeting, one of the big inter-club meetings which were a feature of athletics at the time.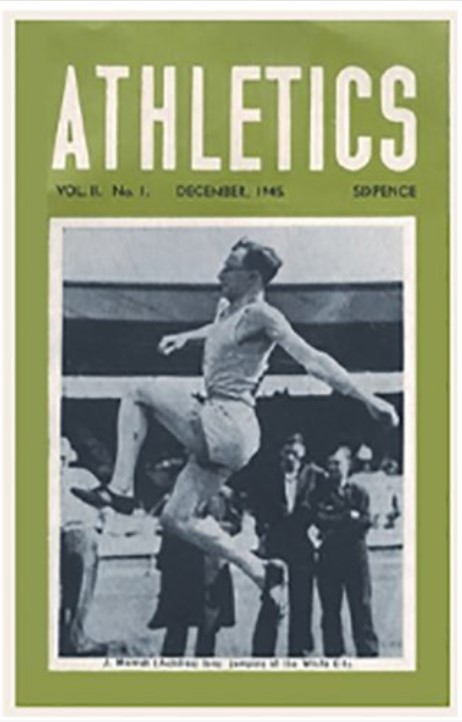 The picture above is of the first ever issue of the magazine. It is a bit blurred but does show that it is Volume II Issue I. The story is that it was started as a monthly by PW "Jimmy" Green in 1945, with the first few issues produced from the back bedroom of a bungalow in Kent which Green shared with his wife, Pam. Post-war paper rationing was still in force (the Glasgow Herald for instance was down to 8 pages), Green, as Wikipedia tells us used "a mixture of determination and devilment to launch the first, self-published edition. It was numbered Volume II Issue I, but this was a deliberate error to fool the government into thinking the magazine had existed before the war. "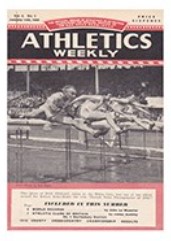 Green was also told by experts in both athletics and publishing that the idea would never work. He is reported to have "thanked them for their advice and completely ignored it. I was pig headed," said Green. Green's magazine went weekly in January 1950, published on Fridays, and has never failed to come out since. In 1968, Green (who died in 1998, aged 88) passed the editorship to the enthusiastic and knowledgeable Mel Watman, who in a near-20-year reign steered the title to some success and continued to build its reputation for accuracy and authority.
The cover varied from issue to issue to start with – see the one above before settling on the 'Green-with-Yellow' covers of the 1950's shown above and in the 1960's it became Yellow-with-Green for a short while. The photograph below is of Glasgow's Shettleston Harriers. By the time of the Commonwealth Games in the 1970's it was the familiar blue that most of us will remember.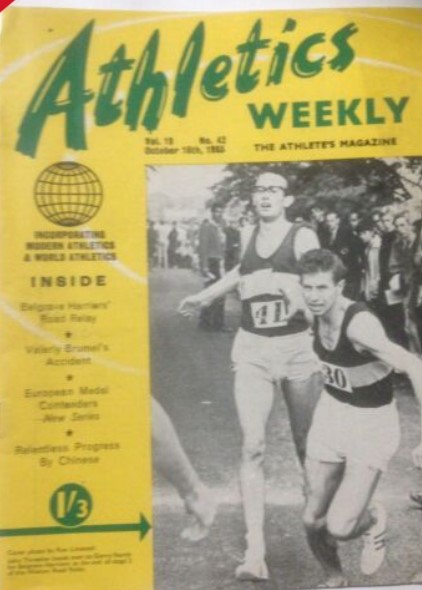 There had been many Scots profiled in the magazine – Graham Everett above had been only one of them from the 50's along with many of the all-conquering Victoria Park team of the period, Ian McCafferty, Lachie Stewart and many others in the 1960's and 70's, Donald Macgregor, Jim Alder, Fergus Murray in the 80's, lots of them appeared on the front cover too. Some of them form part of the profiles of the athletes on this website. But one of the really big attractions for the real aficionados was the ranking list. There were ranking lists for men and women, for junior, youth and boy athletes, for Inters, Juniors and girls; there were real in depth lists for separate events (the marathon lists of the 1970's and 80's were well scrutinised), and for groups of events. All accompanied by top quality photographs by such well known photographers as Mark Shearman, and pretty well every one annotated by an authority such as Bob Sparks. The one spot that Scots felt could have been better dealt with was the coverage of Scottish events. In the beginning Willie Diverty of Glasgow University and Victoria Park did the job, he was followed by Colin Shields who did the reporting for a long time and then there were some others who reported for relatively short periods – Cammie Spence and Dave Cooney among them. The trouble was that the reports were erratic – for instance there might have been three pages devoted to Scottish events, eg 27th December issue had three whole pages devoted to Scottish reports by Colin Shields, and other weeks had either non-existent or very brief results. In general however Scottish athletics was pretty well covered.
The coverage by the magazine of the Edinburgh Commonwealth Games in 1970 could not have been bettered either before or after. Ranking lists both national and commonwealth, relevant national championship results, race reports, interviews with athletes, some wonderful photographs and expert assessments of every race.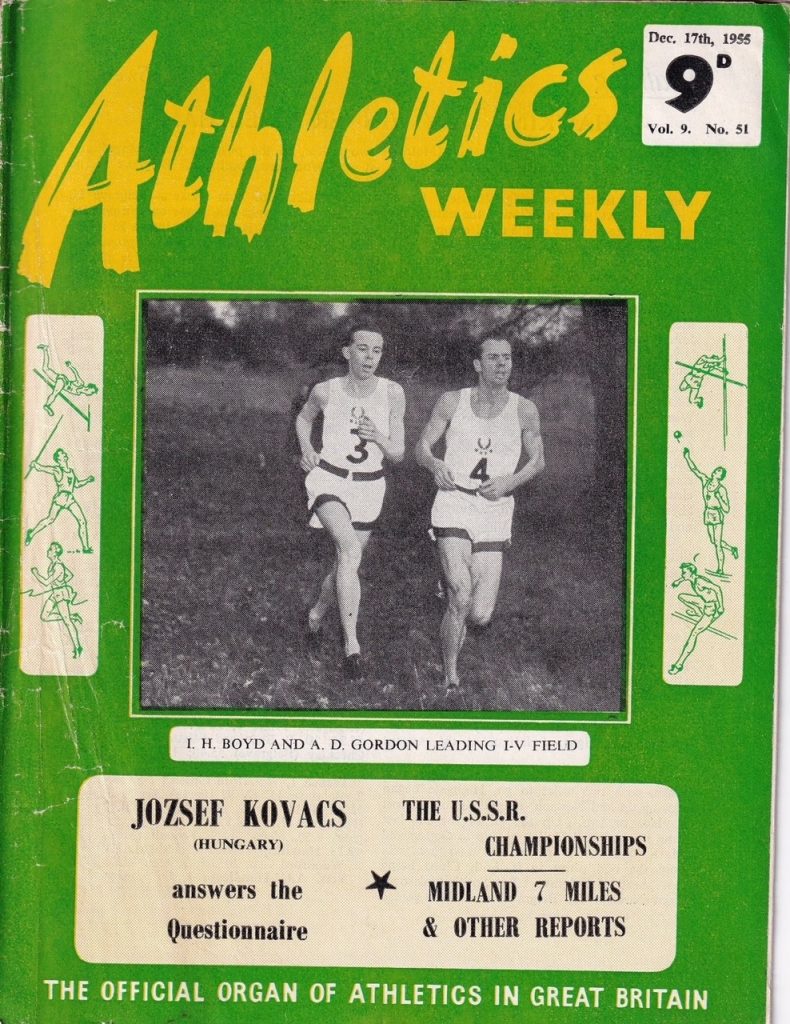 Independently published by Kent Art Printers in a distinctive A5, pocket-sized format, the magazine reached its peak of popularity in the mid-1980s – coinciding with the marathon running boom following the first London Marathon in 1981 – selling some 25,000 copies per week. The cover on 21st December was of Sandy Keith winning at Harlow and the issue of 27th December showed Leslie Watson as one of the first three at Barnsley. Both featured frequently in the publication. Typical of the content was this inside front of the 27 December 1975 issue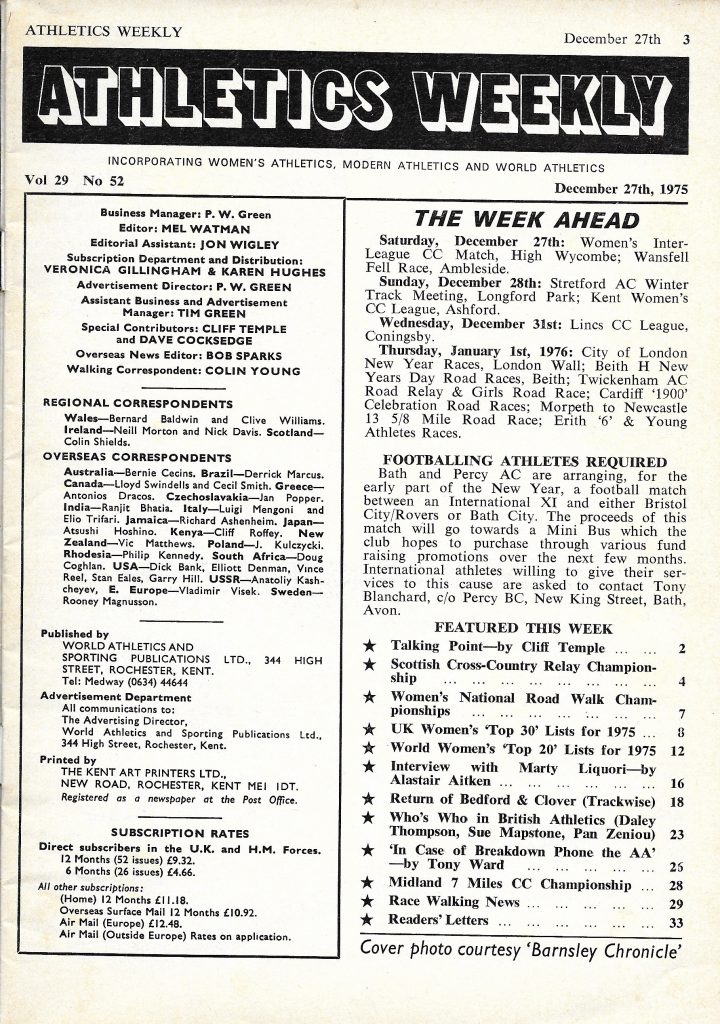 There were results, ranking lists, profiles of runners and other items of interest to the athletics public. The UK women's lists included Scots such as Helen Golden, Liz Sutherland, Ann Clarkson, Christine McMeekin, Christine Haskett, Myra Nimmo and Meg Ritchie; and while none of them were in the World Tp 20 for their event there were several not too far away who would be very interested in how much or how little they had to improve to be at that level. It was also an issue of the magazine that covered Scots results well with the SCCU Cross-Country Relays reported on in depth, the SWCCU East District Championship, the East District League result and Stewarton Cross-Country races for both men and women.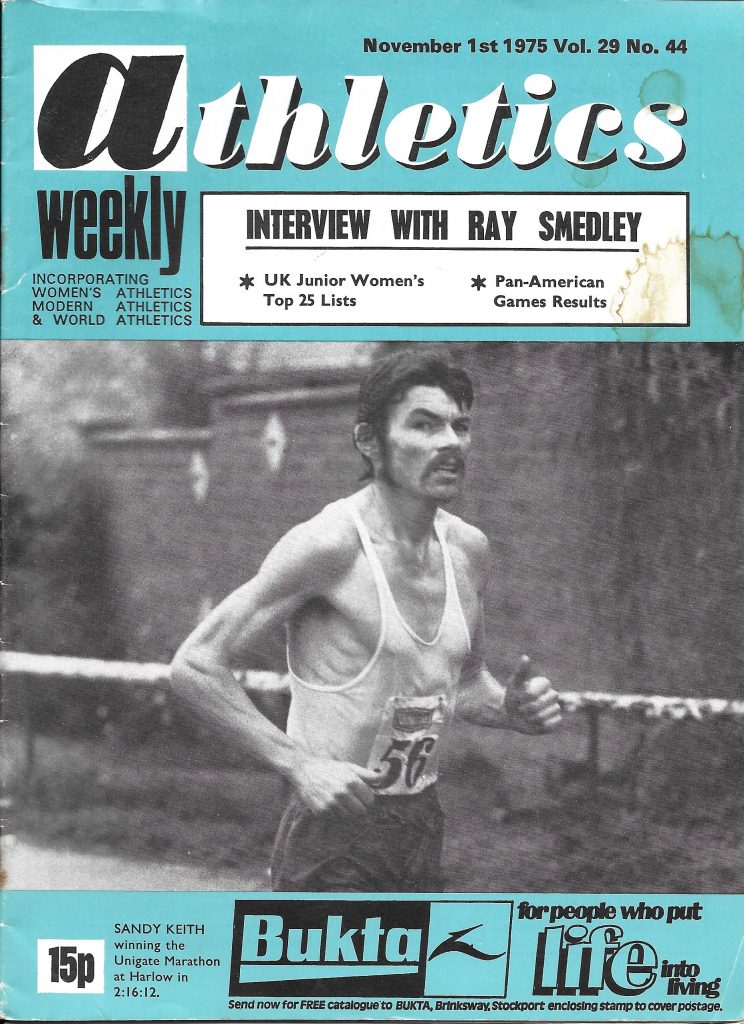 The 70's and early/mid-80's saw the best of "Athletics Weekly" – a publication for athletes and athletics lovers for athletes and athletics lovers. It coincided with the 'running boom' when literally thousands of athletes trained for and succeeded in running marathons. The standard had never been higher nor had it ever had so much depth of talent. The magazine covered the scene superbly. Incidentally the cover changed too with colour being introduced and we had this one (below) with Rob de Castella on the front of a special London Marathon preview issue with 40 pages devoted to the event. These included AIMS meeting to be held in London, an article on BARR (how many now, in the 21st century, remember AIMS and BARR?) a list of all time best performances including all men under 2:10 (47 of them) and women's performances under 2:30 (25); the UK all time lists (men to 2:14 and women to 2:45) and lots more.
The 'special issues' were huge but the everyday, or every week, issues were also big – the one below ran to 64 pages and that was normal and accepted as such by all who bought it as well as by those who produced it. Nor was it one of those magazines which enthusiasts bought and kept in a binder, taking care to keep it clean, sharp and 'as new'. No doubt many were but most were bought, scrutinised marked or had notes taken, borrowed, loaned, discussed ….. I remember lending a copy to a fellow Harrier on a Saturday, him eventually taking me back to his house to return it and us sitting there with a bowl of potatoes and stew talking about it. (It was a yellow one with green writing!) It really was important reading to athletes with pretensions to operate at UK or European or World level; it was important too to their coaches. The coaches were also catered to by the frequent articles on coaching by Frank Dick, Frank Horwill, Cliff Temple, Brian Mitchell and others.
You will note at the top of the cover 'Incorporating 'Women's Athletics, Modern Athletics and World Athletics'. These had been either rival magazines or more likely complementary magazines but it may be that the market was not quite strong enough for 4 specialist weekly journals. The 'World Athletics' is an interesting one in that (a) it was produced by Ross and Norris McWhirter before they went on to do the Guinness Book of Records; and (b) it was one of the inspirations for George Sutherland's excellent 'Athletics in Scotland' magazine and there was some correspondence between them.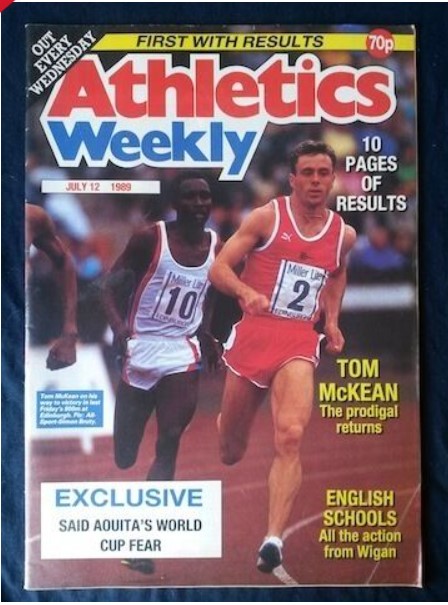 The title was bought in 1987 by Emap Publishing and moved from Kent to Peterborough, where, according to Wikipedia, the management sought to repeat the publishing success of its Smash Hits pop title and re-launched AW as an A4 title aimed at teenagers. publish the Emap was to publish the magazine for 12 years (1987 – 1999)
Whatever their aims and ambitions, the magazine deteriorated. It seemed to us that the paper was of a lesser quality – as a journal of record it had to be printed on quality paper – but that was not the most important change. Read the following extract from Wikipedia:
"Emap made some business decisions that decreased the quality of the product and damaged the magazine's reputation. First, the previous editorial staff was not retained by Emap thus losing the experience and inside connections these employees had fostered through the years. On top of this the inexperienced editorial team had to deal with a publication date brought forward to Wednesdays, requiring a speedy and expensive turnaround of each weekend's results. The result of these decisions was that lucrative subscriptions were lost and Athletics Weekly sales nosedived. By late 1989, one-third of sales had been lost and Keith Nelson, Emap's choice as editor, was moved on."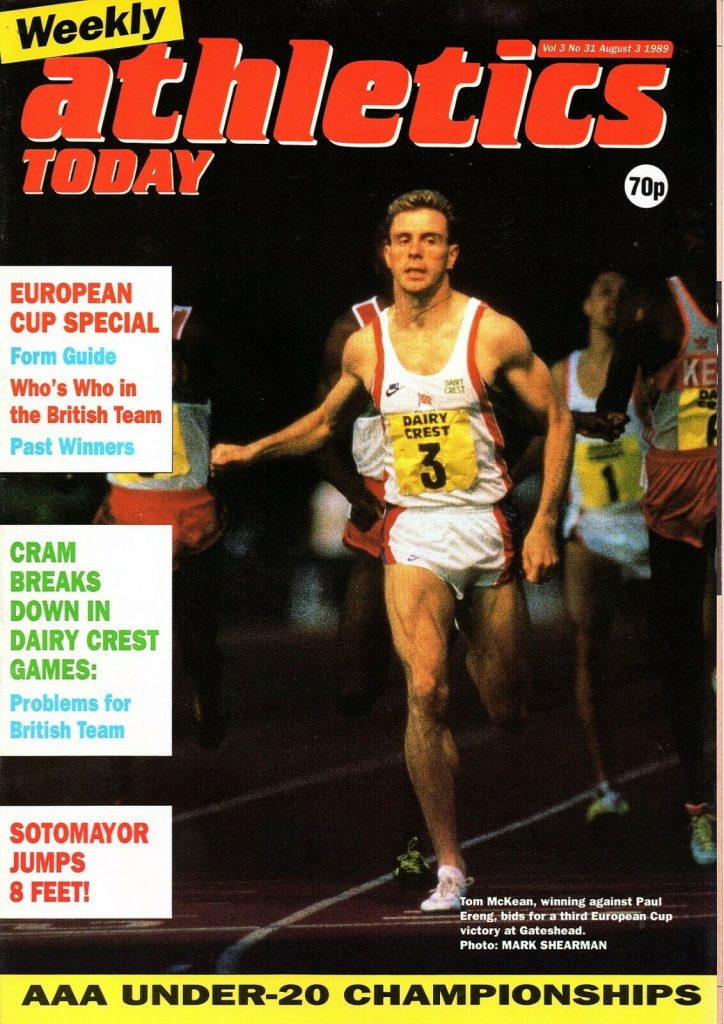 Aware of its loyal following's disgruntlement with the re-launch of Athletics Weekly, in 1989 Eddie Kulukundis funded the launch of a rival title, Athletics Today (above) , jointly edited by Randall Northam and Mel Watman: for the first time in its existence, Athletics Weekly now faced competition. Mel Watman had been a close colleague of Jimmy Green and been editor from 1968 to 1987. It was maybe unfortunate that this period coincided with the careers of Tom McKean, Yvonne Murray, Liz McColgan and other top athletes from north of the border. The magazine was not nearly as good as it had been up to 1967. The results service was very poor, the layout was not good either with splashes of colour all over the place, articles at times difficult to follow Despite the sport's continued successes through the 1990s and the ultimate demise of its rival in 1993, Athletics Weekly struggled in vain to regain its reputation for comprehensiveness and accuracy.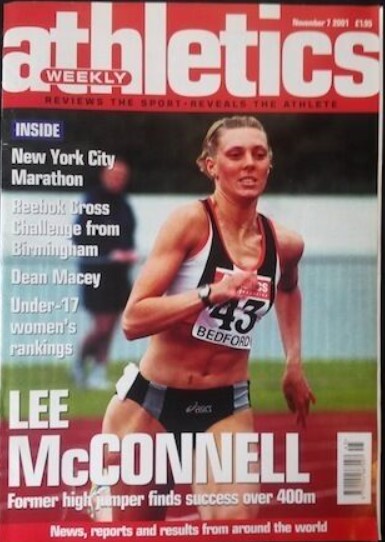 Descartes: Lee McConnell, 2001
The next paragraphs are from Wikipedia's coverage of the magazine and are worth reprinting in full:
After a decade's ownership, Emap admitted defeat and in April 1999 licensed the title to Descartes Publishing, a company established by businessman and athletics enthusiast Matthew Fraser Moat for the purpose. Descartes kept the title in Peterborough and went on to purchase the title outright in 2003. In February 2005 the magazine was awarded Sports BrandLeader status[1] and in December 2005 Athletics Weekly celebrated its 60th birthday with a charity calendar[2][3] and a special 100 page edition.[4]
In 2006 the title changed its publication date back to a Thursday, and increased in size to 64 pages a week; in 2007 an online digital version was launched and in 2009 Athletics Weekly became the first magazine in the world to have all its content commercially available on the iPhone.[5][6] In 2010 the AW app was relaunched for the iPad.[7]
A sister company, Athletics Data Limited, was formed to manage the commercial rights of Athletics Weekly's results data and in 2009 Athletics Data was appointed to run Power of 10, a statistical website, for UK Athletics.[8]
Taking advantage of the renewed interest in the sport generated by London 2012 and Usain Bolt, the magazine was "highly commended" in the "Brand Extension of The Year" category at the 2009 Independent Publisher Awards[9] and won a "Media Pioneer Award" at the 2010 Specialist Media Show.[10]
In January 2010, the magazine celebrated 60 years as a weekly magazine."
From the enthusiast's point of view, the magazine was back where it should always have been and from the historian's point of view too, it was back where it should always have been. Matthew Fraser Moat is a very interesting character. A member of Serpentine Running Club, an enthusiastic member of the British Milers Club he is a genuine lifelong enthusiast for the sport. But whatever else he is, he is the man who probably saved Athletics Weekly as a significant publication, not only in the UK but worldwide.