GREAT SCOTTISH VETERAN ATHLETES: ANDY COOGAN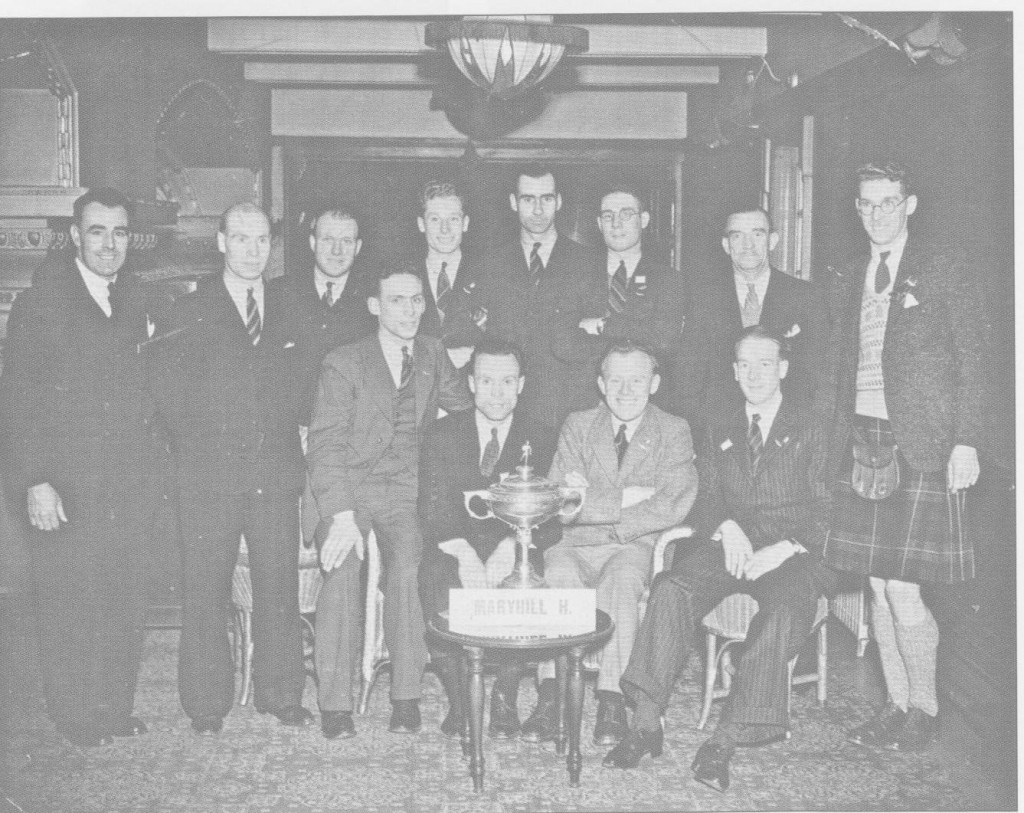 (The Maryhill Harriers team which won the 1939 Edinburgh to Glasgow Road Relay, with Andy Coogan in the back row, third from the right. Can you spot other famous Scottish runners: Donald McNab Robertson, Emmet Farrell and Gordon Porteous? Photo courtesy of the Coogan family.)
Andy Coogan's friend James Munn reports that Sir Chris Hoy's great-uncle (and inspiration) celebrated his 98th birthday in April 2015. Andy's autobiography ('Tomorrow You Die') was published 2012, and is a marvellous tale of resilience and survival, especially during three and a half years suffering in a Japanese prisoner of war camp.
Andy Coogan was a very talented middle distance runner, not only before his military service, but also many years later, once the Veteran Athletics movement was established. His first club was the famous Maryhill Harriers, which he joined as a youth, and then had considerable success, particularly in the mile and half-mile, but also in longer races, including cross country. In 1938 Andy won the Police Mile at Hampden; and then the Empire Exhibition Mile at Ibrox. He was 21 when the Second World War broke out in 1939, and was called up to serve in the Lanarkshire Yeomanry. In November 1939 Maryhill Harriers led all the way to win the prestigious Edinburgh to Glasgow Relay, with Andy coming in first on Stage One.
In 1940, before embarking for Cape Town, Bombay and Poona, Andy was invited by Bill Struth, the manager of Rangers FC, to take part in an international sports day at Ibrox. In a handicap mile, he was to race against the legendary Sydney Wooderson (the world mile record holder) in front of a crowd of 90,000! Before the event, Andy met Wooderson, who turned out to be an absolute gentleman, happy to chat with the young Glaswegian. There were eight starters. In "Tomorrow You Die" there is a fine description of the race. "Right from the start, there was a tremendous noise from the crowd. With a lap to go, there were three runners ahead of me. At about 150 yards, I overtook Ian Stokoe of Edinburgh University, the British Universities mile champion. I was excited because I knew that Stokoe was very good. The other athletes were well behind us by this time. The atmosphere in the stadium was amazing. I wasn't sure where Wooderson was, but I knew he was coming up, by the way the crowd were roaring. I wasn't racing, using the head; I was just desperate to get to the finish. With about ten yards to go, Wooderson came level, then passed me. I was happy to be in second place and, to tell the truth, just happy to be in the race, as it was a great honour to run against Wooderson……… Afterwards, he was very encouraging. He told me that I had a good future in athletics and gave me his pins and his numbers as souvenirs……That night I allowed myself to dream of running for Scotland and maybe ultimately the Olympics."
Although Andy Coogan also won a half mile and a mile in Poona, that was to be the end of his senior running career, since despite brave fighting in Malaya, he and his surviving comrades were captured by the Japanese after the surrender of Singapore.
Details of the agonies endured during imprisonment are vividly described in the book. Yet eventually, the war did end and emaciated, starving men were freed. Andy Coogan's incredible spirit and inner toughness shines through the narration.
Back in Scotland, after a long period of convalescence, during which he was helped back to fitness by Maryhill Harriers, Andy met his wife-to-be Myra. In 1948 they moved to Carnoustie and Andy founded Tayside Amateur Athletics Club. As well as coaching and encouraging everyone in the community to participate in sport, he also took part in Veteran Athletics. In 1987 he was pictured leading the World Veterans 800m in Melbourne, in front of Shettleston's Davie Morrison. Andy won a gold medal in the Commonwealth Vets 800m at the age of 75 and kept running well into his eighties. Aged 82, in the British Veterans Athletics Championships at Meadowbank in 1999, he won the M80 200 metres! Gordon Porteous, Emmet Farrell and Davie Morrison also competed that day. Andy says that veteran meetings were great fun, although deadly serious!
Scottish Masters Track and Field presents annually 'The Andy Coogan Trophy' for the best age-graded performance (Indoors or Outdoors) in 800m by any male SVHC member.
In 2012, Andy had a well-deserved honour when he carried the Olympic torch in Dundee. He wrote that he was very moved by the turnout of friends, family and former runners with Tayside Amateur Athletics Club.
James Munn reports that, nowadays, this incredible character has good general health at 98, and is an alert, articulate speaker, who lives alone but is supported by regular visits from his daughters.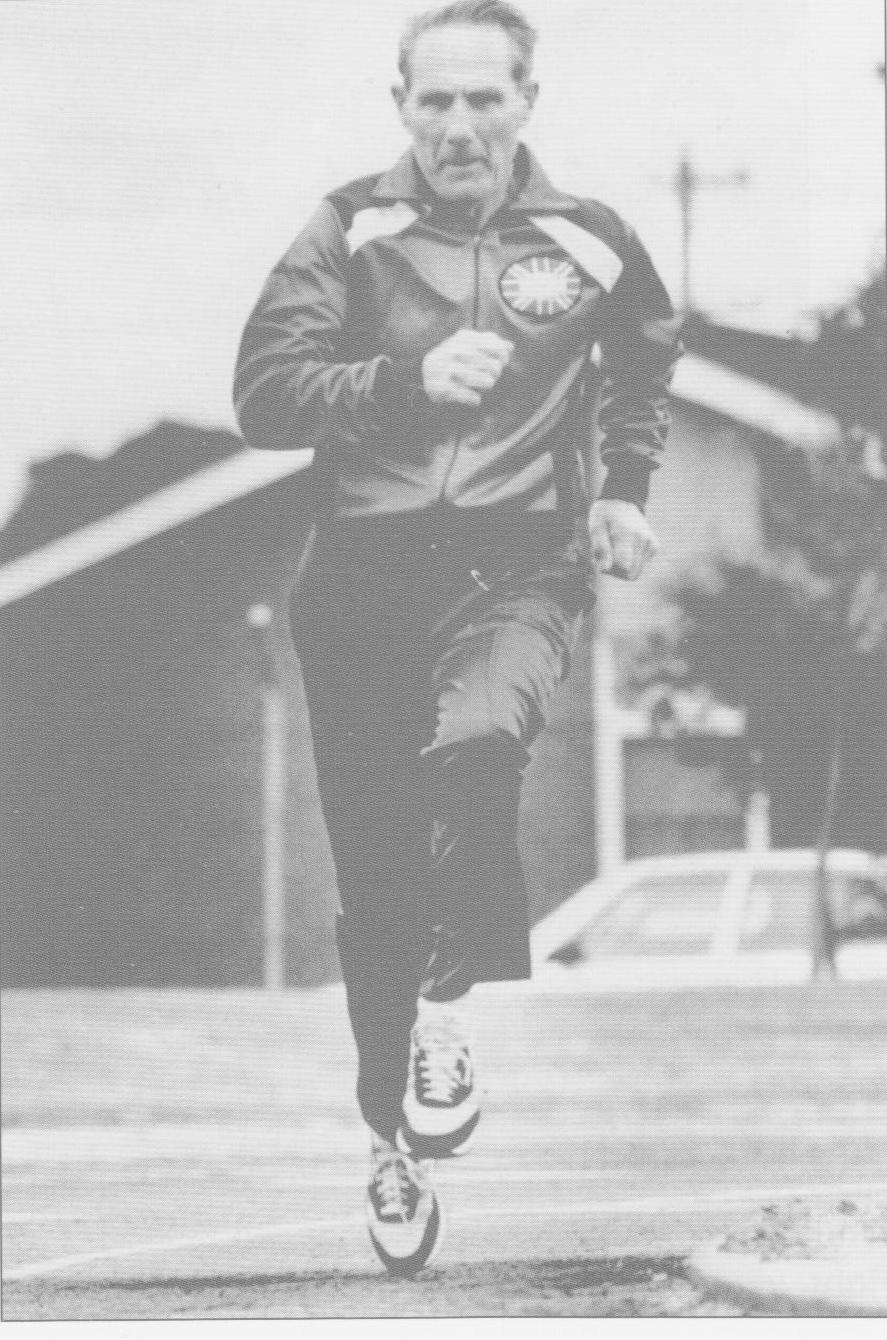 (Andy, aged about 70, competing at the 1987 Melbourne World Vets race, and still following Dunky Wright's advice to run on his toes! Photo courtesy of the Coogan family.)
Andy died on 20th March, 2017, just twelve days short of his 100th birthday.
_____________________________________________________________