Alan Puckrin (Kilbarchan, Greenock Glenpark, Edinburgh SH, Inverclyde)
Best times: 1500m: 3.46.43 1989; 3000m: 8.00.49 indoors 1989; 5000m: 13.57.22 1989; 10,000m: 29.32.29 1994; 10k road: 29.49 1997; 10 miles: 49.24 1985; Half Marathon: 67.28 1999.
Alan finished 2nd to Tommy Murray after a good battle in the S.A.A.A. 10,000m in 1994; was 3rd in 1997; and 3rd in the Scottish Indoor 3000m Championship in 1989.
He was ranked 2nd in Scotland over 5000m with 13.57.22 in 1989; and 3rd at both 5000m and 10,000m in 1994. He featured in the 5000m rankings in 1992, 1993, 1994 and 1998; and in the 10,000m rankings in 1991, 1994, 1995 and 1997.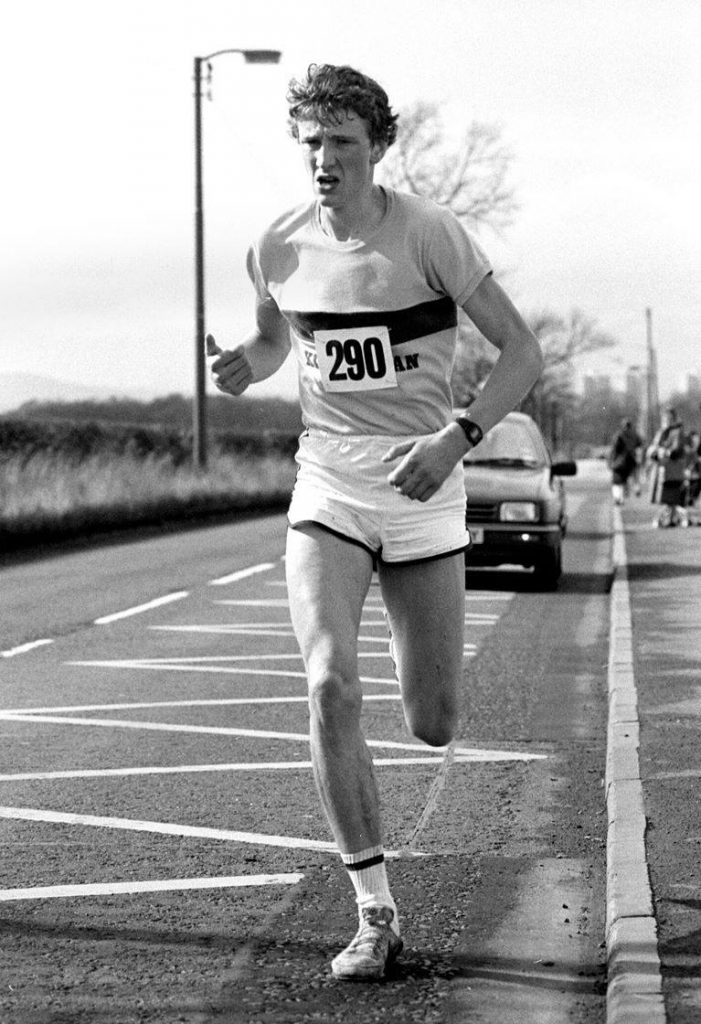 Alan in the Tom Scott 10 Miles Road Race in 1985 (photo by Graham MacIndoe)
Alan Puckrin was a Scottish International Track athlete at 3000m and 5000m; and also raced internationally on Road and Cross-Country.
Three Senior Track International appearances:
1989 Indoors at Athens. Scotland v Greece, Belgium, Bulgaria, Czechoslovakia 3000m 3rd 8:00.49 (personal best).
1989 in Hungary. Scotland v Hungary, Czech Republic, Greece 5000m 3rd 13:57.37 (personal best).
1993 at Wrexham, Wales. Scotland v Wales v Northern Ireland 5000m 4th 14:13.38, just behind Robert Quinn. Scotland won the team contest.
Junior XC International: World Junior Championships 1983: at Gateshead. Alan Puckrin was the fourth Scottish counting runner in 78th position.
Seven Senior XC International appearances: 1983-94: 1983 at Gateshead and Ipswich; 1984 at Cumbernauld – Alan was first Scot in second position, and Scotland beat Wales and Northern Ireland; 1984 Gateshead; 1988 Cardiff; 1989 Mallusk, Northern Ireland; 1994 Mallusk – Alan was 17th but first Scot, well clear of Robert Quinn.
Senior Road Running International: 1991 at Llandudno, Wales. Ten Miles Road Race. Alan Puckrin was fourth and second Scot in 49.39. By one point, Wales won the team contest, with Scotland second in front of Northern Ireland and England.
Alan Puckrin was part of the Glasgow University Hares & Hounds team that won a famous victory in the 1984 British Universities Cross-Country Championships. Team-mate Alastair Douglas reckons that Alan's main strength was as a relay racer (for proof, see below the E to G section).
Robert Quinn and Alan often trained together. Robert remembered well their Junior days with Kilbarchan. A newspaper report read: "In 1984, the previous year's Youth Champion, Robert Quinn, won the Junior title at his first attempt, the first runner since Nat Muir in 1975 to achieve this – with his Kilbarchan club-mate Alan Puckrin finishing runner-up 50 yards behind.'
Robert went on to Glasgow University in 1984 and his friendship with Puckrin developed. 'Alan was a big influence on me. He was older but made the same age group because of the date of his birthday. I suppose we were pretty inseparable in races too. I won the Renfrewshire, West District and National Junior Championships and Alan was second in them all. He was the year above me and raced first claim for Kilbarchan but, like me, competed for the Hares & Hounds in student championship races. Alan was a great friend and rival – he was an amazing trainer, and during the 1983/84 season he would beat me in training most weeks. Alan was excellent in relay races – I think that he relished those events where he could run freely, compared to the tactical head-to-head battles. He retired from running fairly early and took up hillwalking.'
Judging by the GUH&H history, Alan Puckrin enjoyed quite a lot of his university running (and social life). In 1982, it is noted that 'young Alan Puckrin never seems to lose many races these days, his most recent win being at the Beith races on 2 January."
Then it was time for SUSF = the Scottish Universities cross-country championship, held on this occasion "over a windswept course on the slopes of Arthur's Seat, about two miles from the changing accommodation." The GU team finished second to an excellent outfit from Edinburgh University but "Our only consolation in the A Race was Alastair Douglas's victory over Callum Henderson of Edinburgh whose recent form has been startling. There was also a remarkable run from Alan Puckrin, our new Superstar, who beat some well-established over the tough six miles course. His third position was all the more remarkable when one considers that the furthest he had raced previously was only four miles and he is still only a Youth."
In April 1982, a GU team travelled to the Easter Running Festival on the Isle of Man. "The Road Race on Friday evening was won by the Hares and Hounds which had 12 runners competing. Alastair Douglas was fifth, Andy Girling 10th, and Alan Puckrin 21st. Two hundred and eighty took part in the Hill Race at Peel on the Saturday afternoon. Although it was not a good race for Alastair, Andy Girling and Alan Puckrin ran very well. Back in The Glenfaba Hotel on Saturday evening Pat O'Kane had his hairy left leg shaved, much to his annoyance and subsequent embarrassment; for weeks thereafter he wore tracksuit bottoms when training! The Hares and Hounds had three Teams participating in the Relays on Sunday morning. Andy Girling ran a very good first leg, passing on to Alan Puckrin who led the field around. He handed over to John Cowan, who only lost a couple of places. Alastair ran the last leg and finished third. That evening, in The Villiers Hotel, the Hares and Hounds received an award for being the Best Student Team at the Festival, and the best Team in the Good Friday Race". (Alan joined the team for this event in 1983 as well.)
Then at an SUSF vs SCCU representative match held at Stirling on 11 December 1982, Alan Puckrin was sixth, Andy Girling 10th, Alan Wilson 33rd and Dougie Macdonald 46th. The race was won by Peter Fox of Dundee University.
In 1983, Alan Puckrin finished a fine fourth in SUSF and an excellent 18th in BUSF (the British Universities XC). In the latter, GUH&HC were third team, "the best performance since winning the event in 1939. There were wild celebrations in the Gannochy Pavilion after the race with a lot of singing, drinking and dancing. On 19 February Paul Cackette, Andy Girling, Alan Puckrin, and Graham Walker travelled to London for the Hyde Park Relay.
1984: "The Hares and Hounds travelled to BUSF, organized by the University of East Anglia. The race commenced over a fast firm course which soon gave way to heavy plodding marshland. To their absolute delight, the Hares and Hounds won the main event for only the second time in their history (the first being in 1939). They scored 165 points; Birmingham had 194 and Loughborough 204. The race itself was won by Callum Henderson of Edinburgh. Andy Girling was ninth, Alan Wilson 11th, Alastair Douglas 17th, Bobby Quinn 28th, Alan Puckrin 32nd and Neil Walker 68th. Paul MacIntyre and Danny Mackay also took part."
"The Hares and Hounds' Training Camp took place on Arran at the end of September. Attending were Tom Gillespie, Evelyn Gisbey, Carole Hair, John McLellan, Fiona Meldrum, Alan Puckrin, Robert Quinn, Phil Shering and Neil Walker. There Alan Puckrin set a new Kilbarchan Club record for beer drinking, while John was returned to the cottages by the Police one night after getting lost!"
1985: "At the Easter Athletic Festival on the Isle of Man, the Hares and Hounds stayed in self-catering Chalets above Douglas. The A Team (Alastair Douglas, Paul MacIntyre, Bobby Quinn and Alan Puckrin) finished first in the Road Race, the Hill Race and the Relay, thus easily being overall winners of the Easter Tournament."
West District Senior XC: Alan secured Under-17 silver in 1982 and team bronze (Kilbarchan). Individual bronze in 1989, 1993 and 1996 (Greenock). Team silver in 1989; bronze in 1996. Under-20 silver in 1984 and team silver (Kilbarchan).
SCOTTISH NATIONAL XC: 1981 Kilbarchan team gold in the under-17 National, with Alan Puckrin 12th. In 1982, team silver, with Alan improving to individual bronze, with Robert Quinn 11th.
1984 second to Kilbarchan team mate Robert Quinn in the Junior (under-20) National. Team silver.
Alan racing boldly, early in the 1985 Senior National Cross-Country Championships (photo by Graham MacIndoe)
National XC Relay: 1986 Kilbarchan (with Alan Puckrin) team bronze. 1989: Greenock Glenpark H won the title. The team was: Phil Russell, Hamilton Cox, Alan Puckrin and Tommy Murray. (A photo of Alan made the front cover of 'Athletics Weekly'!) 1992, team bronze for Caledon Park Harriers. 1998: team bronze with Kilbarchan; followed by silver medals in 1999 and 2000.
The Glasgow University Road Race was always a great race. In 1992, Alan finished in third place (representing Greenock Glenpark Harriers). In 1994 it was reported that: "Former members of the Hares and Hounds, Alan Puckrin (running for Greenock Glenpark) and Bobby Quinn (competing for Kilbarchan AAC) were second and third in 22 min 36 sec and 22 min 41 sec respectively."
Scottish 10k Road Championship: individual bronze in 1999 (Kilbarchan)
National Road Relay (6-Stage): 1992 team silver with Caledon Park Harriers. 1999 team bronze with Kilbarchan.
EDINBURGH TO GLASGOW ROAD RELAY:
Alan Puckrin ran for Greenock Glenpark Harriers in 1987. In 1988 he was fastest on the prestigious Stage 2 with a superb time of 29.32. No one else was under 30 minutes and he moved from 16th to 6th, although his team eventually finished 11th. In 1989 on Stage 2 he was second fastest to Peter McColgan of the winners Dundee Hawkhill Harriers.
In 1990, Alan Puckrin had joined a team, formerly Edinburgh Southern Harriers, which was briefly named Caledon Park Harriers. Alan was fastest on Stage 3 and CPH finished third. However, by 1991, CPH could only manage 13th although, on the important Stage 6, Alan's time was second-fastest only to John Robson, who now raced for the winning 'Superteam' Racing Club Edinburgh.
In 1993, Alan Puckrin returned to Greenock Glenpark Harriers, and was fastest on Stage 2, with his team 9th. Robert Quinn (Kilbarchan) was second-fastest. Alan did not feature in 1994 but, in 1995, was fastest once more on Stage 2; a feat he repeated in 1996.
By 1998, he was racing on Stage 6 for Kilbarchan AAC, and this team finished a meritorious second, after a great battle against the almost unbeatable outfit now named Mizuno RC.
In 1999, Alan was on Stage 6 again, with Kilbarchan fifth. In 2000, the last E to G on something like the original course, the team was sixth, with Alan on Stage 5 for a change. 2001: sixth again, but without Alan Puckrin. Still, Alan had proved himself to be a top-class Edinburgh to Glasgow Relay competitor: team silver and bronze; and a very impressive tally of five fastest stage performances.