Scottish Universities have a strong tradition of track and field athletics and none more so than the four ancients. There were inter university competitions, matches against local clubs and even national university championships. Aberdeen has had several facilities that they used over the years for the Athletics Club.
KING'S COLLEGE GROUNDS
All four of the 'ancient universities had their own running track and grounds. The Pavilion at Westerlands in Glasgow is legendary but King's College in Aberdeen had one every bit as good. Built in the late 1950's and seen in the photograph above, it even had its own swimming pool. I quote: "The pavilion was built for the King's College University Athletic Club, but was also required to provide common room facilities for the whole college. The university required a multi-purpose sports facility but with flexible changing rooms to accommodate users to the swimming pool and playing fields. The size of the building was constrained by the adjacent university buildings to the N and W and the playing fields and tennis courts to the S and E, and the height of the building was limited so as not to obscure views of the Old Crown Tower." It contains the pool, performance gym, performance suite and changing rooms.
The playing fields themselves were like all the University tracks of the time were of good well looked after grass and were big enough to hold two rugby pitches, a cricket wicket and a lacrosse field.
Fraser Clyne says "King's has a rich history which I am currently researching for another project. The playing fields opened in 1889 and athletics meetings on the grass track were held pretty much from then onwards. Olympians James Tindal Soutter and Eric Liddell competed there."
Hunter Watson says that a very early Scottish Universities Athletics Championship was held in 1898 at Aberdeen, almost certainly on the grass track at King's.
Bill Ewing recalls running there as a 'Wolf Cub' (Cub Scout) in 1948.
Hunter adds "I have in my possession a copy of the 1953 Coronation Issue of Aberdeen University's "Athletic Alma" magazine. Included in it is a photograph of four hurdlers competing at King's."
The Scottish Universities track and field championships were held at King's on 1 June 1957.
On 1st June at King's College, Aberdeen, Edinburgh won the inter-universities title with 77 points to Glasgow's 72, St Andrews 25 and Aberdeen's 9. The women's contest was also won by Edinburgh with 40 points from St Andrews 39, Glasgow 29 and Aberdeen 8. JV Paterson set new records for the quarter and half mile events of 48.8 sec and 1:52.8, WJ More of Glasgow set a ground record of 4:20.8 for the Mile, and A Hannah, Edinburgh, broke DK Gracie's record for the 440 yards hurdles with a time of 54.1. In the 120 yards hurdles, J Johnston, Glasgow, equalled the Scottish native record of 15.3 which broke the universities record. R Scott, Glasgow, won the hammer with 142′ 11″. HM Murray of Edinburgh had the unusual experience of setting a new Scottish native record which was not a universities record! Miss D Will of Aberdeen beat her own discus record with 111′ 5″, and Miss S McLeod, Glasgow, beat Miss J Pringle's record for the shot by 7″ when she threw 30′.
The 'Glasgow Herald' headline read "Day of records at Aberdeen" and it was entirely justified. Paterson's quarter mile record took 1.4 second from Eric Liddell's time of 1923 and was a major event.
Hunter adds "I had run in those championships in each of the previous three years. In 1954 at Westerlands I finished second to Adrian Jackson but ahead of Alastair Wood. In 1955 at Craiglockhart I again finished second to Adrian Jackson. In 1956 at St Andrews, in the absence of Adrian Jackson, I won both the one and three miles. The times were pathetically slow because of the strong wind. The report, however, notes that my best time for the mile in 1956 placed me third (home) Scot and ahead of both Alastair Wood and Adrian Jackson though my best time had been 4:14.6 and not 4: 14.4 as stated.
In 1957 on 25 May I won the mile at the Edinburgh University championships in a reasonable time of 4:25.9. According to my training diary, I had followed George Brown until 220 yards from the finish, at which point I went all out and covered the remaining distance in 27 seconds or faster. George finished 6.7 seconds behind in a time of 4:32.6.
Clive Dennis, the Edinburgh University captain put me under considerable pressure to turn out for a fourth consecutive year in the Scottish University championships, but with my finals being held in the following fortnight I decided to give them a miss."
Bill Ewing writes that that the ground staff at King's College were very helpful. They fashioned a "solid water jump" for him just inside the home bend in 1966. He practised his jump technique all Spring, landing on a pad of foam rubber to simulate the water! That season, Bill came second to Gareth Bryan-Jones in the British Universities steeplechase at Birmingham and thinks that the jump practice helped a lot. Bill wonders now what became of that invaluable jump hurdle. In 1967 at Grangemouth Stadium, Bill won the Scottish steeplechase title, just in front of Gareth. Bill states that "King's will always be my spiritual home for running."
Colin Youngson trained and raced at King's between 1966 and 1971. "I remember at the end of my first year front-running in a frantic effort to win the AU One mile title but running out of steam and finishing second to Tony Patrick. Then metric distances became standard, so I did manage to win a few 1500m and 5000m races there, either club championships against Jim Maycock or Don Ritchie or 'Three University' matches, e.g. AU, Glasgow and Strathclyde; or AU, Edinburgh and Heriot-Watt etc.
One memory is that once, just when I seemed likely to win an inter-university 1500m, an unknown young Strathclyde athlete zoomed past in the final 20 metres – he turned out to be the future GB star Frank Clement!
The Annual Sports Day was a lot of fun. A paarlauf was introduced one year, so that each of a pair of runners took turns to sprint 220 yards then jogged over the middle of the track to take over again. Bob Anderson and I combined to run a 3.57 mile!
Training round the playing fields was great. It was about 660 yards round, so repetitions might involve that distance; or often umpteen 220 yards efforts along the side furthest away from the art deco pavilion; or sometimes horrible flat-out 330s on the track itself. National Coaches John Anderson and Frank Dick both occasionally travelled up north to King's to organise sessions of 20 second runs or up the clock for many runners.
The Grass Track was very good, flat with a smooth, well-cut surface, ideal for fast times. Near the end of the summer term, a 'Minnows' Three Miles' was popular. The fastest club runners did not count in the results. It was a handicap with the slowest starting first. One year I started last and ended up with a personal best (unusually for me run in bare feet) due to ideal conditions and lots of slower rivals to overtake!
From the mid-1960s there was even an AU half marathon (starting with a lap of the field, then twice round the cross-country course with an extra lap in the middle and one at the finish. First prize was a Sawfish tusk!
For the Annual Students' Charities campaign, Aberdeen University Hare & Hounds Club in April 1970 decided to attempt a sponsored 72 Hour Marathon Relay round King's Field, which was timed meticulously. Luckily, conditions were dry. All our first and second team men took part and we succeeded in completing 636 miles at an average speed of almost nine miles an hour. We raised over £300 for the campaign. If you raised £100 you were given a free barrel of beer! The after-event party featured an attempt to drink all three barrels but we did not succeed at that sport. Rather unfairly, the Guinness Book of Records people did not accept our 'world record' since they did not think that such a challenge would be popular!
Happy times on a wonderful field and track!"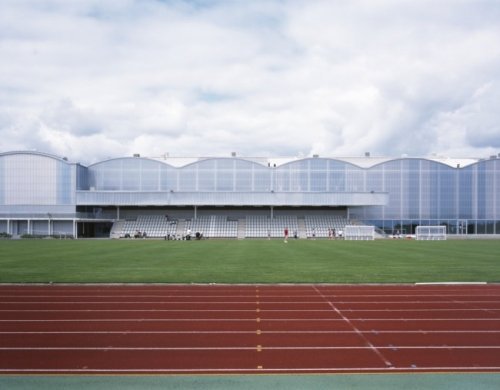 Balgownie, University of Aberdeen Track
BALGOWNIE TRACK
Bill Ewing says that he raced there only once and that it was the worst surface he ever competed on, with its cheap red covering on an unforgiving base.
Mel Edwards says "I believe the track opened 1971/72. An all-weather track, which was a godsend after the cinders (a charitable word for that lumpy track) at the Linksfield Stadium. Balgownie was a rather hard track but welcome all the same.
In 1979, I organised the first Aberdeen marathon and it started and finished there. The runners left the playing fields and did 4 laps of an external road circuit. The lap was very hilly and the route became known as the Balgownie Alps!
The guest of honour was Jim Peters who came north with his wife Freda. Jim was a former marathon world record holder (2 hour 17 minutes 39.4secs way back in 1954.).
So, Balgownie was a popular venue, especially for cross country races round playing fields and up and down surrounding hills. It has hosted the East District XC Championships more than once, as well as the Scottish Veterans XC Championships."
Fraser Clyne says "Balgownie, I am pretty sure, was opened early 1970s. It was there when I started AU in 1973. Always a hard track and very windy.
Graham Laing and I ran 29:22 there one Tuesday night in the AAAC club champs, just running round together (should have gone faster instead of chatting).
I did quite a lot of solo 14:20's there but couldn't get any quicker
I vaguely recall outsprinting Colin Youngson there in a 5000m a few days after I ran the Pittsburgh marathon in 1985. 14:54 and 14:55 was all we could manage.
Not sure when it stopped being used or maintained regularly, but the superior all-weather track at the Chris Anderson Stadium opened in 1988 so I guess it must have been after then."