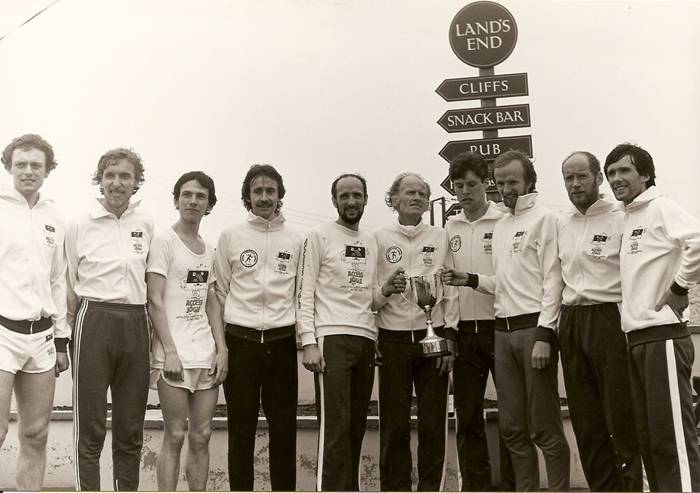 1982 Team At The Finish:
Mike Murray (aged 23), Colin Youngson (33), John Robertson (24), Peter Wilson (25), Graham Milne (33), Alastair Wood(48), George Reynolds (21), Fraser Clyne (26), Donald Ritchie (37), Graham Laing (25)
"At 12 noon exactly, on Saturday 3rd April 1982, ten runners rushed off down the road heading south from the John O'Groats Hotel, Britain's most northerly building.   But this was no local race – nine of the runners halted at the first bend – and only one, Fraser Clyne, Aberdeen Amateur Athletic Club's best cross country runner, continued onwards at around 12 mph.   This was the start of an attempt to break the record for the End to End Relay, certainly one of the most peculiar (and gruelling) events in the athletics calendar.
Preparations had been going on for months – finding the shortest road route (avoiding motorways), identifying short cuts through awkward city centres, devising a computerised pace schedule, organising sponsorship  and selecting runners and drivers.
The main sponsor, Access, had injected thousands of pounds into a fairly sophisticated operation, and had stimulated a lot of publicity which was to continue before, during and after the run – what with receptions, press releases, interviews, articles, photographs, pipe bands, radio and television coverage, it would have been embarrassing to fail!
The tactical system, based on experience gained from the club's two previous J.O.G.L.E. attempts was very important.   The fact that Aberdeen's 1963 record had withstood several assaults proved that they knew what they were doing.   There were to be five Dormobile vans, each containing two runners and two drivers, as well as co-ordinators, press and sponsors' cars.    Each van was to be responsible for a two hour spell the runners splitting it up as they thought fit.   (Anything between 20 minutes and five minutes had been tried in Aberdeen's three Jogles)   If everything went to plan and no one dropped out through injury, this system would give eight hours 'rest' between sessions – time for washing,  eating and sleeping as well as driving about 80 miles to the next change over point.  
Unfortunately there was a severe headwind the whole way so that the athlete was forced behind the van most of the time – rather  suffer from carbon monoxide poisoning than fall behind schedule.   In fact Aberdeen maintained record breaking speed throughout.   Fraser Clyne and Peter Wilson were ten minutes up at the end of the first session; Graham Laing (who must be close to a Commonwealth Games marathon place on this form) and Graham Milne sped over the notorious Berriedale Braes with apparent ease; Mike Murray and Alastair Wood continued rapidly to Golspie; Don Ritchie and Colin Youngson kept up the good work over the hilly Lochbuie shortcut to Bonar Bridge; and George Reynolds and John Robertson pushed hard up and over the long drag of the Struie to Dingwall, where Innis Mitchell (Inverness Harriers and VPAAC – an ex-JOGLER himself) revived the combatants with home brew and cake. 
Dawn on Sunday 4th January saw the cavalcade pass through Ballachulish and Glencoe in a downpour.   The 'Reporting Scotland' TV crew filmed the section from Loch Lomond to Glasgow where a local expert led the way on a bike for twenty crazy minutes up one way streets, over parks, through a carwash, etc – trying to cut corners on the way to Cambuslang, the A74 and England.
On the second night at the top of the Shap summit (the halfway mark in the Jogle) Aberdeen were an hour up on schedule – but by breakfast time on Monday fifth, they were only just ahead.   This was a shock but it was a relief to learn that the cause was not runner collapse or vehicle failure – the route simply omitted ten whole miles of road.   The strain was beginning to tell by now – lack of sleep and sore muscles were  affecting both runners and drivers but morale was high because the communication system was excellent (CB radio contact between vans was a godsend) everyone was seen to be trying suitably hard and the relay was progressing steadily in a controlled fashion.  
By now the athletes stomachs had adjusted to the workload and vast amounts of several foods were consumed: cornflakes, peaches, glucose, milk, bread, jam, scrambled eggs (heavy on the salt), yoghurt, orange juice, strawberry milk, shortbread and potato crisps was a fairly typical diet.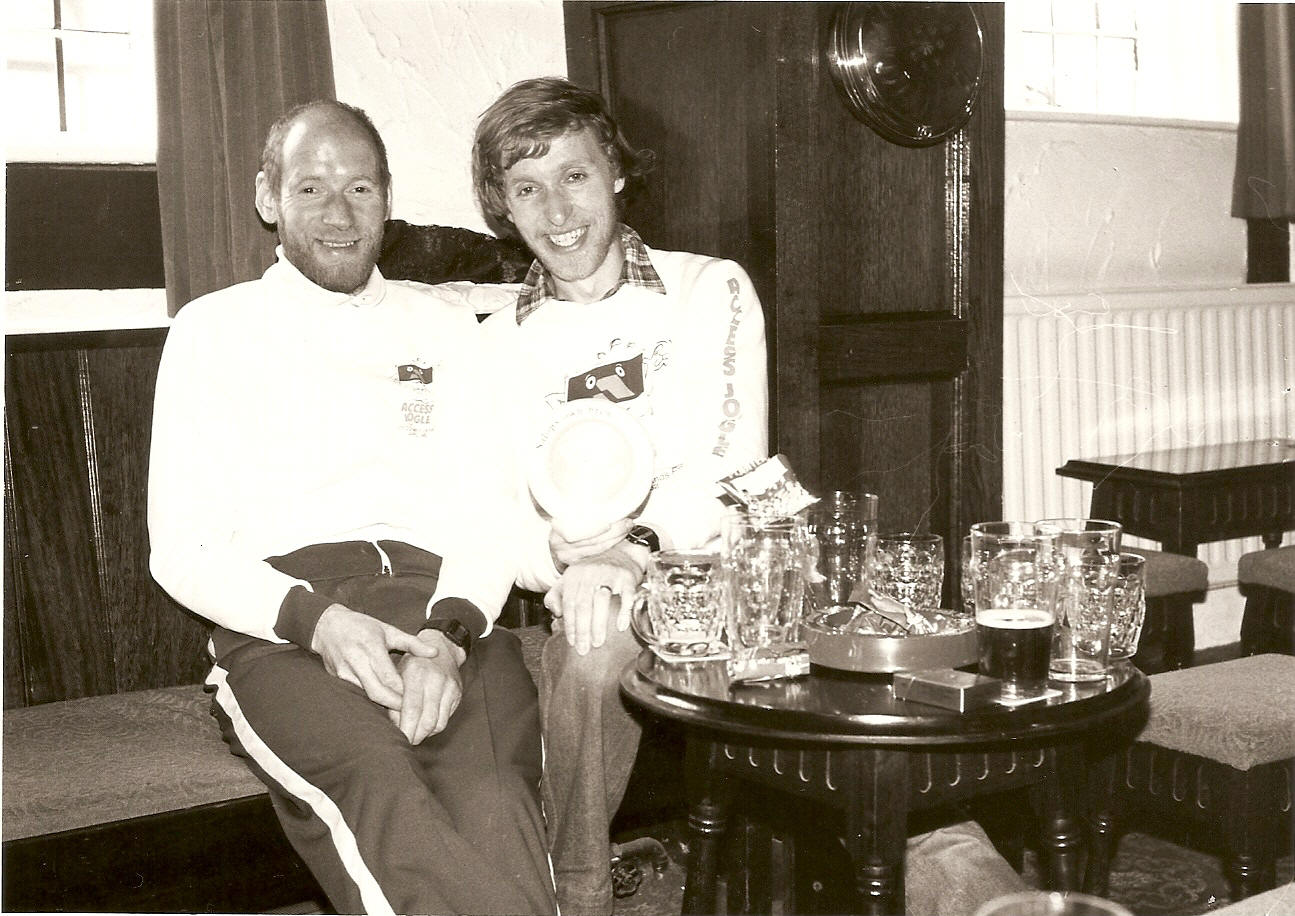 Colin and Don, Shropshire 1982: Dehydration was easily overcome.
Now that the running/resting routine was second nature, participants began to snatch moments of relaxation from the grind – enjoying hot baths in hotels, visiting restaurants or even searching out 'real beer' pubs.   [Click on the picture above and count the glasses!]      The route passed through Hereford and over the Severn Bridge into the last night.   There was an organisational 'hiccup' when the occupants of one van slept in and missed their turn but others came to the rescue and even the switchback Bickleigh to Crediton section was negotiated quite well.   Shortly afterwards the 'sprint' began: the most gruelling (but exhilarating) part of the whole relay.   Two vans (each with five runners) alternated for an hour each and the speed increased rapidly as team mates encouraged each other to push to the limit. absolutely flat out before collapsing into the van again.    A weird sense of elation  was widespread despite the wear and tear on the muscles and the drain on stamina reserves.  
The procession crossed Bodmin Moor and went through Penzance in the rush hour before rolling on to the finish.   Weary but exultant, all ten runners completed the final yards together finishing at the Lands End Hotel precisely 77 hours 24 minutes and 08 seconds after leaving John O'Groats (one and three quarter hours inside the 1973 record).   Champagne, photographs, presentations and a civic reception in Aberdeen – all very gratifying but nothing to the joy of being able to stop!
On the way north, some people (mainly pressmen) were talking about trying it again!"
A note about the runners:
Mike Murray was well known as a middle distance track runner and member of the elite British Milers Club with pb's of 1:53.4 and 3:50.58
Colin Youngson was a three time Scottish marathon champion with a pb for the distance of 2:16:50
John Robertson was a member of many good teams with a marathon pb of 2:28:21
Peter Wilson won the Scottish marathon championship in 1983 and he had a pb set in London of  2:20:05
Graham Milne was a club stalwart for many years with a marathon pb of 2:21:27 and many more inside 2:30
Alastair Wood is a Scottish not just Aberdeen legend.   Six times SAAA Marathon champion, GB internationalist on track and road with a pb of 2:13:45.   Even at the age of 48 for the 1982 Jogle he was indispensable.
George Reynolds was Scottish Marathon champion in 1984 and had a pb for the distance of 2:20:41.
Fraser Clyne five times Scottish marathon champion with a lifetime best of 2:11:50
Donald Ritchie is another Scottish distance running legend but specialising in the ultras – 100 miles and more, 24 hour races, etc – where he was one of the best in the world.   He had a marathon pb of 2:19:35
Graham Laing another top class athlete over several distances, winner of the 1980 Scottish marathon and a placer in the top six of the London Marathon with a pb of 2:13:59.
(Those who could not/did not make the team would make very interesting reading.   It would maybe not be an Aberdeen B team but might well have another four or five top runners who would walk into another club squad.    BMcA)