Encouraged by Geoff Stott's recent contribution, I decided to submit an article. Long ago, while at Aberdeen University, I first became aware of the Road Runners Club when I took part in one of Scotland's most famous road races: The Tom Scott Memorial Ten Miles, from Law to Motherwell. The distance may well have been accurate, but the first mile was steeply downhill, and Scotland's best runners often participated, so times were always fast. In 1968, at the age of 20, I finished 24th in 53.22 and discovered that this was only just outside the "1st Class Standard" of 53 minutes. Older Aberdeen AAC runners, like Alastair Wood and Donald Ritchie, who both went on to win the London to Brighton in very fast times, and who also tended to 'murder' me on long Sunday runs, talked about the RRC; and I must have joined not long thereafter. My membership number is 3882 and, since then, I have continued to pay my subscription every year.
I did so, motivated by the RRC Standards Scheme (and of course the excellent magazine). Yes, there were not many races in Scotland that were recognised, but to gain a First Class Certificate, by achieving this standard at three different distances in a single year, was definitely possible, if I continued to train hard and mature into a decent senior athlete. Road was definitely my best surface during peak years, since I lacked the gymnastic and mud-skipping skills to succeed in cross-country and did not have enough middle distance speed to excel.
In 1969, although the Tom Scott results sheet showed me scraping under 1st Class Standard with 52.44, my race certificate stated only 2nd Class! Unfinished business, then. Later that year, aged 21, I ran my first marathon – Inverness to Forres – in 2.41.13, so maybe I had potential at longer distances.
Eventually, in 1972, representing Victoria Park AAC in Glasgow, since I had started work there as a teacher of English, but also Aberdeen AAC second-claim, I obtained a treasured RRC First Class Certificate: second in the Scottish Track Ten Miles in 50.15; the Morpeth to Newcastle 13 and a half in 1.09.11; and third in the Scottish Marathon in 2.26.45 (after striking a very large 'wall' about 23!) Alastair Wood, who I had kept up with for 16 miles, easily won his sixth title, fully five minutes in front.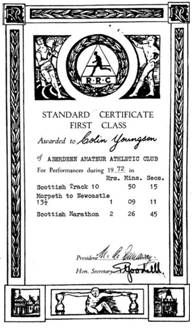 Earlier in 1972 I had taken part in Aberdeen AAC's attempt to break the record for the ten-man John o'Groats to Land's End Relay. We failed by half an hour; but succeeded a year later by running one hour faster. It was educational to plumb new depths of exhaustion while continuing to do my best; but truly inspiring to watch in action amazing team-mates like our charismatic but sarcastic guru Alastair Wood, Steve Taylor, Sandy Keith, Rob Heron and Joe Clare. Some very good marathon and ultra runners there! In 1982 we took another hour and three quarters off this mark, with stars like Graham Laing and Fraser Clyne, as well as the almost indefatigable Wood and legendary Ritchie. 850 miles in 77 hours 24 minutes and 8 seconds.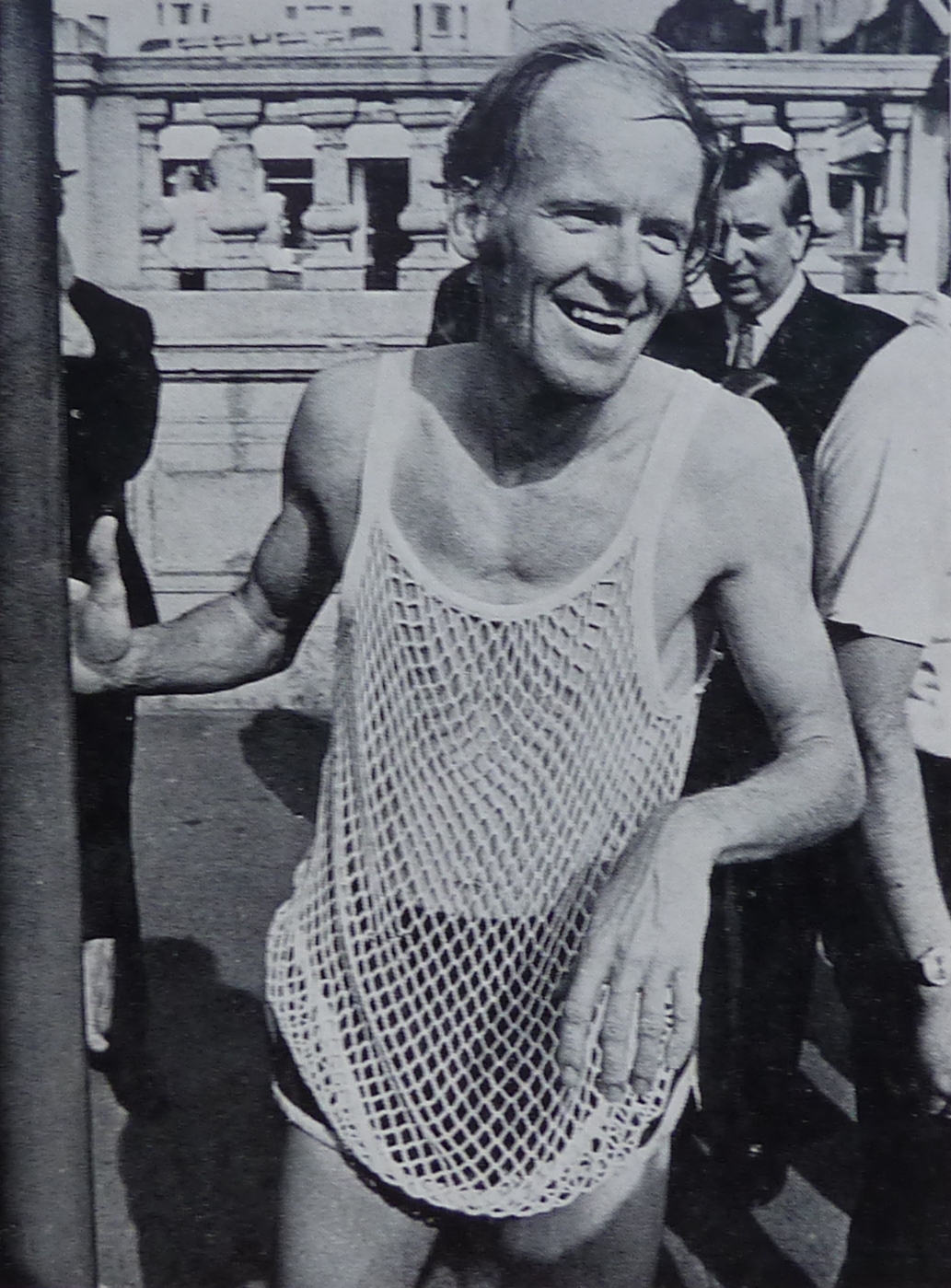 Alastair Wood after smashing the 1972 London to Brighton Record
My own best ever run was my first Scottish Marathon win in 1975, when a new Championship record was set: 2.16.50, with Sandy Keith a minute behind. Max Coleby (Gateshead Harriers) and I (Edinburgh Southern Harriers) represented GB in the Berchem International Marathon in Antwerp that autumn, and won the team race, beating Eire and all the continentals. In the Two Bridges 36, I was three minutes behind the great Cavin Woodward at ten miles, but had clawed back a few seconds by the finish, securing second place in 3.29.44 – this was my first venture beyond the marathon.
Although I managed to break 2.20 another eight times over the next ten years, and ran quite frequently for Scotland, mainly in Home Countries Marathon Internationals (my team even beat the other three plus Eire in Glasgow 1983) I seldom dared to attempt an ultra. Yes, I paid close attention to RRC Standard Times at other distances (especially after reaching veteran status and then continuing through the age-groups), but sadly never took part in RRC Championships, despite racing more than fifty marathons all over Europe, including the Marathon to Athens, plus Boston, USA.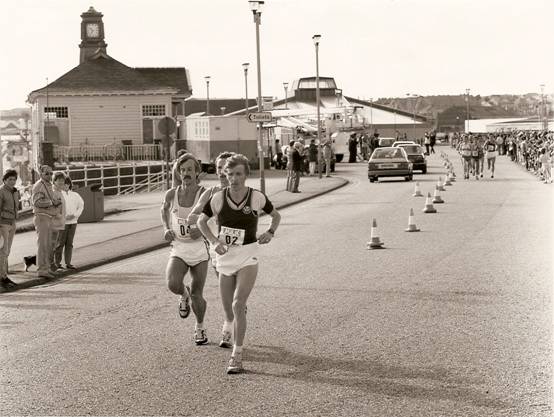 Colin Youngson (02) in a Scottish vest, leading the 1985 Aberdeen International Marathon. England's Dave Catlow (04) won this race, with Colin second.
One exception was in October 1980, when I finally summoned up the nerve to attempt the most famous RRC race of them all: the London to Brighton Road Race (that year, a daunting 54 and a quarter miles in length). On the Westminster Bridge start-line, I introduced myself to Gloucester AAC's future 24 hour world record breaker Dave Dowdle, and ran with him and his team-mate Ken Leyshon at a sensible speed for a very long time. At 40 miles, having missed a drinks station (where I was looking forward to a glucose-based potion plus a plastic bag of dates!) I began to hit the proverbial, but soldiered on, better up Dale Hill than down, due to knackered quads. I had been warned that 'Welcome to Brighton' meant six miles to go! Eventually I plodded over the finish line, my legs wobbled and I had to be helped into the famous Baths, which had individual cubicles. The water there proved to be not far off boiling – scream! However the heat helped tired muscles and sipping cool water started recovery. The afternoon was spent eating ice cream, drinking coke and chatting to other survivors. Former European and Commonwealth Marathon Champion Ian Thompson had smashed the average time per mile record, and was 37 minutes faster than my 7th place in 5.52.04, but even that was 35 minutes inside First Class. My award was the smallest medal ever but, for me, one of the most important. At last I could claim to be a true RRC member.
In 1984 I was a struggling third, a very long way behind my old friend Don Ritchie in the 50 miles Edinburgh to Glasgow solo road race, which went from Meadowbank Stadium, Edinburgh, to George Square, Glasgow. Donald and I (Aberdeen AAC) won the team prize. That was almost the end of ultras for me, although I had won the 1986 28 Mile Lairig Ghru Race, and finished fourth in the 1980 Two Bridges, as well as reasonable performances in a couple of Speyside Way 50kms in the mid 1990s.
After I hit 50, due to weaker legs which could no longer pound out adequate mileage, marathons gave me up (although I did win one British Veterans M45 title at the 1993 Flying Fox event in Stone, Staffs.); and since then my better age-group efforts have been in the annual British and Irish Masters International XC or on the track. Nowadays, daily jogging seems almost enough, in the pleasant wooded environment of Forres, Moray. However it is good to look back on distant memories of good competitive road-racing, when I met world-class athletes as well as enjoying the friendliness of so many fellow runners. Credit must be given for the initial impetus provided by that motivating organisation, the Road Runners Club.
Colin Youngson, Forres Harriers.