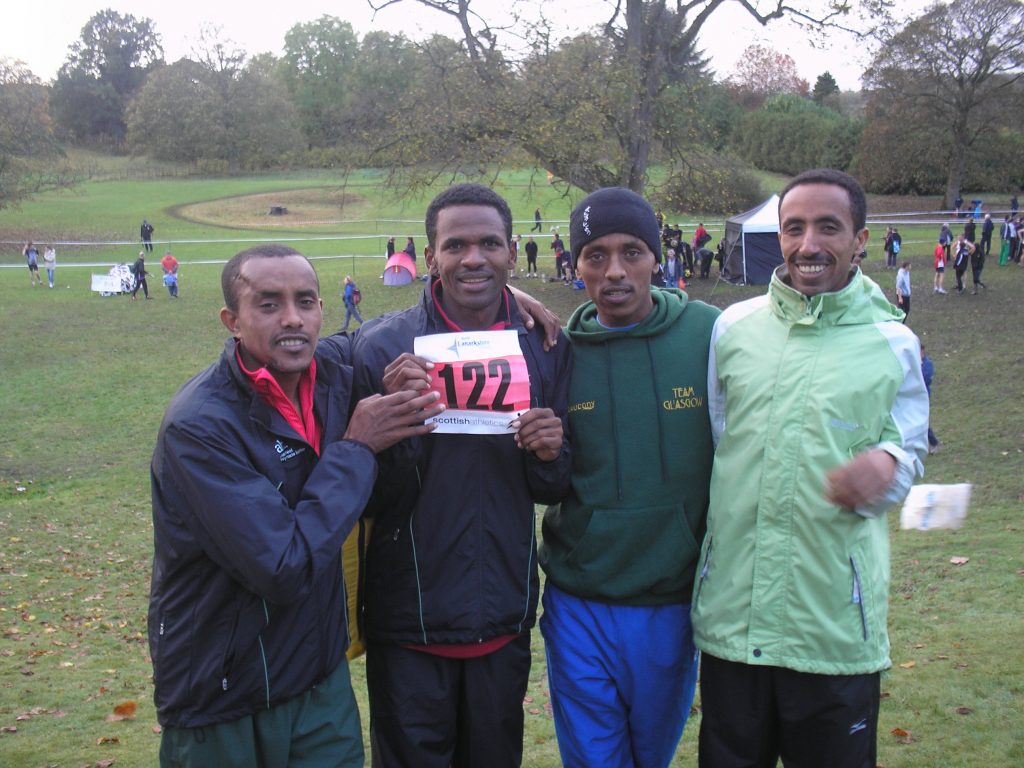 .
The 2008 World Cross Country Championships which took place in Edinburgh in 2008 will be remembered for a long time but it also had an impact on endurance running in Scotland for a lot longer. Little did they know when a group of Shettleston Harriers coaches and young athletes were collecting autographs from a group of Eritrean athletes after their race the impact they would have. The club still has the mud splattered number they gave them with the names signed who would bring the glory days back to the club.
If you look at the results of the World Cross Country six of the Eritrean team remained in Scotland and two others later claimed asylum in other countries. It is often asked why they came to Shettleston Harriers. After the race in Edinburgh the Eritrean coaches were very angry with the athletes and made it clear they would be punished for not performing to the standard expected. It is Interesting to note Amanuel Hagos and Tewolde Mengisteab finished in front of all the UK runners and losing funding was not the punishment on offer. Eritrea is one of the worst countries in the world for human rights and what was on offer to the athletes was military conscription with no time limit!
The journey to Edinburgh had been very difficult with a week stop over in Egypt until visas were obtained, missing the last flight to Edinburgh from London and sleeping in the airport overnight. Not the best preparation for a race. One week after the race, Bill Scally got a phone call from a local refugee worker asking if we would help with some athletes. There had been no press coverage of any athletes claiming asylum after the race in Edinburgh and Bill was not expecting who turned up.
Six athletes were brought to the track all decked out in their national tracksuits – Amanuel Hagos, Tewolde Mengisteab, Tsegai Tewelde, and three females Amlest Tewelde, Chici Guly and Kokob Mehart. All they had were the clothes they stood in. At first the club was unsure what to do but if anyone knows anything about Shettleston Harriers, they have a deep-rooted social responsibility stretching back over 100 years. The East End of Glasgow is one of the poorest areas in Scotland but the people are fantastic. The first priority was to help them with clothing and when they finally got accommodation the club helped to furnish their homes. To start with they all lived in the YMCA at the Red Row flats in Glasgow but after a few months were given individual flats as immigration rules did not allow for them to stay together.
The first runner to compete was not one of the original six – Tsegezab Woldemichael had been a friend of Amanuel Hagos in Eritrea and when he heard his friends were in Scotland he travelled north to join them. Tsegezab had made the very dangerous journey overland through Sudan, Libya, Italy, France and across the channel to get to the UK where he was granted Asylum.
The Tom Scott race in late April 2008 was the first appearance of any of the runners although they all came through to watch. They were amazed at the number of races in Scotland, as back in Eritrea there were only three races available to them – local championships, regional championships and the National championships – if you were good enough after the National championships you were taken to a training camp and in a sense became a full-time runner. This opened the chance of international travel and an escape route out of the country. Tsegezab won the Tom Scott 10 Miles by almost half a minute in 50:20 and started off the major impact this group of athletes would have on Scottish endurance running over the next few years. They competed for their club, their city, their district, their new country and one of them went on to compete at UK level at the European and Olympic games.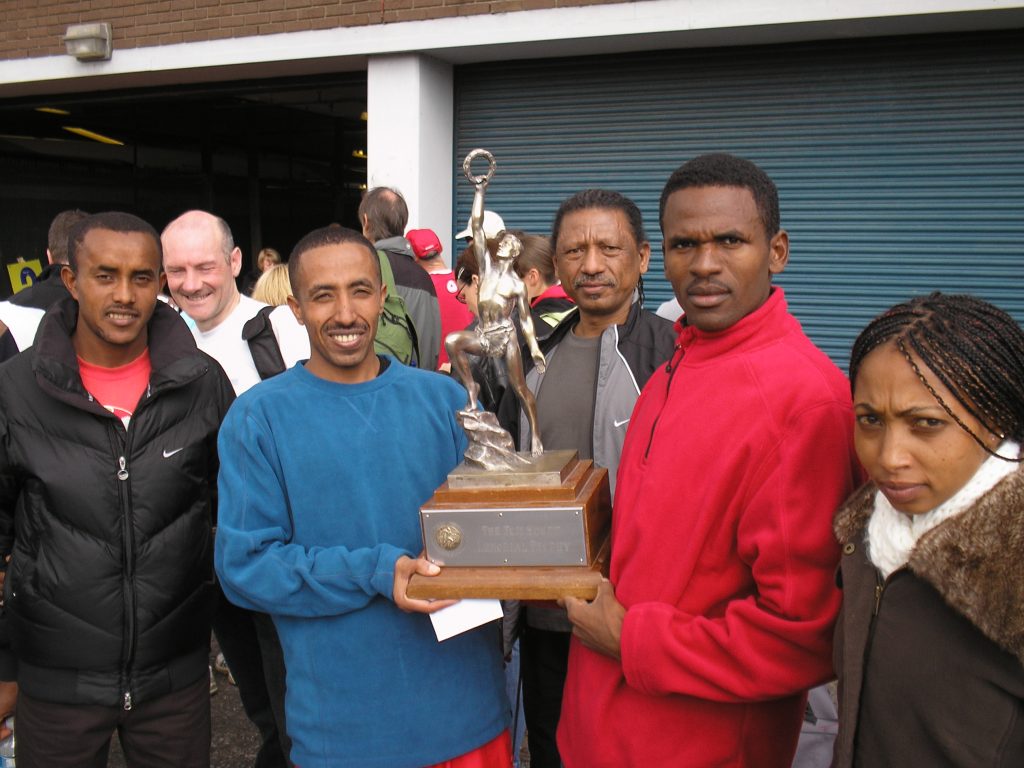 With the trophy for the individual winner of the Tom Scott 10 Miles in April 2008
Their first season in Scotland was always going to be interesting. It was first of all a totally new environment with weather totally different to anything they'd experienced before; second, training conditions and facilities are always a key matter for runners and even the best provision can present problems to those unused to them but most of all there is life away from the sport. The business of living in a totally new environment, with the added difficulties of even providing the basics of a roof over their heads, getting food on the table, making relationships with a new population were more important to them than running. However they were helped a lot – the involvement of Shettleston Harriers and their new friends there helped guide them through the key moments of making the transition. So how did they fare?
Their first racing season turned out to be a successful one for them and for the club. The District Championships were held at Irvine on 6th December 2008 and the results were impressive, to say the very least.
| | | | | |
| --- | --- | --- | --- | --- |
| Name | Age Group | Place | Time | Comments |
| Tewoldeberhan Mengistead | Senior Men | First | 30:00 | |
| Tsegezab Woldemichael | " | Second | 30:28 | |
| Tsegai Tewelde | Junior Man | First | 30:53 | Next (4th) 31:03 |
Their first National Championship appearance was at Falkirk on 21st September 2009 when their performances were as follows
| | | | | |
| --- | --- | --- | --- | --- |
| Name | Age Group | Place | Time | Comments |
| T Woldemichael | Senior Men | Third | 37:20 | Winner: 37:15 |
| A Hagos | " | Eleventh | 38:26 | |
| T Mengisteab | " | Twelfth | 38:39 | |
| T Tewelde | Junior Man | Second | 24:51 | Winner 24:47 |
In the relays, the men ran equally impressively.
| | | | | | | | |
| --- | --- | --- | --- | --- | --- | --- | --- |
| Event | Venue | Name | Age Group | Stage | Place | Time | Comment |
| West District | Irvine | A Tewelde | Senior Women | First | 1 | 14:15 | |
| | | T Mengisteab | Senior Men | First | 1 | 11:49 | |
| | | A Hagos | " | Second | 1 | 11:48 | |
| | | T Tewelde | Junior Man | Second | 4 | 12:18 | 2nd Team in Jnr/Snr race; |
| | | T Woldemichael | Senior Man | Fourth | 1 | 11:51 | |
| National | | T Mengisteab | Senior Man | First | 2 | 14:08 | 3rd fastest lap of the day |
| | | T Tewelde | Junior Man | First | 3 | 14:25 | 5th fastest, fastest Jnr |
| | | T Woldemichael | " | Second | 1 | 15:11 | |
| | | A Hagos | " | Fourth | 1 | 14:14 | 4th fastest of the day |
| | | | | | | | |
With all four of the men mentioned above, the club won the six-stage road relay, and individually they supplied first, second and third in the National 10K Road Championships in 2008, 2009 and 2010. It was a remarkable first season altogether in which they ran successfully in many races all over the country. The individual competition records can be seen by clicking the links below.
The women of the group only really ran for the first few months, winning races and placing in National championships. Kokob Mehart moved to Bristol and now has five sons, Chiic Guly lives in Glasgow and is a hairdresser and Amlest is the wife of Amanuel Hagos. Their three children are all members of Shettleston Harriers.
Tewolde Mengisteab has been the most successful in terms of Scottish performances winning 67 National medals on an individual basis or as part of a team. He also has won numerous other races at district level and open races. He was always prepared to help his club when required. Amanuel Hagos had the misfortune to catch TB from an Eastern European worker when he worked in McGhee bakery in Glasgow. This stopped him running for a few years but returned to help the Shettleston Masters team win a medal in the National Cross country relays.
Tsegezab Woldemichel moved to Birmingham to be with family in 2011 but still has close links to the club. In 2009 he ran 63.00 in the Glasgow ½ marathon which placed in the top 20 in the world that year. He also had a very successful time during his stay in Scotland again always turning out for his club when asked.
The most talented of the runners was Tsegai Tewelde but was also the most troubled. As a young boy he witnessed his friend being killed by a land mine and he was seriously injured. He bore the scars of these injuries and had shrapnel removed in a Glasgow hospital. As a 16-year-old he ran 3.42 and placed 5th in the World Junior 15000m championships in China.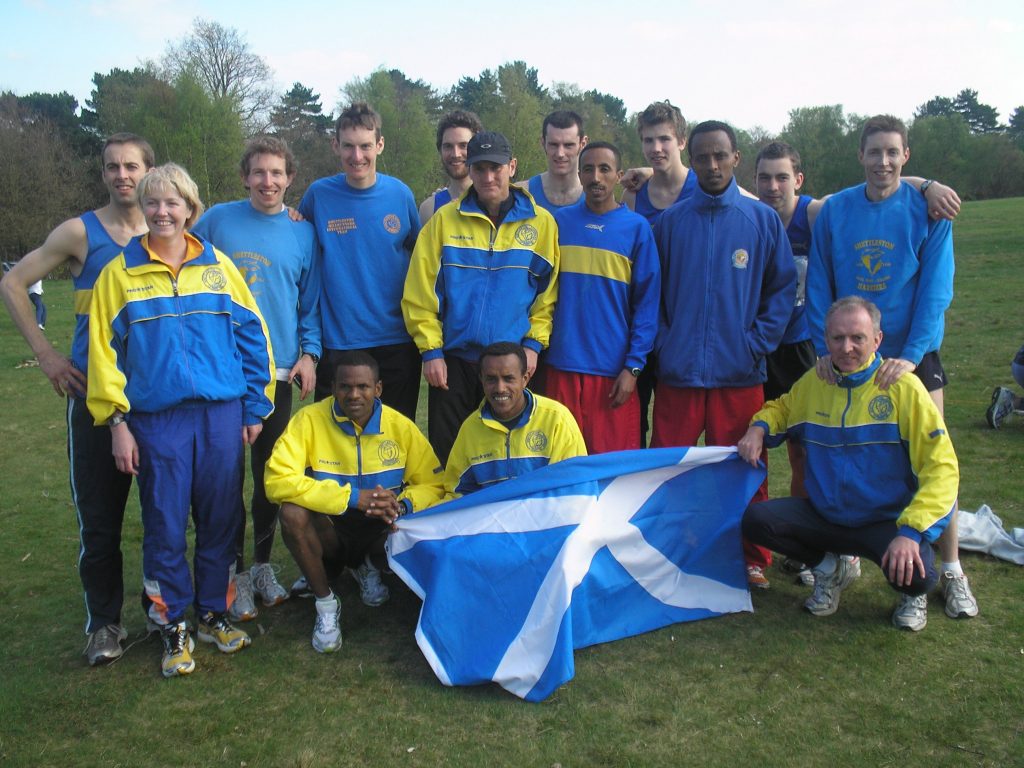 Tsegai had a slow start to his running in Glasgow but again he won national medals over a variety of distances. His big breakthrough was the Glasgow ½ Marathon in 2015 prior to the Olympics in 2016.
UK athletics contacted the Club and with the help of Doug Gillon (Glasgow Herald) the process of him getting cleared by the IAAF to run for the UK started. Cherry Alexander (UK athletics) worked miracles and by March 2016 he was cleared – he was supported by the club to prepare for London and we knew he was in great shape as he lined up. His instructions were to follow Callum Hawkins as we knew Callum would run a sensible race. African runners often don't run like that and he started very fast and as we watched on TV the last few miles were very painful. He ran a 2.12 .23 marathon at his first attempt and was selected for Rio.
This should have been the start of something special for him but unfortunately it did not turn out like that. He suffered from depression and a series of injuries curtailed his progress. He dropped out of the Olympic marathon and the World ½ marathon championships with injuries he had picked up prior to the races. Picked for the European ½ marathon championships in 2016 he was unable to run after being admitted to hospital in Amsterdam. He started to have seizures associated with the land mine injury. His last major race was the London Marathon in 2019 where he ran 2.17. He has now stopped running and works as a care worker in Cambridge. A talent which was never fulfilled.
We often ask the athletes do they regret staying in Scotland. They answer in two ways – we are free and now we have new family. They are proud of their association with the club and have made great friends in the athletic family of Scotland – the Hagos family have a Scottish Gran and Scottish Aunt and uncles.
Life has not always been easy for them and being a refugee brings many problems. Most of them are now British Citizens and hold down jobs. Tewolde got married after waiting 6 years for his wife to join him Glasgow. They all are very grateful to the help and support given to them at all levels by Scotland.
The story of the connection does not finish there. As Weynay Ghebrelassie moved to Glasgow to be with his friend Tewolde – another world class athlete who ran in the London Olympics over the steeplechase. He is currently in training to run the London marathon with the hope he will make the Scottish Commonwealth Games team in Birmingham.