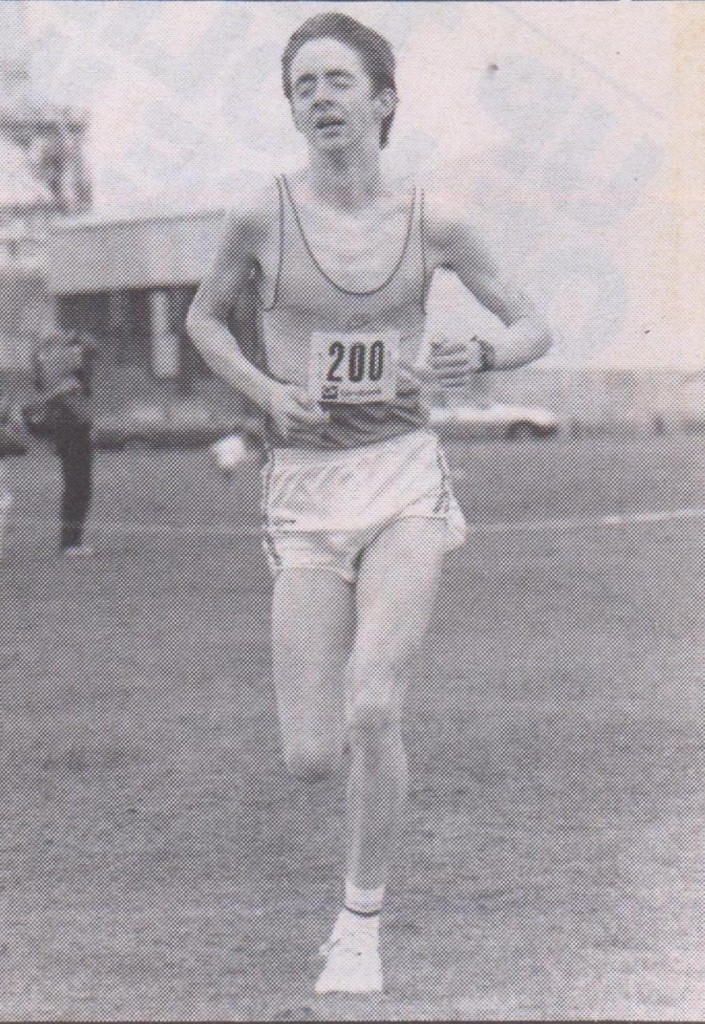 Stuart Running in the Scottish Schools Championships at Irvine
Stuart Barnett was one of Scottish athletics best ever club men, staying loyal to Victoria Park AAC for his entire athletics career from Junior Boy (Under 13) right through to veteran.    He supported all his club's endeavours and won the club championship in every age group including an amazing 16 years in a row as club champion.    For a club with the proud record of Victoria Park that is a really outstanding statistic.   I'll list some of his achievements below but we should not lose sight of the fact that he was also a very good athlete indeed – one who would have graced any club in the country.   The standard locally and nationally during his early years in the sport was very high indeed with the short-lived Clydebank AAC and Cambuslang Harriers in the West of Scotland both having very good athletes, and of course Edinburgh Southern was also a formidable force from the east.   He more than held his own in that company and it is unfortunate that his many fine runs in relays over the country are not properly recognised.   I don't doubt for a second that he received many overtures from other clubs at times – clubs that only went for the best.   And at his best Stuart was very good indeed.    He was one of the country's best runners as a boy, youth and Junior athlete who never quite replicated these performances at senior level.
For me he did himself and his talent most justice over the country where his long flowing stride with the characteristic slight forward lean ate up the miles and won him many honours.    If we look at what he did achieve, starting with his personal best times, we get :
| | | | | |
| --- | --- | --- | --- | --- |
| Distance | Time | | Distance | Time |
| 200m | 24.9 | | 3000m | 8:44 |
| 400m | 52.9 | | 5000m | 15:11 |
| 800m | 1:57 | | 10000m (road) | 31:19 |
| 1500m | 3:58 | | Half Marathon | 73:00 |
He won six Scottish vests – three for Scottish Schools and three for the Scottish Junior team (see below).   His record through the age groups in the West District and Scottish National Cross Country Championships was as follows.
| | | | | | |
| --- | --- | --- | --- | --- | --- |
| | National | | Age Group | West District | |
| Year | Place | Team Position | | Place | Team Position |
| 1984 | 19th | 1st | Junior Boy | 29th | 3rd |
| 1985 | | DNR | | 7th | 3rd |
| 1986 | 15th | 3rd | Senior Boy | 10th | Unpl |
| 1987 | 4th | 2nd | | 2nd | 1st |
| 1988 | 23rd | 3rd | Youth | DNR | 2nd |
| 1989 | 2nd | 4th | | 5th | Unpl |
| 1990 | 12th | – | Junior Man | 19th | 2nd |
| 1991 | 8th | 1st | | ? | 2nd |
When he started running for Victoria Park, they were one of the top cross-country, road running and track distance running clubs in the country with very good teams turning out in all age groups.   Unfortunately many of the individual runners left the club for various reasons – international athletes such as Frank McGowan, Grant Graham and Allan Adams all left to join other clubs and others such as Mark Wallace, Stuart Gilmour and Mel Fowler left for career reasons to join up with the police force, the armed services or were simply sent further afield by their employers.   They left too big a gap for the club to fill easily and Stuart was suddenly left almost on his own as a senior man after most of his training partners and team mates had gone.   Although he kept running at a high level, it must have an effect on his morale as well as on company on training nights.
We should maybe have a look at his early career though.   There is a separate gallery of his cuttings and photographs which can be reached from the foot of this page as well as bigger versions of the three SSAA team pictures on this page.   As a Junior Boy in 1984 and 1985,  his team mates were Graeme Wiseman, Chris Sandground, Stuart Low and Ian Storer with the trio of Barnett. Sandground and Wiseman being the usual three man team medal winners.    You can see from the table above that they had medals in the National and District in both years and there were more in County Championships and open races such as the Edinburgh Southern Harriers annual events.   As a Junior Boy Stuart won the Edinburgh Southern Harriers race in Edinburgh, was a member of the team that won the Dunbartonshire Championships, ran fourth in the West Relays where his team was second by one point, was seventh in the West District Championships, and in the first-ever six-stage relay for young athletes, Stuart was the fastest in his age group over the trail in a race which Victoria Park won.
As a senior boy, Graeme Wiseman seemed to drop out of the picture with Chris Greenhalgh and Stuart Low taking up closer order and helping win several medals at County District and National level.   Frank McGowan was only a year older than Stuart and every second year they were team mates as well as club mates.  Stuart continued to excel and among his results were the following –
Second and then first in club championships as a senior boy;
Victory in the Garscube Harriers Road Race by a distance;
Victory in the Bellahouston Harriers Cross-Country Race on a tough muddy trail;
Victory in the Inter-Area race on a heavy Cumbernauld course;
Second to Gordon Reid (Kilmarnock) at Beith;
plus the District and National cross-country championships noted above.   In is interesting in view of the comments in his replies to the questionnaire below that the local paper said this about his fourth place in the National: "In the Senior Boys race, Stuart Barnett despite recovering from his first cold this winter, did well to finish fourth."  
  It was as a senior boy that he qualified for the Scottish Schools team pictured below after finishing eighth to represent his country in the British Championships in Wales.   Everybody was pleased for him – his school bulletin noted that "Mr Webster took a team of boys to the Scottish Cross-Country Championships on 12th March.   Following on an excellent performance in this event Stuart Barnett of 2E has been selected to represent Scotland in the British Schools International  event to be held in Wales next Saturday."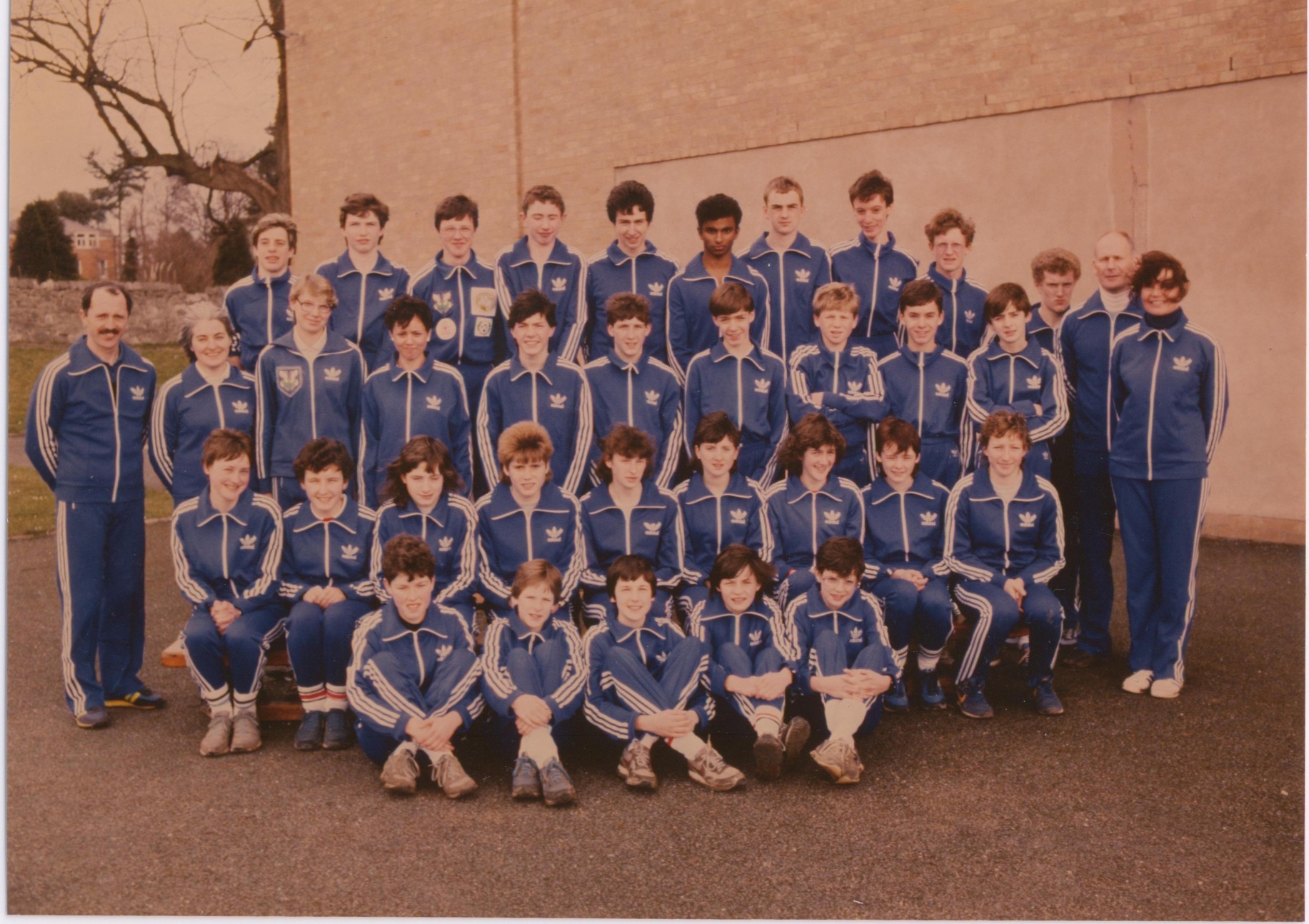 1985  Denbigh at the British Schools Cross-Country Championships,
Stuart was Under 15 and is on the right of the second back row
The Victoria Park notes in the 'Milngavie Herald' read as follows: "In the British Schools Cross-Country Championships in Denbighe, Wales, Stuart Barnett had an outstanding run to finish twelfth.   He missed being first Scot home by just a few seconds.   When one considers Stuart only qualified as eighth finisher in the Scottish Schools final, one realises how well he performed on the day."      His time for the three mile course was 16:27.
When he moved up to the Under 17 age group, Stuart's running also moved up a gear.   Between July 1987 and May 1989 he represented Scotland or Scottish Schools another five times.   His performances at club level in addition to the running in the District and National results noted in the table above included a shock victory in the Inter-Counties Championship beating Scottish Champion Gordon Reid in the process.    The story of his running at Under 17 and Under 20 has to centre on the international appearances.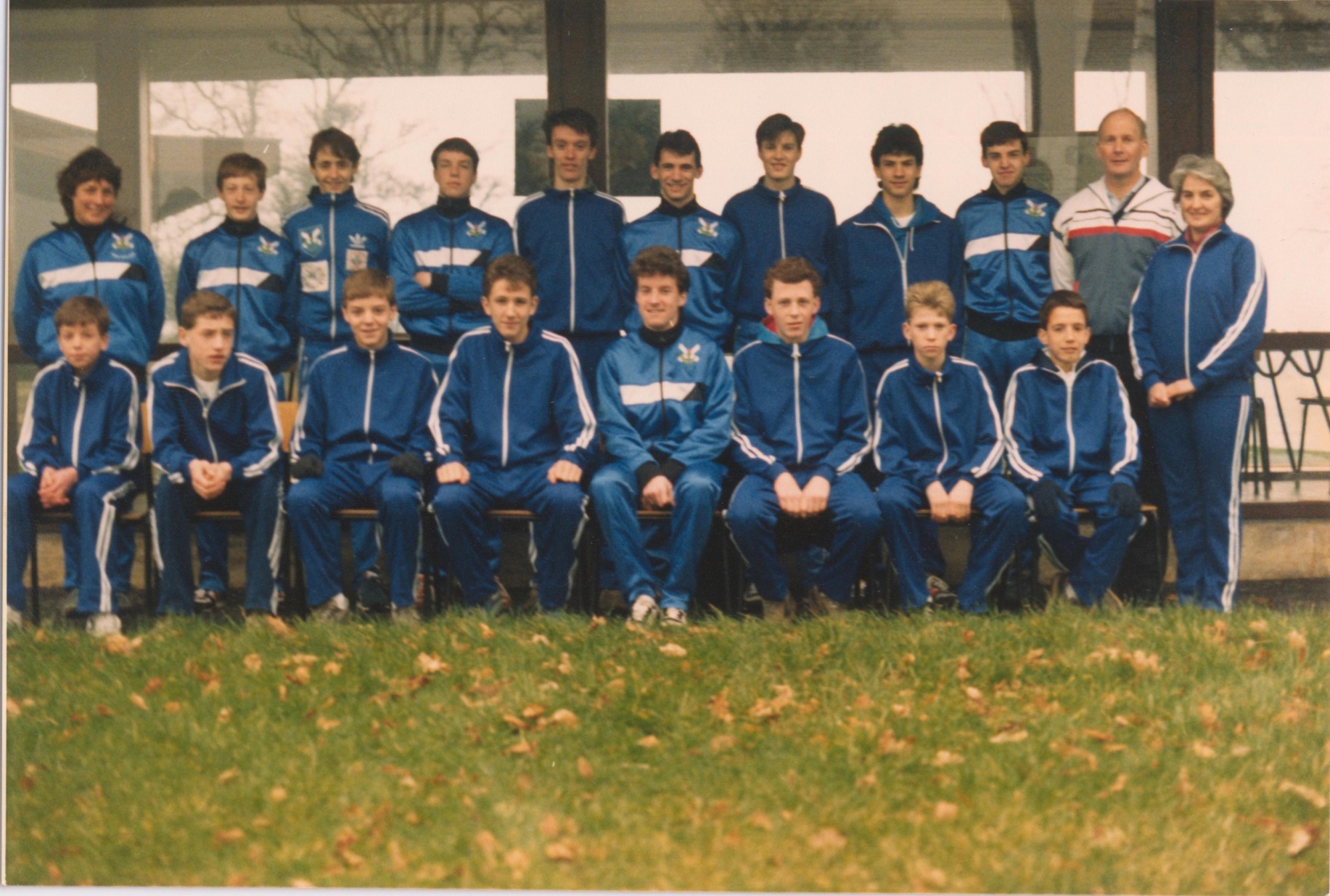 Scottish Schools Senior and Junior Boys Cross-Country teams at Boyle, County Roscommon in Ireland
Stuart was Under 17 at the time and is third from the left in the back row.  
The Senior Boys team for the international, pictured above consisted of G Stewart, S Beaton, S Jarvie, J Divers, A Thain, S Barnett, G Reid and J Brown.   Some famous names in there with District and National Champions included.    Nevertheless when it came to the crunch in Ireland on 4th July, Stuart was twenty first over all in a time of 22:45 to be second Scot to finish for the second time.    July 1987 really was a great month for him because on the eighteenth of the month he represented the Scottish Schools again – this time on the track at when he was fifth in the British Schools Championships in 9:09.    The entire squad, boys and girls, is pictured  with Stuart again hiding in the back row.
Staying on the international theme, it was less than six months before he donned the blue of Scotland again: his running as a Junior saw him selected to run in the prestigious match against Wales and Ireland in the Celtic International over a course he knew well at Irvine.   Stuart finished thirteenth this time round and it was to be a year until he ran in this international again.   Away from the representative occasions, he was second in the National Junior Cross-Country Championships and he won the Scottish Schools Under 19 Championships from two very good runners in Alan Kinghorn and Andy Russell.   This latter feat was reported in the 'Glasgow Herald' as follows:   "Stewart Barnett of Victoria Drive School who has shown consistent form in races over road and country throughout the winter, broke a domination of the boys' individual titles by the East of Scotland when he took the senior title in convincing form.   He won by 60 yards from fast-improving Alan Kinghorn of Musselburgh Grammar School who is coached by Bill Gentleman, former mentor of European 3000m gold medallist Yvonne Murray.   Result:   1.   S Barnett (Victoria Drive )   23:23;   2.   A Kinghorn (Musselburgh GS)   23:34;   3.   A Russell (Douglas Academy)   23:46."   He was by now too old to compete in the Schools International where the appropriate age groups were Under 15 and Under 17 and he was now in the Under 19 age group.   The picture at the top of the page is from this race.
Stuart's next international race was in the Celtic International again, this time on 8th January 1989 when he improved by his last performance by one place – twelfth in 21:46.   By now a Junior he was still running well enough during the summer season to be picked for the Scottish Juniors to compete against Scottish Universities and the Scottish Men's League at Grangemouth on 17th May when he raced to a personal best of 8:44.
Stuart became a Senior Man in winter 1990-91 and celebrated by winning the club senior cross-country title and so start one of the most amazing streaks of victories in any club in the land at any time – many have won their club championship five or six times, some have even made it to ten or eleven, but I can't think of another who has won their club's principal cross-country trophy sixteen times in succession.   The previous record had been five times and here is how the Milngavie Herald reported his victory: " Victoria Park running sensation Stuart Barnett is set to enter the record books after winning his fifth title in a row at the club's cross-country championships.   Over the usual tough course Stuart was an easy winner of the Senior race recording the excellent time of 30:01 and equalling the record of five titles, held jointly by Pat Maclagan and John McLaren."    
Stuart appeared in the annual rankings in various events over the 1987 to 1990 period and these are in the following table.   All were age group rankings except for the 5000m in 1990 which was the Scottish rankings.
| | | | | |
| --- | --- | --- | --- | --- |
| Year | Age Group | Event | Time | Ranking |
| 1987 | Youth | 3000m | 9:06.9 | 5th |
| 1988 | Youth | 3000m | 9:05.96 | 3rd |
| 1989 | Junior | 800m | 1:59.0 | 17th |
| | | 1500m | 4:07.5 | 17th |
| | | 3000m | 8:44.6 | 5th |
| | | 5000m | 16:23.68 | 11th |
| 1990 | Junior | 3000m | 9:14.9 | 12th |
| | | 5000m | 15:48.6 | 10th |
Stuart answered the questionnaire for us and the replies are below
Name:  Stuart Barnett
Club:   Victoria Park AAC
Date of Birth:   31st August 1971
Occupation:   Heating Engineer/College Lecturer
How Did You Get Involved in the Sport?   PE teacher at Secondary School arranged for me to go to Victoria Park AAC.
Has Any Individual or Group Had a Marked Influence on Your Attitude or Individual Performance?   Wallace Crawford and his selfless devotion to club and athlete.
What Exactly Did You Get Out of the Sport?   Unbelievable enjoyment from the people I feel privileged to have met.   The opportunity to have competed for a great club, pride of competing for your country and the opportunity to excel at something.
What Do You Consider To Have Been Your Best Ever performance Or Performances? Under 13 Glasgow Schools 1500m.    A guy with the surname Logan (Vicky Park) told me just before the start that I would be beaten by a fella from his school.    I kicked that fella's backside going down the home straight to the din of a stand full of screaming kids!   Great!
And Your Worst?    Has to be all the Nationals that I turned up with colds.  My mother would fill me up with Vitamin C but to no avail.
What Ambitions Do You Have That Were Unfulfilled?   I should have broken 15 minutes for 5000m.   You always feel you should have trained harder.
What Did You Do Away From Running To Relax:   Fishing and Cycling when I wasn't working.
What Did Running Bring You That You Would Not Have Wanted To Miss?   Everything – the people, the competitions and the fitness.
Can You Give Some Details Of Your Training?   Monday:   Track.   3000m/5000m session;         Tuesday:  Six Miles;          Wednesday:   Track.   1500m/800m  session.          Thursday:   Six Miles.        Friday:   –   ;         Saturday:   Track or reps in park:  10000m/5000m session.          Sunday:   10-12 mile run.
Stuart was an outstanding runner all the way from Junior Boy through to second year Junior Man.    Coaches always like to say the "Talent never goes away," but there are many cases of good athletes (possibly not as good as Stuart) who don't make the transition as well as they would hope.   Why does this happen?   Several things contribute I feel
Stuart continued to run well but it was a time when the standard in Scottish athletics was high.    In his case the Senior men that he was up against included Chris Robison, Tommy Murray, Bobby Quinn, and many more were operating at a very high level.   It was hard for a new Junior or Senior to slot in.
In addition, senior men are reluctant to let an eighteen or nineteen year old get the better of them and all sorts of tricks are tried by the older guys to keep up-and-coming young athletes in their place.  For instance, one Junior Internationalist in his first year against senior men in the Scottish track championships, slipped through between an Olympic medallist and the track curb in the heats of the championship making the senior look not too smart.  He came off the track in the Final the next day with legs that looked like a road map so many red scores and bloody lines had they.   It's called making a point and keeping young runners in their place.  After two years of this, not many come through, I believe that the confidence of many takes a severe dent.
Stuart was for some years the club's main man and this possibly came too early in his career.   He was not sheltered from the demands of senior competition by an older wiser head for his first couple of years as a senior, and he also had to take on responsibility at an age when he was still feeling his way in the upper echelons of the sport).
But as already said, many young seniors find the transition difficult.
Stuart himself has some comments on his senior career that are worth repeating:
"Looking back my senior years, they  were disappointing.    I struggled to make the transition from youth to junior and then junior to senior.  I trained at a good level but did not race much and often found myself using races for training. I trained hard with yourself and then Bill Parker but the race results were disappointing.    When I trained with Bill I assisted Vicky McPherson for a few years as a training partner.
I gave up on both National and West District track after failing to make the 1500m final on a couple of occasions (it was not my distance but I enjoyed doing 800m and 1500m).   I enjoyed the men's league and captained Victoria Park to a few league wins.   It was the norm for me to do the 800m,  1500m,  5000m,  4 x 400m  and field events in the one match.   I enjoyed getting the points and leading by example. I also ran at the Scottish and North West track meets.
I remember running in the Helensburgh 10K in the early 1990's where I set my PB.    I finished 12th and had a real feeling that I would never get to the front of a competitive race, something I had been used to.
On reflection I have no regrets and I achieved everything I could, I enjoyed the training more than the racing. When I joined your group it was fantastic, the strength in depth was amazing and long rep sessions became very manageable/enjoyable, sometimes the group was that big you only had to take one rep."
Stuart turned out in the Senior Championships, District Championships, County Championships, National Relays, District Relays, County Relays, Edinburgh to Glasgow Relay, Scottish Six-Stage Relays regularly, and in the representative inter-district match at Cumbernauld or inter-counties quite often!    There are of course other important events to add to the championships: events such as the McAndrew Relay (promoted by Victoria Park, so a 'must run'), Glasgow University Road Race and Nigel Barge Road Race.    The results of all the National and District cross-country championships plus road relays and E-G are on the official Scottish Athletics Road and Cross-Country website at www.salcrosscountryandroadrunningmedalists.co.uk and Stuart's performances in all age groups are there for all to see.