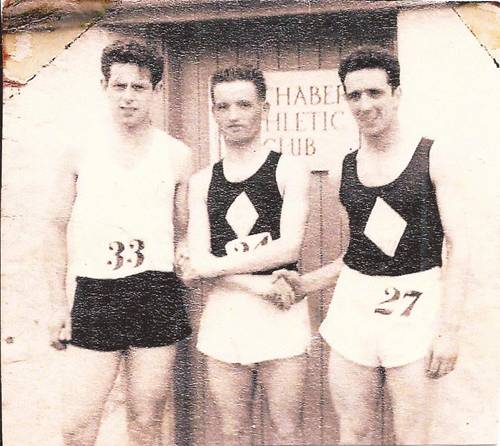 Ian Harris (2nd), Eddie Sinclair (1st) and Tom O'Reilly (3rd) after the Spean Bridge to Fort William
I arrived at the Scottish Under 20 Championships at Meadowbank in the mid-80's and was greeted by Andy Currie (Alistair's father) who pointed at a runner on the podium, then at Eddie Sinclair of Springburn saying, "That's his 50th Scottish Champion!" Eddie had himself been a very good athlete throughout the 1950s and into the 1960's. He was not alone in Springburn at the time with the various teams performing well in all age groups and several; International vests coming their way. He is pictured above with his good friend, rival and club mate Tom O'Reilly. We can't really comment on the one without giving equal treatment to the other. Tom had been a runner for Springburn from 1952 when as a Junior runner he was forty ninth in the National and he would go on representing the club in major competitions right up until 1977 while Eddie was younger, not appearing in results sheets until 1954 when as a Youth he finished fourth in the National Cross-Country Championships at Hamilton where his team finished second. Eddie's racing career was much shorter because he turned professional in 1962, ruling himself out of all competition that mattered. He returned with a vengeance after only a few years in the new capacity of coach and right well he filled the vacancy. Their talents were similar – Tom's best for the Mile was 4:23.8 (1959), Eddie's was 4:23.6 (1960), Tom specialised in the Steeplechase and won a national title with a pb of 9:12.2, Eddie specialised in the Three Miles and won a National title with 14:05.0. Both represented their country and both won races the length and breadth of the land – the photograph shows how far they would travel in the days when most travel to races was by public transport. In terms of serving the club as an athlete though, Tom was clearly the man. In the prestigious Edinburgh to Glasgow Relay Tom ran in 20 over a period stretching from 1952 (experiencing stages 1, 2, 3, 4, 5, 6, 7 and 8, ie every single one!) but Eddie only ran in five altogether. Tom had many very good races in the event but his best might well be one of his last: in 1969 he ran on the last stage and pulled in only one place but his time was the second fastest of the day for that stage. A very good track runner, he won no fewer than four SAAA championship medals: he won the title in 1959 and picked up bronze in each of 1960, '61 and '63. It is a source if debate in Scotland about who was the first ti specialise in the 'chase but Tom must have as good a claim as any. There were not many such events around in the 50's or even the 60's other than the championships: very little if any real league competition and certainly no open steeplechases that I can recall but he raced it every chance he got and set the first recorded Scottish Native record of 9:12.2 on 25th June 1960 at Meadowbank – it stood for five years until Lachie Stewart broke it on 12th August 1965.
Tom was one of the most popular and friendly men in the sport and loved the Scottish highlands: he went north as often as was practical gathering sprigs of heather wherever he went for his own heather garden at home. He was also a very good singer who sang Gaelic songs at gatherings or on buses returning from meetings. He went on to have a notable career as a veteran athlete travelling again in search of competition. For instance, as an M70 vet in 2004 he won the Coatbridge 5K in 22:27, the Christmas Handicap 5 Miles in 35:44, the Scottish Veterans Walter Ross 10K at Lochinch in 45:04, the Scottish Veterans Glasgow 800 10K in 48:23 and the Alistair McInnes Memorial 5 Miles in 35:31. The sport would be even happier than it is were there more men like the talented TP O'Reilly who has just (September 2012) just turned 80!
Eddie'e career as an amateur athlete was short lived. After coming the ranks as a Youth and a Junior, his senior career lasted just three years – but it was meteoric. On the track he had best times of 9:06 for Two miles, 14:05 for Three Miles and 9:27 for the 3000m steeplechase. He won the SAAA Three Miles in 1960 and in the same year he was sixth in the National and was selected for the Scottish team for the International Championship. As a Youth he had been fourth and sixteenth in the National and as a Junior in 1957 he was eighteenth. As a Senior it was 6th/36th/15th. In the Edinburgh to Glasgow, his first run was in 1957 when he was on Stage Seven and moved the club from eight to fifth with second quickest time of the day. We know he ran the same stage the following year but no details are available about his performance. In 1959 he was sixth on Stage One and in 1960 – his own personal annus mirabilis – he took over in fifth place on Stage Two after Tom O'Reilly had run well on One, and moved through to second with the third fastest time of the day. His last run in the E-G was in 1961, again on Stage Two when he took over on Stage Two in eighteenth and held that position – by the time Tom came to run on the last stage the club had climbed to fourteenth and that was where he kept it. He ran as a pro after that for a while but crept back into amateur athletics soon after. I recall running in an inter-club fixture at Mountblow Recreation Ground in Clydebank at this time and lining up for the Three Miles, I thought I would win it. Going to the front at the start we came alongside the railway line at the start of the home straight when I realised there was somebody on my shoulder. I plugged on and he stayed there, I picked up the pace and he stayed there; I moved out and slowed and he stayed there – at the start of the last lap, this wee figure in a yellow vest moved out, passed me moved off and then turned off the track and disappeared into the tunnel under the railway line! It was Eddie, and I think we lapped every other runner in the race.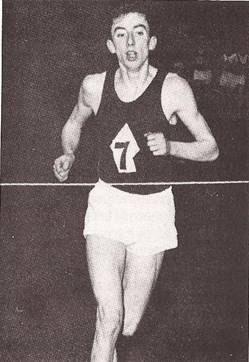 Photo from "Whatever the Weather"
Unfortunately turning professional ended his athletics career as a runner. He created a new role for himself in Scottish athletics by starting to coach the young endurance runners at his club. That he was very effective, is a bit of an understatement. What did his guys have that the others didn't? You have to understand age group athletics in Scotland at the time. If we take the Under 17 age-group, the runners started fast, had a wee sleep in the third quarter of the race, and then had a brisk finish. Eddie's guys did not have the 'wee sleep'. They started fast and continued fast until the finish. He had many very good runners – Graham Williamson maybe being the very best with Adrian Callan not far behind. But one of the first groups he had was really outstanding. In the early/mid 60's he had a quartet of Eddie Knox. Duncan Middleton, Harry Gorman and Ian Young which made his reputation. Knox won the International Cross-Country Championship, Middleton was one of the best 880 yards runners in the United Kingdom, Gorman was a very good middle distance runner who was unfortunate not to get a SAAA title and after leaving school, Ian Young was a member of the really great Edinburgh University team.
In 1964, the 'Athletics Weekly when reviewing the National Cross Country Championships said, "The Youths event was, as expected, a fight between the Springburn runners E Knox and AD Middleton, with Knox the winner by almost 40 yards thus reversing the Midland District result when Middleton won and Knox was only third." The following year Middleton moved up to the Junior ranks and finished twenty fifth to be the second Springburn runner but "Eddie Knox of Springburn simply ran away with the Youths event to record his second successive victory in this race." Behind him were Colin Martin (3), M McMahon (7), A Johnston (12), and R Heron (15). His reward was selection for the international junior cross-country championship where he finished fifth to be first Scot across the line. In 1966 a new name appeared in the frame: Springburn was second to Victoria Park and their counting runners were Eddie Knox (second), Harry Gorman (ninth), Duncan Middleton (thirteenth) and Davie Tees (eighteenth). Davie was a very good runner but his career was not a long one but he ran well in many events, mainly cross-country for Springburn. Again Eddie made the team for the international and he went two better to be third and lead the team home. "Eddie Knox showed his ability in the Junior race when finishing third, just five seconds behind the silver medal position, with the Scots team continuing their good record when finishing third of eight countries behind England and Belgium," said Colin Shields in his centenary history of the SCCU. In the Junior Championship in 1967, Eddie Knox won and Harry Gorman was sixth with no other club runner in the first thirty and the team well out of the placings. AW described the race briefly as follows: The Junior event was a keen duel between Eddie Knox and Alistair Blamire with Knox just getting home by about 4 yards." Eddie made the team for the international for the third consecutive year and not only led the squad home but won the race. Result
| | | | |
| --- | --- | --- | --- |
| Place | Name | Country | Time |
| 1. | Eddie Knox | Scotland | 24:42 |
| 2. | Eddie van Butsele | Bel | 24:44 |
| 3. | Brooks Mileson | Eng | 24:49 |
| 4. | Colin Moxsom | Eng | 24:59 |
| 5. | Frank Briscoe | Eng | 25:06 |
| 6. | Yvo van Nuffelen | Bel | 25:13 |
| 7. | John Rix | Eng | 25:20 |
| 8. | Tony Simmons | Wal | 25:25 |
| 9. | Francisco Collado | Spain | 25:36 |
| 10. | Ken Bartlett | Eng | 25:47 |
| 11. | Ron McAndrew | Wal | 25:53 |
| 12. | Ewald Keust | Sui | 26:12 |
| 13. | Norman Morrison | Scotland | 26:17 |
That was quite a list of top men to defeat: Brooks Mileson was a contemporary of both Seb Coe and Steve Ovett and won the bronze medal in the English Junior championship, Moxsom was an established English international for man years and a sub:2.20 marathon man, Tony Simmons ran in both Commonwealth Games and Olympic Games as well as setting a world record for the half-marathon, and Ron McAndrew was a top ranked steeplechaser.
No mention of Middleton either in the National of 1967 or 1968 but he may well have been prioritising indoor events. Eddie was second the following year to John Myatt losing by just 60 yards. The second Springburn runner that year was George Jarvie in sixth with Alan Beaney twelfth and Alan Picken twenty seventh for second team. . One of the interesting things that year was the victory in the Youths event of Ian Picken of Springburn – the next generation was coming off the production line – the Beaney brothers, the Picken brothers and the Lunn brothers were to be key players for the club for several years to come. George Jarvie was another very good runner – not unlike Knox in appearance he won many, many races as a young athlete but his career just seemed to stop at about University time.
In 1969, Eddie was up to Senior Man level and his first run in the event resulted in sixteenth place. Alan Beaney was in second place in the Junior race behind Norman Morrison. Middleton seems to have given up cross-country running by this point and we will probably see why when we turn to track running. In the 1970 National Harry Gorman was back in the picture – Eddie was twentieth in the race with Harry twenty third. By now Mike Bradley had left Paisley Harriers and joined Springburn and his ninth place helped Springburn to sixth team with Tom O'Reilly in 100th as their last counter. In '71 Eddie Knox was twenty sixth (Bradley was sixteenth), Harry Gorman was fifty third, the team was fifth. Eddie Knox revealed some of his real ability in 1972 when he finished tenth and in front of Colin Martin, Tommy Patterson, Donald Ritchie, Sam Downie and Norman Morrison.
The other big ranking event over the winter was the Edinburgh to Glasgow eight man relay with only the top twenty clubs in Scotland invited to compete. The standard was high. and their club were regulars in the event. The first of the four to run in the event was Ian Young who turned out in 1963 race on the fourth stage where he held fourteenth place in the team that finished twelfth. He moved on to Edinburgh University where he became part of their legendary endurance running team and turned out in four relays – all with distinction. In 1964 his team was second and he had fastest time on the last stage; in 1966 he ran on the fifth stage when the team won and he was second fastest by only one second – 26:23 to Alastair Johnston's 26:22; in 1967, again on the fifth he was again second fastest and again by one second – his 28:04 being one second slower than Taylor of Aberdeen and in 1968 he again ran the fifth leg and had the fastest time of the day with Edinburgh University finishing seventh. None of them were in the next race but Knox and Middleton were in the 1965 race (team position ninth) with Eddie Knox moving the club through from thirteenth to sixth on the second stage with second fastest time of the day. Middleton ran on the exposed fifth stage where he picked up one place from ninth to eighth with the fifth fastest time of the day. Before they were finished, Harry Gorman and Eddie Knox would run in eleven races each and Middleton would run in two. His second was in 1966when he ran eighth on the first stage, Gorman held seventh on the third and Knox would move from tenth to ninth on the fifth stage. Knox would run on the second, fourth, sixth and seventh legs while Gorman would do the second, third, fourth, fifth and eighth. The team's best performance was to be a very creditable fourth in 1971 and the ironic thing is that in the two years when Springburn Harriers won the medals for the most meritorious performance, in 1980 and 1985, neither Knox nor Gorman were in the team. virtually ever presents as a double act, from 1966 to 1976, there were gaps in their appearances with Harry coming back in the '80's to run in 1981, '82, '83 and '86, while Eddie returned to duty in 1979. Very seldom did either drop a place and foften enough they picked up bodies for their club on the various stages covered.
If we come back to the track scenario, the highest achiever had to be Duncan Middleton. Duncan (4/07/1946) first appeared in the senior ranking lists in 1966 when he was fifth in the 880 yards behind the big four of Grant, Douglas, McLean and Hodelet with a season's best of 1:51.3. He was also ranked in the Mile with 4:18.0 which placed him twenty fifth. In 1967 he was in the 440 yards (49.9 for eighth), 880 yards (1:1:48.6 for first) and Mile (4:12.7 for eighteenth). But the big events for him that year were victory in the SAAA 880 yards outdoor, and in the AAA's indoor 880 yards. Simon Pearson, writing in 'Scottish Athletics, 1968' said This was again an outstanding event in 1967 in Scottish athletics, and the national title race proved particularly exciting with a high standard of performance. Duncan Middleton, the 1967 AAA's Indoor winner and record-holder, showed fine judgment and pace to hold off the strongly fancied Mike McLean and establish a new Championship best of 1:50.2. The stylish and intelligent Springburn runner had a successful season and excelled himself later in the AAA final in returning his best time of 1:48.6 for fifth place in a strong field." The first British title for any of the squad and probably for Eddie Sinclair as well. In 1968 he was third in the same event – gold and bronze at GB level is not too bad! 1968 was a difficult year for him and his best time for the 880 yards was 1:52.2 which placed him fourth in the rankings. The following season Duncan won the Inter-Counties 880 yards in 1:54.9 from Colin Martin and Ian Hathorn but it was not as good as the year before. John Keddie says of him in the official Centenary history of the SAAA , "Duncan Middleton was very different in build to Graeme Grant. The latter was powerfully built (5'11.5″/178 lbs) whereas Middleton was more slightly built, and even fragile looking, by comparison. He was nevertheless a fine half-miler whose running career was all too brief as he had only one outstanding season – 1967. As a junior he had shown moderate ability, but in 1966 had run a 1:51.3 half-mile. No one then would have predicted his 1967 success. Early in the year he had brilliantly won the AAA Indoor title (1:51.5) and on 9th February set an indoor record of 1:50.8. The summer season saw him confirm this outstanding form, firstly by taking the SAAA title from the strongly fancied Mike McLean with the new National record time of 1:50.2, then on 15th July at the White City he had a brilliant run in the AAA 880, gaining fifth place in a time of 1:48.6. Only two Britons finished ahead of him: John Boulter who won in 1:47.2 and Mike Varah, fourth in 1:48.2. Middleton competed again in 1968 but was a shadow of what he had been in 1967 and he never again was to regain such form." The National title was won by Mike McLean in 1:51.6 from Dick Hodelet and Craig Douglas and Pearson said: £There was not nearly as much excitement in this event as in the previous season, and Duncan Middleton's decline and eclipse in major races was a disappointment." He was not to appear in the ranking lists again and it is known that he emigrated to Australia but it is not clear when. However John MacKay sent the following interview with Duncan – just click on it for the full size version. It first appeared in AW.
Eddie Knox (9/5/47) had a fairly long career on the track being ranked every year from 1964 to 1972. These are in the table below (and note his age at the time of performance):
| | | | | | | | | |
| --- | --- | --- | --- | --- | --- | --- | --- | --- |
| Year | Distance | Time | Ranking | | Year | Distance | Time | Ranking |
| 1964 | 1 Mile | 4:19.7 | 20 | | 1967 | 3 Miles | 13:54.0 | 8 |
| | 2 Miles | 8:58.6 | 5 | | 1968 | 1 Mile | 4:16.8 | 19 |
| | 3 Miles | 14:30.6 | 16 | | | 2 Miles | 9:09.4 | 19 |
| 1965 | 2 Miles | 9:03.0 | 12 | | 1969 | 3000m | 8:37.6y | 18 |
| | 3 Miles | 13:57.4 | 7 | | | 5000m | 14:37.6 | 21 |
| 1966 | 1 Mile | 4:18.4 | 26 | | 1970 | 5000m | 14:38.6 | 18 |
| | 2 Miles | 9:08.0 | 13 | | 1972 | 3000m | 8:38.0 | 22 |
| | 3 Miles | 13:48.4 | 8 | | | 5000m | 14:41.0 | 22 |
| 1967 | 1 Miles | 4:15.1 | 25 | | | 10000m | 30:52.6 | 14 |
| | 2 Miles | 9:17.2 | 28 | | – | – | – | – |
As an Under-17, Eddie had won the SAAA Youth mile in 4:19.7 in 1964 and the junior Mile n 1966 in 4:18.4. His 13:48.4 for the Three Miles at Meadowbank in June was noted as a British Junior Record. This record was removed by Ian Stewart the following year 13:39.8 but it was nevertheless a fairly successful season for Eddie Knox – first in the West District Championship ahead of Alex Brown and Pat Maclagan in 13:54.0 and third in the SAAA in 14:14.0 behind Lachie Stewart and Ian Young In 1969 he appeared in several ranking lists including the One Mile (4:16.8 for twenty first) and Two Miles (9:09.4 for nineteenth) in addition to those above. In 1969 he was second in the West District 1500m in 4:02.4 and his 500m time above was recorded when running third at Peffermill in Edinburgh.
Harry Gorman (8/12/46) was the least heralded of the four whose mini-profiles are here but he was a very good athlete who was may unlucky not to win more in terms of individual honours. He competed well on all surfaces – road, track and country – and went on to be a key figure in Springburn Harriers. He also appears in the Scottish rankings for many years over the period in question with best times of 3:53.1 for 1500m, 4:16.7 for 1 Mile, 8:33, 8:28.2 for 3000m, 9:02.4 for Two Miles, 14:46.6 for 5000m and 13:54.2 for 3 Miles. He turned out in all the Two Mile team races at the various sports meetings and highland games around the country, in inter-club fixtures of which there were many, championships and open meetings of all sorts. In 1971 he won the West District 1500m in 4:01.2.
Ian Young is perhaps better known for his running in the green of Edinburgh University than the dark blue of Springburn but he was always referred to in the annual Scottish Athletics Yearbooks as Ian Young (Springburn/EU). When I moved to Lenzie in 1966, the club pack used to meet on a Sunday at Ian's father's Foundry in Kirkimtilloch's East Side for the long run. He had a good pedigree with the Harriers. In 1961 Duncan Middleton was the first Springburn runner home in the Boys National when he finished in sixth with Ian not far away in eleventh. In 1962, Ian was twelfth in the Youths race and in 1964 he was seventh in the Junior race to be the second club runner behind Ian McIntosh in eighth. Ian had best times on the track of 9:20.0 for the Two Miles and 14:01.6 for Three Miles and his sole trophy as a senior was second in the SAAA Three Miles in 1967. It was unfortunate for Springburn that he did his best running for the University and then after University he stopped altogether to concentrate on his business interests in Kirkintilloch where he became a well known and respected businessman.
Colin Youngson has done a profile of Colin Falconer who ran with the Springburn team in the early 70's although he had not come through the Eddie Sinclair squad as the others had done. He writes:
"Colin Falconer was a talented young runner who enjoyed a brief but successful career. His main club was Springburn Harriers but he also competed for Coventry Godiva Harriers. In 1969 he finished fifth in the Scottish National Youths Cross-Country and then that summer as a Junior he topped the Scottish rankings in the 5000m and the yearbook commented "His performance in this event compared well with many seniors and he showed ample courage and aggression in his track appearances."
However his main strength did seem to be cross-country. In 1970 he achieved a rare feat for a Scot – victory in the English National Youths (Under 17) Cross-Country Championship at Blackpool. Previously he had won the Scottish Midland Junior and the Scottish National Junior (Under 20) titles. Colin finished the winter season in real style with an outstanding fifth place (and first Scot) in the ICCU Junior Championships in Vichy, France. The Scottish Junior team was fourth, only three points behind the bronze medallists, Italy.
Then, having moved south to Coventry, he improved his track bests in 1970 to 8:35.8 (3000m) and 14:44.4 (5000m) which were both leading times in the Scottish Junior ranking lists. Perhaps injury prevented further improvement in 1971, although Colin ran Stage One of the E-G when Springburn finished a thoroughly respectable fourth. There are no statistics for him in 1972 but Colin Falconer returned with a bang in 1973 by securing fifth place in the Scottish Senior National after a close battle for the bronze medal with Lachie Stewart and Norman Morrison. The race report comments approvingly about this valiant display by the 'diminutive' Falconer. Colin was part of the Scottish Senior team in the inaugural IAAF World Cross-Country Championships which took place on Waregem Racecourse, outside Ghent, Belgium. He finished 115th. Colin went on to run well for Coventry Godiva in the AAA 12 stage road relay at Derby and his English club obtained bronze medals. Then he reduced his track times to 8:23 (3000m) and 14:31.6 (5000m), following that by recording the fastest time on Stage Two of the 1973 E-G when Springburn ended up seventh.
In 1974, having finished sixth in the Scottish National, in the World Cross-Country in Monza, Italy, Colin improved considerably on his previous performance to forty seventh (fourth Scottish counter behind Jim Brown fourth, Ronnie MacDonald thirty first and Andy McKean forty sixth.) The Scottish team finished a respectable seventh out of fifteen competing nations. Colin ran Stage Two again in the 1974 E-G when Springburn were fifth. He could only manage thirty first in the 1975 National and seems to have retired after that. However he could certainly look back on some very good racing achievements."
In his book, "Whatever the Weather", the official history of teh SCCU, Colin Shields reports after the National Championships of 1974: "Edinburgh AC won the Senior team title from Edinburgh Southern and Aberdeen. … However the other four championship team titles were won by Springburn Harriers in an unprecedented display of team strength to confirm the display whn they 'swept the board' in the Midland District Championship. The coaching, encouragement and attention of Jack Crawford and Eddie Sinclair, together with the close liaison between Springburn Harriers and local schools such as Lenzie Academy finally paid off the well-deserved dividends. Stewart Gillespie six led the Junior team to victory over Glasgow University, Graham Crawford, four, was the first home for the Youths team which beat Shettleston; Ian Murray took the Senior Boys individual title eith Springburn defeating Edinburgh AC and Graham Williamson, three, just two seconds behind Jim Egan (Larkhall YMCA) led his team to victory over Victoria Park AAC."