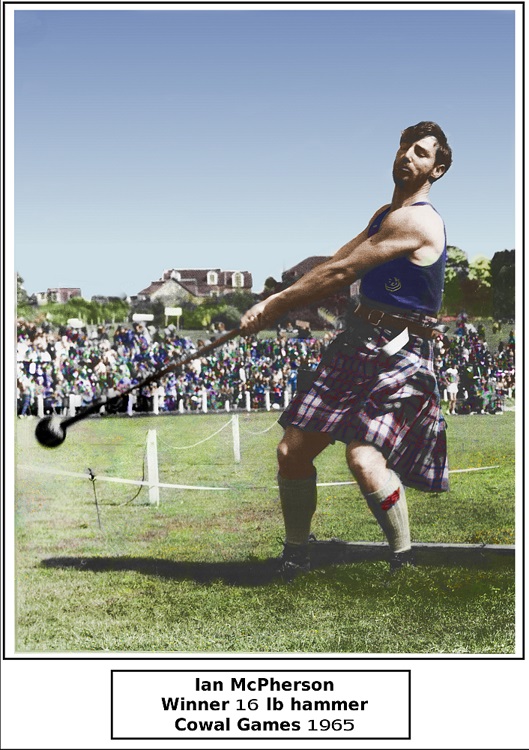 The story of how Sandy came under the wing of Alex Dalrymple is told already in this profile but it should be noted that Alex had a squad of good athletes already. One of the best of those was Ian McPherson, four years older than Sandy, who went on to become Scottish Senior Shot Putt Champion two years in succession. Ian has given this outline of Alex and his influence on the Golspie community.
"I travelled by bus every (secondary) school day the 18 miles from Lairg to Golspie – a school with about 200 pupils including primary. When I first arrived the gym teacher clearly was not interested in athletics – every gym session involved picking teams and playing football, at which I was pretty crap. Not surprisingly, at the Sutherland schools annual athletics championships we regularly got tanked by Dornoch, the only other secondary school in the county. Approximately 3 years later we got a new PE man, a tough cookie called Alex Dalrymple, who soon upbraided us for this annual disgrace/embarrassment/humbling, and then set to with proper PE sessions and lots of training in all branches of athletics, including, of course, events we had never even seen, e.g. shot putt, discus, pole vault, hurdles etc and even involving staying behind and training after school hours!
Mr Dalrymple's approach soon showed dividends – after a couple of years we started tanking Dornoch, winning events at the North of Scotland Schools Athletics Championships in Inverness (where the opposition was quite stiff, since it included the Inverness schools, Gordonstoun etc). The first really big success was a gold medal in the 12 lb shot putt at the Scottish Schools Championship won by one Forbes Munro – a naturally talented and muscular athlete. Forbes later won the 16 lb event at the Scottish University Championships but did not maintain his interest. Maybe 2 years later I became obsessed with the shot and discus, taking the implements home and making considerable progress over the summer hols. After a memorable Dalrymple car-trip to the Scottish Schools Championship at George Heriots School in Edinburgh, I was well below my best but managed to win the shot and discus, even beating the massively muscled R Ross from Boroughmuir, the previous years shot winner. The exact dates are a bit vague for me now, but I think that Sandy won the shot and discus at all three age groups over the next few years, then proceeded to come second in the shot at the AAA junior champs, but also featuring in the Scottish Seniors. I believe Alex D saw an opportunity and successfully exploited an underdeveloped area, working out how to do it all by himself. He later left teaching and became, surprisingly, the Warden at Glenmore Lodge, the outdoor centre near Aviemore, where he later became ill and passed away. A trophy in his name is presented to the outstanding athlete at the Scottish Schools event every year.
Ian goes on to say
"On further reflection, I guess Alex D had quite an effect on the lives of me and Sandy, transforming me from a bit of a swot (as I was called!) who sat about on the radiators while all else played football in the breaks, into the top Scottish shot putter over a period of some years. Likewise, I presume Sandy would not have become a sports reporter without his athletics background.
I regret that I have no photos of Alex, tho I do remember that the last time I was at Glenmore Lodge (when I was a hill- walker) they had photos of all previous wardens up on one of the walls. Incidentally I hear from my friend big Doug Edmunds that Sandy has acquired a house in his home town of Golspie. You may be interested to know that former members of staff at Golspie included David Whyte (Head) , former British long jump champion and rugby internationalist, and Norrie Brown (PE) former Scottish pole-vault champ and very successful athletics coach. In honour of his son, who sadly died young, Norrie had a brass plate mounted in the new school building, with the names of all Golspie pupils who had won golds at the Scottish Schools. Next time I pass through I must look in and see if it is still there!"