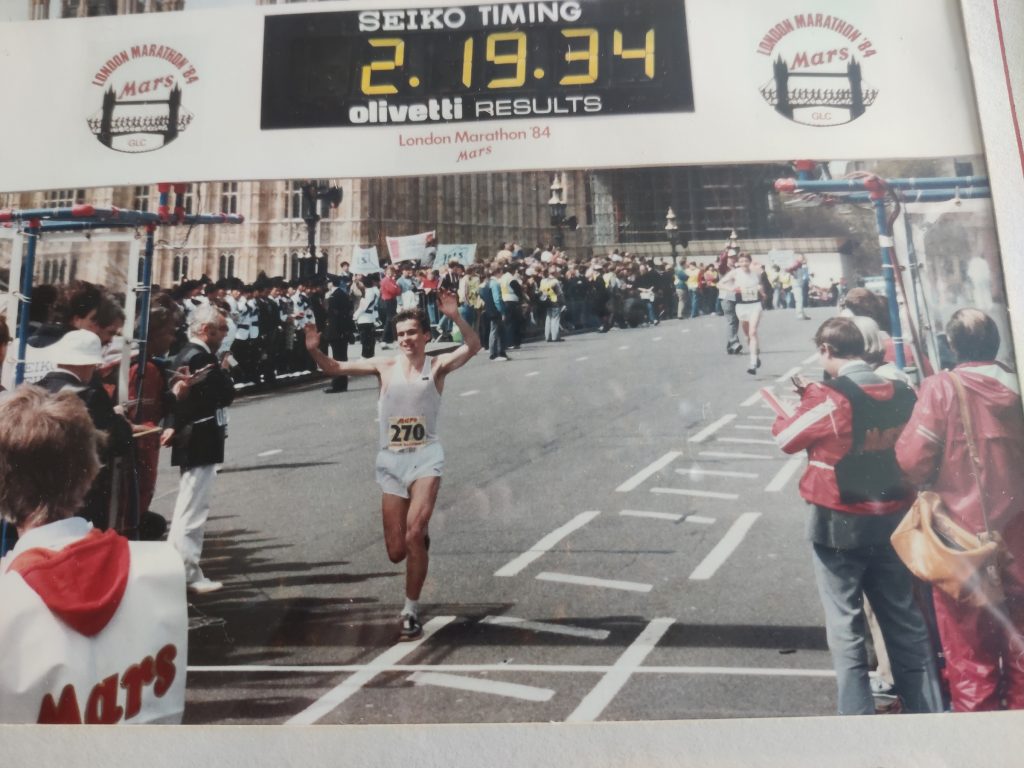 Before we start, thanks go to Graham Getty , pictured above, who looked out all the results from his personal collection of Athletics Weekly magazines for the period. All of the AW cuttings are from the same source and we have often reproduced the whole page because there are other results that will undoubtedly provoke your interest. eg All county cross-country championships are on the same day and a comparison can be made. This is not always the case with newspaper reports where some are judged to be more newsworthy than others so that, on a day of four county championships, one is reported in detail, two might be results only and the other left out because of lack of space. AW treats all results as equal. Thanks Graham.
Just looking at this one page of results, below, we can see how busy the racing scene was in 1980, and one of the consequences was the abbreviated coverage of the Renfrewshire Road Championships (8 lines including headline) – and note that there were some non-Renfrewshire guests running, Peter McGregor (VPAAC) and Dave Cooney (Cambuslang). This had not been usual for most counties – races tended to be confined or completely open with no guests allowed in the confined events.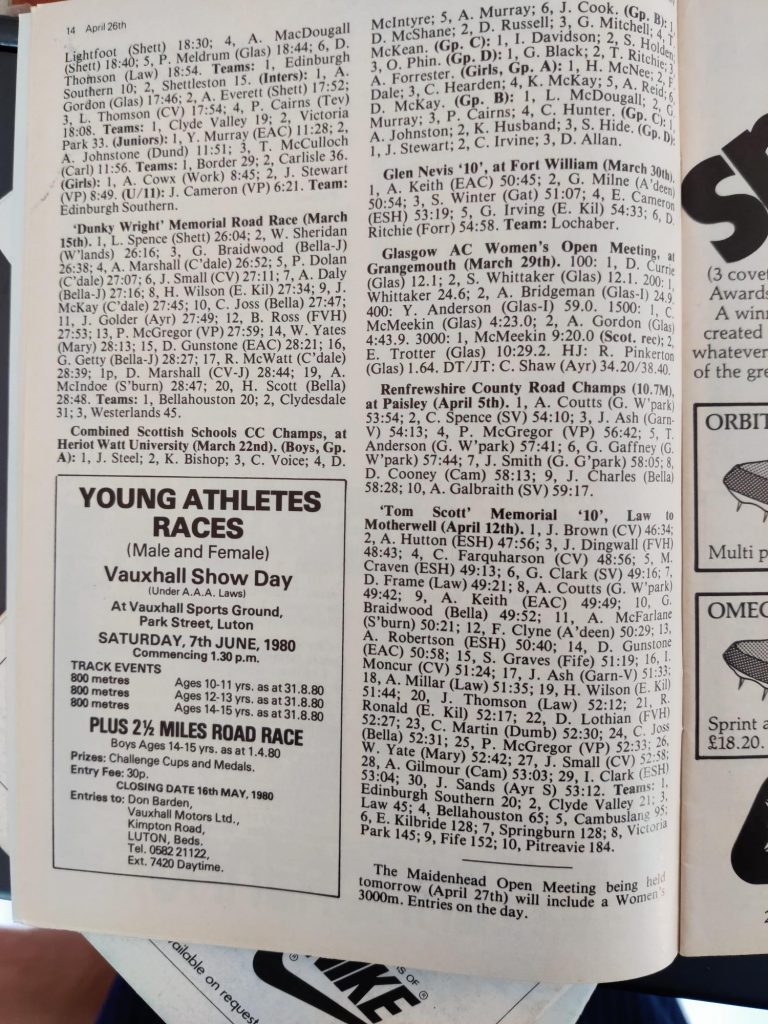 The relay in October, 1980, was covered a bit better – see the two pages below – along with those of Lanarkshire and Dunbartonshire. The result in Renfrewshire was a win for Bellahouston Harriers with fastest time also by a club member, George Braidwood, by 11 seconds from Cammie Spence.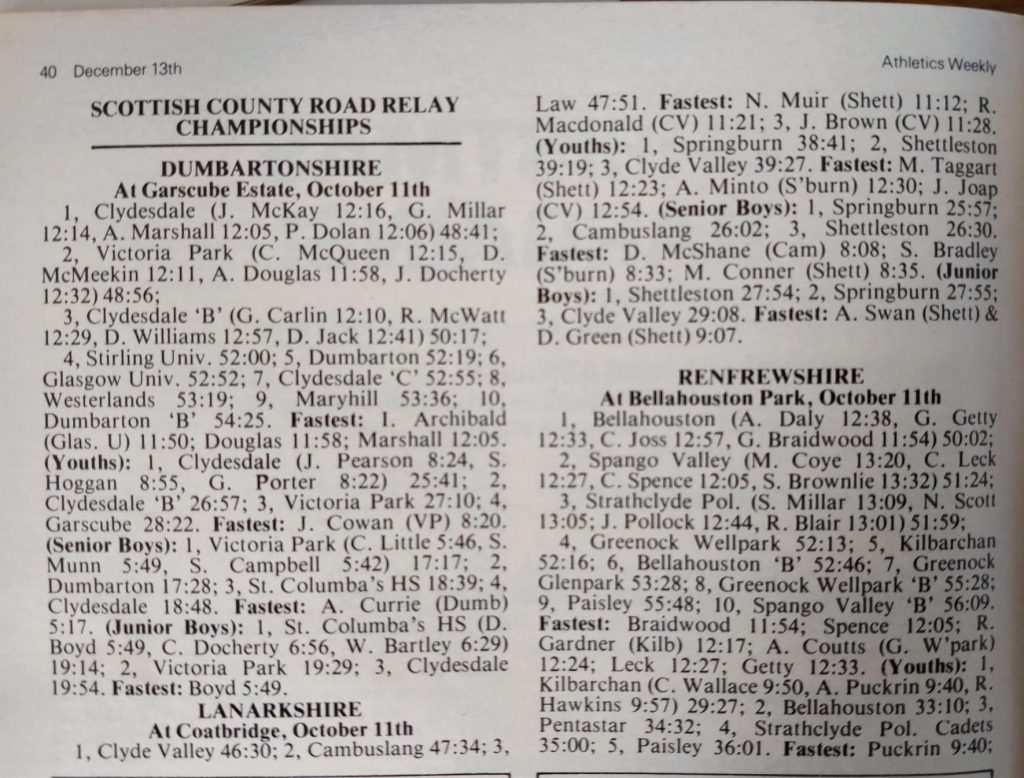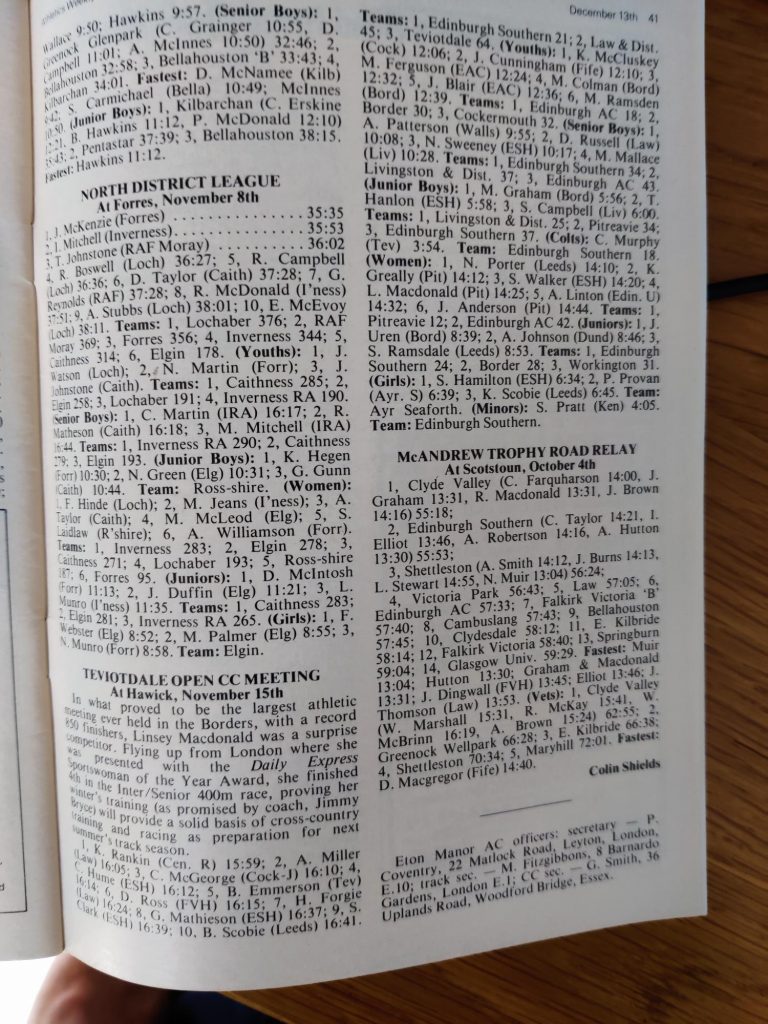 Three more County Championships – DAAA, LAAA as well as RAAA – which were all held in December, 1980, are shown below. The fact that three, four if you count Ayrshire which is not on this page, held their championships on the same date, organised independently, indicates that there was a genuine need and place for them in the calendar. Note the number of clubs mentioned in there: Greenock Wellpark, Greenock Glenpark, Spango Valley, Bellahouston, Kilbarchan, Strathclyde Police, Pentastar, Paisley, Strathclyde Police Cadets. The days when one club could dominate for several years and then be replaced by another for several more years have gone with every race being hard fought.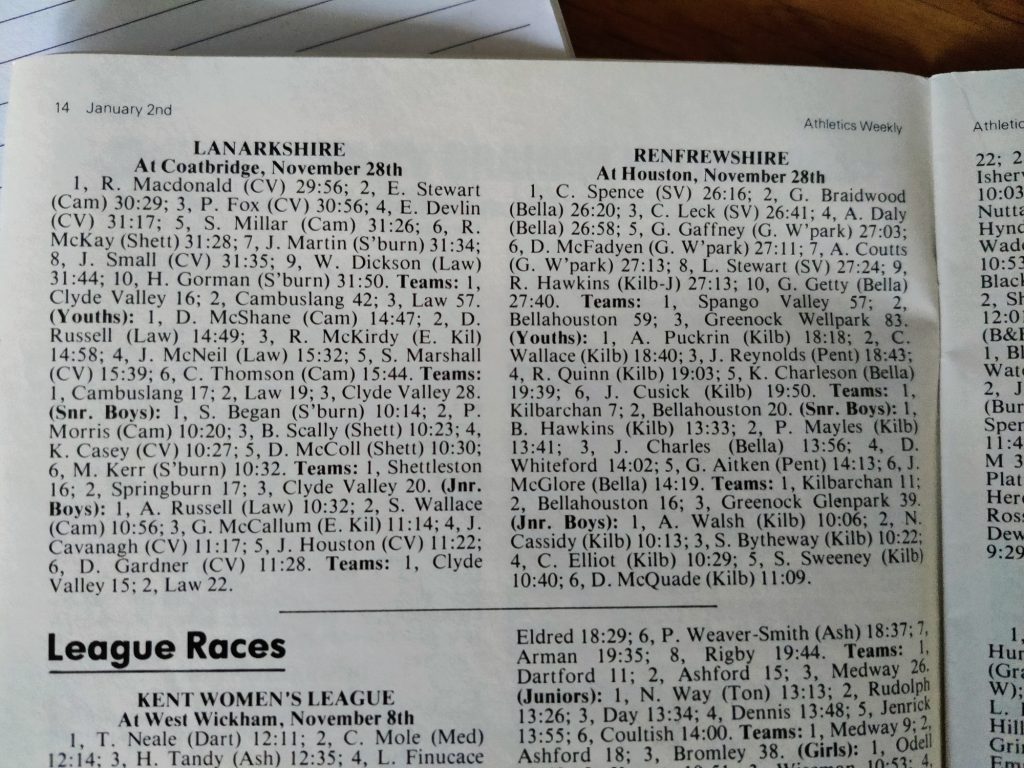 1981
The County Relays took place on the second Saturday in October but the race was not reported on – Lanarkshire, Dunbartonshire and Ayrshire results all appeared in the dailies that usually covered the event but either someone had failed to get the results in or the paper sports editor did not have space for them. The individual and club championships went on in December and the A.W. report is below.
The 1981 championships indicated that the Bellahouston young team (Braidwood, Daly, Getty) was starting to get results and it would not be long before they were leading the field. As it was, Spango Valley won with 66 points, Wellpark was second with 76 and Bellahouston was third with Bellahouston third with 107 points. Note presence of Alan Puckrin for Kilbarchan – a man who would become on of the country's top distance runners.
The championships were held on 30th November 1981 and were poorly covered, barely covered might be a better description, by the 'Glasgow Herald' but did et us know that Cammie Spence won and his club took the team title.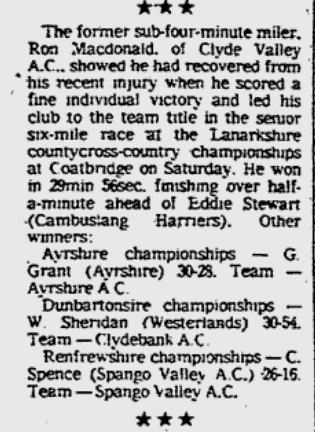 1982
The Road Race Championships went ahead on 20th February 1982. This time there was no doubt – Braidwood defeated Spence by 19 seconds over 10,000m with Andy Daly third and Bellahouston won the team race.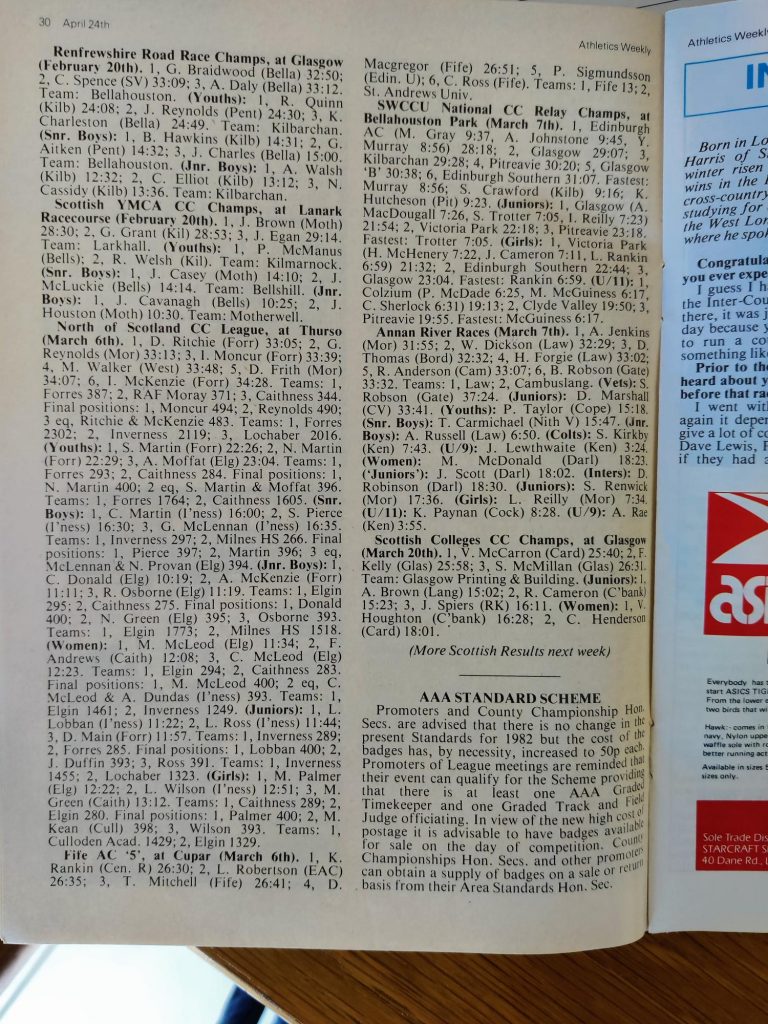 The longer, open 10 miles race was held on April 10th, and the winner was Evan Cameron from Edinburgh Southern Harriers. Bellahouston's young team of Fleming, Daly and Getty in four, five and six easily won the team race.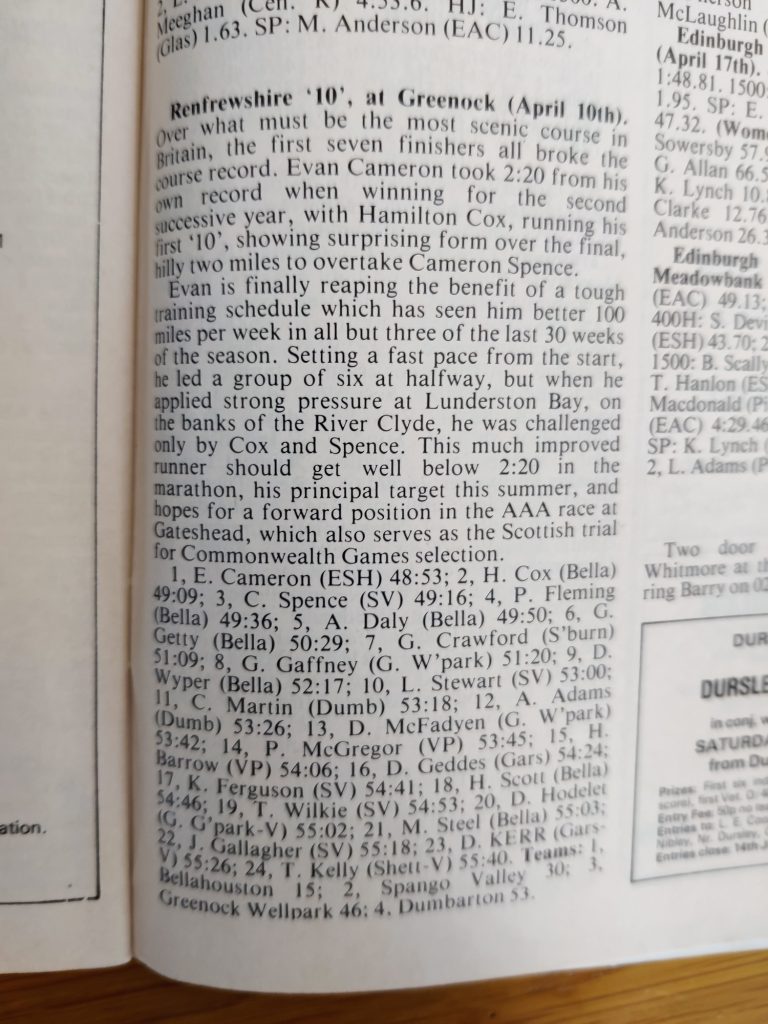 The RAAA Relays 1982 were held on October 9th at Greenock and resulted in a win for Spango Valley with Bellahouston Harriers second.
All of the County Championships took place on the same date (November 27th) with the Renfrewshires at Bellahouston Park resulting in a victory for Spango Valley whose team was led by Lawrie Spence (1st) and his brother Cammie (2nd).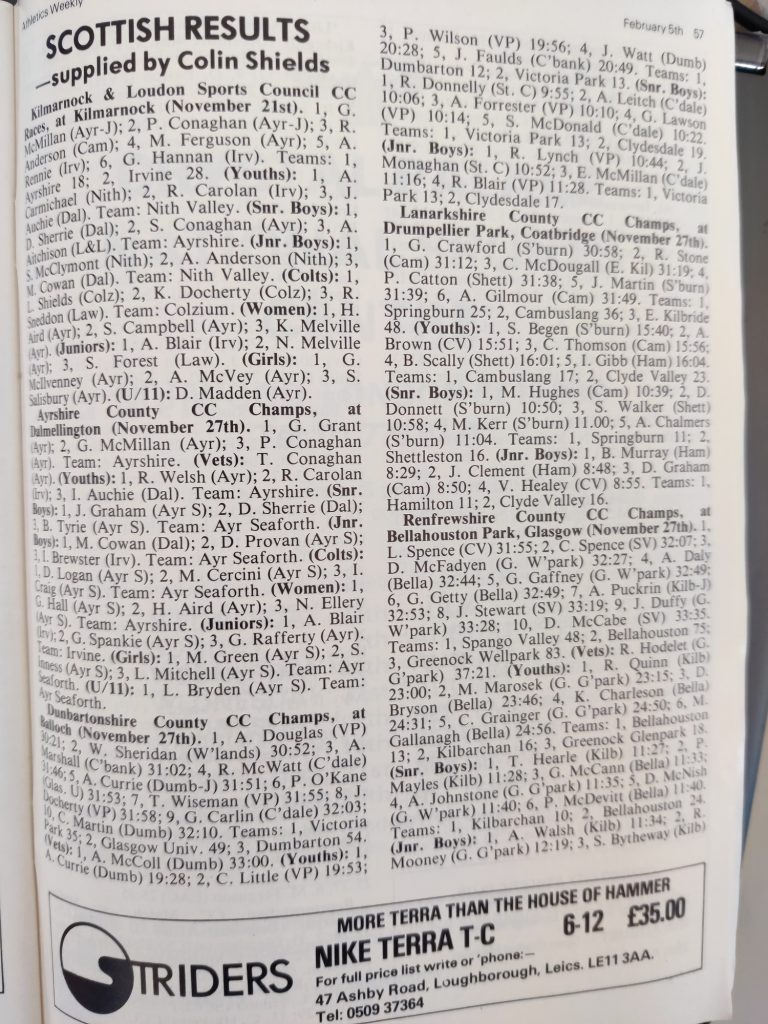 1983
The County Road Race Championship was held at Greenock in 1983 with George Braidwood winning, Andy Daly third, Peter Fleming sixth and Graham Getty seventh to show that the Bellahouston Young Team had really arrived. Bobby Quinn of Kilbarchan won the Youths race.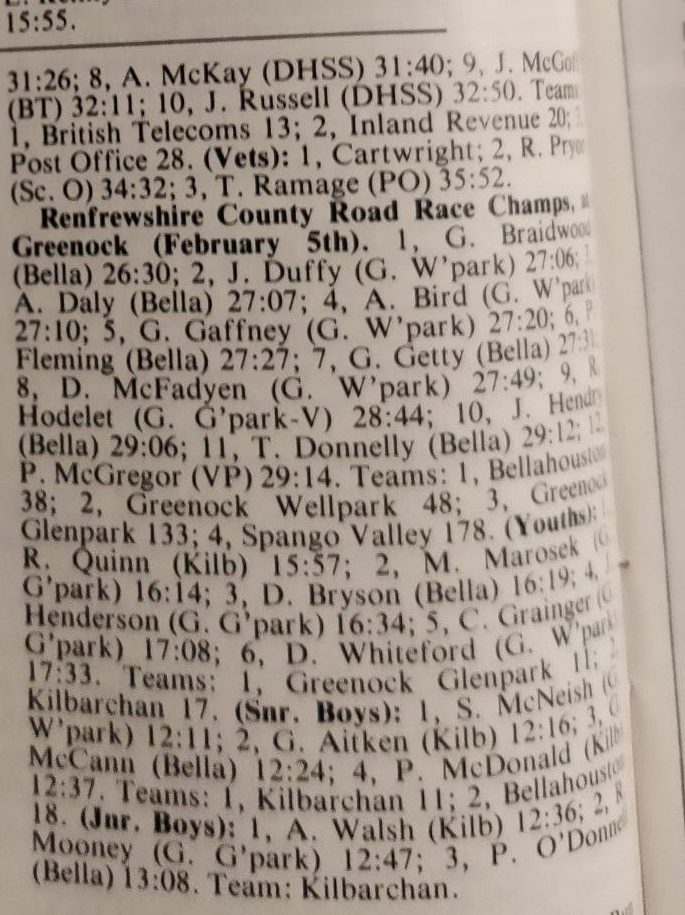 The County Open 10 miles road race was held on and was led home by two Spence brothers, with previous winner Evan Cameron of Edinburgh Southern Harriers in third place. The popularity of the race was shown by the number of runners from other clubs outwith the Renfrewshire orbit.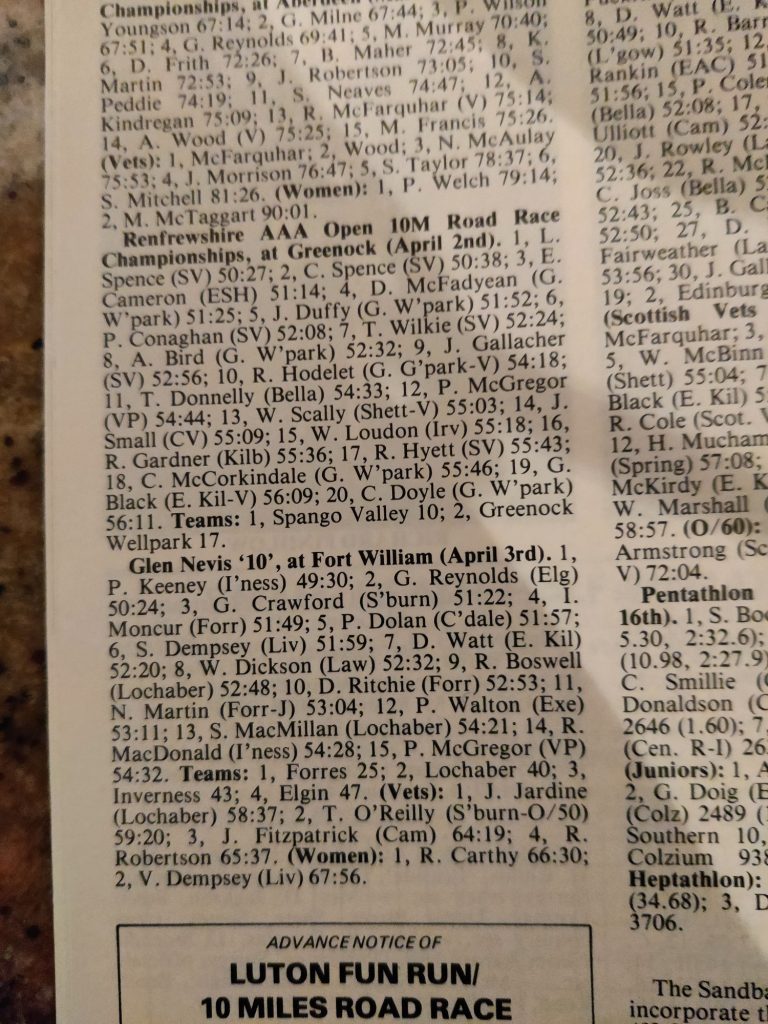 The Renfrewshire Cross Country Relays in October 1983 were held at Bellahouston Park and Bellahouston really relished running on one of their home trails with the first three home coming from the club with such as Puckrin, Quinn and Hammy Cox trailing in their wake. The youths field was led by Tommy Hearle and Steven Connaghan – two runners of immense promise who would represent Scotland before much longer. But the first three of Daly, Getty and McAngus would go on to even better running.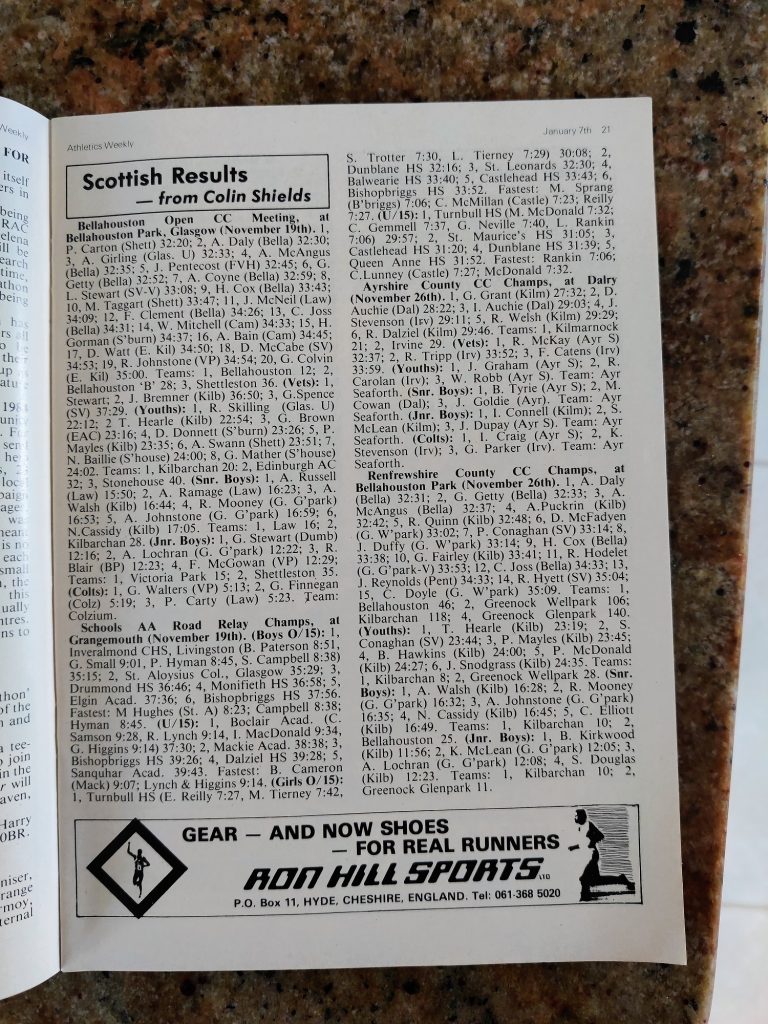 1984
The Renfrewshire Road Championships for 1984 were held at Houston and Lawrie Spence won from George Braidwood, Peter Fleming, Andy Daly and Graham Getty in2nd, 3rd, 4tf and 6th. Alistair McAngus was 10th ensuring a comfortable team victory for Bellahouston with 39 points to Spango Valley's 62 and Wellpark's 151. It is to the credit of the County Association that the road championships which had started out as a men's race now embraced women, Youths (U17), Senior Boys (U15) and Junior Boys (U13). If part of the constitution was the fostering of athletics within the county, they were certainly doing that with two road races, a track and field championship and the cross country relays and championships.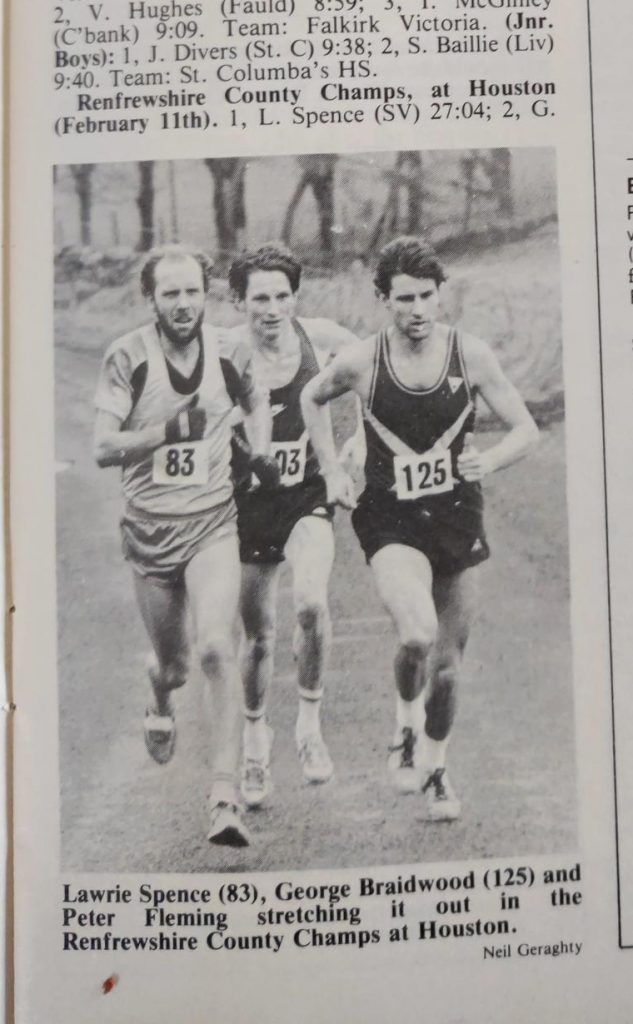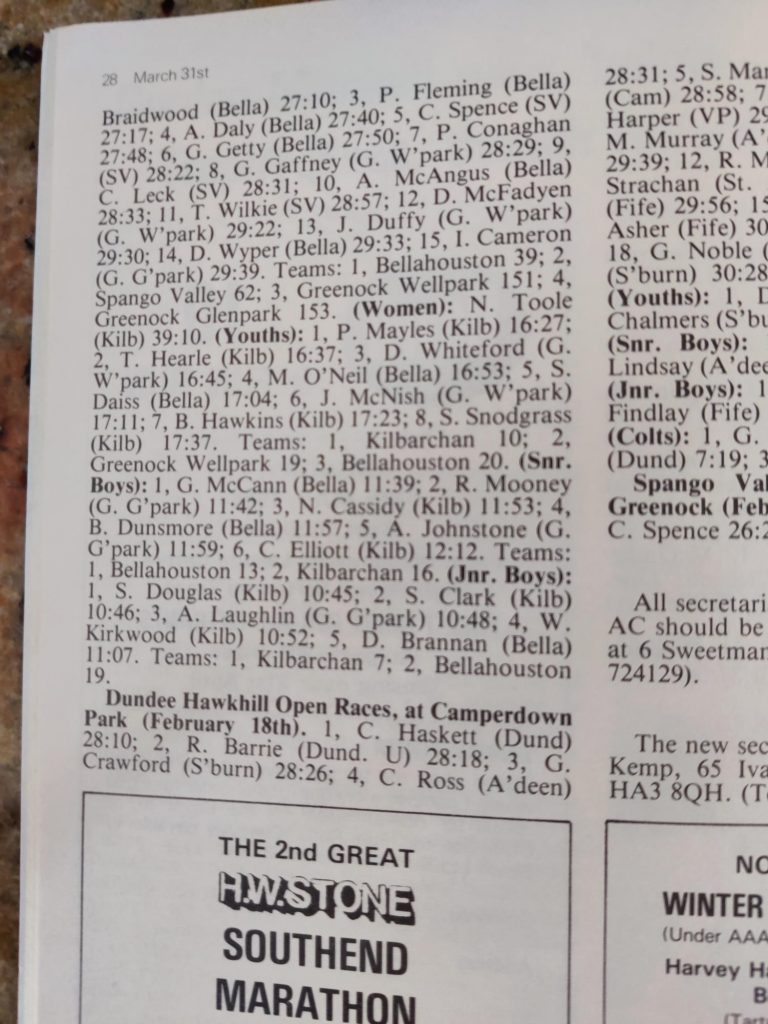 The Cross-Country Relays were held on 13th October at Bellahouston and fittingly Bellahouston Harriers won the championship. Kilbarchan with Alan Puckrin, plusBobby Quinn now operating with the Senior team and Tommy Hearle coming through the ranks were indicating that they were a team to watch in the not too distant future – two teams in the first eight, winners of the Youths and Junior Boys team races as well as the bronze in the Senior race all went to the club.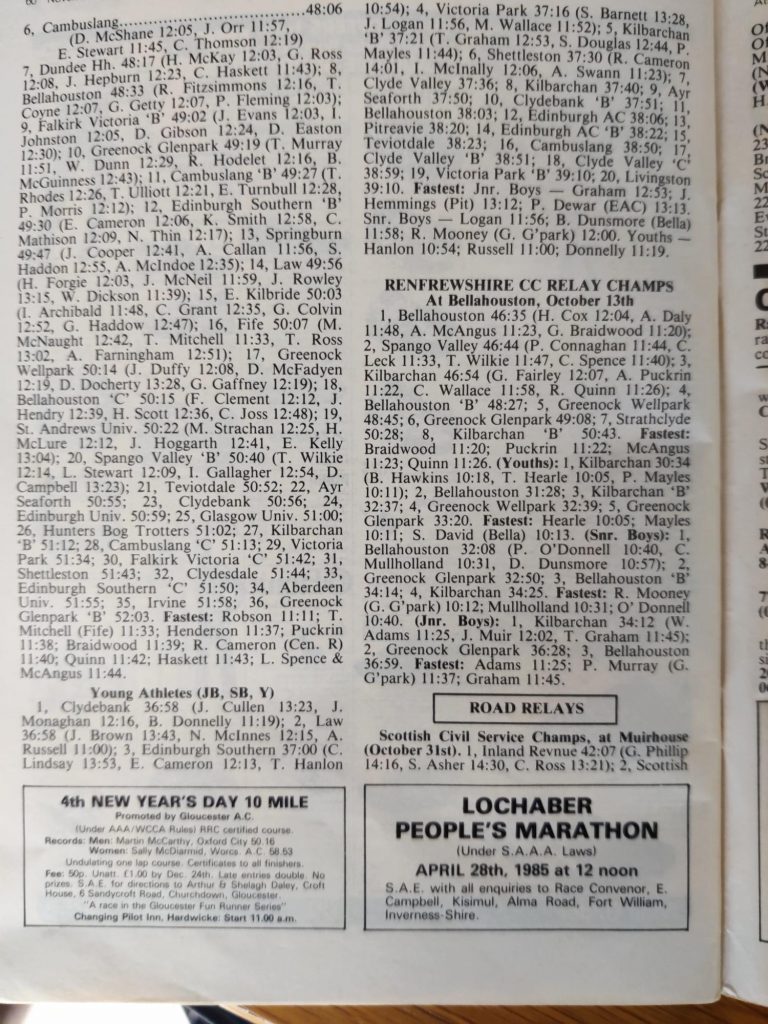 The championships were held at Linwood this time and Kilbarchan had first and second seniors, first and second in the Youths race and first and third in the Junior Boys event. Teams? Seniors were second, and although they were not given in the AW report, Youths and Junior Boys were probably winners.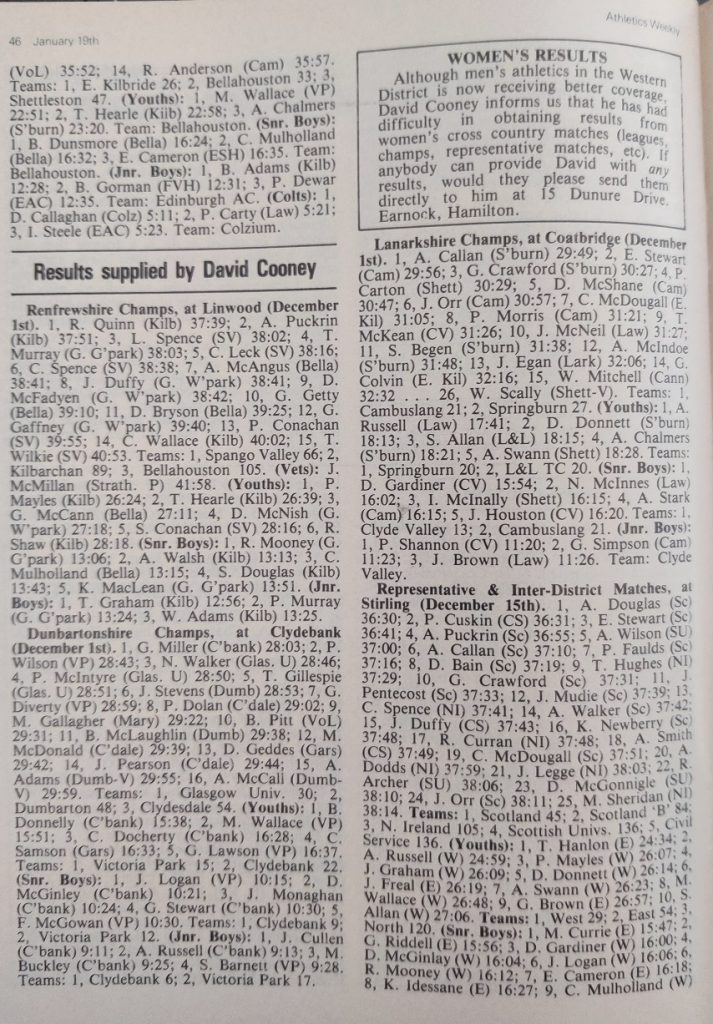 1985
The Renfrewshire 10 in 1985 was held on April 6th and was another Spence benefit affair. Lawrie won from Cammie with Chris Leck also of Spango Valley in third and the women's race was won by Elaine Masson of Kilbarchan.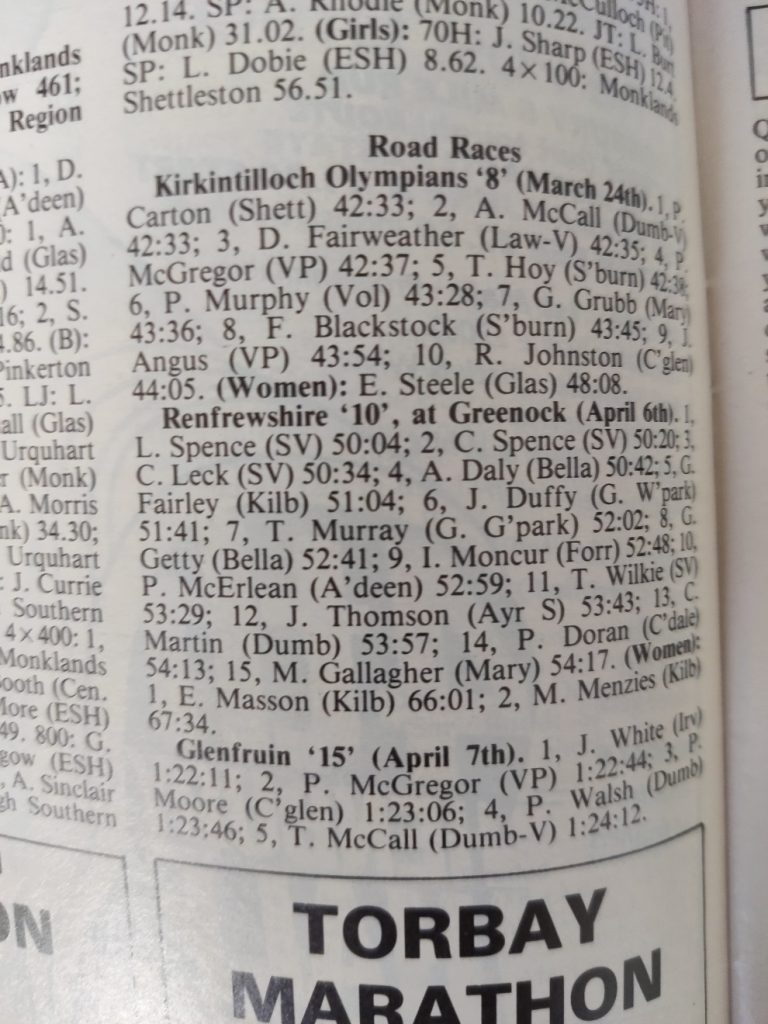 The relays in October saw a series of results that caused a stushie the like of which has seldom if ever been seen in cross-country racing in Scotland: all results resulted in protests being lodged. Doyg Gillon describes the day in the Glasgow Herald: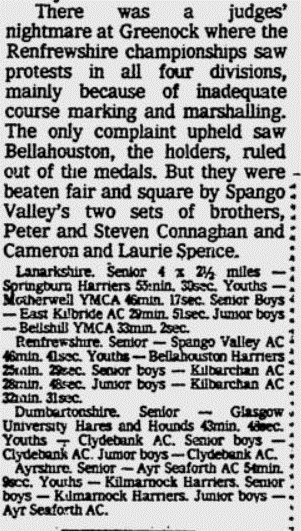 The Championships took place on 31st November, 1985, and resulted in a first county senior title for Bobby Quinn. Details below.