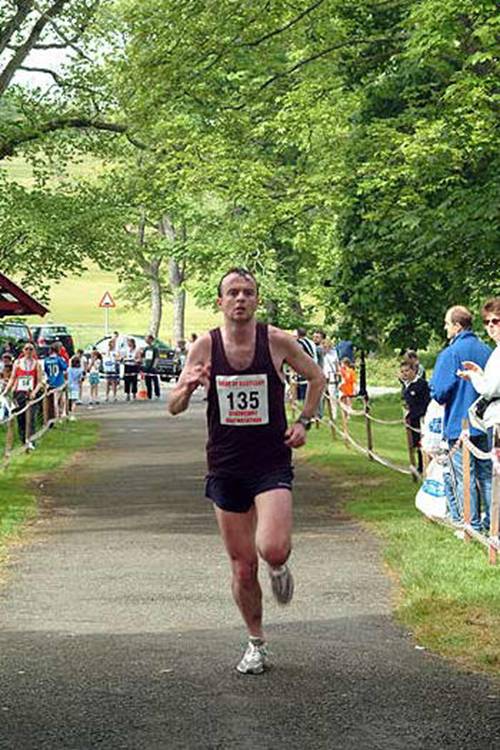 Phil winning the Stornoway Half Marathon: May 2004, 1:14:37
I have always had great admiration for Phil Mowbray: when I was coaching several very good Scottish international athletes, he was slightly younger than most of them and being nurtured by Malcolm Brown, an excellent coach who had started out with Cambridge Harriers and who, at that time, was in charge of athletics at Edinburgh University.    He worked with many really top class athletes such as Dermot Donnelly, Dominic Bannister and Alison Rose.   And in Philip he had an athlete with talent  and an uncompromising competitor.    He got the better of many who should have beaten him simply by his determination, his refusal to yield, as well as his natural talent.   Now, in 2012, when many of those others who competed with him in the 1990's have left the sport, he is still taking part in competitions the length and breadth of the land – the picture above is taken from the Stornoway Running Club's website (which is one well worth visiting)   when he won the Half Marathon there in 2004 as an M40 veteran.    When he left Edinburgh University, a Scottish and British internationalist, he would have been welcomed into any club in the land and he no doubt had offers by the handful.   He chose instead to join Hunter's Bog Trotters: the slightly eccentric club, founded by Robin Thomas among others,  for the University old boys.   Noted for their almost carefree attitude to the sport they contained many very talented athletes and had some famous victories.   They can be compared and contrasted with the other Edinburgh based club of the 90's, the Racing Club of many names: Reebok, Leslie Deans, Mizuno, etc, who wanted to see a Scottish club win at British level as well as domestic and set about doing it.   Where success was the be-all and end-all of Racing Club with top-class athletes being signed up from all around Scotland, the Trotters trained hard and raced hard but always kept things in perspective.    Phil, talented, determined, stubborn and his refusal never, ever to give in until the line was crossed chose to run for the club with some sense of perspective.   
The following profile was written by Colin Youngson.
Phil Mowbray (born 19 March, 1973) is an extremely talented athlete who has run very well on track, road, country and hill.   However his career has not followed traditional elitist lines, ie when the runner concentrates fully on years of remorseless training, aimed at churning out personal best times, important victories and representative honours.   Yes, Phil achieved many of these traditional objectives but also decided that his work/life balance would be better served by focusing on competing for his notably friendly, sociable club and enjoying his running..
On 22 February, 1992, Philip Mowbray, an Edinburgh University Maths student, led his team to victory in the Scottish National Junior Cross-Country Championship at Beach Park, Irvine.   It was a commanding front running performance.   Phil had just missed out on a place in the British Junior team for the World Championships in Boston, but had an excellent season also winning the East District Junior title and the Scottish Universities Championship.   Naturally he was awarded an EU 'Blue'.   At the same venue in 1993 Phil won the National Junior Cross-Country once again, 27 seconds clear of his Edinburgh University Hare & Hounds team-mate Christian Nicolson (who later ran very well in the USA and was selected to run the 10000m in the 2002 Manchester Commonwealth Games)   The Haries retained the team title.   He also represented Scotland in the World Mountain Running Trophy in 1992 when the Scottish Junior Men's Team (John Brooks, Phil Mowbray, Hamish Hutchinson) won bronze medals.
On the track, representing Edinburgh Southern Harriers, Phil produced his very best form in 1994.   During the previous two years, he had run well at 800m, 1500m and 3000m, but this season, having won the East District 1500m and finished second after an exciting sprint finish in the Scottish Athletics Federation Championship (Glen Stewart 3:48.41, Phil Mowbray 3:48.69 and Grant Graham 3:48.81) he took more than three seconds off his pb when third at Solihull on 21st August.    Phil's outstanding 3:41.63 still features in the Scottish All-Time ranking list.   Although Phil went on to win two Scottish Athletics titles: 1500m (3:43.81) in 1995 and 5000m (14:16,42) in 1996, and produced excellent 1997 personal bests in 5000m (13:49.44) and 3000m (7:59.5) he seemed to concentrate mainly on British Milers' Club events and stopped making progress.   His last two serious track seasons were 2001, when he ran 13:58.48 (second in the Edinburgh International Games at Meadowbank), and 2002 (5000m in 14:02.88.   Mowbray's fastest Mile took 4:08.81 (1999) and 800m  1:51.88 (1993).
Mention has been made of the Trotters and some more light was shed on them in an article in 'The Herald' of 19th January 1995 under the headline "GB Cap Could Leave Mowbray in a Quandary," Doug Gillon wrote: "Phil Mowbray, a 21-year old Edinburgh University student, made history yesterday when he became the first member of Hunter's Bog Trotters to gain full selection for Britain.   But the honour could prompt the club to ask him to resign.   Being one of four Scots  named to compete against Russia,  in the 3000m,  at Birmingham's National Arena a week on Saturday.   Mowbray has broken an unwritten HBT club rule.   Trotters frown on egotism, those who take themselves too seriously, and particularly on the too-intense pursuit of excellence.   Winning races is discouraged by the most bizarre means.   Some of their number, for example, even stop during road and cross-country races, when the location of hostelries permits, to partake of a pint, ideally of real ale, before continuing.   Tom McKean, Brian Whittle and Mel Neef, from mainstream Scottish clubs may find it hard to adjust to Fifer Mowbray.   They are a non-elitist bunch, the chocolate vested Trotters.   They take their name from an area in Edinburgh's Holyrood Park and not as the SAAA believed when initially denying them the right to the name, from anything with lavatorial connections.   The most-coveted club award is the Golden Trotter vest, awarded to the last person after each race, and passed, unwashed,  week-by-week to the successive last man.   The holder at the season's end wins the Golden Trotter – a freshly severed pig's foot from the local butcher, which is then carefully spray painted gold.  
Mowbray however, while still showing hedonistic tendencies to compare with the best of his colleagues, is repeatedly showing what his club will view as a disconcerting ability, and a British vest will rank as the ultimate heresy.   Last year he was Britain's fastest under-23 metric miler, ranked fourth senior in Scotland at 1500m with 3:41.63.  On Hogmanay he stunned English pundits when he scored a runaway victory in a 3000m cross-country event at Durham – a special race for track runners, in which his victims included former world 1500m champion Steve Cram, and major championship medallists Mark Rowland, John Mayock and Matthew Yates."
In cross-country and road running, Phil Mowbray has an interesting record.   After his early Scottish Junior triumphs with EU H&H he had a couple of quiet years in the Senior National (1994: 25th, 1996 24th).   Changes were happening in the Scottish winter road and country running.   It was the age of the 'Super-Team', ie Racing Club Edinburgh which had won the Edinburgh to Glasgow in 1991 and under various aliases, went on to dominate club athletics for well over a decade, despite heroic resistance from some of the more traditional outfits like Shettleston and Cambuslang.  Phil Mowbray refused to join the juggernaut; instead he showed his cavalier spirit by becoming a Hunter's Bog Trotter.   HBT (or 'the Trotters') had been the brainchild of Robin Thomas (a good long distance runner during and after his years at Edinburgh University) who had a mischievous and rather rebellious attitude to the established powers, eg Edinburgh Southern Harriers, Edinburgh Athletic Club and teh Scottish Cross-Country Union.   Eventually he became president of the latter, but this had not prevented him from organising a club which attracted true amateurs, bohemians and Rabelaisian real-ale drinkers.   Zany events were organised, including lengthy relays from town to town through the Highlands, using an actual pig's trotter as the baton.   Dehydration was strenuously avoided after HBT training sessions in venues like the Blue Blazer pub.   Before too long however, HBT discovered that several very good athletes had joined their ranks – and wouldn't it be fun to take part in a few top team contests?
Phil Mowbray ran brilliantly in a series of Edinburgh to Glasgow Relays for Hunter's Bog Trotters.
1994:   Fastest on Stage Two going from ninth to first, although HBT finished sixth.
1995:   Fastest equal on Stage Six with Graeme Croll of Cambuslang and HBT fourth.
1996:   Easily fastest on Stage Six with his team winning bronze medals
1998:   Fastest by far on Stage Six, well in front of worthy rivals Daniel Leggate, Allan Adams, Tommy Murray and Alan Puckrin
1999:   Fastest yet again on Stage Six with his club finishing third.
2000:   Fastest on Stage Seven with HBT finishing fourth
2001:   Second fastest on Stage Six in 30:29, only eleven seconds slower than Scottish multi-champion Glen Stewart.
(These were very good times which compared with those of past giants like Nat Muir, Allister Hutton, Jim Dingwall and Fergus Murray)   After a tremendous fight HBT won silver medals only fifteen seconds behind Mizuno and nearly eight minutes clear of third place.)
Finally in the very last E – G in 2002, Phil was second fastest to Glen Stewart on Stage Four and his team finished fifth
In 1998 Phil Mowbray took part once more in the Senior National Cross-Country finishing a meritorious fourth between Tommy Murray and Tom Hanlon, with the Trotters fifth team.
Phil went on to represent Great Britain in the 1998 World Cross-Country Championships, finishing thirty fifth in the Short Course event.   He won the Scottish Short Course Cross-Country title in both 2000 (outkicking Bobby Quinn) and 2001, (beating HBT clubmate, Don Naylor) and gained another GB vest in the World Cross-Country in 2000 (sixty fifth finisher).
Then came the greatest moment: in 2001 at Beach Park, Irvine, the Scottish National Cross-Country team champions were Hunter's Bog Trotters!   They scored an extremely low 70 points with Phil finishing seventh.   He also shared in two other National triumphs: in 2005  at Irvine (Phil ninth), and 2007 at Callendar Park, Falkirk (Phil last counter in twentieth).   His best Senior performance was in 2004 when he won an individual silver medal, five seconds behind Glen Stewart but five seconds clear of future star Andrew Lemoncello.
HBT won the Scottish CC Relay in 2005 with a fine team: Steven Cairns, Alistair Hart, Don Naylor and Phil Mowbray.   In 2004, the Trotters had come second in the Scottish Six Stage Road Relay Championship.
From 2004 onwards, Phil Mowbray has relished running for pleasure on the roads, with wins in events like the EU 10 Miles, and half marathons in Haddington, Stornoway and the Isle of Barra.   He continues to take part regardless of finishing position, and has run many hill races such as the Two Breweries, the Aonach Mhor uphill and of course the Hunter's Bog Trot.   Phil has also tackled the Trossachs Duathlon and it seems as if he has a long and varied career ahead of him.   Will he compete seriously as an M40?   Only if he enjoys such a challenge!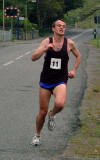 Another picture from the 2004 Stornoway Half.
And that is where Colin ended his profile.   You will note from the pictures on this page that Phil is still competing in the twenty first century with some distinction.  He is racing on the road and over the country and seems to be tackling all distances in both disciplines but not aiming for the Scottish veterans scene.    With his ability and attitude he could probably do well there but Phil was always his own man and always followed his own inclinations.   Bearing that in mind, I hope and expect to see that familiar running action and determination in action for a few years yet.