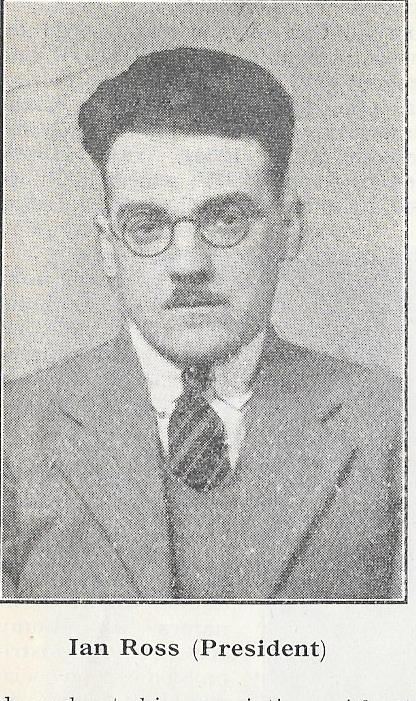 If it is true that the definition of a good club man is the fact that he does what his club needs him to do is correct, then Ian Ross is an exemplar. In fact the definition could be stretched to a good man for athletics is one who does what his sport needs him to do, then you still come up with him as a role model.
* As a runner, he started his career as a runner and, joining Edinburgh Southern Harriers club in 1927, he ran in the National cross-country championships seven times between 1928 and 1939. Hie also ran in the Edinburgh to Glasgow in 1931 when he was sixth on the first stage for the team that finished 10th of 17 competing, and he ran the first leg in 1931, finishing seventh of 20 teams with Edinburgh Southern being seventh. He ran track, road and cross country for the club, and in summer ran on the track. His performances are detailed on the previous page along with a good photograph of just some of the 'glittering prizes' that he won in his career.
*As an administrator, he worked his way up through the cross-country committees f club and District to join the ranks of the NCCU to become President in season 1959-60. The Cross-Country Union has a system where club representatives are nominated to the District Committees and then those Committees elect their representatives to the National Union. He served his time there and deserved the Presidency when it came. The SAAA had a different system and the members of the District Committees were elected at the AGM and then were all part of the National Association after serving their time effectively on various sub-committees and in a variety of capacities. He became President of the SAAA in 1966. Both associations also employed him as a team manager for district and for Scottish representative teams.
*As an official, Ian was a Grade 1 official on the track, in the Throws events and in the Jumps events. It was unusual for all three to be maintained at Grade 1. These also qualified him to act as a referee at sports meetings and championships.
*As a coach, Ian was Senior Coach for Middle Distance running, Senior Coach being the highest level that a coach could attain.
Part of a Generation of officials that included such able men as Willie Carmichael, Neil Campbell, Fred Graham, Joe Walker and others he was a man who did more than his share for the sport in Scotland.