SCOTTISH PAST MASTERS: HUGH RANKIN
Back in Spring 1995, 'Veteran Athletics' featured an article, written by Alastair Aitken, entitled 'Hugh Rankin in Top Form'.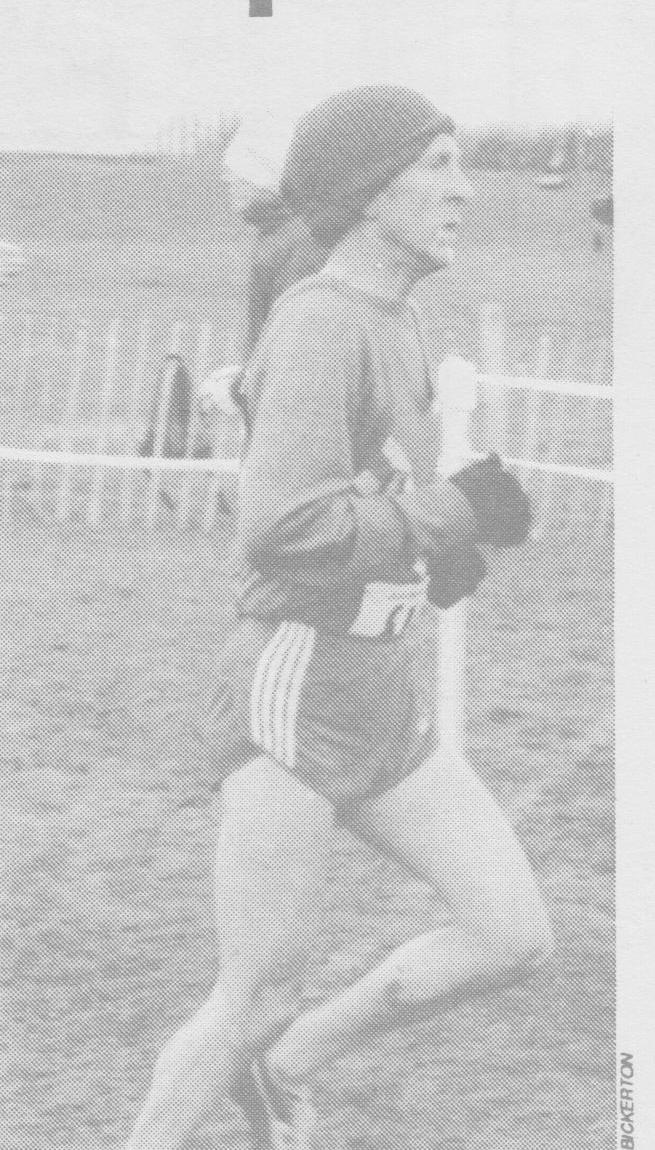 (Photo by Ben Bickerton)
"Kilmarnock's Hugh Rankin, who was 60 in December, showed his class in the BVAF Cross Country Championships in Irvine in March. He finished 18th out of 94 finishers in the over -50 race and won the M60 group by a margin of nearly two and a half minutes. He confessed, however, to 'nearly jacking it in' just before the end of the first lap. He commented, 'To be fair to myself, I was not 100 per cent as I was running with a chill. My friends round the course were telling me that I was so far in front in my age group. This kept me going. I believe that I would have packed it in if any of the others had been close to me, but I felt much better by the time I started on the third lap.'
Rankin, a hospital porter in Kilmarnock, has other results to be proud of. In 1990, when he reached 55, he set a World Indoors M55 record of 9 minutes 37 seconds for the 3000 metres at the Kelvin Hall. The same year he did the M55 double in the prestigious Bruges Veterans Grand Prix, winning the 10k in 34.29 and the 25k in 1.31.36. He also gained representative honours when selected for Scotland in the Home Countries Cross Country International at Luton.
Hugh, who has only ever belonged to one club, joined Kilmarnock Harriers about forty years ago. As a teenager, cycling was his main interest. Called up for National Service, he took his bicycle with him but, when posted to Benghazi, he had to leave it behind so took up running. Although he produced some good performances in his younger days, he did not find the time to train consistently, and so never achieved his true potential. With a family of five children to raise, training became haphazard. 'I could have trained harder and I should have done. It was just one of those things,' he said. Rankin did get chosen for a Scottish Select team at this time but could not run because of illness.
He has been more successful as a veteran, although an operation on his knee at the age of 50 held him back for some time. In recent years he has found more time to train and is now running up to 70 miles per week. This, and the fact that he did not train hard when young, he gives as the reasons for his successes in recent years. 'I did not burn myself out in my younger days. You cannot run high mileages all your life. The younger runners, who are covering 100 miles a week now, will not be performing well when they reach middle age,' he declared.
Hugh Rankin's most immediate athletic priority is to produce good performances in the European Road Championships in Valladolid, Spain, in May, when he will be competing in both the 10k and the Half Marathon."
Hugh Rankin was born on the 18th of December 1934. In 1956 he took part in the Scottish Senior National Cross Country Championships; and soon became Kilmarnock's first finisher in the annual event. He was in the top fifty several times, including a good 33rd position in 1964.
In the Scottish Masters Cross Country Championships, Hugh won the M55 title in both 1990 and 1992. When, in 1990, Johnny Walker Kilmarnock Harriers finally took part in the marvellous Edinburgh to Glasgow Road Relay, Hugh, aged 55, was one of their team. A truly outstanding performance for this fine athlete was when he triumphed in the annual British and Irish Masters Cross Country International Championships at Dublin in 1995, by winning the M60 race.
In 2009, aged 74, he ran the fast time of 44.16 to win his age group in the SVHC 10k. In 2014, Scottish Athletics magazine 'PB' had an article on Kilmarnock Harriers, saying that the club "paid tribute to Hugh Rankin – one of their oldest, most long-serving and successful members, in a double celebration to mark his 80th birthday and his 60th year as a member.
The club chose to mark the occasion with a torchlight run from the Ayrshire Athletics area, accompanied by rousing music, a light show and fireworks. The club's best-kept secret was a total surprise to Hugh, and he loved every minute of it. Following the run there was a presentation in the indoor area, where those present were reminded of Hugh's contribution as an athlete, a coach and as a volunteer helper. In honour of this contribution he was presented with a hand-embroidered club pennant, produced by the East Ayrshire textile group, and a substantial sum of money that he promised to donate to a charity of his choice. In addition, on behalf of Provost Jim Todd, he was given a 'Luath' limited edition book of Robert Burns' poems, which was much appreciated."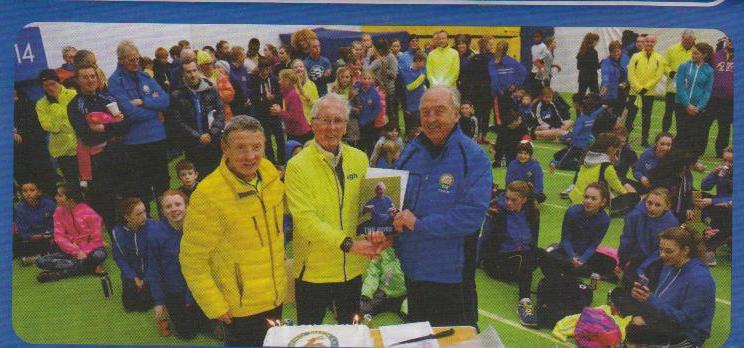 On 30th June, 2014, the Queen's Baton Relay before the Glasgow Commonwealth Games reached Ayrshire Athletics Arena. Team Scotland coach Chick Hamilton had the honour of carrying the baton, before passing it to Kilmarnock Harrier stalwart Hugh Rankin. His old team-mate from the 1950s, Jim Young, was also a baton bearer that day.
Ian Gebbie, who is the Event Organiser for Kilmarnock Harriers and AC, writes: "Hugh is my main support – still marshalling and setting up every race, clearing the cross country course etc, etc. He coaches our disabled section on a Wednesday night; is a jog leader Tuesday and Thursday; and still manages to give me and Kate Todd a fair run for our money on Mondays and Fridays. Not bad at 81. He has just recently signed up to do our new 10k – the "Roon the Toon 10K". The attached photo is from our launch event."