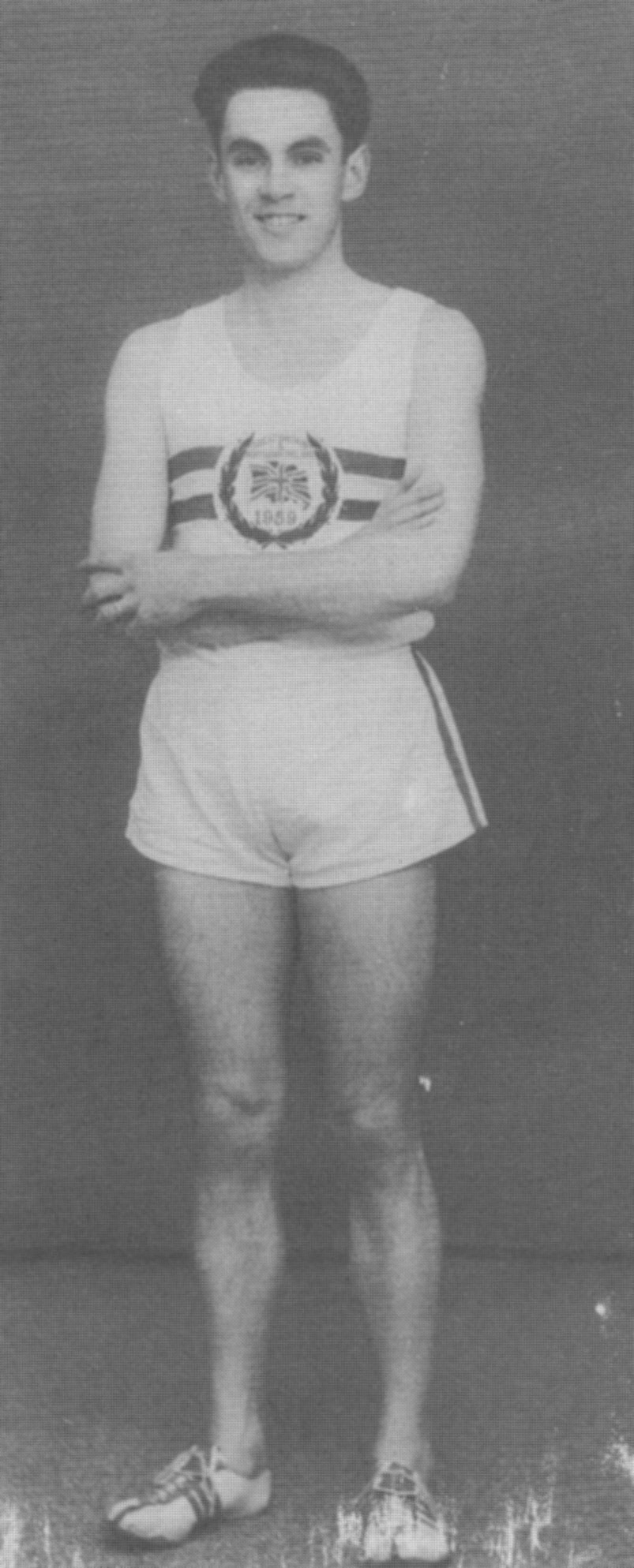 When I came into the sport in the late 1950's Graham Stark was one of the best runners in the country and even after he emigrated to Australia, his results were sent back to Scotland and published in the 'Scots Athlete'.    Colin Youngson wrote the following profile of Graham.
In 1996 the history of Edinburgh Southern Harriers was published, celebrating this great Scottish club's centenary. Graham Stark was declared "Man of the Fifties".   He was photographed in GB racing kit; and also as part of a very successful 1957 ESH medley relay team.   Graham set two Scottish Native Records in the summer of 1959: 3 minutes 2.5 seconds for the three-quarter mile at Larkhall on July 15th; and 4 minutes 6.3 seconds in the Rangers Sports at Ibrox on August 1st.   At Ibrox Graham won the Emil Zatopek medal for his one mile time, which was considered the meeting's best performance.    (The previous Native Record was held by the illustrious Graham Everett, who went on to reclaim it ten months later.) In 1959 Graham Stark raced over the one mile distance for both Scotland (versus Ireland at Murrayfield)) and Great Britain (on 14th August against Poland at White City, London). In the latter event, he finished fourth in a tactical race won by Poland.
Graham Stark was born on the 8th of December 1935.
In 1956 he was 1500m champion of the 2nd Tactical Air Force in Germany and went on to represent them in an athletics match against the Army.    He was East of Scotland one mile champion in 1957, 1958 and 1959; and second to Graham Everett in the Scottish one mile championship in 1958 and 1959.
1959, when Graham set his very best times, proved to be the peak of his track career.   After winning the Insurance Athletic Association one mile championship at Motspur Park, he came second in the 880 yards.   He topped the Scottish rankings for 880 yards (1.52.1) and was fourth in the mile with 4.06.3, only just behind the three Scots who were ranked first equal with 4.06.0 – Anglos Mike Berisford and Alan Gordon, plus Graham Everett.   Graham Stark was pipped in the SAAA mile by Everett (4.11.3 to 4.11.6, with Aberdeen's Steve Taylor third in 4.14.6.
Then in November 1959 Graham and his wife Margaret emigrated to Melbourne, Australia. During the next five years he was heavily involved in a very strong Inter-Club scene, latterly with one of the leading clubs there: St Stephens Harriers.   He competed in various events from 880 yards right up to a fifteen mile road race!
Graham writes "my main claim to fame was to represent Victoria (who won the team title) in the Australian 10,000m Cross Country Championships at Adelaide on 24th August 1963. (This was over a hilly course which featured creek crossings and fences.) Other team members were Ian Blackwood, race winner Ron Clarke (legendary multi-world record setter), Tony Cook, Gordon Noble and Trevor Vincent. I was also a member of the 4×1 mile relay team which set a Victorian Club record – others were Barry Tregenza, Ian Blackwood and Derek Clayton (who went on to be the world's fastest marathon runner)."
In 1963, Graham ran a mile in 4.09.6 and was ranked third Scot that season.    He also tried the Steeplechase and was ranked fifth in that event in 1964, with a time of 9.22.9. An interesting fact is that Graham's Personal Best in the Three Miles (14 minutes 11 seconds) was set at Olympic Park, Melbourne, on the 3rd of December 1964, when he narrowly avoided being lapped by the winner, Ron Clarke, who set a new world record of 13.07.6, breaking Murray Halberg's 1961 mark of 13 minutes 10 seconds.
Returning to live in Scotland in February 1965, he went on to win SAAA steeplechase bronze in 1965 when he was ranked eighth.   Several years later, in 1973, Graham finished third in the SAAA Indoor Championship 1500 metres. Then in 1978 he became the Scottish Veterans 1500m champion.
Despite the mile being his best distance, Graham Stark was a durable athlete who contributed a great deal to Edinburgh Southern Harriers success at longer distances, between 1956 and 1980.   His fastest half marathon time was 1 hour 15 minutes 28 seconds.   Graham took part in the Edinburgh to Glasgow Road Relay seven times between 1956 and 1970.   He ran Stage One twice, Stage Seven once, Stage Eight once and the windswept Fifth Stage three times. His club finished fourth three times, fifth, ninth and then in 1968 third and finally in 1970 second.
In 1958 and 1959 Graham Stark was part of winning Southern teams in the East District Cross Country Championship. Much later he won a bronze medal with the ESH team that finished third in the 1973 National Cross Country Championship. Once he achieved veteran status at the age of 40, he enjoyed helping Edinburgh Southern to win team gold in three Scottish National Veterans CC Championships: 1977 (when he was fourth individual), 1979 and 1980.
His team-mates remember Graham as a graceful athlete, who continues to be unfailingly polite, friendly and a true gentleman.
That is Colin's very full summary of Graham's athletic career but it should be remembered that the athletics scene in the 1950's was very different from the twenty first century.   One short story retold by Tom O'Reilly of Springburn Harriers and former Scottish steeplechase champion and record holder is illustrative of this.   The race report in the 'Glasgow Herald' read: "The principal event at Carluke Rovers open sports meeting was the invitation one mile short limit handicap in which the Scottish record holder G Stark (Edinburgh Southern Harriers) was running from scratch. At the end of the first lap, Stark was just behind R McKay (Motherwell YMCA) and J More (Kilmarnock) who started from 10 and 15 yards respectively. In the meantime however, the Scottish steeplechase champion, T O'Reilly, off 35 yards, was setting a good pace over the seven lap course and by half distance it did not look like Stark would catch the leaders. Soon afterwards, McKay and More left Stark and he had to be content with sixth place – 6.2 seconds behind O'Reilly the winner."   A seven lap one mile race on grass: to get an idea of how tight it was, think that indoor tracks at present are eight laps to the mile!   The race was billed as an attempt to set anew Scottish record!   The tracks then were either good grass or cinders – either could cut up badly through use or because of the weather, even championship tracks were cinder and in Scotland many events, at times even invitation events, were handicap races.   There were however many good quality inter-club fixtures on 440 yard cinder tracks.   For instance, there was a triangular competition between Victoria Park, Bellahouston Harriers and Edinburgh Southern at Scotstoun.   There were several GB athletes competing, men such as Mike Hildrey and Alan Dunbar (sprints), Crawford Fairbrother (HJ), Ken Ballantyne (Mile), Robin Sykes, Des Dickson and of course Graham Stark.   The comment made in the report in the 'Glasgow Herald' of 10th May, 1959, said "Stark, who won the 880 yards and mile, may now be encouraged to devote his attention to the half-mile in which he had the splendid time of 1 min56.2 sec."  Handicaps on short tracks, often with uneven surfaces, and good quality inter club meetings were part of the scene then.   Bearing that in mind, his times stand up well after almost 60 years.
| | | | | |
| --- | --- | --- | --- | --- |
| Year | Event | Time | Rank | Comments |
| 1959 | 880y | 1:52.1 | 1 | |
| | 1 Mile | 4:06.3 | 4 | |
| 1963 | 880y | 1:54.4 | 11 | |
| | 1 Mile | 4:09.6 | 4 | |
| | 2 Miles | 9:20.8 | 20 | |
| | 3000m S/chase | 10:00.0 | 12 | |
| 1964 | 3000m S/chase | 9:22.9 | 5 | |
| 1965 | 1 Mile | 4:18.7 | 28 | |
| | 6 Miles | 31:38 | 27 | |
| | 3000m S/chase | 9:31.6 | 8 | |
| 1966 | 6 Miles | 31:00.4 | 22 | |
As indicated by Colin above, his track competitive record is even better.   Three East District Mile titles, plus one third and two seconds in the SAAA Championships.1958  SAAA Mile  2  4:13.0,   1959  SAAA Mile  2  4:11.6 , East District Champion 1957, 1958, 1959.   One wonders what he might have done under present day conditions.