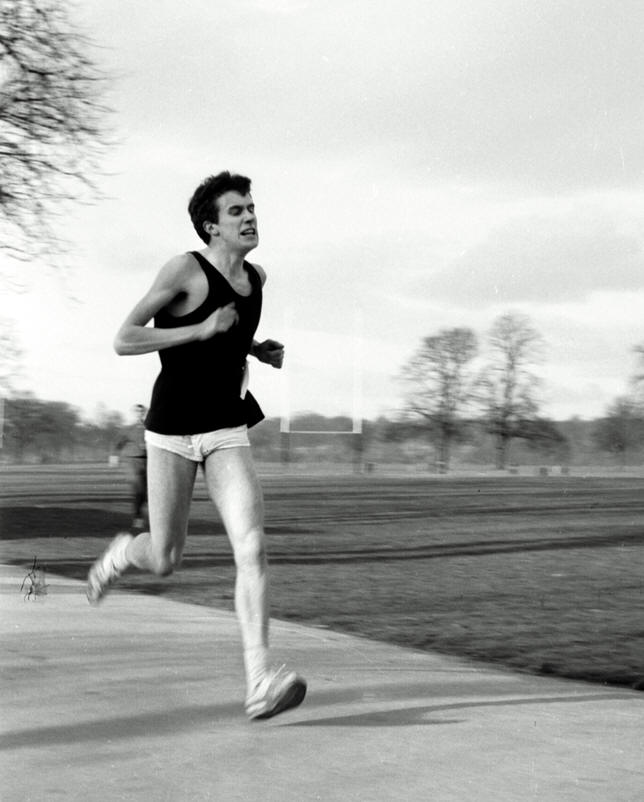 Graeme Orr; Perth Relays, 1967
How I first joined the Hares and Hounds at Glasgow University as a fresher in 1965 is somewhat sketchy.   I think that even in pre-UCAS days the sports clubs would be on the look-out for young recruits and I think that either Ray Baillie (captain 1965-'66) or Marshall Prentice (Secretary) contacted me as 12th finisher in the Glasgow Schools' Cross Country Championships.   I didn't take much persuading and was soon pounding Great Western Road from the New Stevenson gym to Westerlands at lunchtime or doing shorter interval runs in Kelvingrove Park.
The Hares & Hounds, like the Men's Union, was an all-male club.   There were about 20 of us in the club in those days: Ray and Marshall were the sensible face that the club  presented to recruits, but the club was more notable for its 'good old boys': Jim Bogan, Douglas Gifford, Barclay Kennedy and Calum Laing in particular.   The fellow-recruits from my year included Willie MacDonald (later to become captain), Ian Mcfarlane, Stuart Polwart, Alan Irvine, Alistair Reid, Alistair MacPhee, Alex Turnbull and Jim McHardy the following year.   We had a few recruits from other clubs (Dick Hodelet from Glenpark; Bill Bailey, a cyclist; Sandy MacNeil, a boxer; Andy Gillespie, a half miler)  a few remarkable Ulstermen (John Hickey and later Dave LOgue, ex-Edinburgh University), and of course the ever present club manager, Willie Diverty.
I recall the races, courses and personalities from my first year as vividly as if they were 30 days ago and not 30 years ago.   One early event, with a necessary conclusion in the Union Beer Bar, was a visit from Queen's (Belfast) University team.   IO still remember the scorn shown by the Belfast boys for my Coke drink.   "Sure, that'll do you more harm than the Guinness!"   They were right ….      I've switched now.   Those were the days before the Troubles, and I recall the Catholic in their team singing "And it's on the twelfth I DO NOT wear … "   We had a return trip to Belfast with some folk travelling on to Dublin.   The outward trip was by ferry from the Broomielaw, as I recall.   Three recollections stand out from the Irish trip:   the hospitality; Queen's campus, which looked like a redbrick Gilmorehill; and the course which was a veritable peat bog.
You soon got to know the other Universities by the quality of their Union Beer Bar, their hospitality and, not least, the fiendishness of their cross-country course.   In each of these regards, Newcastle must stand out as near supreme.    First there was the drive down there and back by car – down via Peebles, and back by the old military road which follows Hadrian's Wall in a switchback.   Then there was a Bacchanalian evening in the Union where a Geordie with a powerful voice regaled one and all with his rendition of the Lambton "Woam."   We all picked up on the chorus:
"Hoosh lads, sheet your gob,
I'll tell thee aal an awful story.
Hoosh lads, sheet your gob
I'll tell theee 'boot the woam."
Oh, and the course, near Heddon-on-the-Wall, was a tough one, including a gluey ploughed field.
National, 1967
The other Scottish universities were a varied bunch.   Our old rivals, Edinburgh, had a wonderful hilly cross-country course which would be difficult to organise nowadays: up to the Braid Hills from KB along farm tracks, completed by a downhill dash which could be hazardous in snow!   In those days Edinburgh University H&H were an even more elite team than today: they had two Olympic athletes in Fergus Murray, the barefoot prodigy, and Gareth Bryan-Jones.   The rest of the team were no less industrious, including Alistair Blamire, the Wight twins, and later "Andy Machine" aka McKean.   Together they made up a formidable team in the Edinburgh to Glasgow relay – most memorably when Fergus MUrray ran 31 minutes and a few seconds for the 7 mile 6th leg.   This supremacy had its down side however; on one occasion, an inter Varsity race, the Edinburgh Hares & Hounds omitted to mark the course, reasoning that they would be leading the charge (correct), but expecting the rest to keep within sight (wrong).   Again they were perhaps less welcoming than other teams: or were we overawed?
The fixtures calendar had a different appearance in those days.   Many of the races were inter-varsity and there was no hill-running or marathon running for the ordinary club runner.   Orienteering began to appear through the Norwegian students studying in Scotland, and for a while that became a sort of "Upper House" for runners whop had abandoned competitive running.   Perhaps the high point of the calendar was the E to G relay.   In November 1967, in my year  as Club Secretary, I picked myself to run the long fourth leg.   I had the humiliating experience of losing two places, and recording the slowest time for that leg for the day.
Aberdeen was a good away fixture, with a lively night scene around Marischall College and the Union, and choruses of "The Northern Lights" vying with "I Belong To Glasgow" or "The Sweetest Of Songs Is The Song Of Strathclyde".   Strathclyde was a very new (and slightly suspect: they were rumoured to accept you without Higher English!) University in the 60's.   Their Union was like its denizens: no frills and not even a suggestion of a gentlemanly atmosphere.   The Glasgow ladrs referred disparagingly to "The Tech" while they called us "Strathkelvin" as a riposte.   Somehow I managed to keep in contact with Strathclyde runners rather longer than my old Glasgow team-mates.
The exceptions are worth mentioning.   Alistair MacPhee had been the butt of many a rude remark during his Hares & Hounds days on account of his ungainly running style, best described as a straddle-legged waddle.   Alistair had a girlfriend (later to become his wife) who used to come to our races long before the Hares & Hounds became mixed!   She was a homely sort, but she must have made a man of him.   Next time I came across Alistair he was running for Paisley Harriers and he could whip his waddling gait up to some speed.   I think he has some creditable marathon times to his credit.   The other reunion with a Glasgow team-mate happened 10 years ago in the 1985 Glasgow Marathon – the year it rained non-stop.   Around the mile mark, someone asked, "Is it Graeme Orr?"   I turned and there was Alex Turnbull, my old rival.   For the next 20 miles, we slugged it out, shoulder to shoulder, until I managed to pull away and in fact broke the three hour barrier.
No account of the Hares & Hounds would be complete without a mention of Willie Diverty, our constant companion and "manager".   I insert the inverted commas because I never recall Willie discussing tactics or giving hints on training or style.   He was a cheerleader and administrator par excellence, however my mother still remembers the Saturday morning phone calls from Willie  "Is Graeme running?"
Some things have changed from those innocent days.   Gone are the communal baths, and the "party songs" in the Unions took on such an edge that they've been banned.   Songs, then and now, don't have to be ribald or obscene to catch on.   The main criteria is that the air should be repetitive, have a chorus, possibly with accompanying gestures; be suited to be being sung at the top of one's lungs, and perhaps refer wittily to the defects of one's opponents or their womenfolk.   Happily the camaraderie and reek of liniment remain.   It's still sport for amateurs, in spite of the ludicrous cost of running shoes.   Back in the 60's, you bought a pair of Onitsuka "Tiger" canvas shoes for 10 bob, and they'd last you for a season.   If you wanted some style, you splashed out three quid for a pair of Ripples which skited all over the place in the mud.   Nike Air Shoes hadn't been invented, vests were of cotton, as were track suits.   One item of sporting wear that I still cherish from that period is my Colours blazer, gained not for any particulart prowess over the country, but for regular appearances for the first team.   It has garish green and white braid and would not look out of place in the Parkhead boardroom.
Attitudes to women have changed, with the cross-country clubs having been mixed for so long that it's hard to remember that it was not always so.   The transition, which began in the 70's, was marked in the runners' songs of the period, at first ribald, then overtly sexual, as the first pioneer women runners made their appearance.   The songs these days appear twee and politically correct; the ladies have tamed our tongues.   Our Hares & Hounds team pf '65 – '69 were a shybunch for themost part.   Ian Macfarlane was one notable exception:   "Hi darling! … Ah, ya puddin'!" as he'd shout from the car or bus on the way to races.   Dick Hodelet, a married, older student, brought a confident manner towards the opposite sex that we could only admire.   As for Jim Bogan, I think the man was born suave and sophisticated, with a laid back, worldly wise manner which impressed us younger runners.    I recall the shock which I felt in reading of his death in "Avenue".