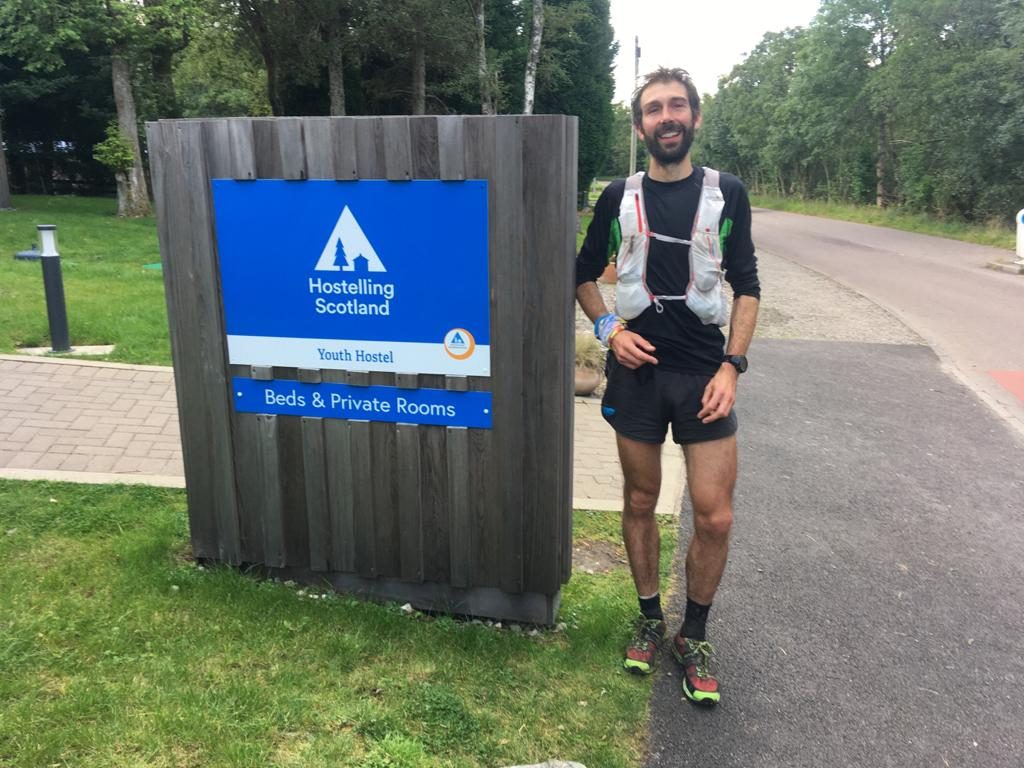 Finlay's rounds and traverses are noted on previous pages but are really something to marvel and wonder at so they will be dealt with on this page as a topic in their own right. Remember that these are not races, he has more than shown his ability as a racer, these are runs against the clock. For some of us they'd be against the calendar!
The Cuillin Ridge Traverse was done twice in 2013, on 16th June and again on 12th October. The traverse includes 7000 feet of ascent and covers 8 miles. It had previously been done by Dan Stewart in 1950 in 6 hours 45 minutes, then by Es Tressider on 4th May, 2007, in in 3:27:18 and by Martin Moran on 2nd June, 1990, in 3:33:00. Given that the weather can change and that there are bound to be small changes in the route chosen, Finlay's times of 3:14:58 in the June run and 2:59:22 in October are remarkable.
He came back to it three years later on 14th February, 2016. This run was in winter – many consider February to be the worst of the winter months for running over the country and this is much more severe on the hills. For the winter round of the ridge he went round with Tim Gomersall in 6:14:27.
Clach Glass/Bla-Bheinn Round covers 4.5 miles and has 3800 feet of ascent. Finlay ran it on 7th July 2013 in a time of 1:31:53.
Tranter's Winter Round. The Tranter Round is one of the real classic rounds of the British hill runner's calendar. Covering 36 miles it takes in 20,600 feet of ascent. Arduous enough but on 26th February, 2018, Finlay ran it in the winter. As pointed out above, the winter version of any round makes it a completely different race. Finlay ran it solo in 14 hours 24 minutes 48 seconds.
The Tranter Round out of the winter season is a different kind of proposition. Distance and ascent is the same as for the winter version and he ran it on 17th July 2020. Phil Tranter first ran the course in 1964 and the current ratified record of 10:15:39 was set by Finlay himself in 2016. This time he recorded 9:00:05 – ie nine hours and five seconds! Given that it was set during the conditions of 2020 coronavirus restrictions, it still has to be ratified. He was asked after the run what made this one so fast and his response was that he knew his previous split times and tried to chip away at them, he knew the course very well and in the end it was all down to lots of small, cumulative factors. The last remarks tell why experience matters so much in hill running.
Cairngorm 4000 foot-ers is run over 25 miles and has 7,600 feet of ascent. This one had previously been run by 9th July, 1979, by Mel Edwards of Aberdeen in 4:38:08, and also by Eric Beard (the famous 'Beardie') in 1963 in 4 hours 41 minutes. Finlay's time was 3:52:59.
Lochaber Traverse was tackled by Finlay on 30th June, 2020, and involves 8 Munros and i 'top'. His time of 3:22:25 is the fastest known time.
Tour of the Mamores record was held by Colin Donnelly for 37 years with his time of 7 hours 02 minutes. Finlay had a go on 8th July 2020 and recorded 4:49:58. There could be many reasons for the difference in times. The very big difference between the times of two superb hill runners can be explained by the many variables involved in this most intriguing of sports. The weather of course is always influential, the choice of route might vary, the relative navigational skills of the runners are all components is determining the relative timings of any runners.
The Mullardoch Round is 12 Munros, 35 miles and 1500 feet of ascent. Previously, the fastest known Mullardoch Round was Donnie Campbell's clockwise and unsupported 9 hrs 52 mins 18 secs on 12th July 2019 Previously Andy Fallas and Helen Bonsor had recorded 10 hours 7 minutes on 16th July 2018 running clockwise together but carrying their own individual kit to better Alec Keith's solo 10 hours 24 minutes of 20th May 2001. On 6th August 2020 Finlay ran the circuit and was timed at 7:40:26. This has still to be ratified but like his other 2020 runs, the Scottish Hill Runners website knows all about it.
Charlie Ramsay's Round is a development of Tranter's Round and incorporates 28,000 feet of scent into its 56+miles of running. Set by Charlie Ramsay8th/9th July, 1978, it is one of the top four hill running challenges in Britain and maybe even further afield. Jasmin Paris on 18th June 2016 ran the course in 16 hours 13 minutes which was not only a woman's record (which still stands) but an OVERALL record which was only narrowly beaten by Es Tressider on 6th July 2019 with 16 hours 12 minutes. Finlay's time of 14:42:40 took a huge chunk from the record when he ran it on 31st August 2020. Like his other 2020 times, it is still awaiting ratification although the stats and splits are well known.