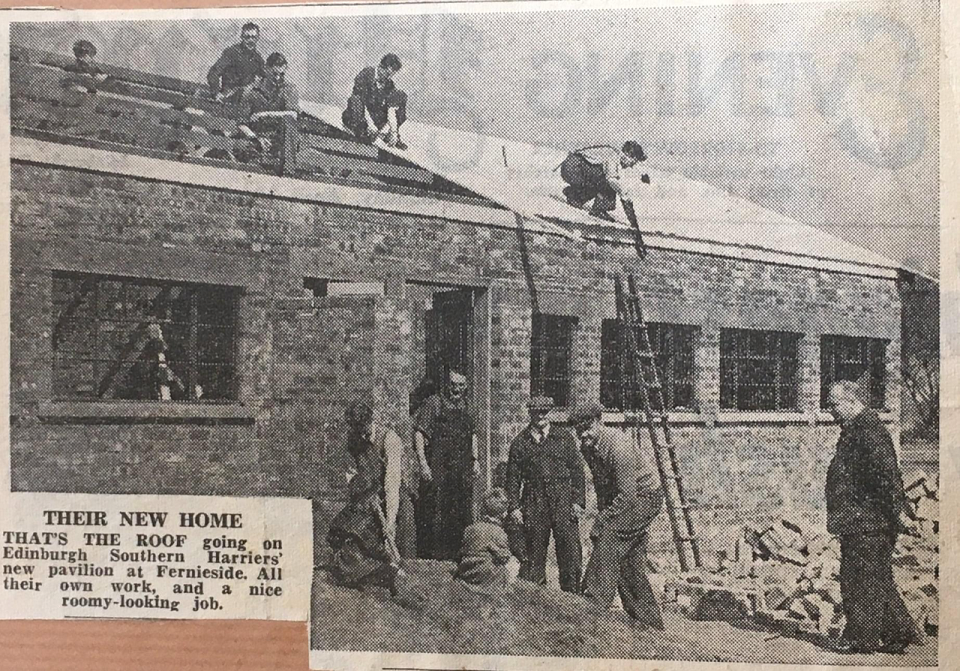 'The History of Edinburgh Southern Harriers' (published 1996) tells the tale.
After the Second World War, club members returned from the armed forces to take up their sport – but it was to a clubroom in Causewayside shared with the Melville Motor Club.
There were no proper washing facilities in the rooms above a row of garage lock-ups – and runners returning from training were hosed down with cold water (even in the depths of winter). Both track and field events were held a considerable distance away at New Meadowbank, which was then a cinder track wide open to the elements.
In the 1950s, approaches were made to the old Edinburgh Corporation parks department, inquiring about the possibility of taking over one of several tracks to be built in the city – and the club settled on what was seen as the ideal location at Fernieside, on the southern outskirts of Scotland's capital city.
The city was responsible for building and maintaining the track and field facilities, and Edinburgh Southern arranged to build the clubroom, largely through voluntary efforts of the members. Jim Smart convened a fund-raising committee and John (Jock) Reid, master of works, headed the building committee and supervised the work himself. Hearts came to the aid of the Southern and manager Tommy Walker helped to arrange a collection outside Tynecastle on the day of a local Derby with Hibs.
Tommy Walker, ever generous, provided the collecting cans and more than £600 was raised by volunteer bands of both male and female ESH members. Jock Reid and his team of tradesmen and helpers completed the clubrooms in 1955 and the official opening was conducted by Lord Milligan, honorary president of the Scottish Amateur Athletics Association, whose son Jim was later to become a Southern member – and to succeed his father (Lord Advocate) on the Scottish bench.
For the next 20 years, the Fernieside clubhouse and track were to provide a worthy community service to the surrounding areas of Gilmerton, Fernieside and Danderhall.
The premises were later sold to a local businessman, who demolished the clubrooms and replaced them with private housing – a small terrace now known as "The Harriers".
The first cross-country race from the clubhouse was 1956. The building was not fully finished and there was no hot water or flooring in the dressing rooms. The main hall was usable.
The official opening of the Edinburgh Southern Harriers Clubhouse took place at 3 pm on Saturday 13th October 1956. Tea was served to invited guests. Transport advice was to board the 33 bus! In 1957 the club's Diamond Jubilee Dinner took place at the Adelphi Hotel.
The ESH History continues: A winding street in a city housing scheme was the unlikely focus of Edinburgh Southern Harriers' greatest years. Two lads who lived a few doors apart in Fernieside Crescen pressed their faces against the fence just round the corner from their homes, watching the Southern in training in the 1960s – an interest which later led to the Olympic triumphs of sprinter Allan Wells and his childhood pal Chris Black. It was history indeed for a street to produce one Olympian, but to produce two was a global feat.
Who will ever forget the day that the Southern's greatest athlete, Allan Wells, had the narrowest of wins in the Moscow Olympics 100 metres championship in 1980?
Or the excited cries of his wife Margo, herself a 100 metres Scottish champion, as she shouted, "Come on, Allan!" in her broad Fife accent.
Four years earlier, Chris Black had been in the Olympic hammer throwing final at Montreal, and he too appeared at Moscow, failing to win a medal but bringing great credit to his club as its one and only field events finalist in the world's top competition.
The two were typical of the youngsters who took up athletic careers as a result of living near the community-based Fernieside headquarters of ESH. Local talent, recruited from the surrounding area, played a significant part in the development of the club.

Fernieside is mentioned in the above article from 1956. An excerpt states: "Whatever happens, the Southern Harriers have a nice little niche at Fernieside, near Moredun housing scheme, where a four-lane track has had a bite or two from the bulldozer. There will be a 'straight' of 140 yards at this new ESH home.
Benefitting from the experience of another athletic club, the Southern have made a pavilion of 40 feet by 20. Grants from the Playing Fields Association and the Education Authority were received but the estimated cost of £1500 will largely be forthcoming from the club members.
Architect for the building was M. G. Armour, a club member noted for field event prowess; Convener is Ian Ross, who served the Southern well in cross-country and track racing; D. B. Henderson, in charge of plumbing work, was inter-works senior champion in 1930; Alex Fraser, who is best described as the club's 'talent-spotter' is 'man-of-all-jobs; and A. A. Bowman, secretary for 29 years, keeps a watchful eye on all that is going on. Alex has 200 male and 60 female athletes on his roll.
In the main hall of the pavilion, there will be seating accommodation for 60, two changing rooms, sprays and a kitchen – complete, of course, with electric light.
Adverse weather has held up completion of the job, but it is hoped to have the pavilion ready before the start of the cross-country season in November. The track, however, will not be in use until the spring of next year (1957)."
Ian McKenzie (runner; an extremely successful ESH team manager; and President) wrote:
Fernieside – a brief history. Prior to 1950 all of the Edinburgh athletic clubs trained at New Meadowbank or Saughton, in the early 1950s the Council agreed to lay new tracks at Fernieside and Wauchope estate which meant each club had a home base: ESH at Fernieside, Edinburgh Northern at Meadowbank, Edinburgh Eastern at Wauchope, Edinburgh Harriers and Braidburn at Saughton.
Although each had a track there were no clubrooms at Fernieside or Wauchope. Southern were given a 100-year lease on a plot of land on which they could build a clubhouse. As no funding was granted, this meant that the Club had to set about raising the capital required to build the clubhouse. Over a period of about 2 years the members set about acquiring the cash needed, Fortunately, many members had the necessary skills and trades needed to construct the building and a self-build project was started. This meant that every Sunday over a period of 2/3 years the members completed the building, the clubhouse was ready for use by 1956. The first race from the clubhouse was the 2.5-mile cross country handicap in which virtually every member took part: sprinters, throwers and middle-distance runners. As it was a handicap from your mark, everyone was able to enjoy their run, some probably more than others. As there was no age limit, it was the first time that I, as a fifteen-year-old, competed in an open race. Because the building was on the edge of the city it meant that cross country and road races could be held as well as track and field. However, apart from the 100 yards, Fernieside was not a great track to run on, since it was like a beach at one end and seemed uphill on the back straight!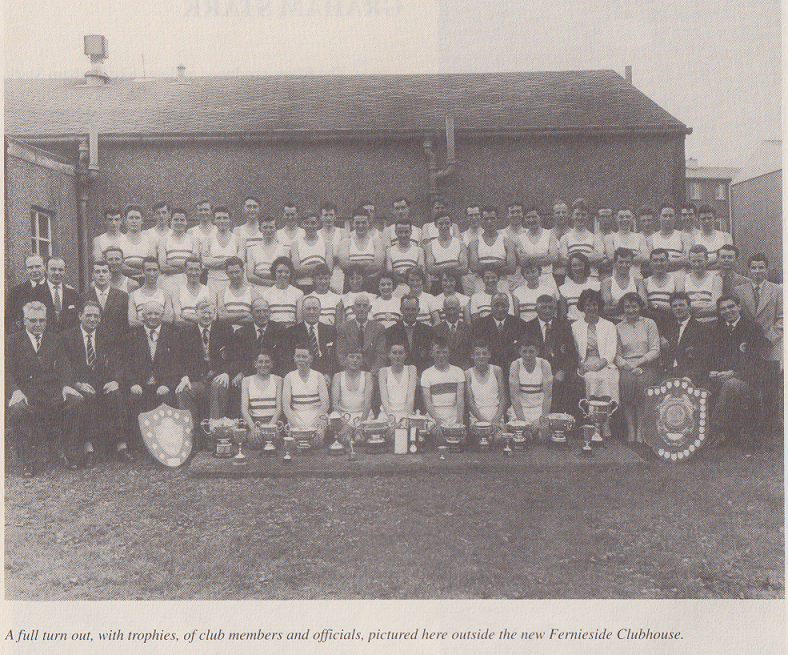 Hamish Robertson, who served the club well as runner, Secretary and President, said that the track was used for training, but also had almost the full range of club championships (including all field events and hurdles, apart from a steeplechase). Occasionally, there would be an inter-club match, against local rivals like Octavians.
Alistair Blamire (British and Scottish International steeplechaser and Scottish International cross-country runner) recalls that "Fernieside had a five-laps-to-the-mile cinder track and the clubrooms were big enough to hold parties, including one after the Edinburgh Highland Games (at Murrayfield) each year."
Alistair Matson, a good road runner who was part of the ESH team that finished third in the 1968 E to G, finished second in the Club Championship 6 Miles Track race in 1969. That would have been 30 laps!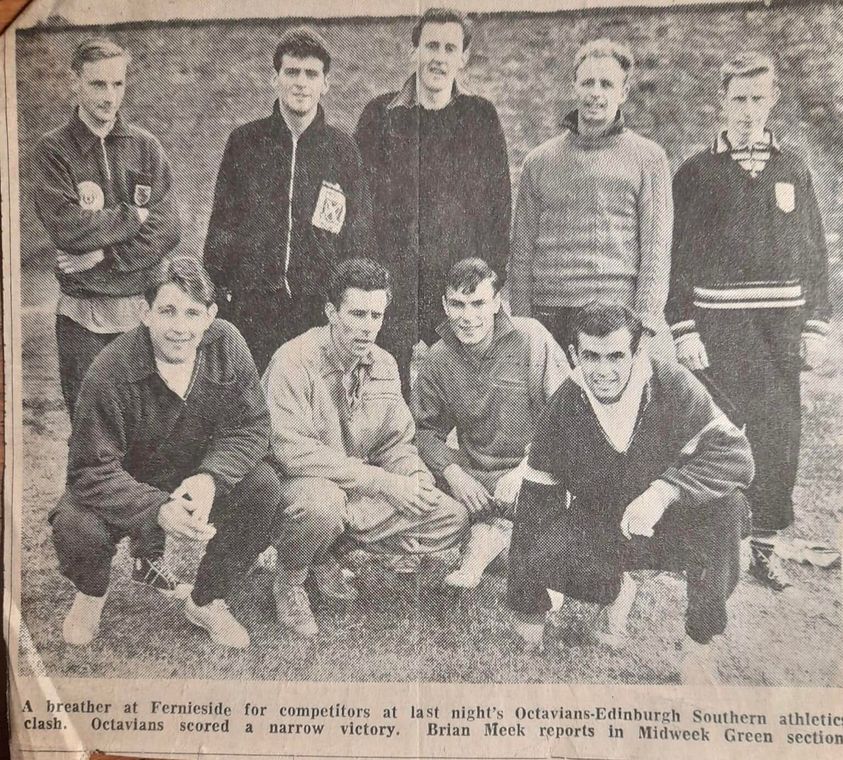 All Octavians. Back row, left to right: Tom Tait, Frank Dick (future Scottish National Coach), Fraser Provan, Dougie McNish, ?. Front row: John Macdonald, Bob Hay, ?, Norrie Paterson.
In 1967 (according to the 'Scottish Athletics 1968' booklet), several athletes recorded seasonal bests at Fernieside. Events mentioned included: 100 yards, 6 Miles, High Jump, Triple Jump, Shot Putt, Hammer, Javelin and 4×110 yards relay. These feats took place in April, June, July or August.
Notable ESH members mentioned included: Gareth Bryan-Jones (won 6 Miles); and Chris Black. At this time, Chris was a first year Junior, who won the Scottish Junior Hammer Championship by a wide margin at Craiglockhart; as well as winning the event on his home track. John Keddie finished first in a Triple Jump. In 1983, John published his excellent 'Scottish Athletics 1883-1983', the official centenary publication of the Scottish Amateur Athletic Association.
In June, a sprint relay team from Edinburgh Athletic club won on the Fernieside track – presumably beating ESH.
Alex Jackson (Statistician and Official)) wrote:
In April 2021 during lockdown I went to where the Fernieside clubhouse used to be and took two photos (below). (Above) is a photo of the clubhouse being built – this was in Ian Ross's scrapbook and Colin Youngson has included it in his good piece on Ian in the Anent Scottish Running website.
In that photo, Ian Ross is standing in the doorway. He had a Joinery business and was Clerk of Works on the building.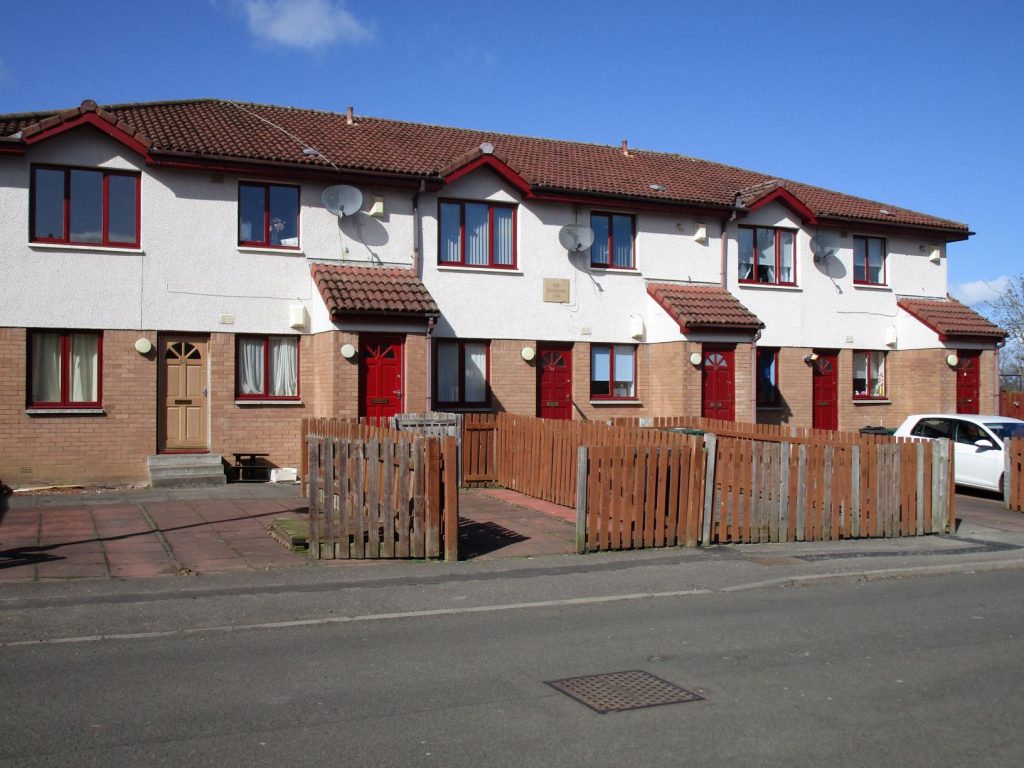 I posted all three photos to a Lost Edinburgh Facebook group in April 2021 with the comment:
"Edinburgh Southern Harriers clubhouse at Fernieside being built by club members in the 1950s. It was eventually demolished and was replace by 6 houses in 1994. As a nod to the previous building, stonework with "The Harriers 1994″ is on the middle house"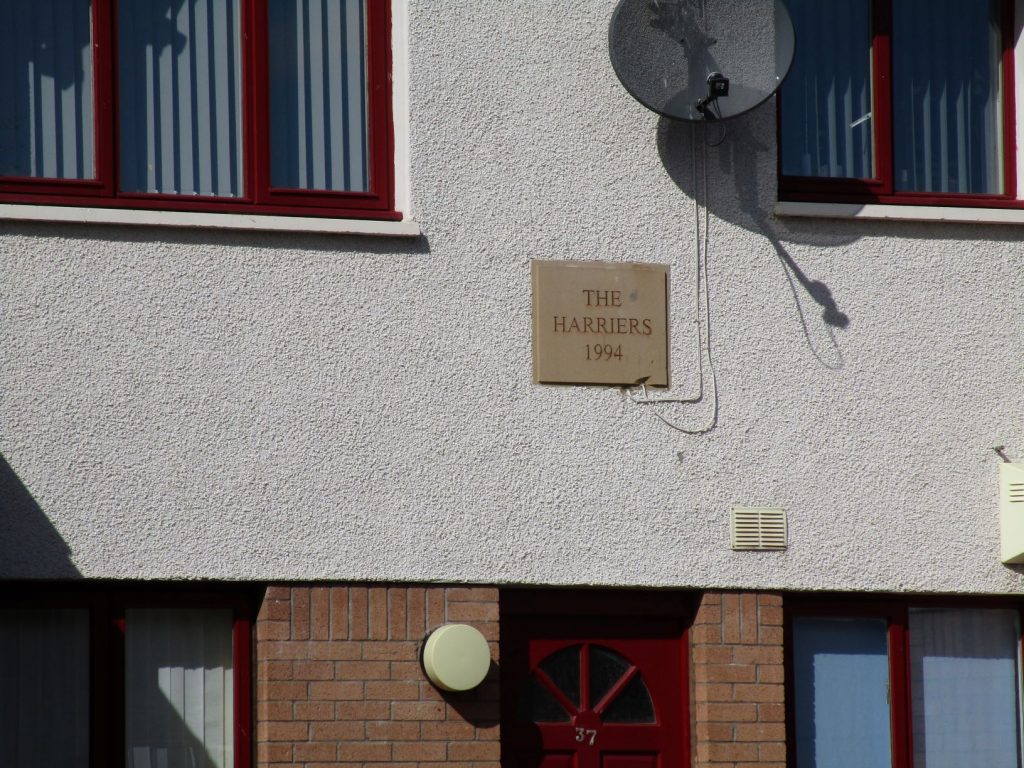 The former cross-country courses close by are all now houses and a hospital.
Colin Youngson wrote: Saturday 30th September 1972. My team – Victoria Park AC – won the Edinburgh Southern Harriers four-man road relay at Fernieside, Edinburgh. ESH finished second team. I set the fastest stage time – 11 minutes 53 seconds. (The course record was 11.39). The Vicky Park runners were: Davie McMeekin, Hugh Barrow, Colin Youngson and Pat Maclagan (11.58). Donald Macgregor, who had been a superb 7th in the recent Munich Olympic Marathon, ran 11.59. I still have the 'Fastest Time Senior' pennant.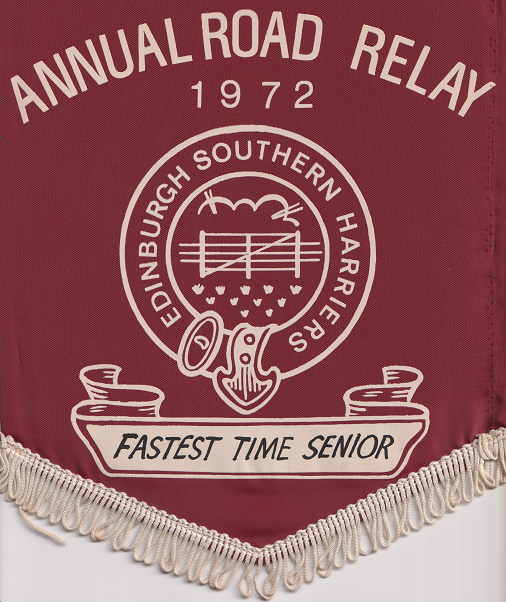 After racing in Sweden for ten months (1973-1974), I began teaching English at Craigmount Academy in Edinburgh and joined ESH. My first team race for this top club was on Saturday 28th September 1974. We won our own Fernieside Road Relays and I posted the fastest time (11.43 – by now Adrian Weatherhead's record was 11.30). It was the only occasion that my brilliant young clubmate Allister Hutton (second ESH team that day) let me finish (six seconds) in front of him. Running the first stage, we were leading together when we reached the start of the brutally-steep final hill. I sprinted flat out, Allister complained "For God's sake, Colin!" and I hung on with difficulty during the flat last 200 yards to the line, before sagging exhausted into the comforting embrace of a friendly hedge. Other runners in our winning outfit may have been Donald Macgregor, Martin Craven and Craig Douglas. (Between September 1974 and November 1975, I was fortunate to be part of winning ESH teams in all the main Scottish Road Relays – Fernieside in Edinburgh, The Kingsway in Dundee, The McAndrew and The Allan Scally in Glasgow and The Edinburgh to Glasgow 8-Man Relay. We broke course records for the Scally and E to G, as well as finishing second to Brendan Foster's Gateshead Harriers in the 1975 English 12-Stage Relay.) The inaugural Scottish 6-Stage Road Relay was added in 1979.
In those events, in alphabetical order, my marvellous winning team-mates were: Nigel Bailey, Alistair Blamire, Gareth Bryan-Jones, Martin Craven, Craig Douglas, Ian Elliot, Colin Hume, Allister Hutton, Dave Logue, Donald Macgregor, Fergus Murray, Alex Robertson, John Robson and Ray Weatherburn.
Once A Runner, indeed. Those were the days!
Later in the 1970s, the ESH Club 10 Miles Road Championship started and finished at Fernieside. I remember managing to get away from Alex Robertson to win on one occasion.
Alex Robertson, (son of Hamish) was part of several ESH Scottish Championship winning teams in the late 1970s and 1980s. He wrote:
My first memory of going to Fernieside was as an 8-or-9-year-old, when I was taken out to run round Fernieside with Stuart Miller. The first group of boys I ran with included: A Henderson, Brian Kerr, and Andy and Allan Waters It was Tuesday night training; I think we may have gone on a Thursday as well.
The first track race I watched there had Fergus Murray winning the 3000m. Athletes I remember training there included: Allister Hutton, Chris Black, Allan Wells and Helen Golden (all Scottish and British Internationals).
Tuesday night was a good group session. As I got older, John Gladwin, Kenny Harkness, Craig Hunter, Dougie Macdonald, Norman Sweeney and Kirk Smith joined in. We ran various routes from the club room. One route was up to The Meadows, then back to Fernieside. Sometimes this turned out to be a burn-up on the way back! In those early days we went out older runners like Ian Mackenzie, George Brown and Norrie Ross.
Fernieside was also the venue of a team trial for the last places in the 1975 English 12-stage Road Relay. Ray Weatherburn turned up to claim the last place from Fergus and myself.
Fernieside was the first place I saw (1980 Olympic 100m Champion) Allan Wells training with the speedball. It was also the first place where I came face-to-face with Nat Muir (Scottish and British International) at the Fernieside road relays. ESH also held the cross-country club championship race round the field near the clubrooms. These courses were all set by Stuart Miller.
Fernieside was the venue for the East District Cross Country Championships on at least two occasions: 24th January 1959 (organised by the National Cross Country Union of Scotland); and 18th January 1975 (organised by the Scottish Cross Country Union).
In 1959, the race was won by Adrian Jackson (Edinburgh University) from John Linaker (Pitreavie). Both were prominent Scottish Internationals. ESH won the team title (Norman Ross 3rd, Alastair Ross 4th, Graham Stark 6th, Jack White 7th, Jackie Foster 11th, Ron McAllister 12th).
In 1975, ESH also finished first team (Allister Hutton 1st, Colin Youngson 4th, Nigel Bailey 7th, Craig Douglas 8th, Martin Craven 9th, Alistair Blamire 11th and Ian Elliot 12th). Hutton had a close battle with Paul Kenney of Dundee University and Jim Dingwall (Falkirk Victoria) was 3rd. Youngson's running diary noted: "Bumpy, muddy, fast start – nasty stony path – corn stubble field – slippery path uphill then downhill – field and then right round the lap again."
Alex Robertson wrote: The road relays started at the clubrooms, went uphill to Moredun Park Road up to Gilmerton Road, then right hand turn down to Kingston Avenue, right hand turn to Old Dalkeith Road, up the hill to the clubrooms. The Boys' race went down Moredun Vale Road then up Dalkeith Road. The 10 miles road race started at the clubrooms, went on to Old Dalkeith Road, down towards Dalkeith, up the hill into Dalkeith, right hand turn to Bonnyrigg to a traffic light, right hand turn heading to Lasswade, then from Lasswade up to Station Road into Gilmerton, down Gilmerton Road to Fernieside Road and back to the clubrooms Other training runs were done round Drum Estate. Another was up to the Pentland Hills, up to the top of the ski slope, then back to the clubrooms.