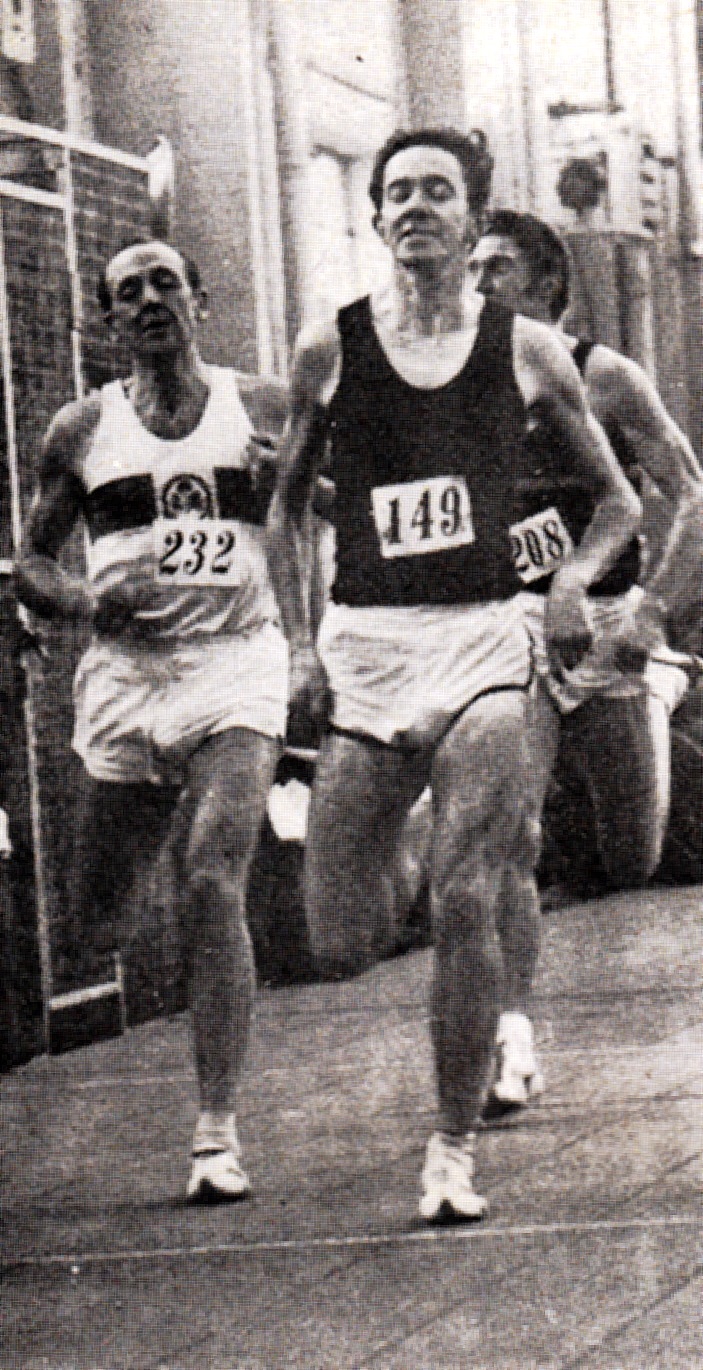 Duncan running 1:53.4 indoors at Cosford in 1967
There were four very good half-milers in the mid-60's and into the 1970's in Scotland.   Dick Hodelet of Greenock Glenpark Harriers, Graeme Grant of Dumbarton AAC, Mike Maclean of Bellahouston Harriers and Duncan Middleton of Springburn Harriers.   Duncan had a relatively short career at the very top when he was winning titles, setting records and winning races but he was the only one who came into the sport with a Scottish title in his very first season.   He was an Under 15 Boy when he won the SCCU Championship at Hamilton Racecourse and several fairly intense rivalries were set up there.    Among his opponents in that race (he won in 7:58) in March 1962 were Dick Wedlock (second in 8:03), Walter Eadie (third in 8:07), Jim Brennan (fifth in 8:11); the following year as a first year Youth he was sixth (14:54), one place ahead of Wedlock (15:01) with Brennan fourth (14:39); and in the next year again, he was second (to Eddie Knox) in 15:02, Wedlock was third in 15:10, Eadie fourth in 1518 and Brennan sixth in 15:30.   It can be seen that he was mixing it with very high quality opposition and not on a one-season-only basis.   He would go on to win British and Scottish titles over 880 yards with 1967 undoubtedly his best year.   Only one year behind McCafferty and company, the 'what if …' question arises in Middleton's case as in so many others in athletics.   What if he had raced over the Mile and Three Miles rather than the quarter and half-miles?   His undoubted speed would have given him an enormous advantage in the increasingly tightly fought battles up the finishing straights of the 1970's, and the risk of injury from fast running in the cold Scottish winters.   A it is what we can say is that he was an outstanding member of a series of very good Springburn squads all the way through his career, he was a top flight middle distance runner and a credit to Scottish athletics.
Duncan Middleton was born in Glasgow on 4th July, 1946, and was only 14 when he won that SCCU Championship.   Springburn as a club was flying high – particularly among the younger athletes being produced by Eddie Sinclair's enthusiastic coaching.   Eddie's boys were the best in the country at the time and one of Duncan's contemporaries from another Glasgow club had a straightforward explanation for their success.   Boys and youths races, he said followed a pattern where they started fast, steadied up or went to sleep in the middle of the race, then finished fast.   Springburn boys started fast, didn't slow up, and finished fast.   There was no wee rest in the middle of the race.   They were all well conditioned athletes and the production line of runners like Ian Young, Eddie Knox, George Jarvie, Adrian Callan, Graham Williamson and company seemed endless at the time: every presentation was dominated by Springburn's Boys (U15), Youths (U17) and Juniors (U20).   The seniors weren't too bad either and won their share of medals and trophies too.   Duncan had come into a club where success was the norm and expectations were high; where there were champions to follow through the ranks.   He had a real talent which, added to the training provided, led to personal success.
In that first winter of 1961-62,  there was no Boys race in the Lanarkshire Championships but on November 25th, in the second Central League match he caused a bit of an upset as the 'Glasgow Herald' reported:  "D Middleton (Springburn) caused a surprise in the second series of boys races in the Central League when he beat F Wedlock (Shettleston) on the post in the senior event both finishing in 9:29."   'Senior' in this context means Senior Boy (14-16) as there were only races for Junior Boys and Senior Boys in the League.   This was because there were no races for Under 15's in County Championships or in relays at County, District or National level.  On 16th December, the third Central League match took place without Wedlock and Middleton finished second to Fleming of St Modan's AAC.   The next head to head with Wedlock came on 13th January in the fourth Central League match at Paisley when Wedlock defeated Middleton with Brennan third.   The next championship of course was on 20th January, 1962, in the Midlands Championship, where Middleton was second behind Wedlock but, in maybe a sign of the rivalries to come, both were timed at 8:33.   For the second race that season they were tied on times and each had won the verdict once.   On to the National at Hamilton on 3rd March and there was no doubt about the result: the 'Herald' again: "R Wedlock (Shettleston) lost his Boys title to D Middleton (Springburn) by 20 yards in 7 min 58 sec."    
There were no Boys track championships at National SAAA level until 1974 so the Under 15's ran in the track league, if their club was affiliated, in whatever open races they could find, in inter-club fixtures and highland games and in sports meetings.   It is difficult to track a young athlete's progress through the April to September period.   Fortunately, Middleton had by now moved up to the Youths (15 – 17) age group and was competing against runners up to two years older than he was but in the West District Championhips at Westerlands on 28th May, he finished in the Youths 880 yards behind Daubney of Ayr Seaforth and Brown of St Modan's in a race won in 2:03.2.   He occupied a similar position in the SAAA Championships at Meadowbank on 23rd June when he finished behind GK Oliver of Galashiels Academy and R Carroll of Edinburgh AC.   The winning time was 2:00.4.   Other than these two championship races, Middleton did not appear often in the results sheets over the summer and it was into winter 1962-63.
In the Lanarkshire county relay championship on 13th October, 1962,  he was only third fastest over the Youths trail behind Ian McCafferty and team mate Ian Young – but all three broke the previous record for the course.  The winter programme ran like clockwork and on 27th October, as ever two weeks after the County Championships,  he was a member of the Springburn team that finished second to Motherwell in the Garscube Harriers Youths team relays at Westerton.   Into the New Year and on 19th January in the Midland District Championships, Middleton was fourth  behind three top talents – McCafferty (14:57), Brennan (15:01),Young (15:30).   At Paisley for the Inter Counties on the first Saturday in February, he finished fourth, but well behind winner Ian McCafferty and one place behind his Ian Young.   The county, the district, the inter-counties all built up to the National, held in 1963 on 23rd February at Hamilton.    The In the National result was a win against the odds for Ian McCafferty (14:12), the odds seemingly favoured R Carroll of Edinburgh who finished third (14:27).   Ian Young was second (14:23), Jim Brennan fourth (14:39), Tom Brown fifth (14:41), Middleton sixth (14:54) and, one place behind Middleton was Dick Wedlock (15:01).
On 25th May, 1963, on a day when Hugh Barrow won both Junior and Senior Mile titles and double victories were achieved by Ming Campbell and Sandy Sutherland   in the West District championships at Ayr, Middleton won the Under 17 880 yards in 2:00.5 from fellow Springburn Harrier Eddie Knox.   The big championships however were the SAAA national championships, held at Westerlands on 22nd June, with Ming Campbell winning three titles in the sprints.   In the Youths 880 yards, the winner was David Henry from Gala Academy in 1:58.1 from Middleton in second and Graeme Grant third.   Henry was an exceptionally good young runner who held sway over all comers as a Youth but who totally disappeared from the sport after going up to university.
That winter began with a second fastest time of the day in the Youths relay at the county championships – Eddie Knox ran 9:21 and Middleton 10 minutes for the winning team.   There was another team victory on 2nd November at the relays at Garscube when the team of Knox, Gorman and Middleton won from St Modan's AC.   Knox was fastest runner of the day this time around.   November 11th was the date, Lewisvale Spartans Relay was the occasion.   Springburn came in second with St Modan's the winners despite Eddie Knox running the day's fastest leg fastest in 8:52 with Middleton timed at 8:55 as second quickest runner.   In the Midland District Championships on 18th January, Middleton (14:48) emerged triumphant in front of Brennan (14:55) and Knox (15:07).   Eddie Knox, Duncan Middleton, Harry Gorman and others in Springburn were not only great team mates but they were also rivals whom spurred each other on in training under Eddie's watchful eye and built up a fearsome reputation.   In the national championship that year the order in the Youths championship was first, Knox (14:48), second Middleton (15:02) and third Wedlock (15:10).   The 'Glasgow Herald' gave the race one sentence.
Middleton was acquiring the reputation of a good half-miler during the summer competitions with a gradual but consistent incremental improvement year-on-year.  Missing the county championships on 23rd May,  in the West District Championships the next Saturday, Tom Dobbin of Greenock Glenpark beat Knox in the Youths 880 yards in 1:58.8 with Middleton still nowhere to be seen.   In the various sports meetings held around the west of Scotland in May and June, the 880 races were being won by Graeme Grant, Dick Hodelet, Hugh Barrow and others but no sign of Middleton who was absent from the SAAA Championships too with victory going to Hendry in the Junior ranks and to Dobbin in the Youths race while Eddie Knox won the Youths Mile.   One has to assume that that summer was lost due to injury.   Then one reads the Athletics Weekly Who's Who entry and reads that  "1964: No racing.   (Retired for 9 months)."   There's a thing – not many as honest as that.   However, there was no sign of the man that summer, the winter of 1964/65, but although he missed all the championships (county District and National) he did record a time of 1:58.5 which was three-tenths adrift of his 1963 time.
But he was back in business and that was the good news for his club and for his country.  He went straight into the short relays.  Solid runs in the McAndrew, Lanarkshire and Dundee Kingsway relays got him started and in the Midland Relays at Stirling on 29th October, 1965, he was on the lead-off leg for Springburn and turned in a time of 13:10, only 12 seconds slower than Eddie Knox in the fourth placed team.   He also ran in his first Edinburgh to Glasgow relay on 20th November.   Running on the exposed 5th stage he picked the team up from ninth to eighth in the fifth fastest time of the day.   The five miles plus was also probably the furthest he had run in any serious race so far but it was not the last – he was out in the classic Nigel Barge Road Race on 8th January, 1966, where he finished 34th.   In the national on 26th February, he finished thirteenth to be Springburn's third scoring runner behind Knox (2nd) and Gorman (9th) after a winter which showed quite clearly that he was in good shape for the summer of 1966.
As a first year senior competing in such company as Dick Hodelet, Graeme Grant, Craig Douglas and Mike Maclean, he didn't win any of the major championships but he did take seven whole seconds from his personal best for 880 yards.   In the SAAA championships he won his heat in 1:57.6 to qualify for the final  There he was unfortunate to finish fourth of the 'big four' – 1.   Graeme Grant 1:50.3;   2.   Dick Hodelet  1:51:50.7;  3.   Mike Maclean  1:51.2;  4.   Duncan Middleton  1:52.0;   5.   Martin Sinclair  1:52.3;   6.   Adrian Weatherhead  1:52.9.   Clearly running really well but with the standard as it was he seldom featured in published results but his best of the season was in Dunoon at the Cowal Highland Games when he was third in 1:51.3.
He switched coaches at the end of 1966, moving from Eddie Sinclair to John Anderson.   There were maybe signs of this transition when the 'Glasgow Herald' report on the Lanarkshire relays on 8th October commented on Middleton dropping from first to fourth on the second stage saying "AD Middleton swithering between cross-country and next year's track aspirations".    He was out again in the district relay on the last stage when he was outsprinted by Dumbarton's runner for third place.   At the end of November, he ran the first stage of the Edinburgh to Glasgow and finished eighth of the twenty runners.   An interesting feature of that year's first leg was the number of top half milers running it – Mike Maclean was tenth, Graeme Grant was twelfth and Tom Dobbin was nineteenth.   The apparent problem had been solved by the start of 1967 when, on 4th February he won the AAA's indoor 880 yards championship.   On a day when Ian McCafferty took the headlines of the meeting at Cosford the half-miler was also entitled to a good Press.   The report read as follows:
"AD Middleton, lost in the cinder kick-back last year of Grant and Hodelet, came into his own with a great 880 yards in 1 min 51.5 sec, a UK all-comers best performance.   Aged 20, he has been coached by Mr JH Anderson, the national coach, since October last year and the effects have been astounding.   Limited weight training and speedwork form the basis of his preparation – they meet as often as possible at the new Grangemouth track – and the modern Middleton has responded to the work like a Pavlovian dog.   Saturday's ploy was simple.  It was to go to the front from the outset and make J Gingell, the holder, do the worrying.   It worked wonderfully but coming off the last banking with 30 yards to go Gingell went through agonies trying to oust the Scot; he failed by a matter of inches.
Middleton thus becomes the first athlete in Springburn Harriers long history to win a senior AAA title, and strangely if he is chosen to compete against France he will have become a British internationalist before being a Scottish one."
 The result was Middleton first in 1:51.5 with Gingell second.   His selection for the French match was confirmed the following week and he was paired with John Whetton for the 800 metres.   In the actual match in Lyons on 26th February, Whetton was replaced by Gingell who finished second in 1:53.8 with Middleton third in 1:54.2.   Outdoors, the West District championships were passed up in favour of the British Games invitation 880 yards at White City where he finished fifth, two places behind Graeme Grant (1:51.5)  in 1:52.0.     Then on 3rd  June at the Birmingham Games, Middleton was part of a Scots 1-2 in the 880 yards.   The 'Glasgow Herald' again: " AD Middleton did the donkey work for more than a lap then W McKim (Midlands) shot into the lead halfway down the back straight, desperately trying to relive his four minute mile days of three seasons ago.   His onslaught flattered to deceive; MJ Maclean elegantly repulsed him coming into the home straight and a painful effort by the Englishman to withstand Middleton's late thrust for his second place was beaten aside."   Maclean ran 1:52.3 and Middleton 1:52.8.
A week later (10th June) at Grangemouth Stadium in the Inter-Counties meeting, the 880 yards was described as one of the best races of the afternoon and it resulted in a win for Middleton over MF Sinclair and WH Barrow who ran a personal best of 1:52.6.   Middleton's time was 1:52.2.   Another very close finish in a half mile.   Two weeks later, 24th June, at Meadowbank Middleton set a new Scottish 880 yards record of 1:50.2.  The opposition was all there in the form of the other two top men of the period,  Maclean and Grant.   Coming in to the last 100 yards he was behind the previous year's winner Grant, and everyone's favourite, Maclean, but just surged past Grant and then, he said afterwards, "Mike seemed to be coming back easily to me – it made me forget how tired I was."    He was four tenths of a second in front of Maclean and a single second up on Grant.
Back at home Middleton won the 440 yards at the Land o' Burns Trophy meeting on 12th August at Dam Park in Ayr in 49.9 seconds while his more usual event, the 880 yards was won by Hugh Barrow from Adrian Weatherhead in 1:56.7.   Another regular late season meeting was the Edinburgh Highland Games on 19th August and this time Middleton was second to Grant in the 880 yards in 1:54.3 – only one tenth away from first.
By the end of summer 1967, Middleton was in a whole different class to anything he had been before.  Ranked at three events – 440 where 49.9 put him eighth, 880 1:48.6 first and Mile 4:12.7 eighteenth.   That plus competitive success at GB and Scottish levels plus his first British international vest.    'Scottish Athletics, 1968′ (The statisticians' yearbook) said:   "Duncan Middleton, the 1967 AAA Indoor 880 yards winner and record holder, showed fine judgment and pace to hold off the strongly fancied Mike Maclean and establish a new championship best of 1:50.2.  The stylish and intelligent Springburn runner had a successful season and excelled himself in the AAAfinal in returning his best time of 1:48.6 for fifth place in a strong field."
The change of coach and success indoors had not taken him away from the relay season in October.   On 14th October he ran the first leg for the team that was second to Shettleston with a time only slightly slower than Eddie Knox.   Dundee Kingsway Relay was the following week and again Middleton was in the team which this time could only finish fourth and out of the prizes.   In the District Relay on the 28th of the month he ran fourth for the Springburn team that won silver in the race, albeit he was the slowest club runner on the day.   He did not run in the Edinburgh to Glasgow in 1967 though.
His new year started with the AAA's indoor championships on 3rd February in the RAF hangar at Cosford  where John Gingell won back his title with Middleton third  in 1:53.6 and Craig Douglas fourth in 1:53.9.   Unfortunately the Olympic year of 1968 did not have many happy results for Middleton.   On 3rd June, 1968, he ran in the British Games at White City and could only finish eighth in 1:52.2 while Mike Maclean managed to run an excellent 1:49.8 for fourth place.   This was to be Middleton's fastest time of the year – ranking him fourth.   The statisticians' yearbook commented that 'Middleton's decline and eclipse in the major races was a disappointment.'   His only triumph was winning the Inter-Counties in 1:54.9 from Colin Martin (1:55.5).
In winter 68/69 he ran but as not in his best form.   For instance, in the District  Relays he was in the THIRD Springburn team of four with Ian McIntosh, Nicky Souter and Tom O'Reilly.   The first team was sixth, the second team eleventh,  and the third team 24th, while Duncan himself was the eight fastest of the twelve.   This time he was not in the team for the Edinburgh to Glasgow but he was out in the District Championships on 18th January when he could only finish 84th while Springburn won the team race with 72 pints.   By the end of winter 198/69 his career was effectively over.   There were no more medals in any championships, indoor or out, Scottish or British, gold, silver or bronze for Duncan Middleton.
It had been an interesting career yielding more success than most of the athletics population can ever dream of – British gold and international representation as well as Scottish gold, British and Scottish records and yet it was such a short spell at the very top.     But at the end of the day, Scottish athletics is lucky to have had his services and he himself can be proud of what he achieved.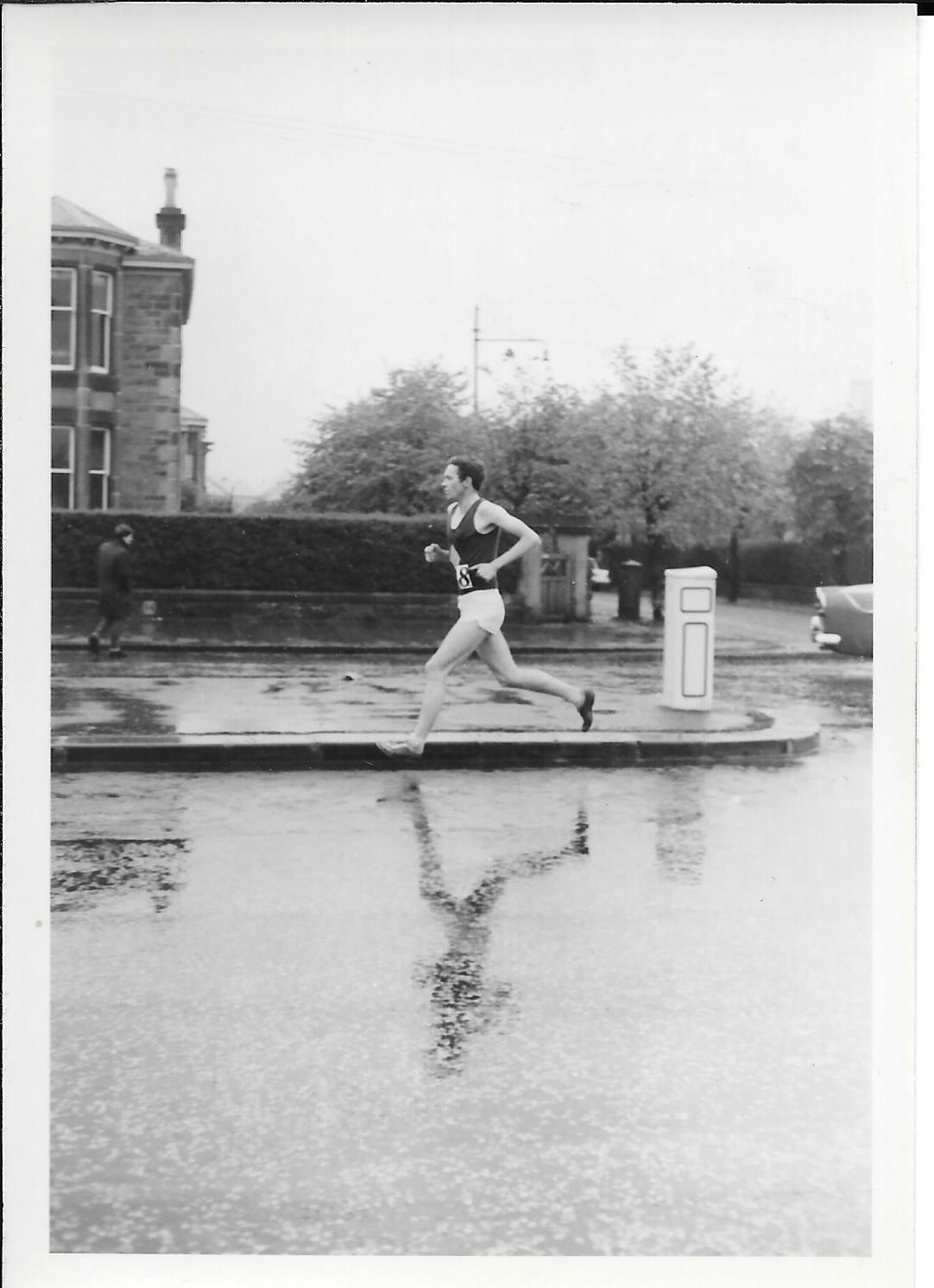 Duncan Middleton in the McAndrew Relay 1966
Duncan was the subject of an 'Athletics Weekly' Who's Who in December 1967 and it is reproduced below.
"Full Name: Alexander Duncan Middleton.   Born in Glasgow 4.7.46.   5'11", 140lb35″ chest; 52 pulse at rest; commercial student; Springburn Harriers; single; coached by John Anderson (Scottish National Coach), "I was coached by Eddie Sinclair (club coach) from 1963 to 1966", lives in Glasgow.
Became interested in athletics in 1960 – "My friends were members of Springburn Harriers and I went along with them one night in October and started cross-country and road running."   Began at  cross-country and 880 yards; favourite event now is 880 yards.  
Best marks:   220 – 23.3 (1967);   440 – 49.9 (1967);   880 – 1:48.6 (1967);   Mile – 4:12.7 (1967);     
Annual 880 progress:   1961 – 2:08;   1962 – 2:01;   1963 – 1:58.2;   1964 – No racing (retired for nine months);   1965 – 1:58.5;   1966 – 1:51.3;   1967 – 1:48.6.   AAA indoor & Scottish outdoor champion 1967; GB international; member UK 4 x 880 record team.
Most pleasing performances were "AAA final (5th in Scottish record of 1:48.6) and Scottish AAA's championships."   No disappointments.  
Next year's target is Mexico City; all time target is Empire, European or Olympic medal of any sort.   Intends competing "until I lose interest."
Most likes "chance to meet people and the chance to travel around.   "Dislikes people who run down coaches as "bums".   Most of them give up their spare time to help athletes with no reward other than the athlete doing well."   View of administration: "No Complaints."
That is where the Who's Who item ends but this profile ends with Duncan, third from left in the back row, at a Springburn Harriers presentation in the 1960's.