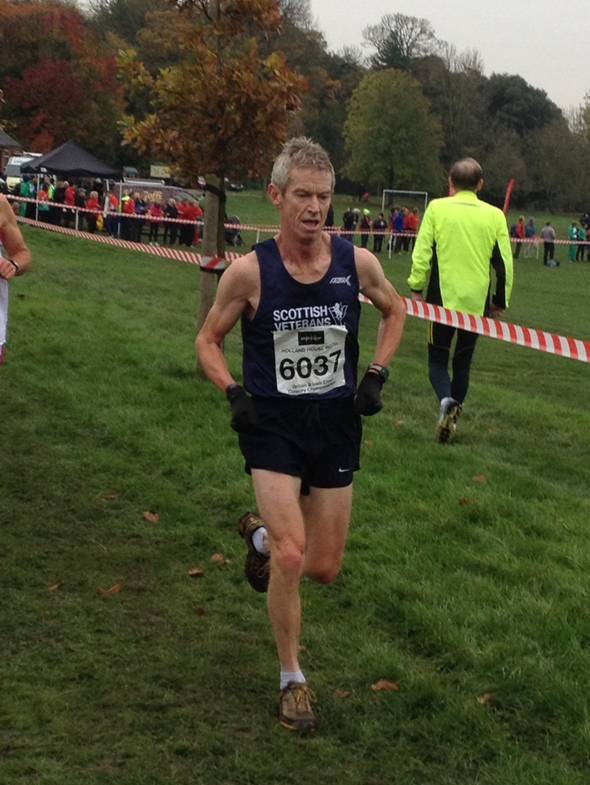 The questionnaire below appeared first in the Scottish Vets magazine and is reproduced with the permission of editor Colin Youngson.
(Doug Cowie continues to enjoy a long and successful running career. Nowadays, due to dedicated and varied cross-training, all-round he is the fittest over-60 that the editor knows! At Forres Harriers, he is an inspiration. This profile was written before the 2014 British and Irish Masters Cross Country International at Nottingham, when Doug, along with Frank Hurley, Andy McLinden and Tony Martin, won thoroughly-deserved team gold.)
NAME Douglas Cowie
CLUBs Forres Harriers/SVHC
DATE OF BIRTH 16/02/1953
OCCUPATION Leisure Supervisor
HOW DID YOU GET INVOLVED IN THE SPORT?
A friend and ex- RAF runner David Parsons who is still competing for Oxford City converted me from football to running in 1971.
HAS ANY INDIVIDUAL OR GROUP HAD A MARKED INFLUENCE ON YOUR ATTITUDE OR INDIVIDUAL PERFORMANCE?
Bob Wallis, my coach for nine years. He was also coach to Steve Jones and a host of other RAF and club runners. Without his guidance especially in the early days I am sure I would not have achieved as much as I have.
Donald Macgregor, Gerry Stevens (Reading AC) and Mick Woods (AFD) were all major influences at different stages of my running career.
Being involved with the RAF CX team through the 70/80s was an honour and a privilege for the 'mere mortal'. During that period I was lining up in races with the best runners in the country never mind the RAF. There was Wild, Goater and Crabb from England, Jones, Jenkins and Hackney from Wales, Dion McNeilly was a regular with Northern Ireland and from Scotland there was Gordon and Steve Rimmer and Colin Donnelly.
WHAT EXACTLY DO YOU GET OUT OF THE SPORT?
Personal satisfaction of achieving goals set.
Health and Social benefits.
WHAT DO YOU CONSIDER TO BE YOUR BEST EVER PERFORMANCE OR PERFORMANCES?
Winning the RAF Germany XC Championships when I wasn't even considered a top 5 finisher.
Winning a European Masters Half Marathon silver medal and receiving it from Mrs Zatopek.
Winning SVHC CX Championship in my home town.
Winning European Duathlon gold medal in 2011.
YOUR WORST?
2ATAF XC Championships 1980. We were competing against the Belgian, German, Dutch and American Air Forces, I was expected to be first scorer for the RAF but had a disaster and finished 9th scorer out of 9!
WHAT UNFULFILLED AMBITIONS DO YOU HAVE?
Steve Prefontaine was my first running hero and I would like to visit Coos Bay, Oregon.
OTHER LEISURE ACTIVITIES?
I cycle quite a lot, swim twice a week and enjoy walking with my wife.
WHAT DOES RUNNING BRING YOU THAT YOU WOULD NOT HAVE WANTED TO MISS?
Through running I have had the good fortune to have travelled the world.  In 2004 I was an escort runner when the Olympic Flame went on its global relay. In 2007 I took part in a similar event travelling to 42 cities in Brazil prior to the start of the Pan-Am Games and in 2012 I was involved with the Olympic Torch relay.
CAN YOU GIVE SOME DETAILS OF YOUR TRAINING?
For 30 years I ran an average of 80mpw, as did most decent club runners of that era but now my training is geared to staying fit and healthy.
Sunday             Easy 3 hour cycle or 60-75 minute easy running.
Monday           2 hour cycle with a bit more effort.
Tuesday           Early morning swim and Harrier session in the evening.
Wednesday     Easy 2 hour cycle/ Water Pilates.
Thursday         Harrier session.
Friday              Early morning swim/Thighs Bums 'n Tums exercise class.
Saturday          Running or cycling efforts.
That's the gist of it. As the winter approaches I will do less cycling and more jogging.
The best thing I have done in recent years is to cross train, supplement running with swimming and cycling – exercising but recovering at the same time.  Pilates and core strength workouts have also proved beneficial.
My Favourite Race.
My first serious race was a Services XC league race in November 1971.  From that day many races have been run, over many different surfaces and over many different distances. Although I specialised in the marathon XC was always my favourite discipline and my favourite race was the RAF XC championships.  I was always taught it was not how you performed in December or January that mattered, more importantly how you performed in the Championships in February. I first contested the RAFs in 1971 finishing in 235th position.  The following year I was 68th then 32nd.  I did it 21 times, my best position being 13th.  That day I was 8 seconds off 8th place with the top 8 being current internationals.  My final appearance came when aged 41 when I finished in 25th place.
Marathon Memories
My first attempt could have been my last. 1974 Inverness to Forres, got knocked down after 9 miles and woke up in hospital with the doctor sewing my arm up.
Next attempt – 1975, 2.40, was a member of the RAF Kinloss team that won the RAF  Team Championship.
1981, Boston! A must for any marathon runner. 7000 runners all had to qualify unlike the London marathon which has turned into the biggest 'Fun Run' in the world. I did 2.31 for 372nd place and my friend who did 2.39 was 960th!
1983, RAF Championships, 1st in 2.23, a breakthrough after running 2.30/2.31 five times.
1985, Paris 2.21.14 my pb.
1985, Aberdeen, 2.26 – represented the 'Rest of the World'!
1986, Aberdeen, my first Scottish selection.
1987/88, Marine Corp Marathon, Washington DC.  14,000 runners both years and I finished 8thand 9th in 2.27 both years and at the 20 mile mark there was a pipe band playing Scotland the Brave – both years!
1988, GB vest, Singapore. Did 2.30 but considering the heat and humidity was pleased to finish 30th out of 3000+.
2001, Moray marathon, Scottish Masters Champion.
2003, Chicago. My 50th marathon in my 50th year. Did 2.47 which was good enough for an age group silver.
50 marathons of which 34 were run overseas. A pb of 2.21 and a slowest time of 2.47 and 19 times below 2.30.
Favourites;     Swinderby 1983 – RAF Champion.
                        Boston – an unforgettable experience.
Marine Corp Washington DC – very well organised and the best road surface, they call it the marathon of the monuments.
Singapore – first GB vest.  Race was a week or so before Christmas – magical.
Frankfurt Marathon – I've always said you can't beat German organisation.  14,000 runners all got hot showers, 14,000 runners and their families all got hot food!
Chicago – my last. It was preceded by a week in Boulder Colorado staying with Steve Jones and while there I met former Olympic champion Frank Shorter and former World champion Mark Platjes.  The race itself had probably the best atmosphere of them all.