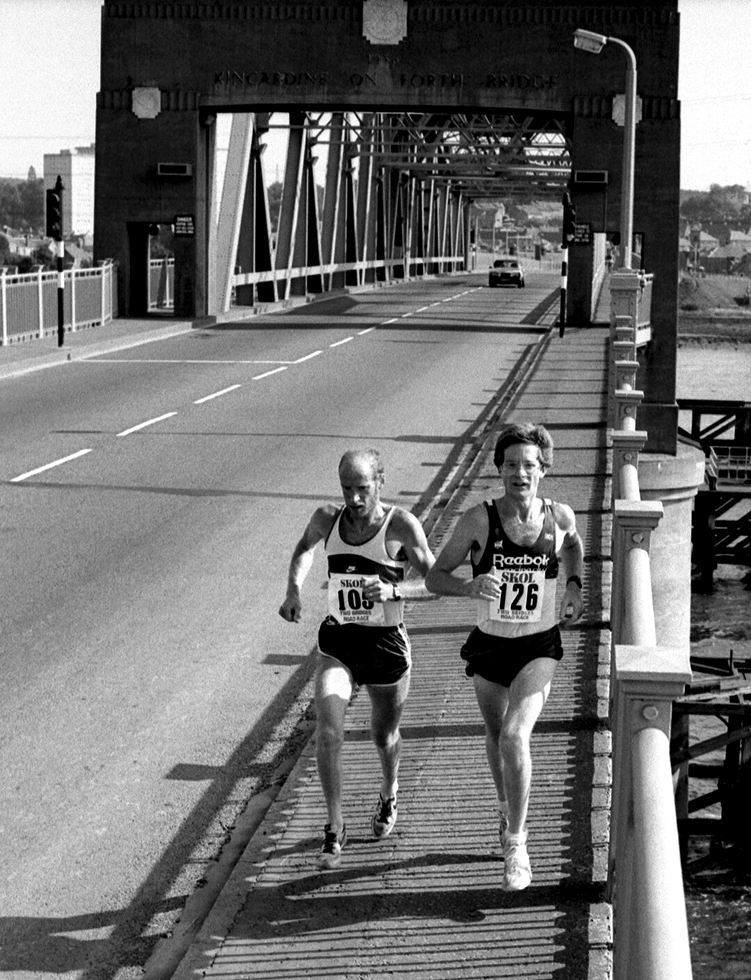 Donald in the 1984 Two Bridges
The seed of the ambition to run from the most Northerly point on the island of Great Britain, John O'Groats, to the Southern extremity, Land's End, was sown in my mind many years ago. On long Sunday runs in the late 60's with Alistair Wood and Steve Taylor, we used to periodically discuss the possibility of an "end to end" relay run. Enthusiasm for the relay grew, and in April 1972 I was part of the eight man Aberdeen A.A.C. team which completed the John O'Groats to Land's End (J.O.G.L.E.) run, estimated at 867 miles, in 80 hours, 25 minutes, some 45 minutes outside the record set by Reading A.C. in1967. Using the experience gained, Aberdeen A.A.C. improved on Reading's record by 23 minutes, the following April, but I was not able to participate in this "adventure". The idea lived on, and in April 1982 I was part of a very strong Aberdeen A.A.C. team, which reduced the record to: 77 hours, 26 minutes and 18 seconds.
Since then the idea of a solo run grew steadily stronger, until in June 1986, I decided to plan an attempt during our two-week Easter Holidays from School and College in 1987. Both of my parents had died of cancer: my father in 1985, and my mother in 1986, so the time seemed right to attempt the run, and raise funds for cancer research, through sponsorship. After months of planning, my attempt began at 7.00am on the 5th April at Land's End. I had decided to start there, to make use of the prevailing wind, which in April is from the West, and the "homing pigeon" effect. My support team consisted of: Graham Milne, co-ordinator for the run, Peter Chalmers, in charge of navigation, Mike Francis, who looked after my requirements on the road, and Malcolm Morgan, (magic Morgan), the head physiotherapist from Dr Gray's Hospital in Elgin.
I set a schedule for ten days, and my strategy was to run for one hour, and then walk for five minutes, before running another hour, continuing in this fashion until 1.00pm, when I would take a break of one hour. The afternoon and early evening would be similar. On the first day I finished in the town of Lifton, having covered 83 miles in 12 hours, 44 minutes of running and walking.
Next morning I set off in pouring rain which was miserable. Mike and I got lost in Taunton, which wasted time and energy. I ended the day in Bridgwater, having covered 80 miles, plus 1 mile in the wrong direction. Day three started well; the sun was shining, the road was flat for about 16 miles, and I felt quite good. However many miles later in the early evening between Monmouth and Hereford my attempt floundered. I was running down a steep hill before St. Weonards when suddenly a severe pain developed in my lower left leg, making further running impossible. Treatment from Malcolm that evening proved ineffective. Next day was a miserable experience; walking, or rather, limping along at less than 4 miles per hour. At Hope under Dinmore, which I reached in the late afternoon I abandoned the attempt, after consultation with Malcolm, who could see no chance of the injury improving. Later the injury was diagnosed as a stress fracture in tibia.
I made a complete recovery from this, and wanted to try the J.O.G.L.E. run again. However, before committing myself, I wanted to give my leg a good test, so I accepted the invitation to run in the Cagliari to Sassari race of 254Km in Sardinia, on 17th October. I completed the run in 25hr 28min 51s, with no leg problems, apart from the normal one of not being able to move them quickly enough.
Having passed this test I decided to make a second attempt, starting on the 11th of July from Land's End. Everything was set up for the attempt, so it was a bitter blow to all involved when the attempt had to be postponed on the of 19th June. On this day, soon after the start of a 100Km race in Lincoln, I collided with another runner and fell very badly, onto the pavement. I fractured my left patella, and had to endure the next three and a half weeks with my left leg in plaster, from groin to ankle. Following the plaster removal, after daily physiotherapy and muscle strengthening exercises, I regained full bending movement in my knee, but my leg looked rather like a stork's. I was able to start jogging on 7th August, and progressed to full training by 12th September. I wanted to test my knee to see if I could contemplate another J.O.G.L.E. run the following Easter. I ran the Black Isle marathon on 29th September in 2-34-56 with no ill effects, except increased discomfort and ache in my knee for a few hours after the race. Then on 19/20th November I ran in the indoor (200m track) 24hr race in the Kelvin Hall, Glasgow, and managed 144miles 1009yds. My knee was no problem during the run, but did swell with fluid for a few days after.
I decided that I was sound enough to plan another attempt for 1989, again in our two-week Easter Holidays from School and College; this time I planned to go from John O'Groats. My reasoning was; it is much easier to get to John O'Groats from Lossiemouth, my home, and in the event of my knee giving out, which I thought might happen after three days if at all, it would not be so far to get home. There was, however, more likelihood of head winds going this way. I set up the attempt to begin on the first of April at 12noon (no longer an April fool), which was the first day of our two weeks Easter holiday from School and College. My support team consisted of: Isobel, my wife, Donald Gunn and Mike Francis, both team mates from Forres Harriers, George Stewart, plus Claire and Anna, our family. Isobel assisted by George was to tow our caravan, provide meals, wash kit, and make a video record of parts of the run when she got a chance. Mike took responsibility for route finding and keeping the logbook, while Donald was to administer massage after each running session. They would also both collect names and addresses for the witness book, as required by the Guinness Book of Records, should I break the record, as planned.
As on my previous attempt I decided to use my run to raise funds for the Cancer Research Campaign. Sponsor forms were distributed to Lossiemouth High School by; Izzy, to Moray College by me and others given to family and running pals to elicit donations.
On my first attempt two years earlier the 'confirmed' record for the end-to-end was 12 days 1 hour and 59 minutes, by Ken Craig, a Scot living in South Africa, who ran between 29th August and 10th September 1984. Fred Hicks had claimed to complete the run of 876 miles between the 20th and 30th of May, 1977 in 10 days 3 hours and 30 minutes. The Guinness Book of records included his claim before introducing requirements for documentary evidence: log book and record of 'sightings'. Since then the record for the run had been improved on two occasions. On the 28th of June 1988, Al Howie from Saltcoats in Ayrshire, but who lived in Victoria, Canada, completed his run from John O'Groats to Lands End in 11 days, 3 hours and 18 minutes. This improved the existing record by 22 hours and 41 minutes. In a letter to Albert Middleton, the manager of the Co-op in Buckie, who had given Al food for his run, he said 'Beside the running the main problems were the traffic and the ever changing weather'. Richard Brown, although primarily a race walker, had used a combination of race walking and running to reduce the record time to; 10 days 18 hours and 23 minutes, so this was the time that I had to attempt to beat.
One of Isobel's pupils, Julie Walker, was eager to help with fund raising and through her enthusiasm, her father, Stuart Walker, who operated a taxi service in Lossiemouth, agreed to be the 'link' person. I arranged that at the end of each day's run, either Mick or Donald would telephone Stuart with information on my current progress. Stuart would then pass this information to appropriate contacts when they telephoned for 'latest information'
On Friday the 31st of March, after work we set off for Golspie, where we were to stay at Donald's parent's holiday cottage. Mike and Donald drove a minibus, supplied by our main sponsor, "The Macallan" whisky distillers. I had all the seating removed except that for the driver and passenger, so that it could easily carry all our provisions, kit and a bicycle, and also so that I could lie out in it for massage.
Overnight Mike developed severe toothache, so he and Donald set out early to try to find a dentist in Wick, while we made our way to John O'Groats some time later. My plan was to ease into the run by starting with a half day, and would run to Brora. At John O'Groats it was bitterly cold, and a strong South East wind blowing, so a wet suit, hat and gloves were necessary. Mike and Donald arrived about 30 minutes before noon, having found a dentist in Wick, who fixed Mike's tooth for free as his contribution to our run, which by was known as "Ritchie's Run 89".
Nine friends and supporters turned up before the start, to wish me luck and see me off, which I greatly appreciated. I planned to start to start exactly on the 12 noon time signal from a B.B.C. radio station, but I selected the wrong station on the car radio in the excitement, and there was no time signal, so my actual departure time was 12.02.
I set off to cheer and was soon alone, tackling the first of many hills, running into a strong head wind in this very exposed region, and I wondered what the next ten days would bring. To try to minimise stress, and hopefully avoid injury I had decided that I would not run for more than three hours in a session, and that I would have at least 30 minutes break between sessions. I intended to run 3 times 3 hour sessions, followed by 2 times 2 hour sessions, plus whatever else was necessary to complete the target mileage if it was practical. During the 30minute rest I would change kit, and shoes if necessary, take food and drink, and receive a massage and stretching routine from Donald. Malcolm Morgan had demonstrated the techniques on me a few weeks before, while Donald and Mike observed, and Isobel made a video recording for reference. To gain skill, we think that Donald practiced massaging his girlfriend's legs.
After I had covered about three miles, Donald and Mike began running alternate miles with me, to try giving me some protection from the wind, on the exposed road to Reiss. Soon Wick was reached, and we passed through with some encouragement from local people. I stopped at Thrumster for my first rest period, which passed quite slowly, but I was sure that this would not be the case later in the run. I continued down the undulating A9 road, which afforded some spectacular views of cliffs, sea and mountains. At the Berriedale Braes I was very cautious of the steep descent, fearful that excessive jarring might provoke another stress fracture, so I walked down the steepest part, a practice I would continue on all future steep downhills. The climb from Berriedale was O.K., and there were several other stiff climbs, before the descent to Helmsdale at sea level again. From there the road is almost flat, and I could see the lights of Brora, eleven miles away. This section appeared to take a long time to complete; it was quite annoying seeing the lights, which did not appear to be getting any closer. I finished in Brora at 10.45pm, having covered 65 miles.
I had difficulty sleeping that night, and was feverish. In the morning I was choked up with a cold; the cold, which had been threatening over the past week, had developed into a class one cold. After breakfast we returned to Brora, and I began running from last nights stop at 6.10a.m. The wind was not a problem until the high exposed ground from the south end of Loch Buidhe to Bonar Bridge. Going over the Struie hill was very hard as the wind was so strong at times that I had difficulty staying on my feet. I was glad when the descent to the Cromarty Firth began, as there were trees either side of the road, offering some protection.
Shortly before crossing the bridge over the river Averon, a sharp pain on the front of my left patella developed, and I worried that this might signal the start of problems with this knee. However, applying some freeze spray eased it considerably, and eventually it faded away and I forgot about it.  Raymond Cameron and members of the Minolta Black Isle A.C. joined me a couple of miles before I rejoined the A9, and ran with me in relays from there to the Kessock Bridge at Inverness. It cheered me up to have this enthusiastic support, and they also helped to shield me from the wind. At Kessock Bridge, Colin Bailey had arranged a group of veteran Inverness Harriers, to run with me from the bridge to within a few miles of Slochd summit. Again they were a big help against the wind, and in lifting my morale. It became colder, and by Slochd summit there were flurries of sleet. I was tired and anxious to see the turn off for Carrbridge, where I was to stop. I reached there at 10.05p.m, having covered 84.7 miles, and feeling very tired. It had been a hard day with the wind and hills.
Donald drove us to the Caravan Park in Aviemore, where we were to spend the night and we all appreciated the hot showers. Next morning was frosty as I set off from Carrbridge at 6.05 a.m. I felt comfortable, and it was peaceful running along the B9125 road rather than the A9; I would have plenty of it and its traffic later in the day. The day developed into a pleasant morning, with no wind, and the sun was out, which was quite encouraging. My first three hours took me to Kingussie, only 19.5 miles, but I had come to accept this as the norm if I am to avoid injury, and complete the task. After Newtonmore I rejoined the A9, and after about 4 miles, I had company from Graham Milne, who had driven up from his parent's home in Pitlochry. It was good to have his company to my next stop at Drumochter pass. By now Isobel had arrived, and the hot soup she offered was very welcome. Peter Scott a club mate of Graham's, who was involved in the planning of the previous attempt, also arrived. He and Graham became my support team until Pitlochry, while Donald and Mike went ahead to Graham's parents for a meal and some much needed sleep. Peter ran with me on my next three-hour session, and then Graham took over again until we reached Pitlochry, where a refreshed Mike and Donald resumed their task.
About one mile after rejoining the A9, after the Pitlochry section, I could see a figure running towards me, and on getting closer I recognised that unmistakable running style; it was Ian Moncur. I knew he was pleased to see me, as he began jumping up and down, waving his arms in the air and shouting at the top of his voice, "where the hell have you been?". I had asked Ian prior to the run if he would like to run a section, and he readily agreed, so earlier in the day I had asked Graham to telephone him to let him know my location, so that he could plan a meeting. Unfortunately Graham gave him a very optimistic estimate of my arrival time at Ballinluig, so he had expected to meet us some three hours earlier. Ian ran with me for two hours, down to Dunkeld turn off, by which time it was quite late. I left the A9 soon after to go to Bankfoot, where we finished at 11 pm, with a total of 81.8 miles for the day. In view of this late finish, Mike suggested, what I had also been considering; that I start one hour earlier in the mornings.
There were no hot showers at our night stop, at Scone Palace Caravan Park near Perth, so we did without. Next morning I began running at 5.12am, and only covered 17.5 miles in the first session to Glenfarg. I was coping with the run, but getting weaker daily, and certainly not adapting to it, as some people suggested would happen. My cold had progressed into bronchitis, which was rather worrying.
Adrian Stott from Edinburgh joined me about five miles before my next stop at Hill of Beath. It cheered me up a lot to have his company. I developed a nose-bleed, the first of many, so I had to run along spattered in blood, and with a wad of toilet tissue in my nostril to stop the flow; just another nuisance. As we approached the Forth Road Bridge, snow began to fall, and there was a very strong East wind. Isobel passed us on the bridge, and so was able to video us coming off the other side. Adrian ran with me round the Edinburgh Bypass, which was very busy, and extremely nerve racking to run on, due to the fast and heavy traffic. We were both very relieved to get off and head for Penicuik. I observed at my next toilet stop, in some roadside cover, that as the day before, there was evidence of intestinal blood loss; something else to try and remedy. Adrian left us at Leadburn Inn, with best wishes for our "history in the making" event, and a flask of fresh tea plus a £5 donation from the Inn staff.
More snow fell on my next session down to and through Peebles, where I missed the most direct route onto the B7062 road. With the drop in altitude the snow turned to sleet. Somewhere on the narrow road, as mike and I ran along in the light from the van behind us, the lights suddenly veered to the right. Mike and I turned to see what had happened and saw that the van was off the road on the right hand side. Donald had fallen asleep while driving at such a slow speed. Thankfully there was no ditch and we were able to get the van back onto the road. I finished by Traquair House at 10.26pm, having covered 80.6 miles. It was quite a long drive to the Caravan Park at Tushielaw Inn, made difficult due to the snow on the B709 road, as we followed it over the hills. Again there were no hot showers, and it was after midnight by the time we had finished our 'evening' meal.
Later that morning, at 4.00am, we had to push the Macallan Van off the site, as the tyres were slipping on the slushy and muddy grass. I began running from last night's stopping place at 5.16am, and soon faced a long climb over to the A708 junction, and then another climb, over to Tushielaw.  The roads had a covering of snow, and it was quite therapeutic running through this quiet countryside, apart from sheep, as dawn broke.
Mike and Donald took turns at driving and sleeping, so that they would be fresher later in the day. I followed the meandering B709 on to Eskdalemuir, then down into Langholm, and we left the hills behind us, as the flat country around the Solway Firth spread out before us. I crossed the English border in the late afternoon, which gave me a morale boost.
Apart from my bronchitis, and intestinal blood loss, I was now beginning to get stomach pains, despite regular eating. I worried that I might be developing an ulcer. Also the inside of my mouth was very sensitive, almost raw, so it was an effort to eat; especially anything hot or with salt in it. I pondered possible courses of action to combat this problem. I had already given up quit dilute orange squash in favour of water, or tea or electrolyte drink after the second day. I noticed that my sore mouth was aggravated, by eating bread and jam, so I decided to eliminate sugar from my diet to see if this would help. I ate the dry wholemeal bread along with an electrolyte drink, and a banana every hour. Within a day of this regime my stomach pains vanished, and there was no longer evidence of intestinal bleeding. The inside of my mouth, however remained raw.
I passed through Longtown and approached Carlisle along a very busy A7; it was the rush hour. I was very tired and I flopped into the van at my next stop at the North side of Carlisle. Following this rest stop, Donald guided me through Carlisle and onto the A6 road, which I followed as darkness fell. Mike accompanied me with a torch, to our finishing point at the Northern outskirts of Penrith, reached at 11.11 p.m. This gave me 81 miles for the day.
Next morning I started at 5.11am, and felt comfortable on the run up to Shap fell. I did not like the steep descent after Shap summit, and I had to go very cautiously to avoid putting to much stress on my legs. Mike joined me as I approached Kendal to guide me through, before dashing off to buy another pair of shoes from Pete Bland's shop. I was extremely tired by this time, and covered only 16.9 miles in this, my second session, which finished about two miles South of Kendal. During my massage in the rest period, I kept falling asleep and going straight into a dream. Donald did very well in his massaging sessions, but we soon used up all the massage oil, so Johnson's baby oil was used, but this caused some hairs to get pulled out on the insides of both thighs, causing boils to occur there. These were another source of irritation. Next we tried "crisp-n-dry" cooking oil, which worked well, but it left a pungent sickly smell on any kit contaminated with it, and on the air bed used for massage, which was also Donald's night bed.
I put on lighter shoes to see if this would help matters, as I pushed on to Carnforth and Lancaster. I felt very weak, and wondered how much longer I could keep going. My concern grew so I decided that I would run less than was planned, so that I could finish earlier and get to bed earlier. I finished at 9.27pm in Preston town centre, having covered 72.4 miles.
Next morning I got underway at 5.20am, and followed the A49 to Wigan and onto Warrington. I felt a bit fresher, but still managed only 17.3 miles in my first session. After Stretton I ran through some attractive countryside, and just after mid-day logged 500 miles. During the afternoon I had another nosebleed, and this became a regular occurrence until the end. Rather than stop I stuffed a pieces of toilet paper up my nostrils to stem the flow of blood. I finished the day at Wem at 9.25pm, with another 73.1 miles added to the total. My plan w, was to run at least 70 miles a day to the finish, instead of my planned 80 miles, as the latter was proving too stressful and might promote a breakdown.
My 5.02 am start the following morning was my earliest, but I felt tired, and covered just 16.7 miles in my first three hours session. It was frustrating to be going so slowly, but at least I was still running, and had no injuries. The owners of Lower Lacon Caravan Park at Wem, Shropshire, where we had stayed the previous night waived their charge as their contribution to our charity.
Going through Shrewsbury I passed by the Lion Hotel, where we had stayed in 1987 following the abandonment of my first attempt. I passed through some attractive countryside as I followed the A49 to Church Stretton and Ludlow.
The weather became quite warm in the afternoon sunshine, and I was tempted to put on shorts, but I discovered that it was not quite warm enough on stopping. It was rather pleasant, running from Ludlow through Richards Castle and Luston to Leominster along the quiet B4361. Passing through Leominster I felt some twinges in my right calf, and I began to worry that this might be the start of an injury. After a few more occurrences, they did not reoccur, which was a relief. I passed Hope under Dinmore, where my previous attempt finished, and my thoughts returned to that miserable day two years ago, when I was very downcast. Hereford was reached at dusk, and then ran on and up the long climb to the A466 turn off. I finished at 11.07pm, North of St. Weonards, with a total of 73.6 miles, for the day.
At 05.08 am next morning, I started quite aggressively, and gave thanks that I was still running, as I passed the spot where my stress fracture had happened two years previously. Monmouth was passed through, and my run down the Wye valley, early on this Sunday morning was pleasant. I reached the Severn Bridge at about 11am, and weather conditions were quite warm again. In Bristol, Mike and I navigated to the Clifton Suspension Bridge; only to discover that the road we were to have taken down to the riverside was closed. I decided to go over the bridge and go down on the other side, assuming that we could find a bridge at river level, and cross back to rejoin our route. This was a mistake, because, despite our city map, we got disorientated, in fact thoroughly lost, and wasted time going in the wrong direction. However, we asked directions from local people, and after clambering over a couple of fences, and a railway line we regained our route.
By my next stop, on the climb out of Bristol, on the A38, I had only covered 12.2 miles in the last three hours session. During the next session, the road was very busy; I assumed that it was people returning to Bristol, after a Sunday afternoon outing. Mike's sister, Hilary joined us after Bristol, and assisted Isobel locate our night's Caravan Park, and get set up ready to receive us later. Once over the Mendip hills, the road became flat, just like the batteries of our torch. Rain began to fall, so I splashed along holding a torch, which was almost useless. Mike fetched the batteries from the rear light of the bicycle, but they soon faded also. Despite this I managed to avoid damaging myself, in any potholes in the roadside. I was aiming for Bridgwater, and eventually reached the outskirts, where I stopped for the day. It was 11.25pm, and I had covered 71.8 miles.
Next morning I got going at 05.01 am, and made my way through Bridgwater and on to Taunton. In my first session I covered 17.4 miles, which was quit encouraging considering my poor condition. Tiverton was next, then a very hilly section across to Crediton. As I was still concerned about excessive leg stress, I choose to walk on steep downhill sections. I decided to try four three-hour sessions, rather than switch to two-hour sessions. On the next session I had a sharp pain on the left front side of my chest, which was aggravated by swinging my left arm, in my normal running action. I had to run along with my left arm folded against my chest to ease the pain. I thought that I must have pulled a muscle; due to all the coughing I had been doing over the past few days, because of my bronchitis. Then I wondered what a collapsed lung felt like. When I mentioned my new problem to Donald, who had arrived to accompany me over the remaining few miles to Oakhampton, he suggested that it was probably indigestion. I took this to mean, "stop feeling sorry for yourself and get on with the run". I reached Oakhampton at 8pm, in a very tired condition, with only 14.7 miles covered in the last three hours. I had a 66-minute rest before continuing with Mike and a rejuvenated torch, towards Lewdown where I finished at11.18pm, with 74.2 miles added to the total. I was now 88 miles from the finish, so the next day should be the final one.
I began my last day at 05.18am, with a sense of excitement and apprehension. My chest pain of the previous day had gone, but I was concerned that something may go wrong even at this late stage of the run. After about an hour into the run a headwind began to blow, and rain followed. Amazingly quickly, the wind became a gale and the rain became torrential. I battled on against the elements, the gale increasing in ferocity, as I climbed onto Bodmin moor. In my first three-hour session I only covered 15.4 miles. On my next session I was concerned that some of the gusts of wind would blow me into the path of a truck, or some other vehicle, so I asked Donald to drive the van ahead of me, so that I could get some protection, and so maintain a straight course. By the Bodmin Bypass the rain had ceased, but the wind was still strong. This second session yielded only 15.3 miles, and an even poorer 15.00 miles were achieved on the next. I changed into lighter shoes for my fourth session, and felt that I was running better, and covered 16.6 miles. However on the next, a two-hour session, I only managed 9.7 miles, finishing at the St. Ivel factory at Hayle at 11.08pm. I began my final session at 11.47pm, knowing that I had to complete the remaining 16.2 miles in 6hr 38min, to break Richard Brown's record. By now the wind had died, and it was a peaceful night with a clear sky, and a near full moon. On reaching Penzance, not thinking clearly, I took the Bypass road rather than go through the town, which turned out to be a mistake, as I appeared to complete a large semicircle, involving some nasty climbs. As I left the Bypass, a signpost indicated 9.5 miles to Lands End; at least I was almost there, but I was very tired and it seemed to take ages to reach Sennan, where I could smell the sea. As I ran towards the finish a floodlight came on, to allow the B.B.C. South West camera team to record the finish. I stumbled and almost fell on a speed control ramp in the road, and I was confused as Lands End was completely different from what it had been like two years earlier. There were new buildings, but I eventually found the hotel on the cliff top, and the "official" signpost, where I finished at 3.27am.
At last it was over! I had finished the journey of 846.4 miles, on foot, in 10 days 15 hours and 25 minutes, a mere 2 hours, 56 minutes faster than Richard had achieved. I was very relieved to that we got through it, without any mishap to myself or my support crew and my family. After hugs all round, we opened the bottle of Champagne, given by Albert Middleton, and drank to our successful project. I was very grateful to Mike and Donald for their dedicated and uncomplaining attention throughout each long day and to Isobel for her unfailing support. They each contributed a great deal to the success of the run.
Once the camera crew had signed our witness book we made our way to Lower Treave Caravan Park at Crows-an-wra. It was about 4.30 am before we got to bed; normally we would be preparing to start another day's run at this time. I found it difficult to sleep, as had been the case throughout the run, and got up at 9.00am. It was wonderful, not to have to go and run!
Later after making various telephone calls we returned to Lands End, to see in daylight the new developments, and to sign the "End to End" book. Mike and Donald set off for home in the afternoon, as Mike had to get a flight to Boston for the marathon; he had a unique preparation for it.
Isobel and I and the girls stayed another night at Crows-an-wra; the girls enjoyed watching the tortoise in the site owners garden. While there, a stream of yellow liquid suddenly poured from my nose, as though someone had turned on a tap. Isobel on seeing this commented that it was my brains running out, which we both found appropriately funny, and we ended up with a 'fit of the giggles'.
It took us four days to get back to Lossiemouth, and we arrived home on Sunday the sixteenth of April in the early evening. I had then to prepare for my return to work next day. We were certainly not refreshed after our Easter vacation. My weight on Monday the seventeenth of April was 9 stone, 7 pounds, which is around 7 pounds below normal; so since I had been snacking almost continuously, during waking hours, since I finished, I estimate that my weight may have been down to 9 stones.
The aftermath of the run was not what I expected; I was not injured, just very weak, and my health/immune system had broken down. Apart from the continuing bronchitis, I had swollen glands either side of my neck, and my pulse was always ten beats above normal. My G.P. prescribed antibiotics and they worked sufficiently well, for me to resume running on the first of May. I had difficulty sleeping, for about five weeks after finishing the run. I would be very restless, and keep thinking it was time to get up and get ready to run, or I would dream that I was running, and getting lost.
Being an optimist I had entered for the Lochaber marathon on 23rd April, and the first British Athletics Federation and Road Runners Club 100Km championship, on the seventh of May, prior to my run, but I had to withdraw from both events. My poor health continued throughout the summer; each time I began to train hard, I picked up another infection. I had seven courses of antibiotics, plus two decongestant mixtures, before I began to get back to normal in early September. I felt stronger each week, from then, and I knew I had recovered when I ran 6-51-14 in the Santander 100Km, in Spain, in October.
In association with my run, my many helpers and I raised £5666.85, for cancer research, of which £2900 went to the Moray branch of the Cancer Research Campaign and £2766.85 was donated to the Breast scanner appeal for Elgin. This made the run all the more satisfying. I have great respect for anyone who completes the 'End to End' journey on foot, as I know how difficult it is.
Postscript.
There were several record attempts since 1989, and most petered out after three or four days. Richard Brown, whose record I had broken, sent me a card, saying 'congratulations on your record, enjoy it until I get it back'. I thought that he was joking, but years later I realised that he was not.
On Saturday the thirteenth of May, Isobel and I drove overt to the A9 and met Richard Brown on the old A9 North of Kingussie. He was in excellent spirits and walking strongly and aiming to cover eighty miles a day by combining running and fast walking. I cycled with him until beyond Slochd Summit. There was quite a heavy snow shower on the section after Aviemore.
His support team consisted of two camper vans, with the following crew in one: Doug Aitken, the organiser/route finder and driver, Cyril the cycling attendant and James the physiotherapist, an unemployed graduate, who also looked after the cooking and meals. In the other van there were: Don Thompson, Amos Seddon and another walker/cyclist.
The two vans worked in 4-hour shifts and Richard had an attendant walker or cyclist with him at all times to carry drinks of 'Leppin' and provisions. The on-duty van continually leapfrog him from one lay-by to the next convenient grass verge, so that they were never more than half a mile away. In this way Richard could get food on request and any additional clothing required to cope with the changing weather. This is the arrangement that I would have adopted if I had access to funds that would permit it, but I am proud of our successful 'shoe-string' adventure.
Richard was sleeping in his fresh kit and rising at 04:00 so that he could get out on the road by 04:15 and did not take a break until 12:00, when he would take 40 minutes or an hour for lunch. He then continued without a break until 23:30!
During this to time he alternated race walking with running. While I was there he did a little jogging before his lunch break, but after that he only walked because he was worried about a knee problem. However his walking pace of 4.25 to 4.5 miles an hour was sufficient to meet his schedule. I expected that he would reduce my end-to-end record by several hours and should be close to ten days. There was some talk that Richard and his wife Sandra, who was also embarked on her own L.E.G.O.G received some financial assistance from the distributors of the film 'Forest Gump', but I forgot to ask Richard about this.
Since my run in 1989 there had been some road improvements and one major advantage was that there was a bridge over the Dornoch Firth, which removed the need to climb over the 'Struie' and the loop through Bonar Bridge.
On the 15th of May 1995 Richard completed the journey from Lands End to John O'Groats (L.E.J.O.G.) in10 days 2 hours 25 minutes, to set the current record. I know that the record should be under ten days, but who will accomplish this? A strong ultra runner with the time, and adequate financial backing, plus an experienced support crew, would be a good bet. I am occasionally tempted to plan another attempt to get the record back, and finish under ten days. Perhaps the desire will reach such a level that I will have to do something about it. Time will tell.
.