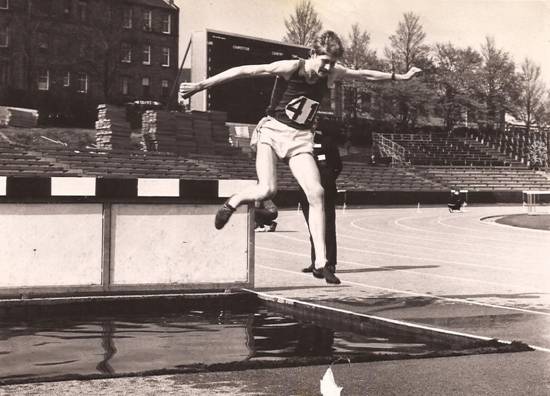 Dave Logue was a Northern Irish athlete of high quality who did almost all of his running in Scotland and who ran for both Northern Ireland in the world cross-country championships and the Commonwealth Games in 1970.   Colin Youngson was a team mate and friend and has written the following profile of Dave's career since his arrival here in 1965.
David Nixon Logue was born on 2nd August 1946.   He has lived in Scotland since going to Edinburgh University in 1965 but has run internationally for Northern Ireland.   Without doubt, if he had chosen to compete for us, he would have been a regular ,member of the Scottish Cross-Country team.   In November 1975, reporting on Dave Logue's win on the Glasgow University Road Race, Ron Marshall wrote the following in a Glasgow Herald article headlined 'Double First for Logue' : "David Logue, an Irish research fellow at Glasgow University, who specialises in cattle reproduction, received news on Saturday morning that he had been awarded his doctorate.   In the afternoon, with not a farmyard welly in sight, he won the university's open road arce from a record field of more than 200."
"Logue has been around for a long time.   A native of Northern Ireland, he has become one of the best known faces in Scottish middle distance running.   He represented his country  in the 1970 Commonwealth Games in the steeplechase at Meadowbank.   Nowadays he runs for fun.   Many of the serious, less-talented men who regularly finish with only a rare view of his rangy physique are not amused – at least not while he digs into a mine of stamina few possess and whips them along at a merciless pace.   Keeping Logue company all the way were Doug Gunstone, the Scottish 10000m champion, Colin Youngson the national marathon champion and Maryhill's Bill Yate, one of the hardest runners around at this level of competition,   The last 300 metres of the five mile circuit was run on the cinder track at Westerlands, and it was Logue who had most in reserve as Gunstone tried to launch a counter-attack.   The big Irishman finished two seconds ahead in 24:51, 23 seconds outside Norman Morrison's record.   Gunstone ran 24:53; Youngson 24:57 and Yate 25:03."
I find it hard to imagine anyone grudging Dave Logue victory.   In the 1960's and 1970's he was famed as a cheerful extrovert – a larger than life character who loved a party and was the best of company.   However his dedication may be less well known.   Certainly his working career has been very successful.   In 2011 he retires as Professor of Food Animal Disease at the University of Glasgow School of Veterinary Medicine.  Certainly when his suspect Achilles tendon permitted, his running training was extremely fast and tough.   But it was his ability to peak for important races and to produce his absolute best for the team that I remember.   Three of his perennial favourites were the Edinburgh to Glasgow Road Relay, the Scottish National Cross-Country Championships and the SAAA 5000 metres.
Mark Cavendish, the superb Tour de France sprinter, who goes through hell on the hilly stages, makes an interesting distinction between a cyclist's ability to hurt himself and his ability to suffer.   A 400 metres runner hurts himself a good deal; a good distance runner has to learn to suffer for quite a long time.   We all remember athletes of great physical talent who make it look easy (eg Ian McCafferty, Graham Laing, John Robson and Nat Muir).   Others however obviously got there with tremendous effort (such as Jim Brown and Andy McKean).   However of all the men I was lucky to know really well, no one possessed a greater ability (to push horribly hard, really hurt himself and suffer a great deal) than Donald Ritchie, the world-record breaking ultra-distance runner and Dave Logue.   The rest of us backed off and slowed down – but we admired our tougher rivals, especially because they never boasted.
Dave Logue's running career can be divided into three phases: 1966 – 1970, the Edinburgh University years and the Commonwealth Games; 1971 – 1973, competing for Glasgow University; and 1974 – 1984 representing Edinburgh Southern Harriers.
What a wonderful time to start at Edinburgh University!   National Cross-Country Champion Fergus Murray had established a training and racing dynasty and the Hare and Hounds ruled the roost in Scotland and in British University competition.   By the end of his first year, in the 1966 National Junior Cross-Country Championship, Dave Logue finished fifteenth and his team won bronze, only four points behind the winners.   In 1967, in his final Junior appearance, Dave was fifth and Edinburgh University won gold in the BUSF Championships.   His first attempt at the National Senior in 1968 produced thirteenth for Dave (third EU counter behind Alastair Blamire and Gareth Bryan-Jones) and another team gold.   In 1969 he was eleventh in the National but most of the Edinburgh University stars had graduated and their domination was at an end – although they went on to win Scottish team titles with ESH or EAC.   In 1970 Dave was tenth and EU won team silver.   Alistair Blamire was fourth but Andy McKean finished eleventh, only eight seconds behind Dave – a friendly rivalry between these two was evident and it was to continue for several years, especially on the sixth stage of the Edinburgh to Glasgow!
There were several other cross-country highlights for Dave Logue during this time.   In January, 1967, Edinburgh University H&HC occupied the first eight places in the Scottish Universities first team race from King's Buildings and over the Braid Hills; and Chris Elson won the second team race in a time that would have placed him about sixth in the premier event!   So much for competitors from the other six Scottish universities.   Dave of course won a full blue at Edinburgh University.   With greater difficulty I managed the same at Aberdeen University.   However I couldn't help wishing that I had gone to Edinburgh, although I doubt whether I could have endured 100 miles per week!   The most committed beer-drinking runners attended Strathclyde, but Edinburgh certainly played hard as well as ran brilliantly.   In 1967 EU won the team title at the BUSF Cross-Country Championships, defeating amongst others Oxford and Cambridge.
The gulf in class was evident in December 1968, when the Scottish Universities trial match (for the match versus the SCCU) took place on my home course in Aberdeen.   I ran a pb in 34:14 and finished fourth (just in front of young Andy McKean).   However the first three finished within eleven seconds well over a minute in front.   John Myatt of Strathclyde broke Bill Ewing's course record by one second (33:26), with Adrian Weatherhead recording 33:30 and Dave Logue 33:37.  Then in March 1969 the syndrome continued over the   KB course.   Once again I was fourth, well over a minute behind the carefully staged and deliberate dead-heat contrived by Dave Logue, Ian Young and Alastair Blamire.   As Scottish Champions, Edinburgh University took part in the European Championships at Arles in Belgium.   The team finished a creditable fufth with Dave Logue being first counter in a remarkable seventh individual position. Naturally Dave represented Scottish Universities every year, not only in the fixture against the SCCU but also in the home countries university contest which was part of the BUSF.   In addition he won the Scottish Universities cross-country title twice, including 1970 when he finished just in front of Andy McKean.
In March 1969, wearing his country's colours (green vest, white shorts) Dave Logue ran for Northern Ireland in the ICCU Championships at Clydebank/   His team was led by the outstanding Derek Graam (9th Old Boys), while Dave was a member of North Belfast Harriers.
In the Edinburgh to Glasgow Road Relay Dave had considerable success.   In 1966 he was third fastest on the fourth stage, extending the lead and EU won the team race.   1967 was almost identical (Dave moving up three places into the lead, third fastest on four behind Derek Graham, EU gold).   However in 1968, although Dave moved up four places and was second fastest on four to 1969 Scottish CC Champion Dick Wedlock, his team could only finish seventh.   Then in 1969, Dave moved up two places on four and was fourth fastest to Wedlock, Gareth Bryan-Jones and Alex Wight, EU finished third.   So far, representing EU in the National and the E – G, Dave Logue had collected four team gold medals, a silver and two bronze.
But what of the track?   I don't know when the inhabitants of 'The Zoo' (See Fergus Murray's profile) gave Dave the nickname 'Arkle' after the big Irish Equine steeplechaser.   Dave usually took university track less seriously and often raced when he was not fully fit.   The two main EU three milers were Alistair Blamire and Ian Young, so Dave contented himself the odd speed session over one mile (I even finished ahead of him once) but occasionally exerted himself (such as June 1969 when he won the 5000m at the Scottish Universities Championships).
1970 was different – Commonwealth Games year.   Dave Logue tried the steeplechase.   He made an immediate impression by winning the Scottish Universities title and also the East District one (recording 9:15.6 and defeating former Scottish champion Bill Ewing).   The race that sealed Dave's selection for the Northern Irish team in the Edinburgh CG was his fourth place in a keenly-contested SAAA steeplechase.   Olympian Gareth Bryan-Jones won in 8:41.8 but there was a real scrap behind him.   GB International Bill Mullett was second in 8:57.2, Bill Ewing third in 9:02.6 and Dave Logue ran a pb of 9:06.6.   Sadly before the Games started, Dave suffered a bad injury to an Achilles tendon.   Typically he decided to compete anyway and was determined to finish his heat.   I was spectating and agonised with him as he limped doggedly onwards.   It was torture to watch and much worse to run.   Imagine the pain: the impact of taking off and landing; negotiating 28 hurdles and seven water-jumps as well as running seven and a half laps on one good leg and one very sore one.   Dave made it to the finish in 9:49.8.   Well-known Welsh international Ron McAndrew, by contrast, did not complete the course.
Dave never ran another steeplechase and was injured for several months but by November 1971 he had started studying for a PhD at the Veterinary School and competing for Glasgow University.   Although that Achilles tendon was seldom healthy, Dave took part in many races for his new team.   In fact the 1971 – 72 season was very successful for Glasgow University Hares & Hounds.   The long and entertaining history of the club (on haresandhounds.com) states: "A major factor in the improvement of the club's fortunes had been the presence of the former Edinburgh University runner, Dave Logue."   He was always a role model – someone who trained and raced hard but also encouraged others and took an extremely active part in post-race celebrations, despite carrying out his academic work with exemplary zeal.
Although Glasgow University could not hope to win medals in the National Cross-Country Championships and the E – G, Dave continued to peak for those events as well as contributing to GU success in University competition.   They won the Scottish Universities team title in 1972 (and Dave was awarded a Blue) and 1974 (when Dave was the individual victor for the third time.)   Even after he graduated in 1974, Dave's influence continued since GU went on to win the SU CC team title in 1975 and 1976.   Dave Logue ran a great race in 1974 when he won the Midland District CC title at Cleland Estate almost half a minute clear of Lawrie Spence.   He also achieved an excellent sixth place in the BUSF that year.   In the Scottish National CC, Dave was fifteenth in 1973 and ninth in 1974.   In the annual SU v SCCU race, he was the individual winner in both 1973 (representing SU) and 1974 when a Northern Irish team took part in the contest and Dave was victorious again wearing his international vest.
In 1973 Dave was second in the Northern Irish National Cross-Country Championships and secured a place in the Northern Ireland team for the World CC Championships on Waregem Racecourse, outside Ghent, Belgium.   In 1974 he finally became Northern Irish Cross Country Champion.
In the 1971 Edinburgh to Glasgow, Dave ran the long sixth stage for the first year of seven in succession.   He improved the position of Glasgow University by five places and they ended up twelfth.   In 1972, the Hares & Hounds moved up to seventh.  Then in in 1973 GU finished ninth after Dave was second fastest on six in the top-class time of 31:16, not much slower than his old rival Andy McKean, who equalled the stage record with 31:00.   The famous Ian Stewart could only manage 31:21.
On the track Dave ran well for fifth place (14:11.6) in the SAAA championship 5000m at Meadowbank.   In the same race in 1974 he improved to fourth in a new pb of 14:04.0.
There are many tales about Dave Logue around this time.   On the training front, there were his legendary lunchtime sessions on Westerlands grass, with the likes of Lachie Stewart, Alistair Blamire and Innis Mitchell.   I rented a room in his top-floor flat in Highburgh Road for a year (1972-73) and remember trying early morning five mile runs with Dave.   He started so fast that it took me a mile to catch up.   Then there were the Wednesday evening, winter-dark ten mile runs up to Anniesland Cross (Dave ran straight through the traffic while I dithered nervously) and then out the grass in the middle of the dual carriageway in the direction of Dumbarton until we reached a certain roundabout and then headed back to the flat.   The petrol-tainted air quality can not have been healthy but we got used to it.   Dave's notorious Achilles was frequently tender and he used to rub it with horse liniment from the lab!
Then there was the socialising.   Dave had a miraculous ability to quaff ten pints of Guinness at Westerlands without showing a single sign of unsteadiness on the way home.   After BUSF in 1972, the GU history reports that Dave "only narrowly failed in getting himself thrown out of the Sheffield Union."   At a SCCU dance after the 1973 Springburn Cup, "there was a snowball fight with Scottish international Norman Morrison and Dave Logue threatened to practise handbrake turns on the Switchback Road to Bearsden!"   Working in a lab had its advantages, and Highburgh Road parties featured a powerfully alcoholic (and aphrodisiac?) so-called 'punch' which might (allegedly) been enhanced by the odd nip of ethyl (not methyl!) alochol.   In addition Dave started a fashion for late night post refreshment walking over parked cars (onto the bonnet, over the roof and on to the next car, etc).   When Albie Smith performed this feat on Dave's treasured light-blue 'Beetle' and left a dent on the roof, Dave was calmly philosophical about the damage.    With very few exceptions, Dave has been a sober and sensible citizen for many decades, but some of us still remember his roaring twenties!
Finally there were the Edinburgh Southern years.    By 1974, both Dave and I were competing for Scotland's top road-running team.   In the E-G that year, ESH won with Dave keeping our lead on six, with the third fastest time ahead of internationals Ron McDonald and Doug Gunstone, and ESH broke the course record set in 1965 by Edinburgh University.   In the 1976 race (when young John Robson had an argument with the baton, ESH could only finish eighth but Dave Logue was undaunted, moving up three places and setting the fastest time on six once again.   Dave was out of form in November 1977 but still battered himself in the great race, moving ESH into the lead on stage six with the fifth fastest time.   Our team won again.   He did not run the E-G again until 1982 when Dave was third fastest on five and ESH recorded another victory.    His Achilles tendon let him down at last in 1983 when he took over second on the eighth stage but was injured and limped in a brave sixth   Still, he had been in six winning teams!
Dave Logue ran successfully in several more Scottish National cross-country championships.  In 1976 Dave was sixth in the National Cross-Country: second ESH runner behind Allister Hutton in third and the club team was second to Edinburgh AC's record breaking score of a very low 37points.   In 1977 the race was on an undulating course thickly covered with snow.   Only the hard men made light of this.   Andy McKean won from Allister Hutton with Dave Logue achieving a  superb third place and ESH a close second to Shettleston.   In the 1979 race at Livingston, Colin Shields reported: "The races were held in bitter Arctic conditions over a tough course made difficult by terrain which was icy-hard and rutted underfoot."   ESH had a real chance of winning the team contest.   In my optimistic opinion, I was training faster than my friend Dave and after the first mile we found ourselves running side-by-side.   Suddenly I felt strangely tired – after all this was a genuine cross-country test and not a nice smooth road on which I might have had a chance.   Dave simply disappeared up the field while I sagged back to end up fifth ESH counter in a lowly 29th place.   By sheer effort and the ability to suffer, Dave overcame any lack of fitness to finish tenth, second counter for our team which won easily.   1981 was an absolute mudbath in a downpour at Callendar Park, Falkirk.   We were going for a hat-trick of team titles, so Dave and I struggled home in 15th and 19th positions, four seconds apart, only to hear that a couple of our more sensitive 'stars' further up the course had reckoned the conditions  a little unsuitable for athletes of their calibre – and had dropped out, so that we only finished second, a mere eleven points behind Edinburgh AC.   1982 produced another gold medal for ESH and Dave was 19th while I was surprised to outsprint him for 18th, and a bronze with Aberdeen AAC, the team I had rejoined.   Dave Logue's final gold was in 1983 when he ended up second ESH counter in 22nd place and the team won narrowly from old foes, EAC.   In total Dave was in five National winning teams.   After one of EU's victories in the National, perhaps in 1968, there was a slight delay in the presentation and Dave entertained everyone with his version of 'Wild Rover' over the official microphone!
In addition, Dave Logue played his part in a number of road relay successes.   He may have taken part in the AAA 12 stage relay in 1974 when ESH finished an excellent second behind Tipton Harriers.   he was certainly in the team which repeated this considerable feat in 1975 behind Brendan Foster's Gateshead Harriers.  In 1974, Dave was third fastest (22:20) only eighteen seconds slower than Andy McKean when he, Ian Elliott, Alistair Blamire and I helped ESH to break the Allan Scally Relay course record in 90:45,   Dave was also part of the ESH team which won the inaugural Scottish Six-Stage Road Relay at Strathclyde Park in 1979.   This was his twelfth Scottish Championships gold medal.
On the track, his impressive swansong was in 1977 when he finished fifth in the SAAA track 5000m.   It was a particularly high quality race, won by England's Dave Black in front of Lawrie Spence, Allister Hutton, Jim Brown and Dave Logue who finally broke the 14 minute barrier with a very good 13:53.   Injury-free at last, he also set an impressive pb for 10,000m (29:03.8) in September 1977.
Occasionally Dave tried his hand at longer distances.   I remember him outkicking me to break the record in the Balloch to Clydebank 12, probably in 1975.   Furthermore I believe he finally represented Scotland in an international 10 mile road race, possibly at Bearsden.   Then in 1983 when the Glasgow Marathon had become the major race in Scotland, Dave quietly decided to take part.   He was still in the leading group around 16 miles and then ran in steadily to finish untroubled in 2:26:05 – 24th out of the 9000 who completed the course.
Thereafter Dave Logue concentrated on his work and his family but has always continued to keep fit by running and ski-ing.   He has a wide circle of friends and, for a number of good reasons, thoroughly deserves to be referred to as 'Big Dave'.
*
That's Colin's profile of his friend, team-mate and rival Dave Logue and there is a lot in there that I – and I suspect many others – did not know; for those who were friends and rivals, some of the stories will bring back happy memories.   I can't help but remark though on the Edinburgh/Glasgow University situation.    In the early 1960's Glasgow University had a top class team including Calum Laing, Doug Gifford, Allan Faulds and others which was maybe the top team in the land but like all student teams it fell away, in the 1970's the Edinburgh University team was quite simply outstanding.    Both of these teams had students who wanted to run for the University and who turned out as first claim team runners for the H&H teams.   When the Glasgow team in the 80's won the Scottish Universities cross-country title eight times in a row, they had very high quality athletes running in the Scot Unis – unfortunately most of the top men chose to run for their club and not for the student teams.    It would have been a quite formidable squad had such as Bobby Quinn and Alastair Douglas chosen to run for them as first-claim members.   While there is nothing wrong with that decision, they are only at University for a few years and it might have been interesting seeing such a team in action.    However, Dave Logue had an excellent career and but for the tendon, the steeplechase might have been a real option for him.