Clubs names tend to follow a pattern XXX Harriers, or XXX Athletic Club, or for the more adventurous, XXX Striders. There are some who are a bit different though and of these Cosmic Hillbashers stands out. What was the club all about? Before we go on to Fraser Clyne's article on them, we reproduce their own description of their aims.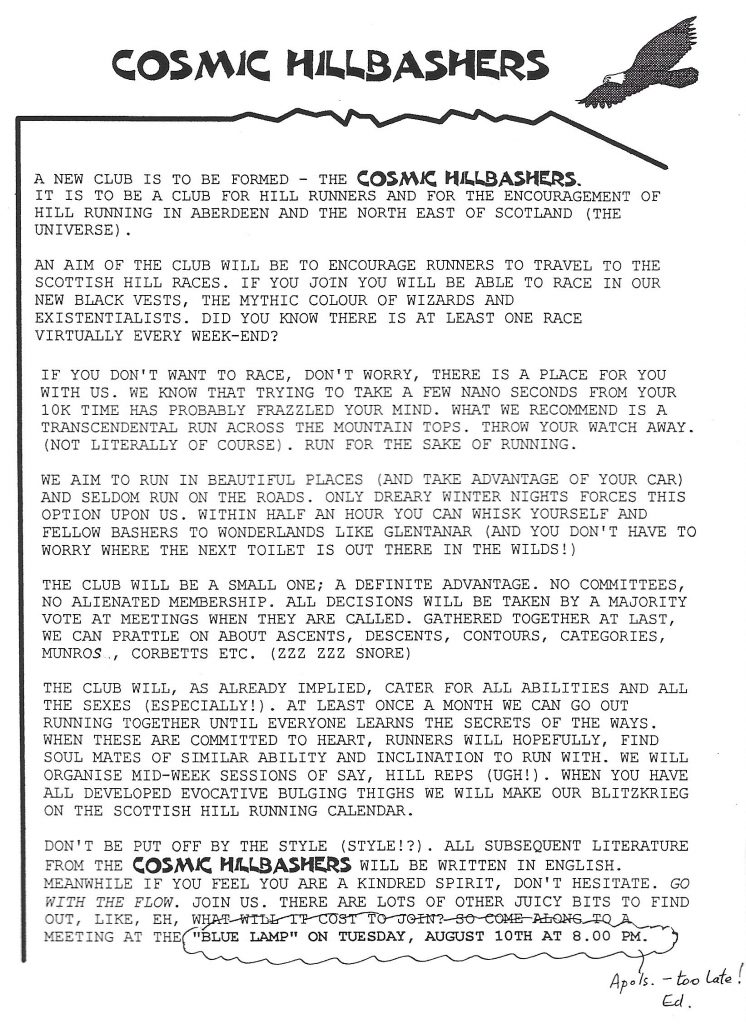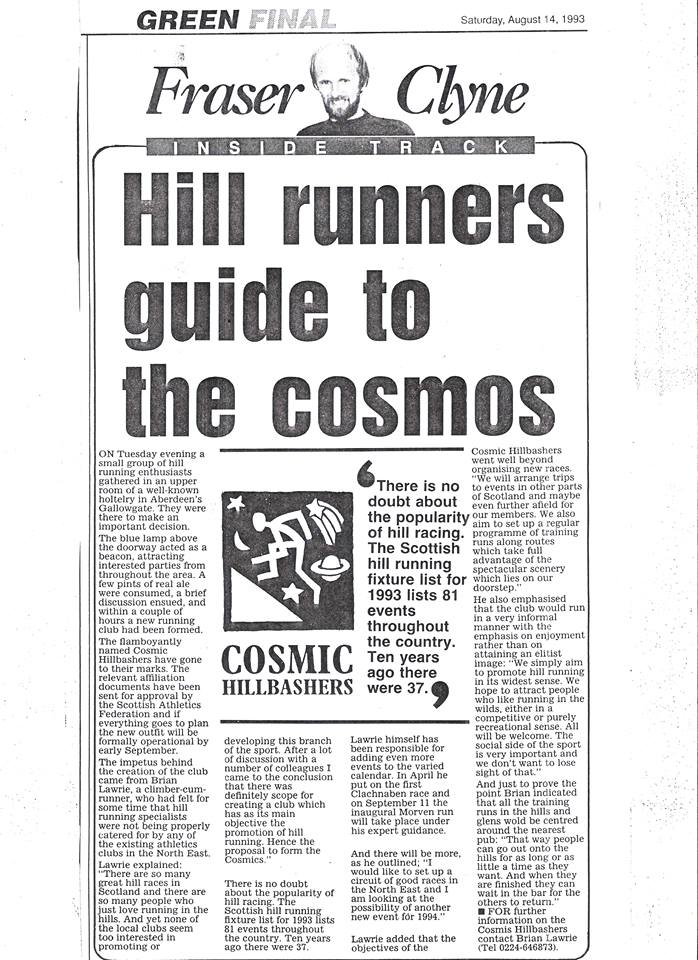 Ewen Rennie, who contributed all this material about the club, was a founder member and the first Cosmics coach.
Cosmic Hillbashers – a brief History
In the late 1980's/early 1990's many traditional athletic clubs haemorrhaged members to specialist and/or more local clubs. Aberdeen AAC lost members to the off-shoots of Cosmic Hillbashers and Metro Aberdeen Running Club and their respective disciplines.
Cosmic Hillbashers was founded in August 1993 and rapidly attracted members from AAAC and the local orienteering club (Grampian Orienteers) as well as unaffiliated runners. With the oil industry in good heart, they recruited useful international runners but saw a rapid overturn of members. (See below) The Cosmic ethos was built around running off-road and enjoyment. This ethos cemented the early membership with social activities and overnight club trips involving a race being well supported.
Nonetheless the point of a running club is running and races. Inheriting EL-Brim-Ick Dash and Cairn William from members moving from AAAC, they quickly added Clachnaben and Morvern to their portfolio with Scolty also transferred to them from an aging organiser. Mither Tap and the Krunce Series became other Cosmic innovations.
Success at Championship and other classic races were also goals and 1999 was Cosmics' year. The Carnethy Hill Race is the traditional classic start to the hill running season and the Cosmic men posted their intentions by taking the first prize with Bernt Njornsgarrd pushing Gavin Bland to a new course record in taking second place. Dan Whitehead and Greg Barbour also made the top ten with Thomas Bracegirdle rounding off the team in 15th.
There was more to follow with The British Fell and Hill Running Championships coming to Alva. With John Duncan running a stormer on the first leg, Cosmics eventually finished third and first Scottish Team. Not to be outdone, the Ladies finished second! The fact that Cosmics supplied three of the four Ladies for the Scottish Team at Knockdhu the previous year was indicative of what was to come.
Meanwhile Tracey Brindley and Sonia Armitage were part of the Scottish Team which took the Bronze Medal at the 1999 World Mountain Running Championship
Since then Cosmics have not been so prominent at the sharp end of races but, in Veteran/Masters categories, Sonia Armitage and Veronique Oldham were regular winners with Veronique still managing to do her stuff in the SuperVets. Other Cosmic internationalists include Catherine Mangham, Clare Millar (Whitehead) and Dan Whitehead.
Nowadays Cosmics' strength seems to be in endurance events with Mike Raffan and Alan Cormack leading the way.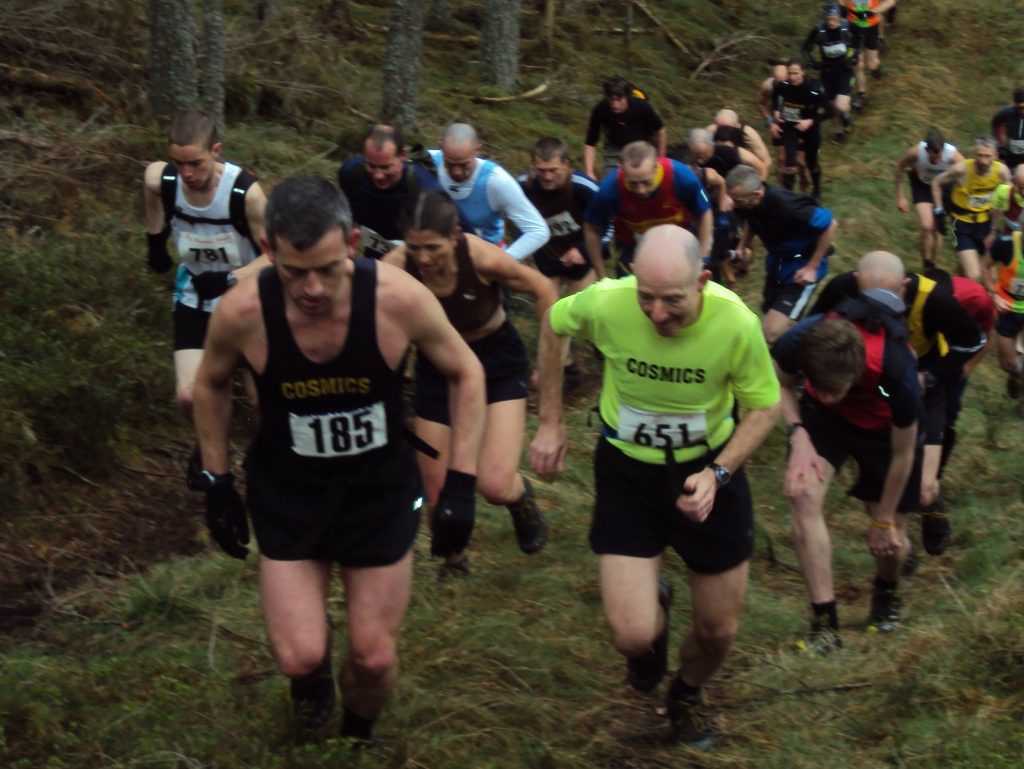 Jason Williamson and Colin Larmour displaying the different colours of Cosmic attire.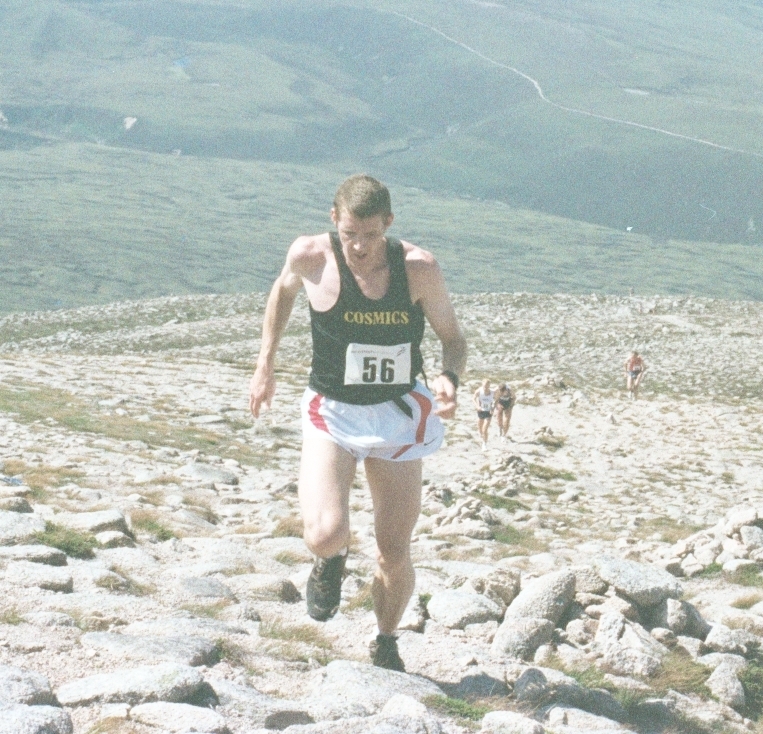 Jon Duncan (a World Championship Gold Medallist at Orienteering) running away from the field at Cairngorm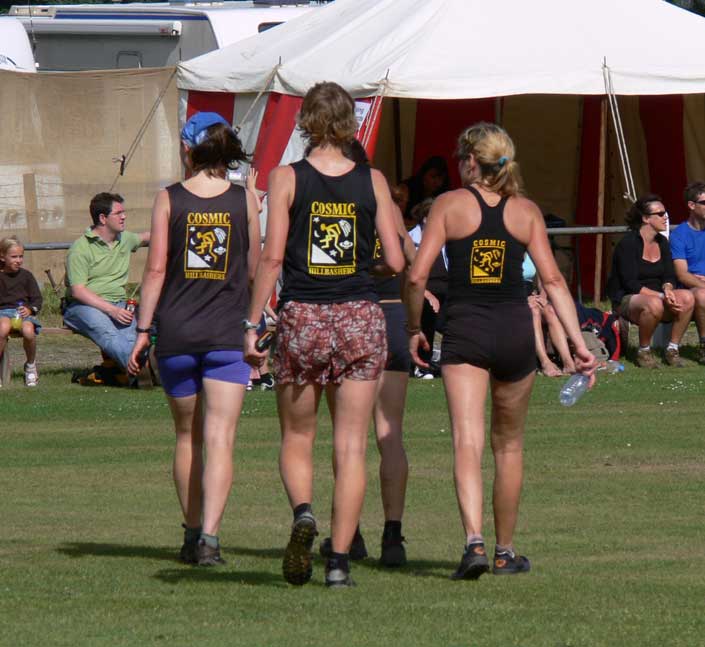 Cosmic quines showing off the Cosmic Logo
Demonstration of Cosmic social side: forming guard-of-honour for Laura as she finishes her first and last hill race (Glamaig). (Her fiance, Steve Rivers, persuaded her to come on the away weekend and then to do the race as you get a pint and plate of food for finishing).
Cosmics endurance runners par excellence – Mike Raffan and Alan Cormack
THE HILL!! By Mike Raffan
As you will no doubt have read in the last blog after UTMB (Ultra-trail du Mont Blanc) I lost any reason to train, so I planned to sign up to The Hill. Only problem was I couldn't sign up as I didn't know when I was travelling to Boston for Annette's sister's wedding. After confirming dates, I was able to sign up to The Hill with 2 weeks to go. With lack of time for specific training this meant I was relying on UTMB fitness.
The Hill, for those that don't know, is 1.45 ish miles up a hill, dib your dibber at the top turn around and go back to the bottom of the hill (pub/checkpoint), repeat 55 times for a total 160 miles. If you stop for more than 30 mins, you're out. If you get to a point where the race crew don't think you can complete the distance within the time, you are out. The race is in December so the weather has the potential to be really bad. The race starts at 8 pm in the dark, it gets light at around 8am in the morning and then dark again around 4 pm, repeat for a second night. Last year was the first running of the race and Jon Steele was the only person to finish in 47 hours 31 min.
Duggan drove me down to the race so he could shout abuse and most importantly drive home again. The rules are you are not allowed any outside support; this includes buying anything from the pub. We arrived at the bar with plenty of time and the only person that I knew was Sean Malay from the double Cateran earlier in the year. This also meant nobody knew who I was either. I heard Mark Cockbain the race director mentioning to someone that he was the favourite to win the race. I don't know who it was.
With the race being in the dark for 10 hours, at the start I didn't feel the boredom that everyone predicted, instead you just get the tunnel vision from the head torch. You start at the side of a busy road for about 200m then turn off to the right. It was around freezing so everything was icy. After another 200m, you're on to land rover tracks for the rest of the hill. A gradual incline, and then you get to the hole in the wall and the bit I described to myself as the real start of the hill. Down for a few hundred metres and then the proper hill starts. It's still not that steep, since Mark wants the whole thing to be runnable. The first lap I had no idea where we were going, so I stuck with the group until we got off the road – but after that the pace felt too slow. I had my Sunnto on just clock mode so I was just running as I felt. I got to the top and turned back down. I counted in my head when I passed the next runner, 30 seconds. First lap just under 24min, I was told I was going too fast by the race crew but I just laughed at them.
I got told later the social media chat was was along the lines of 1st lap "Don't know who this Raffan guy is but he's going too fast". Lap 3 "He's still going, it's freezing outside and he is wearing shorts! He must have northern spirit", "No, he's Scottish". Lap 5 "He is still wearing shorts and he has a beard. He is hardcore!" By this time, it was well below freezing and my beard was getting icicles forming in it. When I grew my beard for the whole year last year, one thing I wanted to do was get a snow beard but didn't, so now job done! For the rest of the night and day it was steadily gaining a few minutes at a time on the guys behind me. When you dibbed in there was a screen at the checkpoint and if you could think straight you can work out how far behind the next person was. Two laps was a comfortable lead.
It was a full moon and the sky was clear which meant that you could see enough without a head torch; I think this actually helped me keep the pace up. Throughout the race I went into the pub 3 times to get some more layers on, since I slowed when I started to get a bit colder. I managed 100 miles in about 19 and a half hours. This was going to plan, as I knew the weather was not going to be as nice on the second night. After every second rep I stopped to have some food. I started with my own chia charge bars and some other things I had in my supplies box like dried fruit. In the morning I started to get some food from the race crew, usually porridge. I would ask for it on one lap and they would have it ready for the next time I was there. I wasn't worried about it being hot – I just needed to pack the calories in. I added my own custard to the mix just for extra calories. On the laps that I didn't pick up real food, I grabbed a gel from the race supplies. They were sponsored by Gu gels which I have never had before, turns out they are now my favourite gels. I have no idea what flavours they were (I liked them all) but it was the consistency that I found really easy to eat while running. Mark told me to take some home at the end of the race, but guess what? I forgot.
The race was 160 miles. This was far too much to get your head around when you are running, just thinking about how far you have left to go is not nice, even laps were too much. I ended up breaking down into how many double marathons to go, or sometimes marathons. It somehow seems like a smaller number. Like the distance, the lure of the warm pub was there to make you want to stop. I tried to stay out of the pub as much as possible. I think I was in there 3 times to get extra layers or new batteries for my torch.
Most times when I stopped, I started to get cold. I would put my buff on at the start of the lap and my thin gloves. By the end of the road section my buff would come off as I was hot again and at the top of the hill the gloves would come off for the trip down.
During the day the wind gets up and the freezing fog comes in. Every time on the down lap the wind was just at the wrong angle so that I couldn't protect my face. Down the right ride of my face was feeling cold. Every so often I had to rub my right eye just to warm it up. After a few laps I could see a milky blur in my eye. Bugger, the wind must have scratched my contact lens. Oh well, nothing I could do about it as I didn't have any spares with me.
At about 5 am on the second night the batteries started to run out on my torch. Luckily, I had put some spares in my pocket, but what I didn't think about was that I had to get the batteries the correct way round. They ran out just before the hole in the wall. I hid down out of the wind and tried to use one of the glow sticks that was placed to mark the route to see what I was doing. This was not a fun experience, especially when I was falling asleep while running. I didn't think this was possible before but now I was running along and suddenly waking up when I would kick a stone further down the course. I had been holding my head torch in my hand to try to waken me up a bit. Not long after I changed the batteries it seemed like the sun came up again very soon. It may have just have been the concentrating but I was awake again. This was enough to get me to the end. The lead, that I had forced in the first few laps, I was able to keep right to the finish.
Mark the race director joined every runner for the last lap!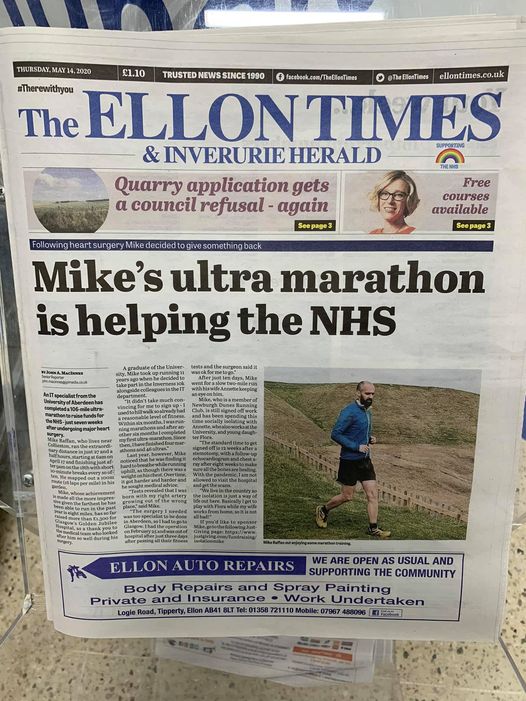 Heart & soul effort from Mike Raffan
Ultra enthusiast Mike Raffan, whose running CV includes the UTMB and the West Highland Way race, has just achieved what is possibly his most satisfying competitive achievement. The Aberdeenshire man took first place in the Isolation Ultra, organised by Cockbain Events, recording a distance of 180.2 miles, on a 50 metre course within the confines of his back garden.
What makes Mike's performance even more remarkable is that he completed the epic run towards the end of the April-long window after setting out a 106 mile marker earlier in the month. AND he had undergone open heart surgery earlier in the year.
The IT specialist at the University of Aberdeen had the benefit of a scenic, if tight, course, with views across the North Sea from the garden of his family home near Collieston. He was also supported by wife Annette and young daughter Flora.
But Mike didn't have a classic preparation for this serious ultra challenge as he had undergone surgery to correct an anomalous right coronary artery on 25 February. This followed concerns Mike had last year when he noticed that he was finding it hard to breathe while running uphill. This difficulty became more pronounced and Mike sought medical advice.
He describes the diagnosis: "I was born with my right artery growing out of the wrong place." The upshot was an operation at Glasgow Golden Jubilee Hospital.
Mike told runABC Scotland online: "I was out of hospital after just three days. The nurses on the ward were not sure about discharging me so early as they had never let anyone out in less than four days – the preference is seven. However, I passed all their fitness tests and the surgeon said it was ok for me to go."
After just 10 days, Mike went for a slow two-mile run with his wife Annette keeping an eye on him.
"Every time I went out, I felt I had to hold my chest. The rehab physiotherapist told me this was due to the impact and that my chest bones had not fused together properly, so I started doing a lot of cycling instead to get to get my fitness back."
Mike had only started running properly again when he decided to make the Isolation Ultra attempt. He said: "I relied on muscle memory and stubbornness to get me through the challenge. The run was slow. Stopping so often to turn around was like doing a bleep test for 27 hours."
Event conditions required a maximum loop of 100 metres at your home and a non-stop (not staged) run with a 1 hour maximum rest stop.
Event organiser Mark Cockbain was effusive about Mike Raffan's double ultra effort: "Only a few weeks after heart surgery, he came back for a second attempt smashing out 180.2 miles to become the Isolation Ultra 'Cooler King'."
A major inspiration for the 'convalescing' Raffan's superhuman effort was to thank the medical team at the Golden Jubilee Hospital and he has already raised over £2,000.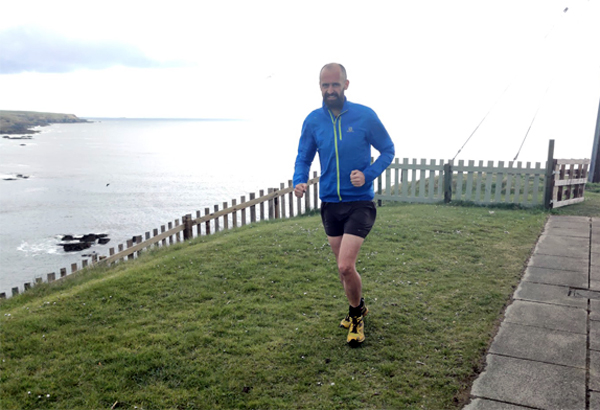 The Tunnel Ultra by Alan Cormack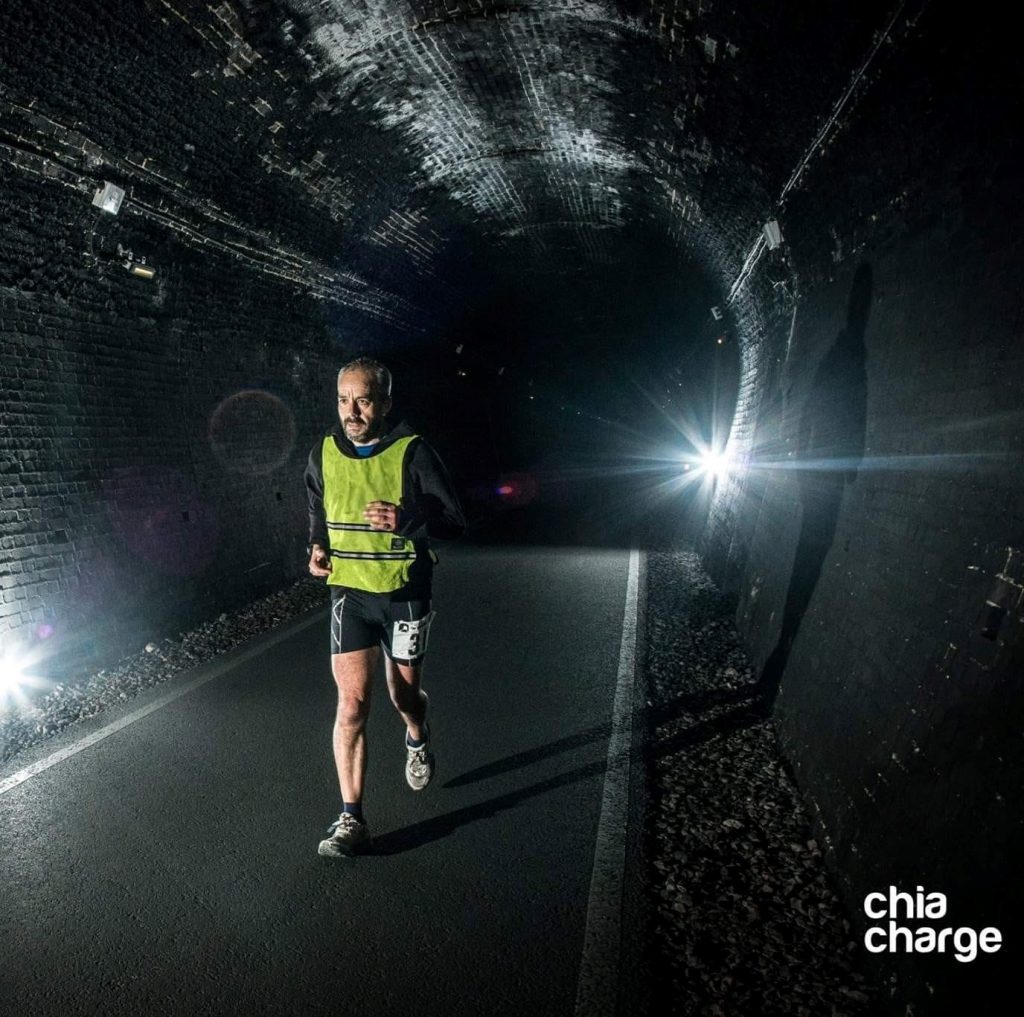 I have participated in events organised by Mark Cockbain previously and when he announced the Tunnel Ultra in 2018, I was instantly intrigued. The concept of the Tunnel Ultra, is 100 laps of Combe Down Tunnel near Bath with 55 hours to complete.
I had attempted the Viking Way in January during which I was timed out. My immediate thought when being driven to the finish line in Oakham, was that I did not want to compete in The Tunnel. I seriously considered pulling out. Once I had something to eat and a good night's sleep, I was glad that I hadn't said anything to Mark and didn't really give it much thought until a fortnight before the race.
It was when we received the Race Brief telling us about the lack of parking near the start that I seriously started thinking about the race. What I wanted to do was to arrive in plenty of time, be well rested and be as relaxed as possible before the race start. I immediately contacted the local hotel about being able to park in the car park and after being told of the cost, I decided to look elsewhere. I found a farm shop half a mile from the start who were more than willing to allow me to park my car and camp.
I arrived the day before the race, walked down to the tunnel entrance and ran down through the tunnel into Bath for a swim and a shower. I then understood when running through the tunnel, about the strange music and lights.
On the day of the race, I had a good night's sleep and walked down through some muddy fields to the start line where I recognised quite a few of my fellow runners. Due to the location of the race, all the runners had to be self-sufficient. Some runners had taken chairs and plastic storage boxes. All I took was an extra pair of trainers, some extra clothing and a carrier bag of food. I felt very lightweight!
At registration, we were all given a dibber to be worn around our wrist so we could "dib" in at the end of each lap. After a group photo and a quick race brief, we set off in bunches of five at 5 second intervals.
As this was a railway tunnel, my GPS watch wasn't going to be of much use. I had no idea how to pace myself so I set out and started running at what I felt was a reasonable pace. I did get a comment from another competitor that they felt I had gone off too fast so I made a conscious effort to slow my pace down. I had a long way to go and I didn't want to fatigue myself too early.
Another drawback of the uselessness of our GPS watches was that it was difficult to know how far we had actually gone and it was easy to lose track of how many laps we had done. There was a whiteboard which was updated occasionally with the lap count. During both nights, this wasn't updated due to Race Director Mark, staying in a luxurious hotel while we were running up and down a railway tunnel!
It was reassuring to know that I was keeping well within the cut-off which was 100 miles in 27.5 hours. I was so paranoid about forgetting to dib in at the end of each lap, that on some occasions I was double dibbing and this confused me and Richard Weremiuk who was in charge of the tracking system.
Mark had kindly provided a checkpoint which was 100ft outside of the tunnel, this was a luxury small gazebo with the finest leftover Pot Noodles and Cup-a-Soups from The Hill On Tour Ultra. We felt very spoiled indeed and Mark is clearly going soft. Many thanks to Karen Webber, Dave Fawkner and Byron Crook who were superstars, keeping the kettle on the boil and masterful at keeping the Pot Noodles constantly on the go.
Time was just immeasurable in the tunnel and it was hard to tell the time or even tell what day it was. At some point during the race, runners were starting to take rest periods and have a sleep, covering themselves with foil blankets and Karen Webber's Dry Robe was also a very popular blanket. During a rare period when it wasn't being used, I grabbed it, put it on and lay down for 2 minutes on the path to shut my eyes only for Karen to give me a kick to tell me to get going again. She was very firm.
During the night the lights went out and mercifully, the weird music was also switched off. During the evening, we had to use our head torches and it was actually easier to see as the tunnel lights were very dull.
On the 2nd night, the number of runners started thinning out so when I was starting a lap, I suddenly realised that the number of runners had diminished and I was wondering where everyone had gone. Come Sunday afternoon, I was surprised how few of us were actually left and it became a very lonely race apart from the general public running and cycling through.
By the Sunday evening, we were down to four of us: Bryan Clary, Bobby Irvine, Lena Conlin and me. It was really surprising and disappointing that Bobby and Lena pulled out after such a heroic effort of getting so close and I really hope they come back and complete The Tunnel Ultra race as they are more than capable.
That just left Bryan and myself who was 6 laps ahead of me and he asked to run with me so I ran with him until he became the first finisher. I had my last 6 laps to do on my own with the Tunnel to myself. This was when I started hallucinating which was a very strange experience. I was so delighted to be on my final lap and I have never been so happy to finish a race, ever.
Once I had finished, Mark said that he had never wanted someone to finish a race more, which meant a lot to me.
I want to say thanks to Mark, Richard, Karen, Dave and the other runners for all of their chat, encouragement and support. A special thanks to Byron who was an absolute superstar, who kindly drove me back to my tent at the farm as I couldn't face walking over muddy fields at 11pm.
I started running 14 years ago age 38, my first race was a 10k, it just about broke me! I enjoyed a few marathons then I stepped up to the D33, a local Ultra in Aberdeen before trying a 55 mile ultra and I continued to push the distance. I have done over 70 ultras now and it has given me so much, physically and mentally. (Alan finished second in The Spine last year – Winter Pennine Way Race).