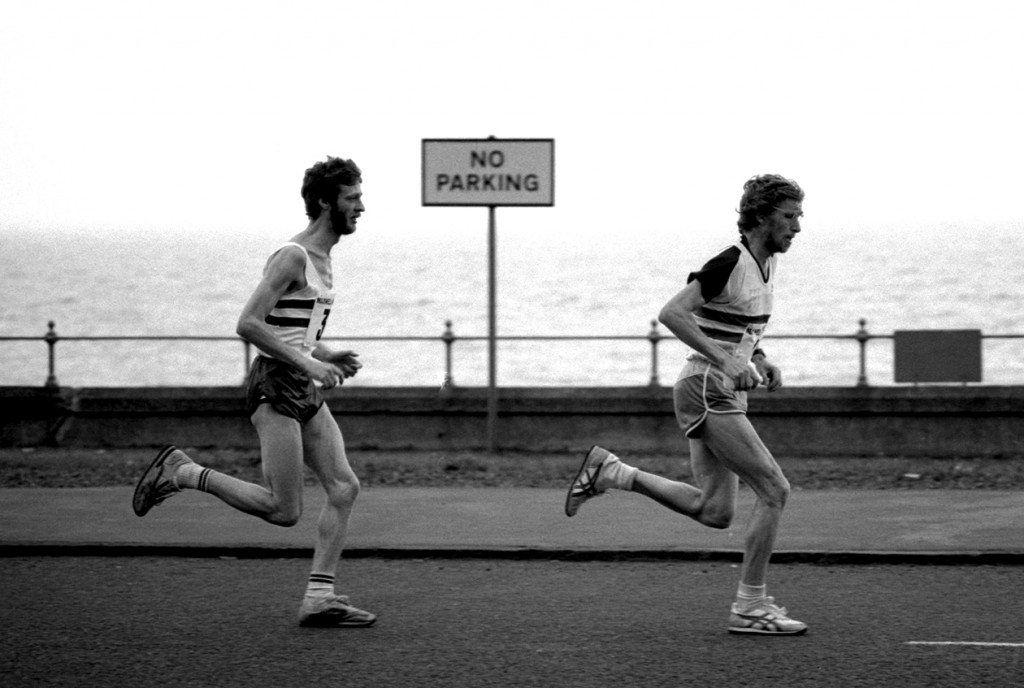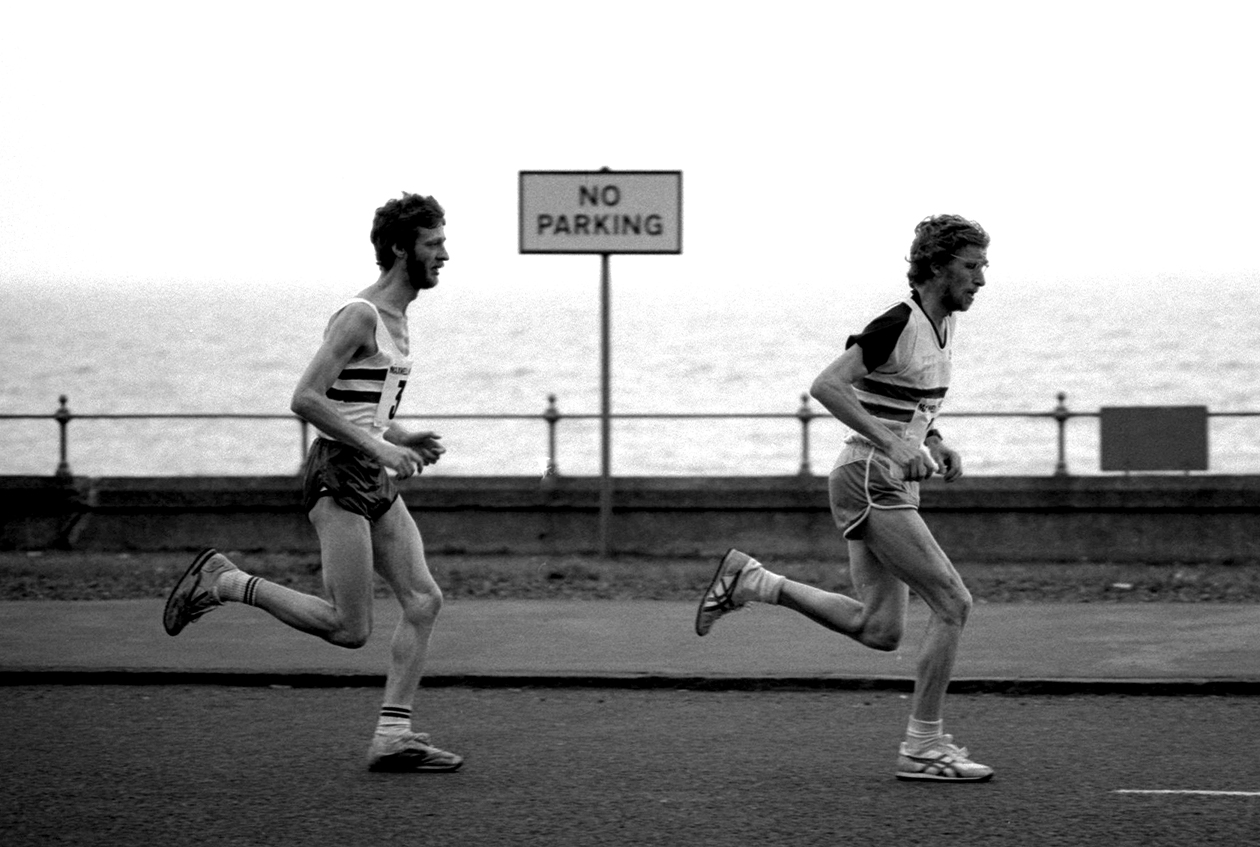 Colin Youngson leading Evan Cameron
Colin Youngson has an amazing record as a road runner – a good man on the track and over the country, he was outstanding on the road with his stage records and medals won in the Edinburgh to Glasgow relay and his ten medals in the SAAA Championships.   It was also at a time when the SAAA marathon was held as an event in its own right and in combination with the track championships so there was no chance of it being mixed up in a field of 1000+ with the attention focused on soldiers dressed as hippos or some celebrity passing through.   Nor, maybe more important as far as I am concerned, were there any guest runners from Africa, Asia or the Americas.   It was a Scottish championship and the runners and spectators could concentrate on the race.   The man running into the stadium at the end was the winner and not a guest, there for the money.   The common reason given for allowing/encouraging non-Scots into the championships is that they raise the standard of competition – but that argument does not hold water as far as the marathon is concerned: the standard of Scottish marathon running seems to have declined in proportion to the size of the field.  People like Colin Youngson, Don Macgregor, Jim Alder, Fergus Murray and all the rest could be seen plying their trade in times faster than most and in races more dramatic than most.   Colin has written the following account of his three SAAA marathon victories and it is an interesting read.
Sandy Keith was, in the mid-1970s, a major marathon rival and I trained with him on long runs near Edinburgh only when I felt good, since he was basically stronger than me.    I defeated him three times in the Scottish Marathon – in 1974, 1975 and 1982. However he beat me in 1977 and was the superior marathon runner from 1976 to 1979.
My training at this time included three key weekly sessions. Monday meant The Meadows: four laps including no less than sixteen repetitions – short or long, on the flat, uphill or downhill on tarmac paths.  Wednesday was a nine-mile pavement fartlek through Colinton with a series of testing longer efforts. Saturday was race day in the 1970s but, no matter what state you were in, the Sunday run was compulsory – a basic sixteen miles from The Meadows through Colinton Dell and out the old railway line to Balerno (and then back). The route might be extended via the reservoirs and Bonaly Tower.   Anything between 16 and 25 miles might be covered (the latter with a sadistic little final lap of The Meadows, pretending not to be exhausted, until you parted from your companions/rivals with a cheery wave, turned a corner, and struggled wearily home. If you added some recovery running or a few hill reps on the intervening days, you had about eighty miles of excellent training in the hilly city – worth a hundred in the flat south?
Saturday 28th June 1975, Meadowbank Stadium, Edinburgh.
It was a warm, sunny day, and Sandy Keith took the initiative from the start, racing away down the hill to Portobello into a slight headwind.   Only Colin tucked in behind and tried to relax. It seemed a hard way to start 26 miles!   Sandy's ambition was to win a marathon from start to finish, from the front – and how he tried! Five miles in 25.30, ten in 51.30, the turn in 67.30.   As the pair, on their return journey, passed ex-champions Alastair Wood and Donald Macgregor, who were approaching the turning point, Wood muttered that the young fools would destroy each other.   Macgregor warned that they were about two minutes ahead already!
Since there was now a pleasant following breeze, and to show that he was feeling good in spite of Sandy's efforts, Colin moved alongside and they ran together for the next five miles.  Then, at nineteen, as the route swung into a lay-by for a drink station, an official was clumsy in handing up Sandy's cup of water    Sandy swore, quite uncharacteristically, hesitated for the drink, and Colin, seeing that his rival was feeling the strain, simply surged away for a full mile, down the Wallyford hill. 20 miles in 1.43.45.   A nervy glance back revealed a decent gap, fifteen seconds, and it was head down again and flat out for Musselburgh and Portobello. The pace was still fast, but tiredness and worry set in. To win the Scottish Marathon was Colin's main ambition in the sport, and now it was a case of hanging on grimly.  Up the long hill to Jock's Lodge and then, at the twenty-five mile mark, Youngson's right leg suffered cramp.  Would Keith catch up, so near to the finish? Keeping the limb as straight as possible, Youngson bashed onwards, to the stadium and round the track. No sign of Sandy until the final bend was reached and it was safe to negotiate the straight and break the tape.
What a relief for Colin Youngson, who felt sure that he must have broken the 2.20 barrier at last, but was very surprised to find that Jim Alder's championship record had been broken by 21 seconds.    Finishing times were: Colin Youngson (Edinburgh Southern Harriers 2.16.50; Sandy Keith (Edinburgh Athletic Club) 2.17.58; Alastair Wood (Aberdeen AAC) 2.21.14; Davie Wyper (West of Scotland) 2.25.44; Gordon Eadie (Cambuslang) 2.25.48; Alistair Blamire (ESH) 2.26.20; Ian Trapp (EAC) 2.28.26; Mike Logue (Victoria Park AAC) 2.29.56.
After the race, Alastair Wood said, "Well done, Colin. I think you're at your peak now."    To which Colin replied that he felt there was a little more to come.   But in fact Alastair did turn out to be right since this remained Colin's fastest time ever.   Still, the rest of the season produced further success: second to Allister Hutton (1990 London Marathon winner) in the 10,000 metres track race for Scotland against Iceland in Reykjavik; second behind 'ultra' great Cavin Woodward in a fast 'Two Bridges' 36 miler; and a close second to Olympian Danny McDaid of Eire in the international marathon in Berchem, Antwerp.   This was Colin's only race representing Great Britain, and he and Max Coleby won the team race. At the end of the 1975 season Colin Youngson was presented with the Scottish Amateur Athletics Association 'Donald McNab Robertson Memorial Trophy' as Scottish Road Runner of the year.
Saturday 20th June 1981, Meadowbank Stadium, Edinburgh.
The course was completely new, and not as fast as the 'Commonwealth Games' one.  The route was London Road, Seafield Road East, Seafield Road, Lower Granton Road; two loops round West Harbour Road, Cramond Esplanade, turn left at the Cramond Hotel, Glebe Road, Lauriston Farm Road, West Granton Road; and then right for Granton, Seafield Road, turn right up Craigentinny Avenue, and right again for the stadium.
Colin Youngson, who had moved north to teach in Kemnay, Aberdeenshire, and had changed clubs from ESH to Aberdeen AAC, was fit and confident.   On a warm, sunny day, he started fast and led a group of eight down the hill towards Portobello and then left towards Granton. After a little hesitation, he surged at five miles (25.17) and the group broke up, with Donald Macgregor (Fife AC), Doug Gunstone and former champion Alastair Macfarlane (both Springburn Harriers) chasing hard.   Olympian Donald Macgregor was by now SAAA event coach for the marathon, but it is not true that he shouted advice to everyone within earshot – e.g. "Slow down!"
The lead was slender, only six seconds between Youngson (50.42) and Gunstone, who was running with Macgregor at ten miles.  By halfway (68.36) it was eleven seconds; and by fifteen (77.06) 16 seconds, with Macfarlane another twelve seconds down, and gaining.
The twenty mile point was reached in 1.44.40 by Colin Youngson, who was really feeling the mental strain of leading by so little for so long.   By then the gap was up to 34 seconds – not at all a comfortable lead.   So Youngson put his head down and ran flat out for three miles, to stretch away from Macgregor and Macfarlane, who had moved into third place.   Colin was about a minute ahead with a couple of miles to go, but slowed down on purpose while plodding up the steep hill of Craigentinny Avenue, so that he could gain some physical and mental resilience to fight, if Donald's famed strong finish proved a threat.   At 25 miles (2.12.58) the time gap was 54 seconds.
Eventually it was a relieved but exultant Colin Youngson who hung on to win in 2.20.42 from Donald Macgregor (2.21.31); Alastair Macfarlane (2.22.25); Doug Gunstone (2.26.52); Evan Cameron (ESH 2.27.23); Tommy Wiseman (Victoria Park 2.27.57); Dave Lang (Elgin AAC 2.28.28); and Donald Markie (Falkirk Victoria Harriers 2.29.32).
Doug Gillon, in the Sunday Standard, described the three medallists as 'ageing but speedy war-horses, mounting the rostrum'. (Colin was 33, Donald 41 and Alastair 35).
Saturday 10th July 1982, Grangemouth Stadium
This took place on an out and back course from Grangemouth Stadium.   A calibrated wheel was used to ensure that the correct distance was run.  Only thirty competitors turned up, but they included a number of good athletes.  Conditions were warm and humid.
Colin Youngson of Aberdeen AAC had been running fast in training, including six or ten mile time-trials in his 80 miles per week.   He had reduced this to 50 two weeks before the race, and had then experimented , running a fairly hard 21 on the Sunday, followed by the protein 'diet', a ten mile run at 7 a.m. on Monday and a carbohydrate-packed breakfast.   Thus the tough part of the regime had lasted only 20 hours!   No running on Tuesday and Wednesday, a three mile 'digestive' jog/stride on Thursday and Friday, and off to the start.
In the dressing room he encountered Jim Brown (Scottish 10,000m record holder and GB International), who declared his intention of running two hours twelve minutes!    Colin had great respect for his younger rival, who had defeated him easily on countless occasions over the country and in shorter road and track fixtures.   It was agreed that they would share a sensibly brisk pace to ten miles, in under 52 minutes.    Then Jim would make his bid.   Colin started quite fast, and led for two miles.   Thereafter they went to the front for one mile each, into the breeze.   Five miles passed in 26.27, which seemed wrong – rather slow for the pace they seemed to be setting.   At this point Sandy Keith completed the trio.    By ten miles, on target 51.49, the watch indicated a speed-up but the tempo had in fact remained much the same, although Sandy had slipped back to 53.00 and was running with Craig Ross, a 2.21 man.
For the next three miles to the turn, Youngson simply sheltered behind Brown and waited for him to surge away.   Nothing happened.   Half-way was reached in 67.21; with Ross in 69.10; Keith 69.32; Peter Wilson and Gerry Fairley (Kilbarchan) 71.40.   At the front, nothing continued to happen, and the breeze was now helping progress.   Fifteen miles (78.11) saw the duo 2.16 in front of Ross.
Gaining in confidence due to the steady, fairly comfortable pace, and feeling that, although it was hard to imagine Jim Brown beatable, he ought to be tested, at least, Colin Youngson prepared to try.   As his stopwatch reached 1.30, he moved to the middle of the road and ran absolutely flat out for the next half mile. A look behind revealed a fifty yard gap!    Another hard half mile – and there was no one in sight!    Jim Brown, perhaps feeling that his target time was unattainable, had dropped out.
An unsympathetic but delighted Youngson later wrote in his diary "Bashed on slightly less hard". 20 miles took 1.45.14; Ross 1.50.24; Keith 1.50.38; Wilson 1.51.56; John Lamont (Aberdeen AAC) 1.52.47. Craig Ross had to stop shortly afterwards. The last two miles felt tough to Youngson, since he was striving to beat 2.20 and could see neither the stadium nor a race steward to point the way.    However both appeared, and as Colin panted up to the entrance, there was previous winner Jim Dingwall leaning against the wall. Jim glanced at a stopwatch and said, "Still only 2.16 – should get a decent time if you hurry."    So there was no steady lap of the track, waving modestly – just a red-faced maximum effort which resulted in a narrow failure to break 2.18.    Still, it was Colin Youngson's second-fastest time (2.18.02), and one of the bigger winning margins.    Second was Sandy Keith (EAC 2.26.34); third Peter Wilson (Aberdeen AAC 2.27.01); fourth John Lamont (Aberdeen AAC 2.28.59); and fifth Andy Stirling (Bo'ness 2.30.17).    Another good Aberdeen performance – even Sandy Keith used to be a club member