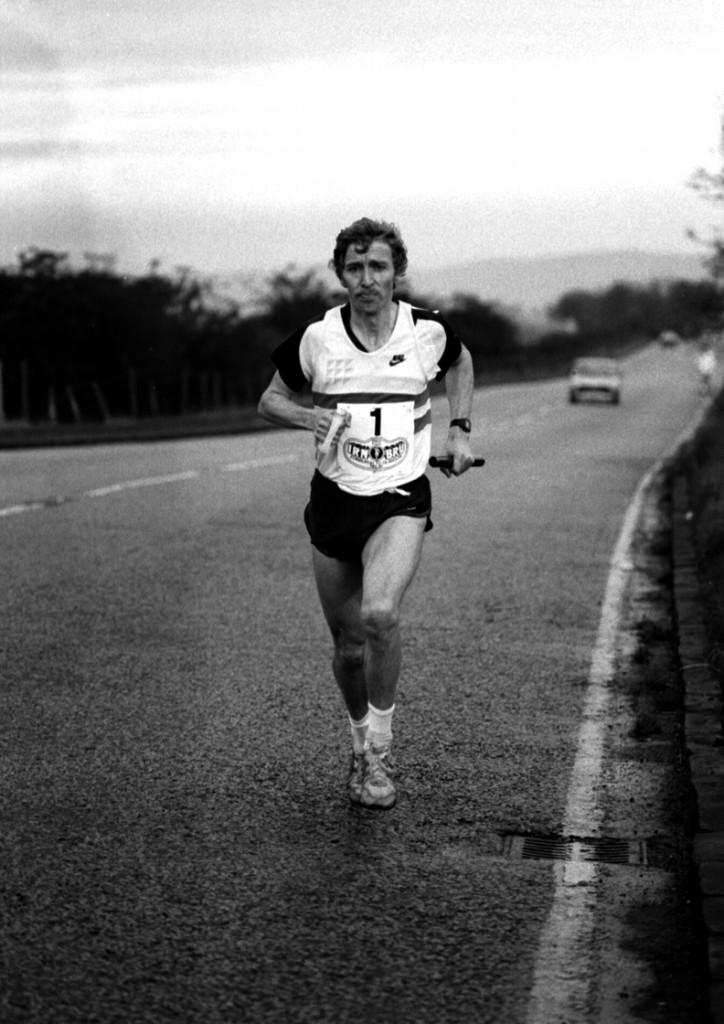 Colin running in 1985
EDINBURGH TO GLASGOW RELAY: PERSONAL MEMORIES
(1966-1984; plus a postscript 1985 to 2002)
It was 19th November 1966, and a nervous skinny youth, not long out of school, grabbed the baton on the last stage of the most important race of his life so far. Luckily for him, he had been given a simple task – running for a mediocre team in an insignificant position with only one (struggling) adversary within minutes of him. Having plodded past the opposition and brought Aberdeen University home in 12th place, he had the innocence to write that evening in his untidy training diary "Easy. Not very tiring."   I still cringe when I read these words – which surely amount to a total misunderstanding of the basic philosophy of relay running: "RUN TILL YOU DROP – EYEBALLS OUT!" Occasionally tactics may enter into this form of competition, e.g. when operating into a headwind; or when jockeying for position on the first leg; or trying to go for a medal on the last one. And it is vital to avoid a complete 'blow-up' that will deprive your anxious team-mate of the baton. But in normal circumstances, if you fall over the line with one extra ounce of strength in you, then you have failed, and would be well advised to tell no one, let alone admit it in your diary! Such was the inexperience of youth.
Learning to 'peak' for such a race, managing to force everything out on the day, indeed producing a better performance just because it is a real TEAM event – these are skills which can take years to add to an athlete's competitive armoury. To a club runner, however, the self-respect to be gained from a genuinely whole-hearted relay effort, may be one of the greatest pleasures to be derived from the sport.
Enough of this introductory musing. This lengthy article is meant to be a celebration of my favourite race at a time (1984) when changes in the pattern of competition may well bring about its downfall, much to my regret. I wish to remember incidents and personalities from the past and enable younger athletes to understand a 'dated' fascination with an old-fashioned form of competition. Hopefully my contemporaries will enjoy a bout of nostalgia and no doubt Brian McAusland will be stimulated to write a more definitive history of the E to G from the very first race! (Not a bad prediction! Indeed, as I retype this in 2009, he has put a great deal of information on his website, a phenomenon undreamed of 25 years ago.)
Vague rumours of legendary deeds had reached my ears – mainly concerning the tussles on the 'long leg' between Joe McGhee (Commonwealth Games Marathon gold medallist) and that uniquely relaxed character with the elitist attitude, Ian Binnie of Victoria Park. According to Binnie, he could give poor Joe several minutes start and still pass him before the finish. I never heard Joe's side of the story but, as Ian never tired of reminding newcomers to the Vicky Park team who implored him, in later years, to consent to his inclusion, "It's hard to motivate myself, lad. After all I have won SEVEN gold medals already." Binnie's best-known comment (to a younger team-mate, who was a deserving Scottish cross-country international, was, "Ach, Pat, it disny matter how many vests you win, you'll never have any class. You see, a GREAT runner is always a GREAT runner – and a DUMPLIN' is always a DUMPLIN'!" Another Binnie quote was to a dogged but unstylish team-mate as he prepared to 'sprint' for the line in a relay: "Hamish, ye're wasting yer time. Cut yer losses – sell yer kit!"
I also knew that the 1965 event had resulted in a record-breaking performance by the marvellous Edinburgh University team who were also Scottish National and British Universities cross-country champions. Three hours, thirty-six minutes and thirty-two seconds.  That was to last ten years.
The earliest set of stage records I have date from 1967. In order, they were held by Alastair Blamire (E.U.); Chris Elson (E.U.); Ian Hathorn (E.U.); Andy Brown (Motherwell Y.M.); Alastair Johnstone (V.P.A.A.C); Fergus Murray (E.U.); Jim Wight (E.U.); and Elson again! So you can see that the student team had a real stranglehold on the records. Perhaps the two most highly-regarded were Andy Brown's fifth leg effort, by all accounts a stupendous run which, allowing for route changes, may not have been bettered to this day; and Fergus 'The Beast' Murray's 31.07 on stage six, which has only been improved by 16 seconds in 19 years.
The real action in the 1966 race was of course lost on me. However the Edinburgh students triumphed again and there was quite a battle for the minor medals, between Victoria Park, who surged into second place on the last leg, leaving the unfortunate Innis Mitchell, the Scottish Schoolboys' cross-country champion, to be shunted back to fourth by the combination of a wily, corner-cutting competitor from Motherwell Y.M.C.A. and a daft policeman, who sent Innis the wrong way, when he was still hanging on grimly to Aberdeen's hopes of a medal.
1967 was a memorable race for me. By now I had begun to understand the charisma of the Edinburgh to Glasgow Relay, and to recognise the principal, even Oscar-winning 'actors' who performed on the stages of this 'long-running' saga.
Pop music can be connected with specific memories, and Elton John's 'Border Song' was playing on the bus when we halted briefly near the end of Stage One, and enjoyed the sight of a calm but stern figure in an E.A.C. vest, who seemed to be out on a solo training spin, so far was he in front of the second-placed Bill Ewing ('Red Cloud'), who was that year's S.A.A.A. Steeplechase champ. Yes, it was Jim Alder, the same masochist who used to train, on hot summer days, in a tracksuit and two wetsuits, because it made him work harder. He was en route to breaking the first leg record.
My other main memory from the race took place at the end of Stage Two, when an exhausted Mel Edwards, having run the fastest time, and forced Aberdeen A.A.C. onto the lead, fell over the line and handed on to Joe Clare. Unfortunately Mel, in true Aberdonian fashion, had saved a little cash by adding two red bands to a plain white vest. A novice official (one of the rule-book freaks) complained that Mel's number obscured the bands, and threatened to disqualify Aberdeen, on the grounds that a club vest had not been worn. Anyone who has been lucky enough to meet Mel, now a veteran hill-running champ, but then a fully-fledged British International marathon runner, will know that there is not a more enthusiastic, better-natured gentleman in the sport. However, in these circumstances, he suffered a complete personality change! He swore and raged at the officious one, and I was sure that violence would be done. Luckily the S.C.C.U. representative backed down, and 'Mr Hyde' became 'Dr Jekyll' once more. Readers who are keen to guess which official was involved, may be surprised to learn that a certain Bellahouston runner had a perfect alibi – he was actually completing the second leg for his club at that very moment. Yes folks, that runner was named Brian Goodwin.
Edinburgh University won a close race by 50 seconds from Aberdeen and Shettleston Harriers, who tied for second place, after A.A.A.C.'s Terry Baker had broken the last leg record. These three teams were packed with well-known athletes of the time, and in the interests of being clear about who was actually competing in the late sixties, I am going to make quite a list. E.U. were: Alastair Blamire, Ian Hathorn, Andy McKean (his first appearance), Dave Logue, Ian Young, Gareth Bryan-Jones, Jim Wight and Chris Elson. Alex Wight was first reserve – no wonder they won yet again! As well as Bill, Mel and Joe, Aberdeen included Don Ritchie, Steve Taylor, Alastair Wood, Ian McKenzie and Terry Baker. Shettleston had Martin McMahon, Norman Morrison, Bill Scally, Les Meneely, the great Dick Wedlock, Bill Mullet and Henry Summerhill. In addition, Dick Hodelet ran very fast on the eighth leg, Albie Smith was best on his favourite Stage Three and others included John Myatt, Eddie Knox, Graeme Grant (a dangerous man), the durable Sam or Ian Graves, Fergus Murray (fastest once more on the long leg), and last but not least that 'all-round superstar' Doug Gillon, who went on to be the finest athletics journalist in Scotland (for the Glasgow Herald). I myself managed 9th fastest on the Fourth Stage, three whole minutes slower than that fine Irish Olympian, big Derek Graham, and almost as far behind a certain D. Macgregor (whatever happened to him?) However I can take comfort from the fact that I shared the same time as someone who became Hon. Sec. of the S.A.A.A. – John Fairgrieve.
1968 was a vintage year and several records were rewritten. John Myatt took four seconds off the leg one record; Ian Young took leg five and Bill Ewing leg eight. Dave Logue was fastest on Stage Four and a youthful (but balding) Jim Dingwall appeared on leg eight for Edinburgh University. But the student team had lost several stalwarts to E.A.C. or E.S.H., while Shettleston had gained a new member – Lachie Stewart, no less! They proved unbeatable, and their final time was only two seconds off the overall race record. My own performance was undistinguished, crushed physically and psychologically by the fast men on Stage Two. Nevertheless I have three clear memories. One was the barrage of insults received by the miserable Pat Maclagan while he took Vicky Park from 5th to 19th place on the Second Stage. Normally he was such a good road runner, but that day he failed, not because of lack of courage (far from it), but because he incurred a stress fracture during the race. I hope his critics felt remorse when they learned the true reason for Pat's slump.
Then there was the sight of 36 year old Alastair Wood, ex-European marathon record holder, and winner of many Scottish championships, with what looked like a sardonic smile on his face (perhaps just a racing grimace?), sprinting off to demolish the Stage Two record, as well as the much-touted Jim Alder, recently returned from the Mexico Olympics. The inimitable Wood insisted that there was ice on the road that day, and that he would have run faster, but for having to WALK a hundred yards on the way! Aberdeen had both Peter and Ian Stewart in their team, and my third image is of the youthful Ian, stylishly speeding down the hill into Airdrie, chased at a distance by an even more impressive Gareth Jones (current A.A.A. Steeplechase champion and also just back from Mexico), sweating like his nickname 'The Horse' and pulling in 16 seconds on Stewart, on the way to the equal fastest time on leg six (with Lachie). I failed to understand how it was possible to run THAT fast and survive! Eventually Aberdeen finished second and Edinburgh Southern (the beginning of a very long sequence of success) third.
There was a succession of route changes from about this time, which have recurred now and again up to the present day (1984). Only Stages One, Two, Five and Six remain the same.
1969 was a slight breakthrough for me (although I was one of very few who noticed), since I managed fifth on Stage One (27.32) behind Springburn's Mike Bradley (26.50), Bill Ewing, the rapidly-improving Jim Dingwall and Hugh Barrow (ex-junior-mile-world-record-holder). Having got my effort over with early on, I could enjoy watching the stars in action. Alder enjoyed getting his revenge, defeating Wood on Stage Two and setting the fastest time of the day; and Ian McCafferty made a rare appearance for Law and District. It looked as though the redoubtable Dick Wedlock (reigning S.C.C.U. cross-country champion) was going to catch E.S.H. on leg four, but the Edinburgh club finished strongly for a clear victory. Their team that day was: Bill Murray, Kenny Ballantyne (ex-S.A.A.A. mile champ), wee Tommy Coyne, Gareth, John Bryant (later athletics journalist for The Times), Fergus, Craig Douglas (who won his .S.A.A.A. half mile title in 1963 and was not to win his second 1500m championship until 1971) and on the 'glory leg' the irrepressible Jackie White (who still puts in a regular appearance on E to G days, when he deafens clubmates and terrifies/infuriates rivals by playing the E.S.H. trumpet!)
1970, Commonwealth Games year, was less well-known for the best performance in the E to G by Aberdeen University – ninth, no less! It may not impress you, but Don Ritchie, myself and the other lads took a lot of pleasure from it and drank a lot of beer on account of it! I managed eighth fastest on the dreaded second stage, a more respectable 56 seconds slower than Wedlock and only 13 seconds down on A.J.Wood, always the man to beat if you were brought up in Aberdeen.
The real battle that year was between E.S.H. and Shettleston. It was a cliffhanger from start to finish, with the biggest gap between the two clubs, during the first half of the relay, being no more than eight seconds. Then the Western club took a minute twenty seconds lead, due to a fine run on leg five by that often underrated athlete Henry Summerhill, only for it to be reduced until Bill Scally was sent off on the Last Stage with a mere sixteen seconds lead on Kenny Ballantyne. The Southern man set off hard and Bill couldn't prevent him from catching up. However it is well known that Bill is a cool customer, and he bided his time and saved his strength before bursting away from the track specialist to a thirteen second victory. Ken was fastest on the stage but I suppose that he was disappointed. Quite a duel; and a thriller for spectators.
1971's event was described in the press as 'one of the most exciting races of a long series' and I remember it with an awful clarity. I had started work as a teacher in Glasgow, and joined Victoria Park AAC. Quickly I realised that this was a real ROAD-runners' club – one sight of genuine mud and they chickened out immediately (apart from Pat Maclagan, who was, of course, different). The most important race of the year, I was told, was the TRIAL for the McAndrew Relay and then the McAndrew itself. However, in practice, the E to G team was a constant topic of conversation from the moment the previous race finished!
Naturally, after the 1970 race, most punters reckoned that only E.S.H. could provide the mighty Shettleston team with any kind of opposition. Yet, by the time that the baton got to me at the beginning of the Fourth Stage, it had turned into a contest between ourselves and the holders. Hugh Barrow, Pat Maclagan and Davie McMeekin had run exceptionally well to give me a twenty-one second lead over the young prodigy Paul Bannon (much later a Commonwealth Games marathon bronze medallist). I remember really belting off, full of determination and sure I was set for the run of my life. My hopes were shattered a few minutes later when, blind to the road signs, I charged straight ahead and didn't turn right for Bathgate! Realising with horror what I had done (where was the bloody marshal?) I struggled across a patch of mud back onto the correct route. By then Paul had turned a lead of almost a hundred yards into nothing. Despite trying hard to retain some composure, I lost a further ten seconds by the end of the stage. Joe Reilly ran out of his skin to overtake Norman Morrison on the next leg, but Dick Wedlock timed his effort well on the long stage to draw clear of Alastair Johnstone. Despite brave efforts by young Fraser Logue and Albie Smith, Shettleston finished with a 59 second lead. The rest of their fine team: Tommy Patterson, Lachie Stewart, Les Meneely, Tom Grubb and the inevitable Henry Summerhill. Probably they would have beaten us anyway, but I will always feel very guilty about my orienteering mistake, and frustrated because I really might have held Paul off. (Like John Robson in the future, I did my very best to make up for my grievous error by running exceptionally hard in subsequent Edinburgh to Glasgow Relays.)
1972 saw probably the best single performance in the fifty-year history of the event. I refer to the great Ian Stewart's magnificent run on the second leg to smash the opposition and the record. Many who were spectating that day will remember Stewart, his feet barely skimming the ground, zooming up the hill to the finish, with no one else in sight. A bemused Fergus Murray came in a minute behind, with the third man a minute after him! Norman Morrison did well to run 'only' 40 seconds more slowly than Ian's 27.14, which was never beaten and is the longest-lasting E to G record.
There were other very good performances, but they were put in the shade by Ian Stewart's. Jim Brown sped to the best time on Stage Four; Dick Wedlock broke the record on leg five; Gareth Jones set a new standard on the Seventh Stage; and Albie Smith equalled the record on the last leg. Andy McKean came within six seconds of Fergus's 31.07 on the long stage, way in front of Jim Wight, Lachie, Dave Logue and me. But I was faster than that man Macgregor! Shettleston Harriers enjoyed a crushing victory, finishing two minutes clear of Aberdeen and E.S.H.
1973 I missed, since I was teaching and racing in Sweden. Dave Logue, realising my obsession with the event, posted the result sheet to me and it seems I missed a good one. Andy McKean was the star of the show, knocking seven seconds off Fergus's outstanding Stage Six record. But Dave Logue was only 16 seconds slower than Andy. Maybe that was why he sent me the results ……
Gareth Bryan-Jones continued to smash relay records, and this year it was the Eighth Stage that fell to him. Jim Alder regained the first leg record with 26.43. In the end the race was a victory for E.S.H., in front of E.A.C. and Aberdeen AAC. Shettleston's domination was broken, and the balance of power seemed to be shifting eastwards.
Having returned from Sweden and obtained a teaching post in Edinburgh, I joined E.S.H., because my ex-flatmate Dave Logue was a mainstay of the team.
At the time there was a wide variety of training opportunities in the city, and a choice of at least three 'Sunday runs': the University one (fairly even-paced unless McKean or Dingwall were guesting); the Balerno/reservoirs route which started at The Meadows (medium to fast, 16-23 miles); and the Wight brothers session (20 miles plus at a suicidal pace). On Monday and Wednesday evenings there were lengthy fartlek sessions for all comers (ESH, EAC, EU, anyone). So you either got fit or injured or retired prematurely!
This helps to explain the East domination of the E to G at the time. Of course I was delighted to have a chance to compete for such an excellent club, and was jittering (skittering?) with nerves at the start of the 1974 race outside Fettes College, as I clutched the 'fancy baton' (beribboned and in theory enclosing a message of goodwill from the Provost of Edinburgh to his counterpart in Glasgow).    The mainly uphill nature of the course suited me well, and at halfway I managed to hang onto battling Willie Day (the only apparent veteran ever to take part in the Scottish 'Junior' cross-country back in 1967!) when he injected some pace and we miraculously managed to drop Jim Alder.    I made an effort on the big hill towards (and after) the roundabout, but Willie caught me on the downhill to Maybury. Eventually I took a couple of seconds out of him up the finish hill (pretending to myself that it was just another burst on the Monday fartlek). It was my first 'fastest' on an E to G stage and I was delighted.
This race, run into a headwind, produced quite a battle between the Edinburgh rivals. Jim Wight (EAC) stormed past Don Macgregor into the lead on 2, but Donald 'sat' on him before sprinting right away in the last mile as Jim faded badly. The Southern lead was up to two minutes at halfway, but Doug Gunstone and Andy McKean (fastest on legs 5 and 6) clawed most of this back before Allister Hutton moved away from Joe Patton on 7, leaving Gareth to keep a 47 second gap on the speedy Jim Dingwall. There was some excitement on this Last Stage, but ESH finished 32 seconds clear.   Lawrie Reilly (VP) was the only non-Edinburgh athlete to run a 'fastest' (on 2), although Ian Gilmour of Clyde Valley (who finished a distant third) was equal fastest on 4 with Alastair Blamire. John Graham made his debut (second fastest on 5); and this was the last time that McGregor ran for ESH or Dingwall for EAC. The subsequent rapid rise of Fife and Falkirk owed much to their inspiration.   The perfect end to a perfect day for me was the traditional 'Soup Tea' at Hugh 'Hugo' Stevenson's flat in Crow Road, Glasgow. A crowd of university, Vicky Park and Southern runners and their girlfriends, real ale, bread and cheese and a selection of spicy home-cooked soups. The ideal post-race diet!
1975 was an exceptionally fast race and everything went right – good weather, a favourable breeze, an all-international team for Edinburgh Southern Harriers, an overwhelming victory for us and records galore. Not to mention a great deal of pleasure and celebration (at least that was how one club and its supporters felt about it). By the way the Southern team (plus four) had finished 2nd in the AAA 12-Stage Road Relay. I am not aware of any other Scottish team, earlier or later, doing as well.)
I enjoyed a 'lifetime best' run over this sort of distance by racing a 'time-trial' over the hilly first leg and breaking Jim Alder's record by 43 seconds (26.00). The reasons, I suppose, apart from good peaking, were that I had trained several times over the route, trying surges uphill and extended speed trials, and more significantly that the race had come to be extremely important to me and therefore I probably tried harder in it (flat out from the word go), than a great athlete like Jim, to whom it could have meant little more than an opportunity to enjoy a brisk training race. This record was never broken (although subsequent route changes made it redundant). However I am well aware that the likes of Muir or Hutton could have reduced it by at least a minute.
Andy McKean, the fittest man in Scotland at that time, almost hauled EAC past Alastair Blamire into the lead at the end of the Second Stage (recording an excellent 27.37) but after that it was all Southern. Martin Craven finally smashed Ian Hathorn's 1965 record for leg three (20.42); Ian Elliott stayed in front; Allister Hutton, just beginning to show the form which has made him the finest road runner in Scotland (with Nat Muir his closest rival), broke the record on the Fifth Stage (26.44); Dave Logue was fastest with 31.36 on the long leg; Fergus Murray maintained the lead; and the inevitable Gareth Jones broke his own record for the Eighth Stage with 27.01.   Eventually we reduced the overall race record by two minutes forty seconds to 3.33.52. (Note that Blamire and Murray were also in the 1965 record-breakers!)   EAC, who were unfortunate never to win the race despite finishing second frequently, did well to complete the course in 3.36.36; and Clyde Valley, that rapidly-improving club, were third.   (As I retype this in 2009, I wish to claim that ESH's course record was never actually broken, especially by Racing Leslie Deans Mizuno! Of course, I am prejudiced.)
1976, to say the least, was a disaster for the big-headed Southern supporters. It just re-emphasised that all EIGHT team-members must run well if a victory is to be possible. One disaster – and you've had it!
I was foolish enough to take part during a bout of flu – when the only thing I was truly capable of running was a temperature! With a real struggle I managed to crawl over the line on the First Stage behind Alastair Macfarlane, before tottering to the bus stop and staying in bed for the next three days. (This just previous to the revelation in the Athletic Press that one could strain the valves of the heart by running with a fever …)
My recovery was not aided by the phone-call I made to Fergus Murray that evening, when I inquired whether ESH had won gold or silver. (The News of the World used to sponsor the race and handed out rather tasteful medals with a picture of Edinburgh Castle and George Square – much better than SCCU plaques.) I was quite sure that either ourselves or Shettleston, who had made a comeback, would have won. "Didn't you hear?" he asked, "Southern were eighth – Robson threw the baton into a field." My reaction, a mixture of shock, horror and rage, can be imagined. If I'd known, I could have stayed in bed!
Then he told me the whole sad story – or savagely-amusing one if you came from the West! The aforementioned young John Robson (who later turned out to be an exceptionally fine road relay runner as well as fifth in the World Cross-country Championships and a world-class middle distance runner) had seldom raced over such a distance on the road, and the occasion had got to him – in a big way. He had just moved away from Paul Forbes, into the lead on the Third Stage, when he began to feel strangely fatigued, then mildly despondent, and then he is supposed to have cursed loudly and thrown the baton over a fence. The entire Edinburgh Southern support team, so the story goes, were aghast to witness the incident, and went into a passionate routine of pleading, cajoling, threatening etc – which had no effect on John, until his fellow Borderer and club president, Ken Ballantyne, convinced him to pick the thing up and jog to the end of the stage, by which time the club were in 19th position and eleven minutes down on the leaders!
From the moment that the baton reached the start of the Fourth Stage, to the moment that the last Southern runner crossed the finish line, was rumoured to be EXACTLY the same time as that of the Shettleston representatives over the same stretch. Therefore, the reasoning went, it would have been a neck-and-neck struggle right to the end. As it was, of course, they won clearly and deservedly, and despite a brave fight, ESH were well back. That's the way it can go in relays!
EAC were second and Falkirk Victoria Harriers third. Fife AC took the 'most-improved' award in sixth place: see what I mean about the effect of having Dingwall or Macgregor in your team? Jim was fastest on 2 and Dave Logue on 6. Fraser Clyne appeared with fastest on the final stage for Aberdeen AAC.
The 1977 Edinburgh to Glasgow Relay was notable for a very close and exciting battle on the final leg. Throughout the race ESH, EAC and Shettleston were vying for the lead. Nat Muir zoomed through in the fastest time on Stage Two for the holders, and EAC looked the likeliest winners by halfway, despite my record run on the third leg for Southern. (I had been fortunate enough to have a bit of a cold the previous week, and had moaned about this so convincingly that the ESH selection committee had kindly given me a 'soft' stage.) On the day I felt good and, having started fast, almost enjoyed the undulating and fairly brief nature of the course. The supporters were out in force, and I got a mile-by-mile update on the diminishing time-gap to the leaders, which was eventually reduced to 19 seconds from 90. Ironically enough, it was my ex-pupil, Colin Keir of EAC, who led at the end of the stage and was second fastest to my 20.18.
We dropped back on the next leg, but the aforementioned John Robson (he of the discarded baton) made sure that he was (almost) forgiven for his previous misdemeanour by running a truly valiant Stage Five, recording the best time in horribly cold and wet weather. Then Big Dave Logue ('Arkle' after the famous Irish Steeplechaser) gave us the lead on the long stage, which was also notable for Jim Dingwall's wonderful run to equal the record of 31 minutes dead. Poor Jim had a shock in store for him when he reached the Foresthill Inn. (No, the pub had not run out of beer.) His Falkirk Victoria team-mate had not expected his arrival so soon, and was keeping dry in a car, casually removing his tracksuit, when Jim steamed in. It took the unfortunate fellow some time to get underway, but justice was done in that the time wasted was added onto HIS time and not the irate Jim's.
Edinburgh Athletic Club regained the lead through Dougie Hunter on the Seventh Stage, but Martin Craven showed his experience, fitness and determination by holding off an early challenge from Stuart Easton, and then overtaking Eric Fisher to win the race for Southern. "CRAVEN COURAGE WINS RELAY" was the headline in the newspaper next day! We were particularly pleased to have won WITHOUT the services of our most valuable member, Allister Hutton. EAC were second and Shettleston third.
1978-9 was the 'GRAND SLAM' season for Edinburgh Southern Harriers. We won the McAndrew Relay, the Allan Scally Relay, The Edinburgh to Glasgow Relay, the National Cross-Country Relay, the Eastern Districts Relay and Cross-Country Championships, the National Cross-Country Championships and the National Road Relay. Victory in the E to G made it five out of the last six races for ESH. Halcyon days!    Despite fine runs in grim conditions on leg two (Jim Brown) and six (Nat Muir), we drew away steadily. I had a comfortable lead on the Fifth Stage, which was just as well, because the weather really was atrocious – an icy headwind which brought first hail and then a genuine blizzard. Our lead was preserved but I was pipped for fastest on the stage by Davie Watson of EAC, a hard man who produced his best on a tough day for running. Eventually we won by three minutes from Victoria Park and Shettleston.
1979's race took place into an even worse headwind, although it wasn't so cold. Edinburgh Athletic finally got the better of ESH – but still lost to the top team of the year, Clyde Valley A.C.. They really deserved their win, going into the lead through the fastest run on the Second Stage by the gritty John Graham, and making sure of victory when Jim Brown, surely one of the supreme Scottish relay runners, was best on the long leg. I was fastest on Stage Five, with Clyde Valley already a distant dot on the horizon, and in the end ESH finished third.
In 1980 it was Clyde Valley who triumphed again, this time from Cambuslang, who had really shot to prominence, and Vicky Park. Maybe the WEST was taking over! Southern's luck collapsed at the end of the Third Stage, and I must have come very close to being banned for life – for conduct unbecoming a 'gentleman amateur'. I remember being handed a small lead by Ian Elliott, who must have run a very fast second leg, and tearing off into a remarkably powerful gale (or so it seemed to me at the time). Eventually, after a real tussle with the elements, I struggled towards the end of my stint, peering about vainly for the change-over line (since the stage had been lengthened that very day). There was a knot of people huddled together on the verge of the road, but they didn't seem particularly interested, so I prepared to battle on. THEN THEY CALLED ME BACK! It WAS the finish of the stage – but where was my team-mate to receive the baton?
The shock hit me all the more strongly because I was very tired, and instant fury took over. That year I was captain of the team, and I remember bawling at poor Martin Craven, who was down for a later leg, to strip off and take over – we'd argue with the officials later! With some shame (although a saint's patience would have been sorely tried in the circumstances) I recall using the foulest language, cursing everything and everyone, and bending the baton by bouncing it off the tarmac! At last the missing one emerged from somewhere, adjusting his dress (he hadn't expected my arrival and had been relieving himself in a nearby field!) With my best wishes burning his ears, he tore off onto the Fourth Stage. The unfortunate young chap was taking part in his first E to G, and really exhausted himself trying to make amends, but the damage had been done – a full minute lead had been turned into a ten second deficit. Running the fastest time on the Third Stage was no great consolation, although I soon calmed down and realised that it was just bad luck. I was grateful to Colin Shields for his tact, when he wrote in his race report only that I had 'displayed an outstanding range of vocabulary'!
Graham Laing and Nat Muir had shared the fastest time on the Second Stage, and Gordon Rimmer ran a great leg for Cambuslang on the Sixth. The fight for third place on the Last Stage was a classic – between the young and talented Ian Steel, and the experienced crafty campaigner Bobby Blair. Watching it was mixed pain and pleasure for me – I wanted Steel to win a medal for ESH, but also fancied that Bobby, an ex-team-mate from Vicky Park days, and a much underrated runner, might out-manoeuvre the youngster. And so it proved, with Bobby biding his time before sprinting away with half a mile to go to the finish in George Square.
Clyde Valley's 'young lions' deserve a full mention. They had a very fine squad in seasons 1979 and 1980: Colin Farquharson, a talented and very determined athlete who was unlucky enough to be stricken by a serious injury just when he was coming into international reckoning; the even more injury-prone Ron McDonald, such a marvellous runner on track and country, when fit; the dogged Joe Small; youngsters Norman Agnew and Davie Marshall; that superbly gritty runner, Jim Brown, who must be ranked among the very finest of Scottish distance runners on any surface; ever-present Eddie Devlin, a genuine team man; the lean speedy Brian McCoy; and the immensely promising Peter Fox.
By 1981's event I had changed clubs again, since a switch of jobs had meant a move back up north to Kemnay, just sixteen miles from my home town of Aberdeen. It became one of my dearest ambitions in running to be a member of Aberdeen AAC when they finally managed to defeat ESH and, if possible, win one of the four 'National' championships. Of course I hoped it would turn out to be the Edinburgh to Glasgow Relay, not least because I doubted whether we could win any other championship with me in the team!   It was not to be in 1981, however, for Southern were at it again, with a team largely composed of new faces – George Mathieson, Graham McIntyre, Evan Cameron, Colin Hume, Alex Robertson, as well as the classiest pairing of John Robson and Allister Hutton.   The race was once again into a headwind. However ESH cruised away steadily, despite Clyde Valley cutting a large chunk off the deficit on the last leg. Allister Hutton, in his usual dynamic, perpetual motion style, took Southern into the lead with the utmost rapidity on the 'track-men's' second stage. His team held their position right to the finish, with Ian Elliott breaking the record on three, John Robson fastest on five, Evan Cameron on six and Colin Hume on 7! Ron McDonald managed to break the stranglehold on the fourth stage, but no one could catch ESH this time.   Clyde Valley were second, with Peter Fox fastest on the last leg, but the battle for bronze was fierce, if not very fast. Two self-confessed flu victims (rule one: get your excuses in first) Alastair Johnstone of Vicky Park and myself for Aberdeen, tottered determinedly on wobbly legs towards the finish, before a last gasp effort from me let Aberdeen squeeze into the frame by the nailbiting margin of three seconds. Poor Alastair had little chance of passing me on the final straight, because the traffic was so dense that only a single runner could force a passage through!
The 1982 E to G was another which had a prolonged struggle for supremacy. ESH led for quite a part of the race, after that man Hutton put them into the lead on the Second Stage, clocking the fastest time, of course. His club stayed in front until Neil Black ran an excellent fifth leg for Bellahouston, a club which had regained its prominence of many years before. Peter Fleming maintained their advantage on the Sixth Stage, although it was Douglas Frame of Law who was best over the seven mile stretch.   On the unfashionable Seventh Stage it all happened, and positions were revised dramatically. Young Craig Hunter of Southern ran a real stormer and surged through to hand Alex Robertson, again the anchor man, a lead which he clung to safely. Colin Keir of EAC brought his club home in second place, and there was quite a surprise when Aberdeen AAC secured third place once more. An unhappy Bellahouston athlete had unaccountably lost three minutes, admittedly to Graham Laing, who sped through in effortless fashion to pick up a medal for us.
1983's contest was nerve-wracking but ended in the sweetest result of all for me. "A race of high drama from the start" wrote 'The Expert', alias Doug Gillon.   Firstly there was Adrian Weatherhead of EAC, a durable athlete of international class, who had enjoyed many excellent performances on track and country, but had kept off the road because he feared injury. At the age of forty he consented to race the First Stage, got within sixteen seconds of the record and 'murdered' the rest of the field. The Aberdeen lads, due to our captain Graham Milne, were happy to finish fifth.   Neil Black took Bellahouston into first with the fastest time on Stage Two but Aberdeen had moved up to second through Graham Laing. Young Ian Matheson, on a trip home from his American college, kept us in that position, and on the Fourth Stage Craig Ross ran the race of his life to crush Andy Daly and put us into a winning lead. (Well, it turned out that way, although it was never easy.)   Peter Wilson, the Scottish Marathon Champion, clung on grimly to his lead while Bella moved up again, but the most vital action came on the long stage, when Fraser Clyne, so consistent on road and country, managed an excellent 31.26 at the front, while Allister Hutton was edging up on him all the time for ESH, with a record-equalling 31.00. As Doug said "that (Fraser's) could be singled out as the run that won the crown".   Mike Murray ran valiantly on the seventh leg, using his downhill speed to great advantage, and hung on to first place. Meanwhile, a veteran of seventeen E to Gs, I lounged casually by the start of the final stage…….   No way! I was shaking with nerves and knew that, if I 'blew' this chance for Aberdeen, which had never claimed a 'first' in their history, then I would probably have to walk home, where Alastair Wood's tongue would rightly tear me into small pieces!   Eventually Mike panted up to the line and I shot off like the proverbial scared rabbit, with thirty seconds on Dave Logue and 53 seconds on Peter Fleming, the rapidly-improving young star who had won the Glasgow Marathon. It wasn't difficult to work out the tactics – set off hard but try to keep a little in reserve in case anyone got too close. And get too close Fleming did! He positively rocketed away, quickly caught Dave up, and caused the unfortunate Northern Irishman to injure an Achilles tendon and drop back. Then Peter continued his meteoric progress until he was a mere twenty seconds behind me.   The vociferous Bella supporters didn't exactly help me by bawling things like "At's MAGIC, Peter, ye've GOAT him – he's DEID!" However an uphill came to my aid, and I managed to regain a few yards, just as Peter's initial impetus began to fade. You can bet that I was extremely relieved to reach the finish forty seconds up. Even after slowing a bit towards the end, Peter Fleming had created a new record of 26.52. Aberdeen completed the course in 3.35.30 – the fastest time since Southern's 1975 record. Clyde Valley were third over the line.    In addition, the light easterly wind helped to produce stage records – Hammy Cox ran 23.58 on three; and Peter Fox 25.32 on four; as well as Hutton and Fleming. But I'm sure they didn't celebrate as hard as the "special brew of iron men from the North"! (That man Gillon again, working hard for the sponsors – Barr's.)
1984 turned out to be yet another fairy-tale success for a really likeable bunch of lads – on this occasion Falkirk Victoria Harriers. They had frequently been quoted among the pre-race favourites, but had not had the best of luck. This time they got off to a good start through Donald Bain – and never got out of touch from then on. George Mitchell, Ian Johnston and the much-injured but resilient John McGarva kept them near the front before Derek Easton pulled them through and the inevitable, inimitable 'Guv'nor' – Jim Dingwall himself – placed them firmly in the lead after the longest stage. John Pentecost, a mature 'enfant terrible' now, had a great leg seven, and who more suitable than 'Mr Runsport' (Stuart Easton) to complete the 'glory leg' in style?   Falkirk won by a margin of over a minute and a half from Cambuslang Harriers, with Spango Valley sticking like glue to their 'bronze medal' in front of Bellahouston (another excellent finish from Peter Fleming, who broke his own record by six seconds) and Aberdeen. Bella had looked likely winners, but sagged on just one stage, again proving that a winning team cannot afford a single weakness.   Adrian Callan looked very strong when he won the First Stage; Neil Tennant sped to the fastest time on the Second; Bobby Quinn was 'mighty' good when he broke the record on Four; I was amazed to manage the best run on Five; and Alan Wilson continued his rapid rise to fame by beating his rivals on the seventh leg. Last but by no means least, the most talented athlete in Scotland, Nat Muir, eased his elegant way to a new record on the Sixth Stage, taking nine seconds from the time shared by Andy McKean, Jim Dingwall and Allister Hutton.
When I typed this originally in 1984, I ended with the following:
IN CONCLUSION. New faces, faster records, different leading clubs. The Edinburgh to Glasgow Relay continues, however, and gives club runners and stars alike the chance to enjoy a unique moment of traditional sport in the modern athletics calendar.
No one can convince ME that, despite the advent of the motorway, there is increased traffic on the A road through Armadale, Airdrie etc. and that such a hazard gives the increasingly officious authorities in this land a justifiable excuse to 'axe' the event or otherwise change it beyond recognition. KILLJOYS KEEP OFF! And may the E to G continue to provide keen competition, triumphs and disasters, tears (and beers) for many years into the future.
Alas, as feared, the great event ended in 2002. Killjoys had their stupid way. Scottish Athletics is much the poorer. Check the times in distance rankings. More runners, faster times in the 1960s, 70s and 80s, compared with nowadays.
Now I will try to sum up the remaining races, rather more briefly than earlier in the article.
1985 featured a return to form by Edinburgh Southern Harriers, boosted by the return of John Robson and the addition of Aberdeen's Peter Wilson, who was now working in Edinburgh. They ran very well, with Craig Hunter, Neil Tennant and John Robson (new record) fastest on Stages 3, 6 and 7 respectively. George Braidwood (Bellahouston) won Stage 1; Chris Robison (Spango) was fastest on Stage 2; Alan Puckrin (Kilbarchan) Stage 5; and Andy Beattie (Cambuslang) broke the record on Stage 8. However, with John Glidewell breaking the Stage 3 record and J. Tuttle fastest on Stage 4, ESH finished 43 seconds behind a guest team of multi-national USA-based stars strangely called The Kangaroos. Falkirk Victoria were third and Cambuslang fourth. I assume the medals went to the Scottish teams. If not, they should have.
1986 was my final really good run in the E to G. Paul Dugdale (Motherwell) won the first leg and Graham Crawford was once again fastest on Stage Two. However Chris Hall and Simon Axon had given Aberdeen AAC a good start and Jim Doig (British International orienteer and marathon representative) raced into the lead with the  second-fastest time on Stage Three, losing only four seconds to Massachusetts Select's R.Ovian. Although Ray Cresswell lost a little ground on 4 (Craig Hunter fastest), Graham Laing moved up again (second-fastest to A. Walker of Teviotdale, and Fraser Clyne battled back into the lead (John Robson fastest). Mike Murray ran really well to extend the lead to 22 seconds (American J. Marinilli fastest).
Although I was worried about my main pursuer being the very talented young star (and last leg record holder) Andy Beattie of Cambuslang, things could hardly have gone better. Being give a special gold baton could have been a jinx, but I took off hard into a definite headwind. After about three miles, Doug Gillon shouted out "23 seconds and not closing". Before long I saw my good friend Jim Doig peering anxiously over my sweaty shoulder and then relaxing to say, "Colin, you're running brilliantly." An exaggeration of course, but when a few years later Jim died tragically young of meningitis, I was devastated, but eventually could take a tiny crumb of comfort from having made him proud at least once. I managed to bash on strongly to the finish, more than a minute clear, setting the fastest time on the stage. Cambuslang were second and ESH third. Doug Gillon may well have invented the quote he attributed to 'a bystander', which was "If you had cut Colin Youngson's head off in Alexandra Parade he would still have made it to the finish in George Square"! So, at the age of 39, I still got marks for apparent effort.
1987 was a triumph for Cambuslang. Ian Archibald from East Kilbride won the first stage, with Charlie Thomson (Cambus) 6th, one in front of Adrian Weatherhead (EAC). Next the Edinburgh Club's Ian Hamer zoomed into first place on 2, although Peter McColgan was fastest for Dundee Hawkhill. Calum Murray was 8th for Cambus, handing over to A. McCartney who moved up to 3rd, behind Brian Kirkwood's fastest time for EAC. Andy Beattie was fastest on 4 and closed the gap to the leaders to 15 seconds. Then on 5 Eddie Stewart was quickest and gave Cambuslang a 35 second lead. Alex Gilmour extended this to almost a minute (with John Robson ESH fastest on 6). Although on 7 (A. McAngus of Bellahouston fastest) Martin Ferguson EAC pulled back thirty seconds on P. McAvoy, Jim Orr with the fastest leg 8 got completely clear of Kenny Mortimer and Cambuslang finished almost 90 seconds in front. Meanwhile Aberdeen AAC, who had started a lowly 12th, gradually made progress and I was second fastest on the last leg to gain 'bronze'.
1988 was a near disaster for me! Stage winners were: 1 Tom Hanlon ESH; 2 Alan Puckrin Greenock Glenpark; 3 Ray Cresswell Aberdeen 4; A Walker Teviotdale; 5 Ian Archibald EAC; 6 John Robson ESH; 7 G. Harker EAC; 8 Andy Beattie Cambuslang. However the race tale was mainly that, after Stage 3, Aberdeen seemed to be cruising away. Ian Mathieson had made a solid start, Chris Hall got up to 3rd, Ray Cresswell moved into the lead, and Dave Duguid, Graham Laing, Fraser Clyne and Simon Axon handed over to me a good lead of 93 seconds. However I had had a heavy cold, plus my hamstrings were suspect. Both legs deteriorated during the stage, and I could only limp on painfully while panicking. By the end I was only 21 seconds in front of Alan Robson from ESH. Whew! Cambuslang finished third.
1989 produced my final medal in the great race. Lucky to be in the team only because illness had struck faster, younger guys, I was stuck with Stage Four, which featured too many downhills and no headwind! Not my scene. Nevertheless, due to better runs by my clubmates, Aberdeen finished third after Simon Axon overtook EAC (or ESPC AC as they styled themselves) on the last leg. Fastest Stages: 1 K. Logan of Teviotdale; 3 Scott Cohen ESPC; 4 Nat Muir Shettleston; 6 Neil Tennant ESH; 7 Ian Archibald ESPC; 8 Gary Grindlay Falkirk Victoria. I have omitted Stage 2 (Peter McColgan) and Stage 5 (Iain Campbell) because these two Dundee Hawkhill Harriers, aided by Dave Beattie, T. Reid, Craig Ross, Charlie Haskett, R. Barrie and Peter Fox led the Hawks to a clear victory! This despite some real opposition from Cambuslang (2nd) and (briefly, due to Nat) Shettleston.
1990 was ominous, and hinted at what was to happen in the final chapters of the mainly glorious tale of the Edinburgh to Glasgow Relay. It had been noted that the previous year EAC had changed its name, since some financial sponsorship had been obtained. Third in 1990 was "Caledon Park Harriers", a breakaway club with former ESH stars like Tom Hanlon and Alan Robson, but also including Alan Puckrin of Greenock Glenpark! This new team was fastest on four stages (1 Hanlon; 3 Puckrin; 5 Davie Ross; 6 Alan Robson). Their potential was frightening to the older traditional clubs. On Stage 7 B. Pattieson of Dundee Hawks was quickest, and his club finished second. However for one last year, Falkirk Victoria Harriers flew the flag for clubs with some history, with athletes who often trained together. R. Cameron was 8th; John Sherban fastest on 2; Peter Faulds kept the lead; Ian Johnston was fastest on 4; Donald Bain kept in front; Gary Grindlay was shunted back to third by Robson; but Mike McQuaid moved up a place; and John Pentecost, after a marvellous battle with Dundee's Richie Barrie, produced the fastest final leg and squeezed home 4 seconds in front of the previous year's winners.
By 1991, things had changed once and for all. "Caledon Park Harriers" finished 13th, still with Puckrin and some former ESH runners. However "Racing Club Edinburgh" another brand new organisation, with financial sponsorship, was packed with stars. Scott Cohen handed to Brian Kirkwood, D. Gardiner, M. Coyne, Davie Ross, John Robson, Tom Hanlon and Alan Robson. John Robson and Hanlon were fastest on legs 6 and 7 and they won by a minute from Cambulang, who moved up a lot on Stage Eight due to a great run by Andy Beattie (fastest). Teviotdale were third. Other fastest stages were: 1 J.Ross of Haddington ELP; 2 Chris Robison, IBM Spango Valley; 3 Peter Faulds Falkirk; 4 Charlie Thomson Cambuslang; 5 A. Fair Teviotdale. Aberdeen were 10th and I had a decent run on Stage 3, my favourite as a veteran. At the presentation I was delighted to receive an S.C.C.U. tankard, engraved with the results of my record 25 E to Gs.
And so it went on. I am reluctant to go into much more detail about the final eleven races. Look up the results yourself. Apologies to valiant individuals omitted. Variously named Racing Club Edinburgh, Leslie Deans RC and Mizuno RC, the same organisation won twelve years in succession. On the one hand they featured extremely fine athletes who were marvellous to watch – most of the Scottish cream. On the other hand, it was an unfair monopoly and despite stern moments of  occasional resistance from Falkirk,  Cambuslang, Shettleston, Hunters Bog Trotters, Kilbarchan and Fife, in most years the 'Superclub' won quite easily.
Of course their runners broke all sorts of records, although the course kept changing, so accurate comparisons with earlier years were impossible.
I won thirteen medals (one silver with Victoria Park; four gold plus one bronze with ESH; three gold plus four bronze with Aberdeen AAC). Yes, I joined good clubs but I always lived and worked there and trained with the lads. My final five E to Gs were with Metro Aberdeen Running Club, which was basically a bunch of local road runners who broke away from AAAC when the club's emphasis changed to track, especially coaching schoolboys and schoolgirls. As a wee club with great team spirit, Metro were proud to finish 7th in 1994, when we were blatantly robbed of 'most meritorious' medals by the selectors (no disrespect to Clydesdale Harriers 9th placed team who 'won' these). Fortunately an even better Metro team was 5th in 2001 and finally judged 'most meritorious'. Somehow I took part in another five E to Gs, finishing rather slowly at the age of 52 in 1999 after 30 appearances in my favourite race. My Metro years were great fun for me, with fine lads like Geoff Main, Nick Milovsorov, Fraser Clyne, Mark Johnson, Keith Varney, Davie Watt, Rob Taylor, Pete Jennings, Jackie Stewart, Steve Willox, Keith Farquhar, Phil Cowie, Andrew White, Bruce Moroney, Alan Reid, Duncan Wood and Kevin Tulloch.
However the medal-winning records of Racing Club's best athletes are amazing. Alan Robson finished with 6 golds, a silver and a bronze; Brian Kirkwood and Ken Chapman 7 golds; and Scott Cohen and Glen Stewart won 8. Tom Hanlon, one of the few world-class Scottish runners, clocked up ten golds, a silver and a bronze. Davie Robb accrued an incredible eleven golds plus a silver and a bronze. In my opinion the greatest was the once-maligned John Robson, with ten golds, two silvers, a bronze and nine times fastest on a stage, often the long leg six!
The last three races, I believe, unless Brian McAusland corrects me, were pushed away from the A roads onto pavements, old railway lines etc. I did act as a marshal on one of them. The route changes destroyed the experience, since it was very hard to find changeover points, spectating was frequently impossible and the whole tradition had been ruined. Road relays, as the name suggests, ought to be on roads. The only event which compared in the least (in terms of atmosphere) to the E to G was the Scottish Veteran Harriers eight-stage relay from Alloa to Bishopbriggs. Now that really was dangerous with the traffic – but still no one was really hurt. The police, the killjoys, and the health and safety buffoons had their way – the event folded after 2002. Now all they have is the National Six Stage Relay, which is all very well but ……Scotland is safer, fatter, slower and more boring.
Scanning this interminably long rambling account, I seem to have gone on about my own runs (name me an athlete who is not to a considerable extent self-obsessed!), fastest times, records, medals. How can I sum up the truly important aspects of the late-lamented Edinburgh to Glasgow Relay? All your best clubmates battled to get into the team, as the club itself had to fight for the invitation to compete. Just to take part was a privilege and an achievement. Then the challenge was to conquer the weather, your nerves and the opposition to ensure that no energy was left when you handed over and that you had done your very best. Right to the end of each race, clubmates cheered you on to stave off pursuit or overtake those in front. Yes, it was extra exciting if a medal seemed possible, but self-respect or club honour was of paramount importance. The drama, the tension, the emotional and physical intensity, the bantering, the socialising afterwards – all quite unrivalled by other events. Anyone who took part in the E to G should treasure the experience. We were lucky!