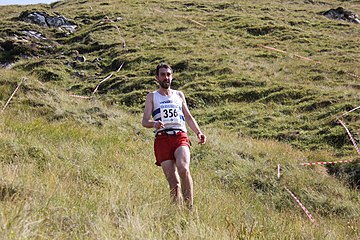 Finlay Wild is a name known almost exclusively to the hill running fraternity although it should be well known to all endurance runners in Scotland at the very least. After this look at some of his running achievements, we will have a page done following an extended conversation that Denis Bell had with Finlay.
He was born on 8 September 1984 in Thurso. It was maybe inevitable that he would be an enthusiast for the great outdoors right from the start: his father Roger Wild, was a mountain guide, and his mother Fiona (née Hinde) was an accomplished hill runner who won the Three Peaks Race in 1981 and the Carnethy 5 in both 1981 and 1982. Finlay was educated at Fort William primary and Lochaber High School before heading to the University of Aberdeen where he graduated with a medical degree and he now works as a GP in Lochaber. So much for his background which all (where he has always lived, parents occupation and involvement) point to a love of the hills. We can go on from there to have a look at his career as a hill runner.
His first hill race is said to be at Ben Rinnes at the age of 21. Held in conjunction with the Dufftown Highland Games, it is really three hills – there are the two tops of Little and Meikle Conval before the Ben Rinnes summit with the return via the same trail making it a total of 22 kilometres with 1500m of ascent. It is however through his superb running on Ben Nevis that his hill running talents have been shown to best advantage. Winning the race once is an achievement, to win it as often has he has is however a wonderful almost incomparable achievement. He first won it in 2010 and every year since! The 'Press & Journal began its report in 2019 as follows:
"A doctor made it 10 in a row when he won a gruelling race up and down the UK's highest mountain. Fort William GP Finlay Wild fought off competition from 450 other athletes to win the Ben Nevis race for the 10th time on Saturday. He conquered the 4,411ft mountain in 1 hour, 32 minutes and five seconds.
Despite falling on part of the route, Dr Wild was 17 minutes and 47 seconds ahead of his nearest challenger, fellow Lochaber Athletic Club member John Yells. The 35-year-old said: "When I won it the first time I was absolutely shocked so I never thought this would happen and I would be here with 10. I feel quite shocked really as it was very unexpected.
"It is a great local event that attracts people from all over and it is great to see so many people. "I am sure I will be back next year."
Unfortunately he was not able to go back in 2020 because there was no race due to the Covid crisis – and as a GP he was probably working flat out at the time anyway.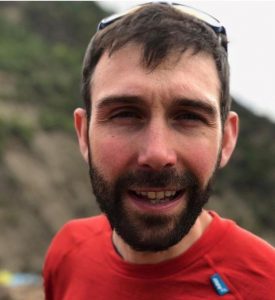 There are some, many, runners who favour a particular event and run better there than anywhere else but that does not apply to Finlay Wild. He has the same high standards and displays them on short hill races, long hill races, the various 'rounds and, in short, in any event in which he takes part. Note the following:
In 2012, he set a new course record for the Glamaig Hill Race, breaking the previous best set by top class internationalist Mark Rigby in 1997. He improved his own record by a further five seconds in 2018.
Wild's other wins include the Carnethy 5, Goatfell races 2013–2015, the Isle of Jura 2015-2017, Stuc a Chroin, the Ennerdale Horseshoe and the Langdale Horseshoe. He won the British Fell Running Championship in 2015. The heights and distances tend to be on the long side – Langdale is 21 km in distance and 4760 ft of ascent, Stuc a Chroin is 24 km and 5000 feet of ascent, Isle of Jura is 28 km and 2370 m of ascent and Ennerdale is 36.8 km and 2290 feet. As an indication 21 km is 13 miles and 36.8 km is over 22 miles.
He also has the fastest known time for the Cuillin Ridge traverse on Skye, completing the crossing in 2:59:22 in 2013. In February 2016, Wild and Tim Gomersall made a winter crossing of the Cuillin Ridge in a time of 6:14. There is an excellent report on his record in the UK Climbing website which sums the feat up in this quote: "

O

n Saturday 12th October Finlay Wild broke the speed record for the Cuillin Ridge traverse for the second time in a year, knocking a hefty 15 minutes from his previous record to log the first sub-three-hour completion of Britain's greatest mountaineering route. So how on earth did he manage to get from the summit of Gars-bheinn at the south end of the ridge to the top of Sgurr nan Gillean in the north, in just 2hrs 59mins 22secs"?
In 2016, Wild's results in the Tromso Sky Race (Norway: 33 km and 2000m of ascent) and the Glen Coe Skyline gave him third place in the Extreme section of the Skyrunner World Series.
In October 2016, he set a record time of 10:15:30 for Tranter's Round in the mountains around Glen Nevis. He further reduced the record to 9:00:05 in July 2020. Note that the second record was 75 minutes faster than the first – a huge lump off the time. Often, almost always, a runner going for a record round has pacers, guides or companions assisting but not this time for Finlay Wild. This quote about the run from the following link Finlay Wild breaks his own Tranter's Round record – FionaOutdoors says "Finlay ran the Tranter's Round solo and unsupported. He said: "Only a few people knew I was out for a record attempt against myself, so there didn't feel like there was much pressure. This keeps stress levels low and makes it just an enjoyable big day out in the hills." Finlay thoroughly enjoyed the run, He said: "It was a high watching the weather improve into the afternoon, just as I had hoped it would from an optimistic interpretation of the forecast. "It was great to take an hour and 15 minutes off my previous record, too. Even missing a sub-nine-hours wasn't disappointing because I feel I made a concerted push to try for it over many hours, so I ran as well as I could have hoped."
In May 2019, Wild ran the Welsh 3000s in a time of 4:10:48 which broke the long-standing record of 4:19 held by fellow Scot Colin Donnelly since 1988.
Wild set a record for the Ramsay Round in August 2020, completing the route solo and unsupported in a time of 14:42:40. Note that like the Tranter Round a month earlier it was a solo and unsupported run over some of the most difficult terrain the United Kingdom. It was also a huge chunk off the previous record – a massive 90 minutes. And it was done as a solo attempt with scarcely one month between the two. We should maybe look at the two Rounds. The photograph below is of Finlay after setting the Ramsay Round record and you can read about it at Finlay Wild sets new Ramsay Round record – FionaOutdoors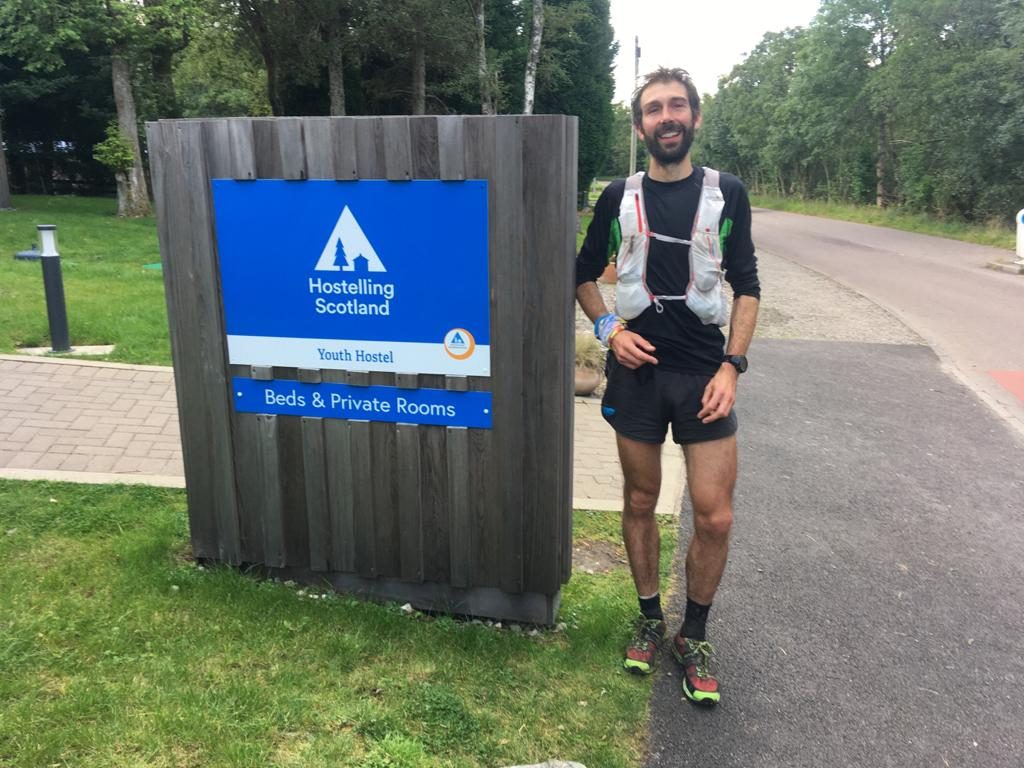 Hill Runners from all countries and of all standards seem to collect 'rounds' with every country having its own tough round of hill, tops, peaks to be completed against the clock. And the various countries have other rounds. The two Scottish ones mentioned above are worth a look. The Tranter Round first. Described by the Gofar website as follows – "Named after Philip Tranter, who first completed it in 1964, this is considered to be Scotland's original 24 hour challenge, before being extended by Charlie Ramsay in 1978. It is a round of some 36 miles and over 20,000′ taking in 19 Munros in the Mamores, Grey Corries and Aonachs together with Carn Mor Dearg and Ben Nevis. It still remains a creditable and rewarding challenge in its own right. " Note the reference to the Ramsay Round which is the big challenge for Scottish Hill Runners. For a description of the Ramsay Round we go to the appropriate website of https://www.ramsaysround.co.uk/tranters-round which reads
Ramsay's Round is an extension of Tranter's round which started in Glen Nevis. Travelling anticlockwise he completed all of the Mamores, (10 munros) thereafter he crossed the valley and onto the Grey corries (4 munros) before ascending onto the Aonachs (2 munros) and onwards towards Carn Mor Dearg, culminating on Ben Nevis, (2 munros) Great Britain's highest mountain, finishing back at Glen Nevis. Following the completion of the Mamores at Sgurr Eilde Mor continue eastwards towards the South end of Loch Treig, continue onto the summit of Beinn na Lap, thereafter head for Chno Dearg then onto the summit of Stob Coire Sgriodain, before descending to the north end of Loch Treig, thereafter start the steady climb onto the Easains, before descending down to the Lairig Leacach, finally start the ascent onto the summit of Stob Ban joining up and continuing onto Tranter's Round."
To set records for both within a month and break the previous best time by so much indicates a runner of tremendous talent and determination.

And the hill and fell running is not quite enough for the full display of Wild's talents. He has also competed in ski mountaineering and was the British champion in that sport in 2016 as well as the Scottish Skimo series winner in the 2014/2015 and 2015/2016 seasons.
We have a record of his running career from 2006 to 2020 at this link – Finlay's Racing Record
.