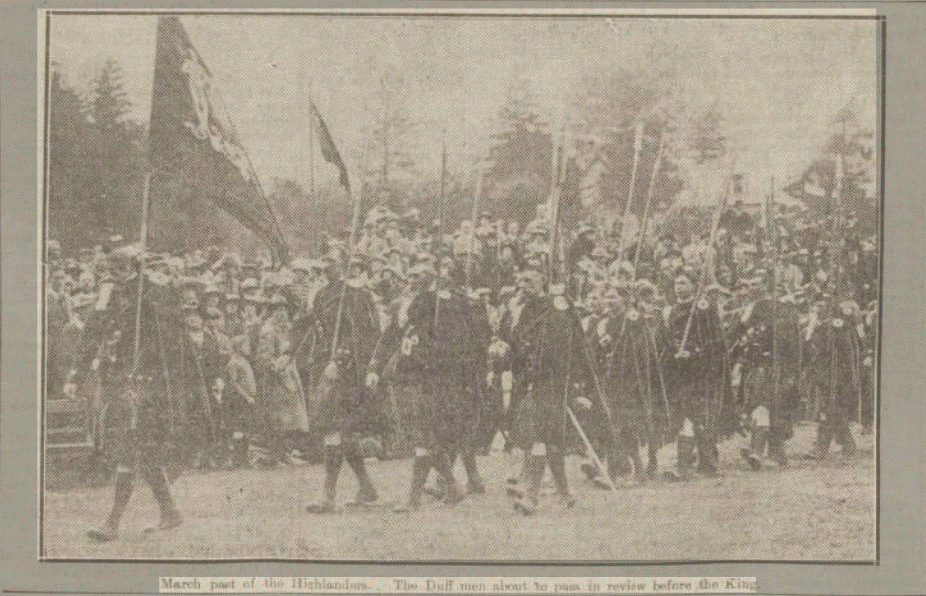 The Games returned after the 1914-1918 War on 4th September 1919 and everyone celebrated that return. The Aberdeen Journal of 5th September that year celebrated with the following article (so long that it had to be reproduced in two sections) and another long account on a different page.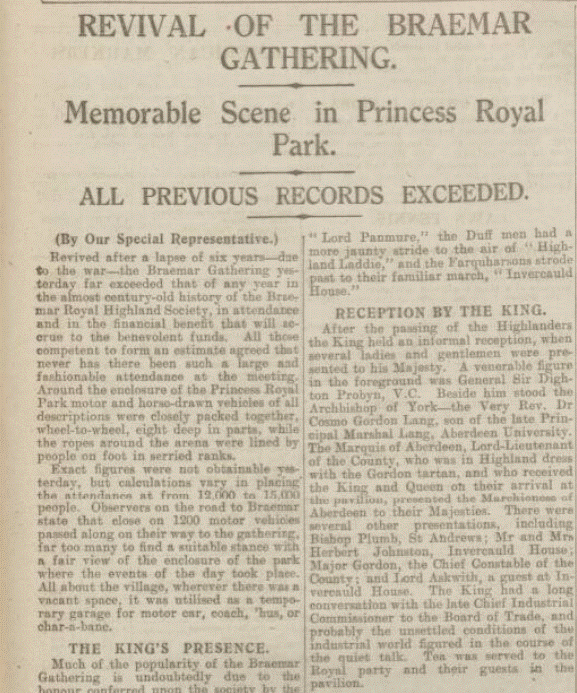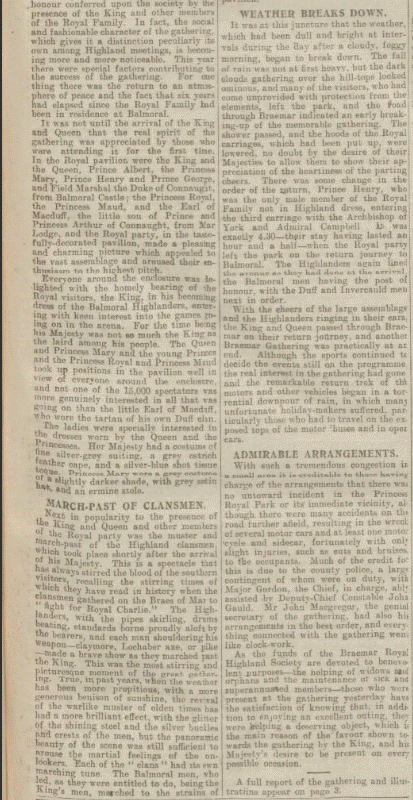 There were also articles on who was there – the creme de la creme of course since the King and Queen were there – and what they were wearing, who presented the prizes and comments on the sport.
The photograph below speaks for itself. The distance from Aberdeen to Braemar was estimated at 60 miles and according to the Journal, it was crowded all the way with motor cars and buses. There were of course several accidents – eg. one at Dinnet where one car collided with another and, because he was looking at that one there was another collision at the same spot when the inattentive driver ran into another car. Then a motor cycle and sidecar came a cropper at the Pass of Ballater with both occupants being thrown off, one car with two wheels missing was left at the side of the road and several others were being towed.
Unfortunately the numbers of marchers were down on 1913 – the Duffs and Farquharsons were fewer in number with many of their ranks having been lost in battle. 'They had lost nothing of their ardour' however. Numbers generally were high though.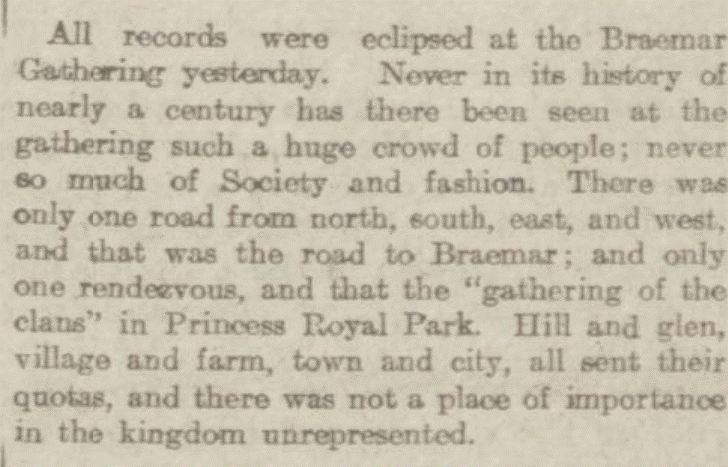 The Games were, and still are, a local event as well as a national, and at times international feature of the week – and although there was no Veteran Harriers Club, or Masters competition or age group awards, there were still enthusiasts like the septuagenarian below.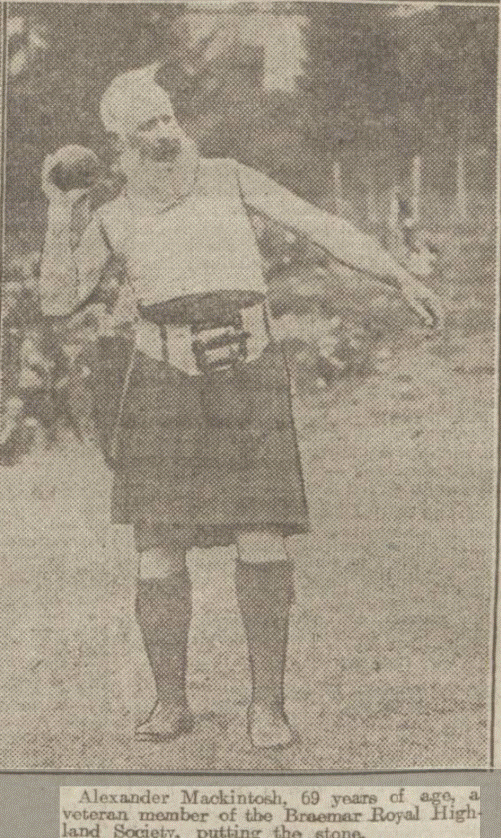 The report on the sports is below and it is very brief compared to the coverage of the royal party and the other attractions on the day – although we have to remember that it was not called the Braemar Gathering for nothing. The whole day, indeed week, was involved with social events, many day trippers, special trains were packed and char-a-bancs were all in action – with taxi drivers offering their services for the occasion, the Games were only part of the celebrations. The Aboyne Games were traditionally held on the Wednesday with Braemar one day later, always on the Thursday, and that added to the week's fun. 1919 in particular after the dreadful carnage of the War with its huge loss of life was forgotten – or almost forgotten – for the time being.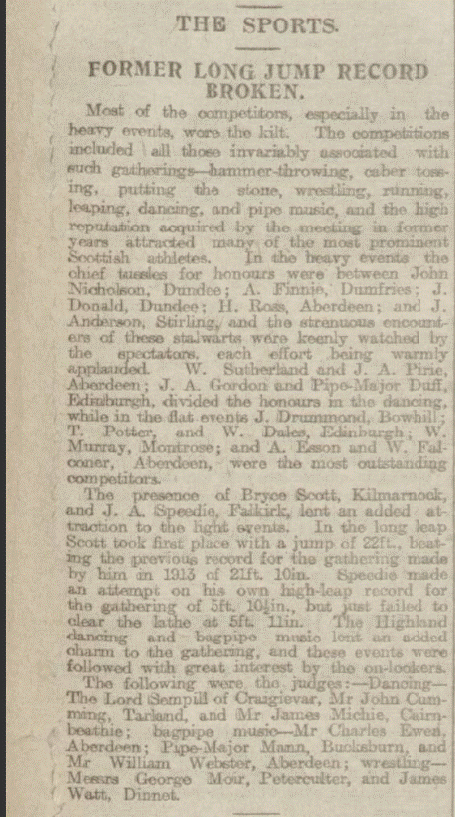 The actual results of the meeting were as follows: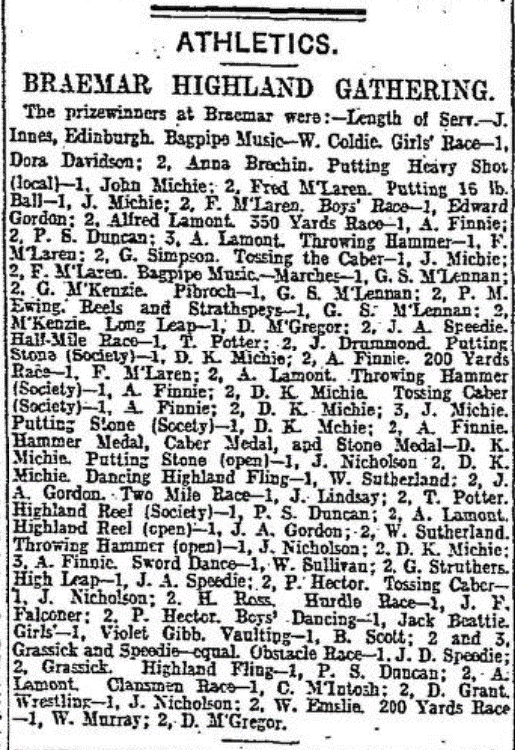 Although the weather had been fine in the morning, it dulled down a bit at the start of the afternoon and then there was some drizzling rain. The Royal Party stayed on for a bit before leaving, serenaded by the pipes and cheered by the crowd of spectators. The Gathering and the Games were back!