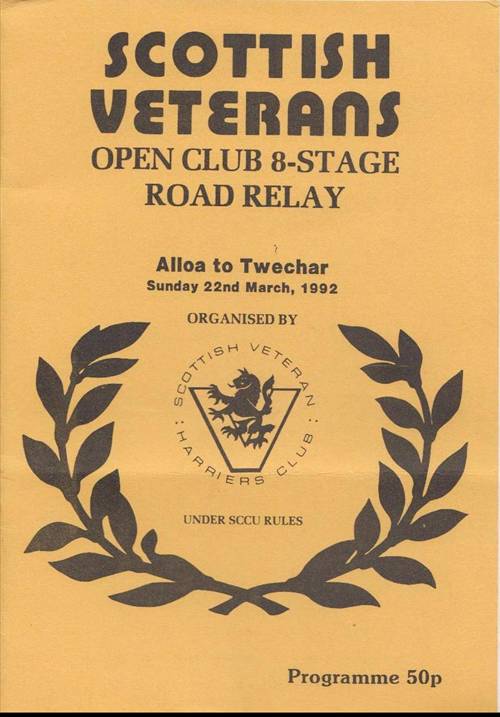 The Scottish Veteran Harriers Club (and in particular the irrepressible Danny Wilmoth) organised the Alloa to Bishopbriggs in late March between 1984 and 1991. The route changed in 1992 to Alloa to Twechar. In 1993 the event was taken onto traffic-free roads at Torrance. Eventually the SVHC relay became a six-stage affair which is now held in Strathclyde Park.
However the original Alloa to Bishopbriggs (or to Twechar) was undoubtedly considered better than the comparatively tame six-stager. A to B was the Vet equivalent of the legendary Edinburgh to Glasgow Road Relay (which also featured 8-man teams). The E to G invited around 20 teams; but the A to B allowed free entry and could cater for up to 50! So many runners on narrower roads with closer traffic whizzing past! To participate in the Alloa to Bishopbriggs 8-Stage Road Relay was a real adventure: dramatic, scary, and (at the front) extremely competitive, yet probably more fun than the E to G, since there was less pressure to succeed. A wide age-range produced widely-varying speed and fitness. But what an experience for all!
N.B. A minor miracle: absolutely no injuries were caused by motor vehicles!
FIRST THREE CLUBS TO FINISH
| | | | | | | |
| --- | --- | --- | --- | --- | --- | --- |
| Year | First | Time | Second | Time | Third | Time |
| 1984 | Shettleston Harriers | 3:45:20 | Clyde Valley AAC | 3:51:50 | Bellahouston Harriers | 3:53:32 |
| 1985 | Shettleston | 3:47:07 | Bellahouston | 3:48:21 | Victoria Park AAC | 3:48:36 |
| 1986 | Bellahouston | 3:59:14 | Shettleston | 4:00:02 | Victoria Park | 4:00:58 |
| 1987 | Shettleston | 3:46:35 | Bellahouston | 3:48:12 | Pitreavie AAC | 3:48:33 |
| 1988 | Cambuslang Harriers | 3:49:30 | Shettleston Harriers | 3:53:17 | Victoria Park | 3:54:50 |
| 1989 | Cambuslang Harriers | 3:54:44 | Fife AAC | 3:58:50 | Livingston AAC | 4:00:46 |
| 1990 | Fife AAC | 3:41:43 | Cambuslang Harriers | 3:42:24 | Aberdeen AAC | 3:42:32 |
| 1991 | Aberdeen AAC | 3:29:29 | Fife AAC | 3:34:53 | Cambuslang Harriers | 3:36:43 |
| 1992* | Aberdeen AAC | 3:21:39 | Fife AAC | 3:26:43 | Cambuslang Harriers | 3:27:15 |
* Twechar
As can be seen the results above, big clubs from the West of Scotland dominated until a few from the East (or indeed North-East) began to make an impact. However once the race shifted to Torrance on closed roads, and then became only Six-Stage, Cambuslang regained superiority (although Metro Aberdeen R.C. came second a couple of times).
I only have four results sheets. In 1988, the fastest stage times were set by: Ken (Archie) Duncan (Pitreavie; Jack Adair (Bellahouston); Brian Carty (Shettleston); Andy Stirling ((Falkirk); Eddie McIvor (Cambuslang); Willie Daly (Falkirk); Andy Hughes (Cambuslang); and A. Nixon (Gosforth Harriers).
In 1989, the quickest men were:  Brian Carty (Shettleston); Stuart Asher (Fife); Tony Ross (Fife); Ian Seggie (Livingston); Peter Marshall (Haddington); Ian Briggs (Livingston); Ian Leggett (Livingston); and Ian Stark (Springburn).
The 1990 information sheet sets out the route from Alloa to Bishopbriggs.
| | | | |
| --- | --- | --- | --- |
| Start | Alloa Municipal Building | | 10:30 am start |
| First Changeover | Fergait Petrol Station on the A977 | 5 Miles | |
| Second Changeover | The 'P' Parking Place on the straight between South Kersie and Dunmore | 5 Miles | |
| Third changeover | Left turn before Caledonian Cattle Mart on A91 By-Pass | 5.2 Miles | |
| Fourth Changeover | A872 just beyond Easterton Service Station at the Parking Bay | 5.2 miles | |
| Fifth Changeover | Domestic Appliance Premises, Banknock | 5 Miles | |
| Sixth Changeover | Industrial Estate Cash & Carry, Kilsyth | 5.2 Miles | |
| Seventh Changeover | Industrial Estate, Lilsyth Road, Kilsyth | 4.7 Miles | |
| Finish | Alongside Forth and Clyde Canal, opposite Bishopbriggs Sports Centre | 4.7 Miles | Total: 40 Miles |
THE ROUTE: A907 out of Alloa, turn right onto A977, turn right on A88 across Kincardine Bridge, turn right onto A905, via Airth, Dunmore, turn left (South) on A91 Coupar-Stirling By-Pass, continue on the A872, turn right on the A803, via Kilsyth, Kirkintilloch, crossing to the West side of the road to the last changeover at Industrial Estate, Kirkintilloch, continue on the West side of the A803 and turn onto the Forth & Clyde Canal footway at the "Stables Inn" (next to the Glasgow Bridge), thence along the footway to the finish.
Follow that  (and signpost the junctions) if you can!
The Alloa to Twechar route was as follows.
| | | | |
| --- | --- | --- | --- |
| First Leg | Alloa District Offices to behind Fersait Petrol Station, Kincardine | 5 Miles | |
| Second Leg | Kincardine to Dunmore Road sign | 5 Miles | |
| Third Leg | Dunmore to Fallin | 4.5 Miles | |
| Fourth Leg | Fallin to one mile beyond Bannockburn Hospital on A(at Airth/Falkirk Junction) | 4.5 Miles | |
| Fifth Leg | To Commercial Public House Car Park, Larbert | 5 Miles | |
| Sixth Leg | Larbert to Dennyloanhead Railway Inn | 5.5 Miles | |
| Seventh Leg | To Lennox Colzium Entrance at Kilsyth | 5.5 Miles | |
| Eighth Leg | Colzium to Twechar | 4.6 Miles | Total: 39.6 Miles |
The programme for this 1992 race added: "All runners must obey instructions regarding running on the correct side of road – otherwise their team will be disqualified." But were you meant to run on the right, facing oncoming traffic, or on the left, in the direction that traffic was moving? Or did it vary? My own memory is of daring manoeuvres made in the heat of competitive zeal and flat-out effort. Maybe drivers simply avoided such obvious lunatics!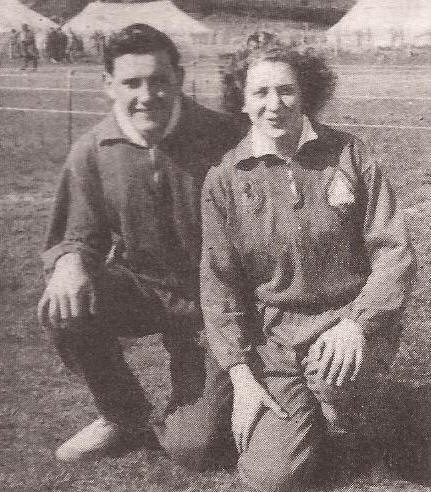 Young Danny Wilmoth with his favourite timekeeper
ABERDEEN AAC MEMORIES
 In 1990 we sent down a decent squad, but perhaps not all of the first team. (After all, AAAC had won team gold medals in the Scottish Veterans Cross-Country Championships three years in succession – 1988-90.)
 At the end of Stage One, Graham Milne came in third; Jim Morrison, Francis Duguid, Ben Preece and Davie Grubb maintained our position; with the fastest time on the stage, I moved up to second; and then Ken Hogg and Rod McFarquhar finished a highly respectable third, less than a minute off victory.
Fife led from start to finish and had fastest times on Stages One (Don Macgregor), Two (Stuart Asher) and Three (Tom Graham). Ian Seggie of Livingston AAC was quickest on Four; S. Balfour, also of Livingston on Five; probably myself on Six (although the result sheet went wrong there); Ian Burke of Bellahouston Harriers on Seven; and Roddy McFarquhar on Eight. The inimitable Bill McBrinn (in his SVHC 'McBrinnlets' column) commented on Fife having "an air of invincibility" and on "the effort Roddy McFarquhar made along the canal to catch Robert Anderson on the last leg, but to no avail." According to Bill, I vowed "We shall return."
 My diary notes: "Next year we'll bring the FIRST team! Apart from running, I drove three different cars! The whole relay was flat-out into a headwind and definitely hilly. Good enough performance but hard. Enjoyed last leg spectator jog, the Stables Bar and peanuts. A decent trip. On the way back we passed the sign for Gleneagles and I promised that if we won the relay next year, I would stand everyone a drink at the posh 5 star hotel."
 After the 1991 A-B, I wrote the following race report – and 'poem' for the club magazine!
"Aberdeen Veterans had a golden day at this event. The First Team broke the course record by 16 minutes 1 second, beating Fife (last year's winners) by more than five minutes. Our Second Team also broke the old record and finished seventh of the 42 teams entered. Every Aberdeen runner went well. Perhaps a particular hero was Bill Adams, who not only gave us an excellent start but also endured a tortuous and lengthy itinerary to get from Shetland to the race and home again in 36 hours. George Sim was speedy and stylish in breaking Fife hearts and also the Stage Six record (by 54 seconds). And Francis Duguid was the star on the same stage for the Second Team. A day to remember!
 (First Team was: Bill Adams, Colin Youngson, Charlie Noble, Eddie Butler, Dave Armitage, George Sim, Mel Edwards and Rod McFarquhar.
Second Team was: Ian Fraser, Ken Hogg, Bill Scullion, Ewen Rennie, Davie Grubb, Francis Duguid, George Swanson and Jim Morrison.) 
THE BALLAD OF BISHOPBRIGGS 
'Twas 6 a.m. on Sunday morn
when Aberdeen set out
with sixteen eager veterans
all keen to run no doubt
from Alloa to Bishopbriggs
an eight-man relay race –
an early start and long-round trip
was what we had to face.
Yet all arrived and on Stage One
Macgregor starred for Fife
while Aberdeen's Bill Adams clung
to third for his dear life.
Our Postie Bill's a Viking brave –
real tough if middling old –
he runs his round on winged feet
and wins medals of gold!
Then Captain Colin took the lead
but couldn't get away
from Stuart Asher – left the rest
behind at least, they say.
When Noble, Charlie tried to stick
with flying Graham, Tom –
he ran so fast, that Charlie moaned,
"That guy went like a bomb!"
Now relay four is mountainous,
just right for Hillman Ed
who overtook the Fifer and
once more our heroes led!
"We're pretty sure that Eddie B
was fastest," Dons' fans yelp –
"He must have raced much faster
than a chap called Smith from H.E.L.P.!"
Next gritty Dave, the orienteer,
took over on fifth stage –
he sprinted hard up all the hills –
Fife thought him underage.
George Sim ignored his hangover –
gave Fife the coup de grace –
he chopped the Stage Six record.
Macgregor gasped, "He's class!"
With total dedication the
enthusiastic Mel
picked up th'invisible baton and
then belted off like, well …..
He handed on to Roddy who,
with supercool control,
just eased his way to victory
And we achieved our goal.
The relay record was destroyed –
no wonder that we smile –
without exaggeration we
had won it by a mile!
First Team were Scottish Champions!
Team B were 7th and
Ian, Ken, Bill, Ewen, Davie, Francis, George and Jim all joined
The record-smashing band.
The Captain of the Second Team
Was dauntless Davie Grubb
Who led the celebrations in
Gleneagles Hotel 'pub'! 
[I remember that, after the race, when our cars drew up outside Gleneagles, we were all suddenly aware that our garb could hardly be described as formal evening dress. The other fifteen, many of them my senior, pushed me (as captain) to the front, to ask the 'superior' doorman if we would be allowed to buy some alcoholic refreshment. He indicated politely that the so-called 'American Bar' would be the only appropriate venue for customers such as ourselves, said they did not serve draught ale (too common?), but permitted us to purchase sixteen bottles of the most expensive beer we had ever bought. (Mel split the round with me; then others bought a second one. So much for Aberdonian meanness.) This venture added class and amusement to a great day.] 
In 1992, the Alloa to Twechar was also an exciting contest between Fife and Aberdeen. The former held a narrow lead on Aberdeen for the first five legs. Then, on Stage Six, George Sim did it again, I extended the lead on the next leg and Francie Duguid brought us home 5.04 clear of Fife. There were two sets of the results. The second (correct?) version noted fastest stage times from: Charlie MacDougall (Calderglen), Cameron Spence (Spango), Tom Graham (Fife) and Graham Milne (equal), Tony Martin (Fife), Ian Burke (Bellahouston), Jim Dingwall (Falkirk), probably the best run of the day), me (only 13 seconds better than Falkirk's Dougie McKenzie) and Bobby Young (Clydesdale). 
Our First Team was: Bill Adams, Eddie Butler, Graham Milne, Charlie Noble, Ben Preece, George Sim, Colin Youngson and Francis Duguid. The Second Team achieved a most meritorious sixth from 47 teams. They were: Chris Simpson, Ken Hogg, Davie Grubb, Ally McDonald, Kerr Walker, Ewen Rennie, John Ballantine and Mel Edwards. We reckoned that, if we had shifted a first team runner to the second team and vice versa, we might have finished first and second – but such brinkmanship had to be resisted, since it might also have left us second and third.  
A peak performance, one of the last for AAAC veterans and we celebrated this time in Twechar's own Quarry Inn, which dispensed Maclay's marvellous 60 and 70 shilling real ales. (Sadly, both pub and brewery are no more.) 
(The photo below shows a tired man, who went too fast for the first twenty minutes, bashing away as hard as he can on Stage Seven in 1992.)"