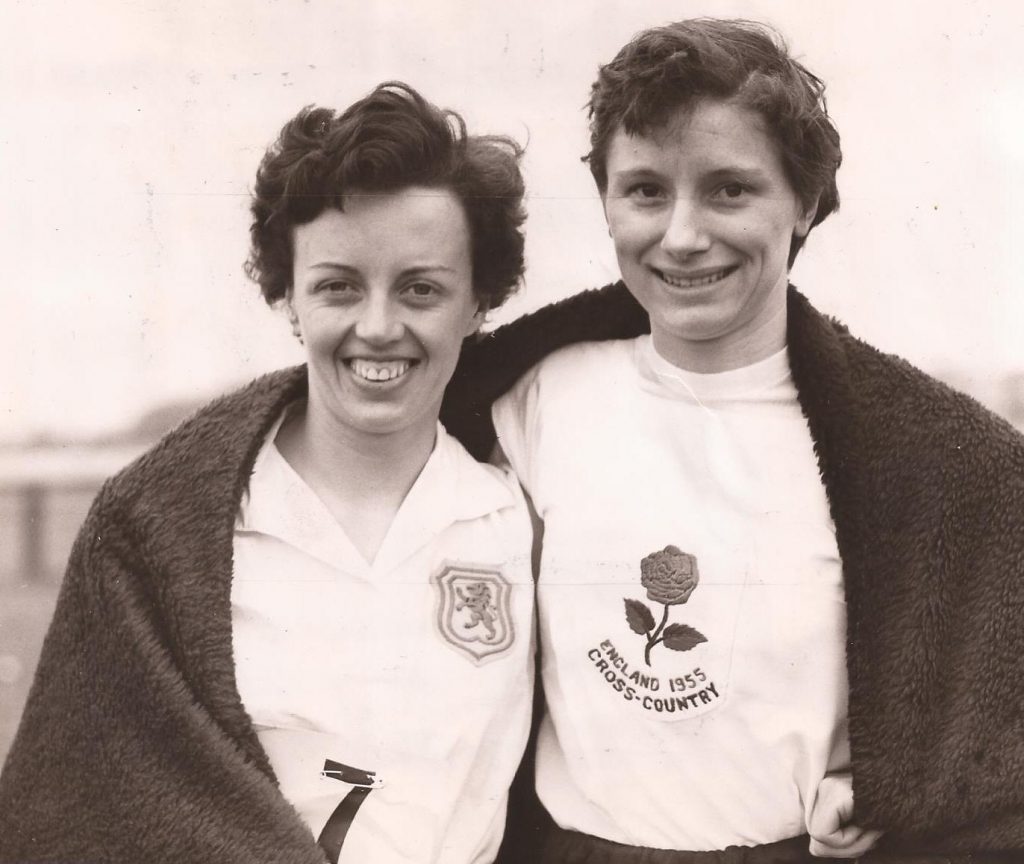 Aileen with Diane Leather
Scottish Mile and cross-country champion with the English Mile and cross-country champion.
I first met Aileen Lusk in the late 70's early 80's when I took my daughter training with Strathkelvin Ladies AC which was run by Molly Wilmoth and Aileen. The atmosphere at the club was great and all the girls had a wonderful time. At that point Aileen was still very fit as you can see from the picture of her running with Dale Greig in the IGAL marathon in 1976 (below). I did not realise at this point just how good she had been although she did look look every inch a class athlete even then as a veteran athlete, twenty years after her triumphs in the 1950's and 60's. The profile that follows begins in 1952/53 when she came into the sport and immediately before her three-in-a-row national cross-country titles.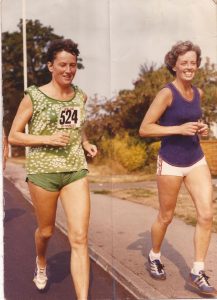 Aileen and Dale
Aileen's first season in athletics was 1952/53, we'll come to how she came into the sport later, and although recovering from 'flu she took part in the national cross-country championship at Ayr in 1953. She finished fourth and her club, Maryhill Harriers, was second to Athenian AC from Edinburgh. Later that year there was no doubt about her fitness at the SWAAA championships at Helenvale in Glasgow where she won the mile at her first attempt. This occasioned all sorts of headlines such as "Girl Wins Mile at first attempt", "Two broke record in one race", "Betters women's mile record by 43 seconds", and even "Flying Miss Hits Record." The report in the June 1953 issue of 'The Scots Athlete' read, "The mile was probably the most fascinating race of the day. M Law (Edinburgh Southern Harriers) shook everyone, spectators and competitors alike, with her tremendous first lap, then seemed to have had it, then came again, hanging on to her lead until Miss A Drummond (Maryhill Harriers) who had been running with fine judgment, forged ahead down the back straight and up the home stretch to win by 20 yards in the grand time of 5:35. A new record and a time comparable with our sisters south of the Border. K Mair (Maryhill Harriers) and M Wadler (Athenian AC) had a great battle for third place, the former just managing to keep the holder out. There is as yet no standard time for the mile, but Saturday's performance should help fix suitable fixture."
Aileen then went to the AAA championships in England at her own expense to take part in the mile against English runners. She ran well for a woman in her first year in athletics to finish fifth in the Final. The report read "In the long distance running, Miss Aileen Drummond from Maryhill Harriers, Glasgow, put up a good performance to finish fifth in the Mile which was won by the London girl Miss Enid Harding in the new British record of 5 min 0.9 sec. Miss Drummond's time was 5min 20.8 sec."
In a series of newspaper articles, dealing with Scottish Women athletes, George Martin wrote the following.
THE CHAMPION THEY NEARLY MISSED
How many champions are lost to athletics for want of a little advice … a little encouragement … or a little enterprise? An American authority has calculated that there must be literally hundreds of four-minute milers in the United States whose talent will never be discovered. Aileen Drummond is an example of 'one who nearly got away'. Last year at 24 she was a slim, strong girl who played some tennis, badminton and hockey. She had run in the relay teams in her schooldays at Hillhead and Glasgow High School. She still ran occasionally – for buses. She was the best woman miler in Scotland: only she didn't know it. But one summer evening, as Aileen strolled out from her home inKelvindale, she caught sight of some girls training at the 'Dough School' sports ground off Great Western Road, gave her a hankering for the track game again.
She made some timorous enquiries about joining Maryhill Harriers. They grabbed her. There wasn't much of a champion's look about Aileen in her first few track appearances. A second place in the Milngavie sprint was her only prize before the summer season ended. But what a different story in winter. Maryhill's women ran two or three cross-country packs – fast, slow and don't know. Soon they had another, Aileen Drummond was in a class of her own. She strolled off with the club's cross-country championship over about one and a half miles. In the Scottish title race over roughly the same distance, Aileen turned out and, weakened by a bout of the 'flu, and gained a gallant fourth place.
Aileen was fit again for the track season – despite the protests of the rest of the Drummond family at the bumps and thumps from an upstairs bedroom every night. That was Aileen exercising. When her club championships came around, in went Aileen's name for the quarter-mile, half-mile and mile. By the end of a busy evening she was champion for all three – incidentally knocking large lumps from the Scottish mile record of 6 mins 21 secs by getting under 6 mins. The Scottish mile championship was only her second race at the distance and down came the national record to 5 mins 35 secs. And then on to the White City and British Championships. It was the first time that Aileen had ever been in London and she was 'terrified' at all the ballyhoo of the big meeting. In the actual race she had something to be terrified about. Enid Harding who has run fastest women's half-mile in the world – although there's no official world record – put up a mile performance on that blistering day that would have done credit to many a man. Her time was a world best of 5 min 09.8 sec. In that kind of company for the first time, Aileen ran splendidly for fifth place. Time: 5 min 20.2 sec.
The Drummond family, incidentally, were pleased as Punch – especially Dad – he had paid Aileen's expenses for the trip. Now Aileen is back at her insurance office, keeping fit and looking around for competition. Any takers? You never know what you can do until you try. Ask Aileen Drummond!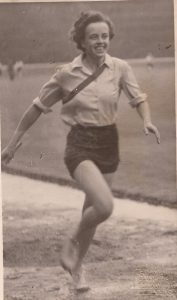 Aileen winning a schools race
And that was the form she took into the winter 1953/54 season. In 1954 the cross-country championships were held at Dunfermline and Aileen won from Margaret Wadler and Betty Moffat from Athenians, and Molly Wilmoth from Springburn. The first six were selected for the first post-war international with England. The championship was reported by Helen Wilkie, Secretary of the Scottish Women's Association, in the May, 1954, issue of 'The Scots Athlete'. "The cross-country championship was held at Pitreavie on 27th February over a distance of two and a quarter miles. The distance was increased this year and a small entry of 19 was therefore not disappointing. The result of the championship is as under:- 1. A Drummond (Maryhill) 14 min 52 sec; 2. M Wadler (Athenian) 15:17; 3. RWA Moffatt (Athenian)15:52; 4. M Ferguson (Springburn H) 16:01; 5. A Elder (maryhill H) 16:01; 6. S Johnstone (Maryhill H) 16:16. First team: Maryhill Harriers 1, 5, 7, 10 = 23 points; 2nd team: Springburn Harriers 4, 11, 12, 13 = 40 points. Athenians were without the services of Jean Webster, last year's champion, who had been ill, and they fielded only three runners. Had Jean been available, most likely Athenians would have retained their title."
The outstanding point was the fitness of each girl. The competitors all finished strongly – not one was in anything like an exhausted condition. It was indeed extremely heart-warming to see the results of sound training. In previous years, bad publicity in the Press did much to make the sport unpopular in women's clubs, and every year our championship led to much head-shaking from the critics. Had those critics been present at Pitreavie they would have had second thoughts. On the standard of running at Pitreavie, the Association can invite Press photographers without fearing what they will see in the next day's papers."
This led on to the International, and the 'Glasgow Herald' previewed the race as follows:
"WOMEN COPY THE MEN – AFTER 51 YEARS
Just 51 years after mere men had thought of the idea, women athletes are to have the first of what it is hoped will be an annual international cross-country race next Saturday. It will be staged over a two and a half mile course at Perry Park, Perry Barr, and the issue will be between teams representing England and Scotland. England will be represented by the first six to finish in last week's national championships at Aylesbury, namely Diane Leather and Dilys Williams (Birchfield), Ann Oliver (Gosforth), June Bridgland (Southampton), Nora Smalley (Portsmouth) and Marian Davies (Stockport)."
A fairly realistic assessment and preview was contained in this article: "SCOTS GIRLS ON SOUTH TITLE HUNT. by Alick Kerr. Scottish women runners are not numerous but they certainly do not lack pluck. Tomorrow they resume cross-country with England at Birmingham. The following team will represent Scotland. A Drummond (Maryhill), EM Wadler (Athenians), B Moffatt (Athenian) M Ferguson (Springburn), N Elder (Maryhill), S Johnstone (Edinburgh). Mrs M Thursby Ayr AAC, will be in charge of the party. Aileen Drummond who captains the Scots is cross-country and mile champion of Scotland. The Maryhill girl will meet the English champion, Diane Leather, Birchfield Harriers, who outclassed the field when winning her title two weeks ago. As the English girls have a much more ambitious training programme during the season, they will probably be better trained and should win both team and individual honours over this three miles test."
The race came and the report in the green (sporting) 'Evening Citizen' said:
EASY WIN FOR ENGLISH WOMEN HARRIERS
England girls had a runaway win when they met Scotland for the first post-war international cross-country race for women, held at Perry Barr this afternoon. The home always had the top six girls and finally won by 10 points to 34. Diane Leather, the Birchfield champion, was an easy winner after being challenged in the early stages by Anne Oliver, the Northern champion. There was always a close tussle for third place between June Bridgland, the Southern title holder, and Dilys Williams, the Birchfield girl. Always in seventh place was Aileen Drummond, the Scottish champion, but try as she might she was unable to break the English formation. The only change in the remaining laps was that Miss Bridgland broke away to make certain of third place. Result:-
D Leather 15:19; 2. A Oliver 15:45; 3. J Bridgland 16:12; 4. D Williams 16:23; 5. M Davies 16:39; 6. N Smalley 17:00; 7. A Drummond 17:29; 8. M Wadler 17:55; 9. J Elder 19:00; 10. M Ferguson 19:13; 11. B Moffatt 20:20; 12. S Johnstone 21:30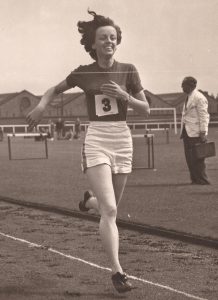 With the cross-country season out of the way, Aileen ran in the West trials for the East v West match and won the 880 yards and the mile in2:40.5 and 5:52.9, but the reports explained the slow times by saying there was a strong west wind. Aileen also won the half-mile at the Vale of Leven Sports where her running off the virtual scratch mark 0f 5 yards was commented on. Her winning time was 2:29.4. If that was good, the SAAA Championships was even better – a double title succes at 880 yards and the mile. In the former she won in 2:25.4 from RWA Moffatt (Athenians) and Molly Ferguson (Springburn). In the mile, it was a win in 5:40 from M Wadler (Athenians) and M Campbell (Maryhill). Emboldened by this, she travelled with several other women to the AAA's championships at the White City and did much better than the year before by finishing third in the Final. While she was there, she noticed that the British Insurance Companies Championships were being held that week so she entered the 440 yards – and won it! It had been a very good year indeed for Aileen: Scottish champion over the country, double track champion, and a medal at the British championships as well.
In the 1954/55 season she had her cross-country title to defend which she did successfully in March as was reported in the 'Glasgow Herald':
"AYR RACE COURSE POPULAR FOR CROSS-COUNTRY
Ayr race course was acclaimed the perfect venue for the Scottish women's cross-country championships by both sepctators and competitors on Saturday afternoon when the race was run in glorious sunshine. With three circuits of approximately three quarters of a mile each to be covered by the runners, the spectators had a full view of the race from start to finish. As anticipated Aileen Drummond (Maryhill Harriers), holder, easily maintained her title winning with a comfortable lead of 70 yards from her club-mate Cathie Boyle in 18 min 29 sec. Cathie, who is only 15 years of age, ran a beautifully judged race and has the makings of a good athlete. The first six will represent Scotland in the international cross-country championship which will be held over the same course at Ayr Racecourse on March 26th." The 'Scots Athlete' reported on the race in more depth. This event was once again favoured with fine weather although there was a cold east wind. Excellent arrangements were made by Mr and Mrs Thursby and Ayr Athletic Club and many members of the West District of the SCCU. Before the race there was quite a bit of speculation as to whether Miss Miller from Aldershot would master the reigning champion, Miss A Drummond, who was the home favourite, but the expected battle did not materialise as Miss Miller unfortunately did not finish the course. The course was one of three laps diagonally across the racecourse and this gave the spectators a good view of the entire two and a quarter mile race, but unfortunately the race was not well supported by spectators, the large East contingent of 1953 being absent. It was unfortunate that there were very few competitors from the East.
Of a total entry of 23, including three teams, 20 faced the starter, and for the first quarter of a mile a small group including Drummond, Boyes, Miller, Ferguson, Elder and McLeod broke away and were still bunched at the end of the lap. Going uphill for the second time, Aileen Drummond started to force the pace which I thought was not very fast at that point. But I had the feeling that the runners were suffering from an insufficient warm-up, and the cold wind which was affecting their breathing. They were certainly looking none too happy at that stage. As Aileen drew away trailing Miss Boyes and Miller after her, with the rest of the field strung out behind, it became apparent that the latter was in trouble, and that the youngest competitor was going to be a force to be reckoned with at the finish as she was moving easily and showed little signs of tiring. As the second lap was completed Drummond was about 30 yards clear up on the field and moving much better, Miller dropped out here and Boyes took up the role of challenger with McLeod maintaining her position close behind. It was now pretty definite that the holder would, unless something very unexpected happened, win again. This was indeed the result with the others dropping slightly further behind, but all credit must be given to Miss Boyes for her really fine show in finishing second in her first national." The report was written by Mrs T Montgomery, Chief Coach, SWAAA.
The final result was:- 1. Aileen Drummond 18:39 ; 2. Catherine Boyes 18:52 ; 3. Elizabeth McLeod 19:08; 4. Molly Ferguson 19:15; 5. Agnes Elder 19:38; 6. Doreen Fulton 19:52, Mary Campbell, S Johnstone, S Stewart, M Steel, C Walsh, C Buchanan, C Watson, C McDevitt. The winning team was Maryhill with 12 points from Springburn with 31 points. The first six were selected for the international which was again won by England. It was then on to the summer of 1955 with Aileen again defending her titles. In the SWAAA at New Meadowbank she did the double again, winning the 880 yards in 2:30.5 from Elizabeth McLeod and Molly Ferguson, and the Mile in 5:42.5 from Dale Greig and Mary Campbell. The report on the SWAA championships in the 'Scots Athlete' read:
"In the longer distances Aileen Drummond (Maryhill Harriers) , though not as fit as she would have wished, proved her superiority by winning the half-mile and mile convincingly although in moderate times. Mrs McLeod of Dundee ran well for second place in the half mile and got inside the standard time, as did M Ferguson of Springburn who was third. The battle between Aileen and Jean Webster in the mile which could have been anticipated did not materialise as the half followed the 440 yards and Jean withdrew. A pity because I have always felt that a race between these two would produce a new record. M Glen, Edinburgh Southern, a sister of the noted professional miler, put up a very good show in the mile and will probably be a force to be reckoned with in the future."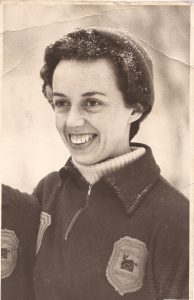 1956 started at with an open cross-country race at Ayr where Aileen was third in 15:52, exactly a minute behind the winner, Doreen Fulton of Springburn, with Molly Ferguson of Springburn second. Aileen was defending her national cross-country championship title at Musselburgh in March and she won again, this time from Doreen Fulton and JC Herman of Edinburgh Harriers. However one report of the race said: "Aileen Drummond will not run for Scotland but Mrs A Lusk has kindly obliged and stepped into her place. After a hectic weekend, Aileen was married to Mr Hugh Lusk in St John's Renfield Church." In the international, also held at Musselburgh, England took the first six places with Diane Leather being the individual winner for the third successive year. The above announcement after the Scottish championship was probably the reason for Aileen only finishing second in the SWAAA mile and not defending her half-mile title in 1956. The Mile was won by up-and-coming Barbara Tait from Edinburgh who would go on to win the title five times and lower the record four times.
Dale Greig writing in the October 1956 issue of the 'Scots Athlete' had this to say about Aileen in the championship:
"One of our foremost middle distance runners – Aileen Drummond of Maryhill Harriers – has decided to retire from competition. Aileen gave us our first taste of things to come by winning the SWAAA Mile title in 1953with a new Scottisg record of 5:35 and finishing second in the half-mile. 1954 – another year of success. She gained her first cross-country title and run for Scotland in the subsequent international against England at Birmingham, in June she completed her hat-trick of Scottish titles by taking the 880 yards in 2:25.4 and the Mile in 5:39. In this year too she ran her fastest ever mile to finish third in the WAAA championships in 5:12.9 – the fourth fastest mile in Britain that year. 1955 – another year of triumph and national titles. She retained her cross-country title over two and a half miles at Ayr in 18:39 and again ran in the international. Although not as fit as she might have been in the summer, she once more dominated the scene taking the 880 yards in 2:30.8 and the Mile in 5:42.3. 1956 – the year of the fallen idol? She began well enough by retaining her cross-country title at Musselburgh for the third year in a very fast 16:26 and was once again the first Scot home in the international in Essex. Then came the national track championships and her last championships. In the mile she lost both her title and her national record to the young and promising Barbara Tait of Edinburgh Harriers who won in the new record of 5:28.2. In the 880 yards she had to concede her title to the much fitter, and this year the much faster, Molly Ferguson (Springburn Harriers).
Well, as all careers must have a beginning, so they must have an end. No one has dominated the scene so long, and it is doubtful if anyone will be given the opportunity to do so again, at least for some time to come. Indeed, of our top middle distance runners this season, I feel that none has the capacity to remain for so long perched on that precarious pedestal on which only a champion can stand – insecure and alone. Now that she has taken her farewell bow and the opportunity arises, it is pleasing to pay tribute to Aileen as a loyal club runner and a great champion. Scottish athletics generally, and Maryhill Harriers in particular, will sorely feel her absence. Taken for all in all we in Scotland have been set a standard which it will be hard to emulate."
What a tribute from Dale, one who had so many battles with Aileen on the track and over the country. It had been a marvellous four years for Aileen as can be seen from the table below.
Date, National Cross-Country, SWAAA 880y title, SWAAA Mile title, AAA Mile
1953 1st 5th
1954 1st 1st 1st 1st
1955 1st 1st 1st 1st
1956 1st 2nd 2nd –
And, of course, we have to add in all the international cross-country fixtures and invitation track races that she participated in. Given the few competition opportunities, unsophisticated training and generally poor surfaces on which to run, Aileen would have been a top runner in any generation.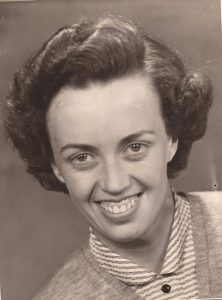 Aileen stopped running when her children were born and she spent time at home – but she says that she never really stopped running. The retirement from competition seemed to last for about ten years before she resurfaced in sports reports in March 1965. The season started with the usual races – 11th January SCCU Open Road Race; 23rd January Maryhill Harriers race in Glasgow; 6th February Open Races in Kilmarnock; and the National Championships on 22nd February. She was never in the published results that season, mainly because they only went as far as the top three finishers, and at time only the winner was noted. But she must have been running well because on 8th March she was eighth in the Glasgow v the Rest of Scotland cross-country race which took place at Fernieside in Edinburgh. By this time too Aileen had joined Western AAC, a new club formed by her old coach at Maryhill Harriers, Tom Williamson.
In 1967 the coverage of women's races was as abysmal as ever, but although Aileen did not appear in the first two at Linn Park, Pollok or Kilmarnock, the report on the open race at Dundee on February 20th read: "Miss GB Craig (Western AC), the Scottish half-mile champion, won the two and a half mile race from Dundee Hawkhill Harriers headquarters on Saturday in 15:13. She beat Mrs A Lusk (Western AC) by 50 yards and third was Miss T Lindsay (Dundee Hawkhill Harriers). " Aileen was back at the top of the results sheet. Not surprisingly though, when all the top runners appeared in the National, she was not in the top six. Western was placed third and it is safe to say that she was one of the scoring runners. The following summer (1968) saw her ranked seventh in the mile with a best time of 5:57.1. By now Aileen was 40 years old, so it was maybe unreasonable to expect national titles, but her ability and enthusiasm saw her competing at a high level . In 1969 Aileen was clearly competing at the top domestic Scottish level, much better than a year earlier if the ranking lists are any guide – she was 17th Scot over 1500m with a time of 5:17.1. This was the first year that metric distances were being run with the Commonwealth Games slated for the following year in Edinburgh, and several unfamiliar Anglos were rated with six in the top ten. Unfortunately her name did not appear in any reports that year. There were four cross country races between January and the end of March and she was not in the first three in any of them. In 1971 she had a best 1500m time of 5:58.4and a good 3000m time of 12:32.1 (which was eleventh best among Scottish women, including those based in the South)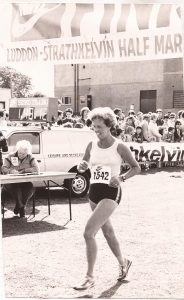 When the 'running boom' came along in the 1970's and 80's Aileen was in a good position to take advantage of it. She was fit, running fast and her enthusiasm was as boundless as ever. The result was a second successful career in the sport. When the first ever women veterans cross-country championship was organised Aileen was there and the programme said: "AILEEN LUSK, Bishopbriggs, Over 45. Mother of two, Aileen has been running since she was 24 and deserves acknowledgement as one of our Pioneer veterans. She has retained her interest and enthusiasm throughout the years, continuing in the true veteran spirit of enjoying the sport without the honours to be won. She was three times winner of the Scottish cross-country title in the 50's and a member of winning National teams. She is also a former title/record holder at 880 yards and the mile."
She ran in this inaugural event and finished fourth and ran it again in 1977 when she was third. It is impossible to record all her races as a veteran but we can list those we do know in the following table.
Date

event
distance
time
place
comments

21/12/75

Vets Christmas Handicap
5 Miles
32:30
3
1 N Campbell 2. D Greig

22/8/76

International Vets Challenge
10K
57:00
4
Bellahouston

16/6/78

Berlin
44:59.33
–

24/9/78

Round Cumbrae Road Race
72:16
1
(1979 73:18
1981 76:21)

5/5/79

Glasgow Vets 800 RR
6.6 miles
46:31
1
–

2/9/79

Vets RR
6 Miles
42:03
1
Bellahouston

19/11/79

Vets Cross-Country
5 Miles
39:13
1
Lochinch

9/5/81

Glasgow Vets 800
6.6 miles
50:16
1

20/5/81

Vets RR
5.5 Miles
42:57
1
Strathclyde Park

30/8/81

Inverclyde Marathon
26.2 Miles
3:45:36
First O45

22/5/82

Glasgow Vets 800
6.6
50:16
1
–

12/12/82

Vets Christmas Handicap
5 Miles
35:35
1
–

15/16/10/83

IGAL (World Veterans) Championships
10K
48:28
3rd W55
Perpignan; 25k 3rd W55

12/8/84

Vets Road Race
10K
49:21
2
Lochinch

9/9/84

Vets Track Race
10000m
46:36
1
Airdrie

7/10/84

Vets Half Marathon
13.1
1:39:37
22
Grangemouth 1 Helen Fyfe 92:00

28/10/84

Falkirk Half Marathon
13.1
1:4-:43

26/8/84

10K-OK
10K
45:21
20
20th overall

18/5/85

Glasgow Vets 800
6.6
46:25
3

8/6/85

IGAL (World Veterans) Championship
10K
47:25
3rd W55
Lytham St Anne's

8/6/85

25K
–
4

14/7/85

Vets Track Championships
5000m
22:29.2
1
Coatbridge

13/12/87

Vets Christmas Handicap
5 Miles
38:18
6
Bishopbriggs

5/6/88

10K-OK
47:07
–
125
125th Overall
The above table gives an overview of her running as a veteran and gives an overview of her running as a veteran and and an indication of the distances involved, from the 5000m to the full marathon distance, from genuine home races such as the Vets Christmas Handicap at Bishopbriggs to to World Championships in Berlin and Perpignan. Like many veteran runners the range is vast and we need to look at some of the races in more detail, and maybe have a look at some not mentioned above. In 1976 Aileen travelled to the Vets 10K Road Race at Coventry and finished second; third in Berlin in 1978 and third again in the IGAL 10,000m in Glasgow in 1980. It needs to be borne in mind though that although we are talking of veteran runners who are running for the enjoyment of it, we are also speaking of runners many of whom had been winners many times over in their day and who are still very competitive. These races are no walks in the park! Every place has to be fought for and won. How did an 880 yards champion get into long distance road racing? Aileen said that she used to run with Dale Greig on Thursday nights in Bellahouston Park and it was Dale who encouraged her into vets racing and trying the marathon =- the first was at Inverclyde where she suffered badly on a very hot day in 1981 but she managed to finish first in her class.
In addition to the big championships and international galas, she took part in what she called 'ordinary' races as well – note the half marathons, vets events and Christmas handicaps above. Attention should also be drawn to her excellent run in the first of the 10K-OK women only races in Glasgow. The first race had 720 finishers and Aileen was twentieth, finishing in very good company indeed. Have a look at the top finishers in the race where Aileen was just behind international runners like Sandra Branney and Elspeth Turner.
Place

Name Time

1

Liz Steele
37:32

2

Jane Walker
37:57

3

Mya S Baker
39:32

4

Janet McColl
40:25

5

Rosalind Kay
42:29

6

Fiona Murray
42:23

7

Carol Ann Hogg
42:37

8

Helen McPherson
43:23

9

Morag Thow
43:28
43:47
and then came 10 Anne Tait, 11 Caroline Miller, 12 Kate Chapman, 13 Gail Noble, 14 Mairead Christie, 15 Sally Johnstone, 16 Helen Oliver, 17Sandra Branney, 18 Elspeth Turner, 19 Nicole Garmery and 20 Aileen Lusk.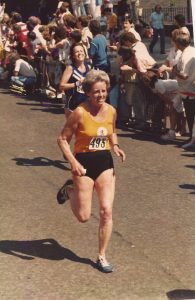 Finishing in the 10K – OK
Staying in Bishopbriggs as she did, Aileen was fortunate that one of the biggest and best sponsored half marathons of the 1980s was rght on her doorstep. The Luddon Strathkelvin Half Marathon started and finished in Kirkintilloch. She competed in 1985 and 1987: in 1985 she was presented with the Grandstand Sports Trophy for her run which resulted in her best time of 1:44, and in 1987 she received a Caithness Glass Bowl for the woman veteran who had put up the most meritorious performance in the race. David Morrison of Shettleston received the men's award.
As well as running herself in the 1980's, she helped Molly Wilmoth with the organisation of the new Strathkelvin Ladies AC to cater for the girls of the district. It was a successful club and their energy and keenness made it so. Aileen had a very good career in the sport, almost all of it as a competitor, she was never noted as an official or administrator; but she and Molly were the first two women to be voted onto the Scottish Veteran Harriers Club committee in 1982. I don't know if she ever owned or wore a blazer but her ability and desire to compete never went away. She came through from the start of the 50's to the late 80's, she saw many changes in the sport and achieved a lot. Note the following changes.
* The national championships on the track changed greatly: there were only 14 events in a women's only event when she started to 39 in 1960 and even more today.
*More long distance races were introduced to track programmes.
* There are now more open races for women throughout the year.
*The return of international matches on the track – some women only, some for both men and women.
*Better reporting of their matches leading to more respect for women athletes
All of these make it easier for succeeding generations of woman endurance runners to succeed than it was for Aileen, Molly and Dale.
Her own career has been documented here, but the question is – what could Aileen and her contemporaries have done had their career started in the mid-70's with better tracks, more sophisticated training methods, medical and physiological back up and so on? One of her contemporaries is sure that she would have represented Britain and been an Olympian. However that may be, she had a wonderful sporting career and is happy with what she achieved. The only possible regret is maybe that it finished after a car accident when training from home. Aileen is a wonderful example to any athlete.